Increasingly Unstable Environment for Human Rights and Civic Freedoms as Iraqi Elections Take Place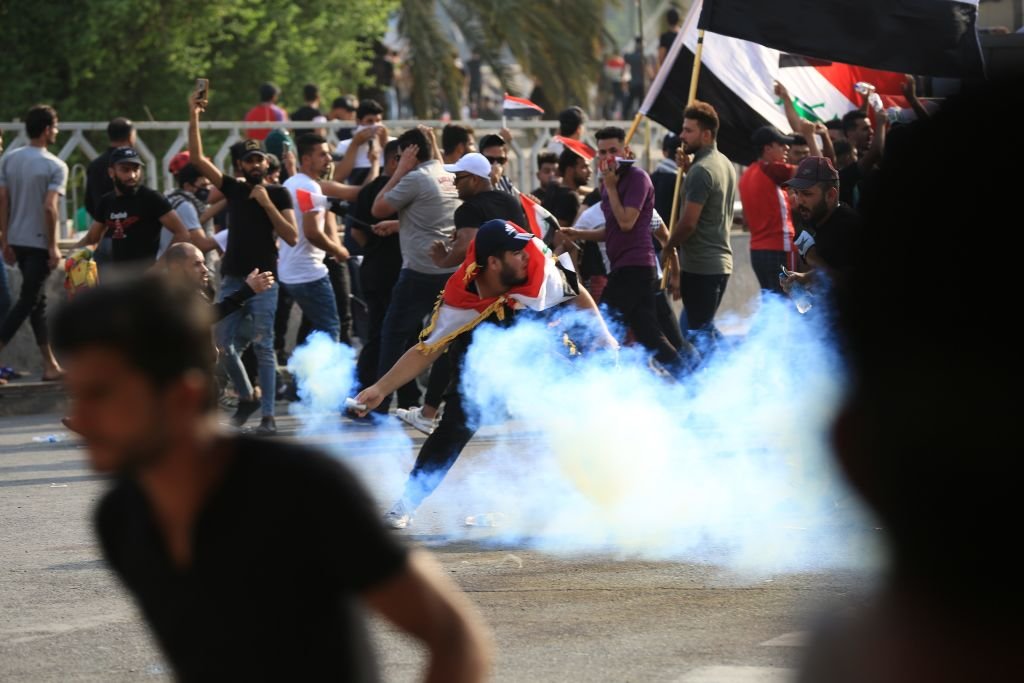 General update
In the run up to the Iraqi elections which took place on 10th October 2021, with one of the lowest turn-outs in years, there has been an increasingly unstable atmosphere for the exercise of basic human rights and civic freedoms. In addition to violations of freedom of expression and assembly, a recent report by Human Rights Watch highlighted the difficulties facing Iraqis, with inability to exercise their right to vote as a result of discriminatory legislation and inaccessible polling stations.
Association
Political Activists sentenced to prison
On 19th September 2021, the Criminal Court in Dohuk sentenced political activist Mulla Nazir Nabi Shafiq Barwari, head of the Social Committee of the Patriotic Union of Kurdistan (PUK) in Zakho district of Dohuk governorate, to seven years in prison on charges of communicating and cooperating with the Kurdistan Workers' Party (PKK). His lawyer confirmed that all the charges against him are fabricated and that there is not enough evidence to sentence him to prison. The security forces of the KDP arrested Barwari on 11th February 2021. On the same date, the Criminal Court in Dohuk also sentenced political activist Nemat Kounish, a member of the People's Democratic Party (HDP), who is residing in Erbil Governorate, to a seven-year prison sentence on a charge of collaborating with the PKK.
On 17th September 2021, an armed group in the Jargra neighbourhood of Sulaymaniyah city shot the political activist Yassin Bulut, who also goes by the name of Shukri Sarhad, killing him instantly. It is reported that Bulut had been living in the city of Sulaymaniyah for years, where he received hospital treatment. In a similar incident the previous day, on the evening of 16th September 2021, a group of armed men shot and seriously wounded the political activist, Farhad Bashkundur. He is currently in a stable condition. The next day, the security authorities announced the arrest of a person who had committed criminal acts, including this assassination attempt, without providing any further details.
Hammoud Hattab, the brother of abducted human rights lawyer Ali Jaseb as well as son of the assassinated Jaseb Hattab, was subject to an assassination attempt in Maysan today.

This another case of armed groups targeting family members of activists in attempts to silence them. pic.twitter.com/bwchghAm5V

— Iraq Tweets 🇮🇶 (@Iraq_Tweets) September 2, 2021
Activists targeted by armed gunmen and bomb attacks
On 2nd September 2021, Hammoud Hattab Al-Heliji, brother of the folk poet Jaseb Al-Heliji and uncle of kidnapped human rights lawyer Ali Al-Heliji, survived an assassination attempt by two gunmen riding a motorcycle. Jaseb Al-Heliji, who tirelessly campaigned to find his son who was kidnapped in October 2019, was assassinated in March 2021.
On 28th August 2021, unknown persons placed a sound bomb in front of the house of woman civil society activist Hamdiya Al-Saadi. Al-Saadi resides in the Sumer neighbourhood in the centre of Nasiriyah, the capital of Dhi Qar Governorate.
Religious gathering attacked
Iraqi citizens have also been affected by the return of terrorist operations and military operations carried out by the Turkish army in the pursuit of the Kurdistan Workers' Party, which is active in the Kurdistan region of Iraq. For example, on 17th August 2021, armed men in possession of light weapons launched an attack on a religious Hussaini gathering in the Kirkuk Governorate, injuring a citizen.
Peaceful Assembly
On the morning of 9th September 2021, engineers calling for jobs were assaulted by riot police during a demonstration in the protest square near the governorate building in Al-Amarah, the capital of Maysan Governorate. A number of protesters were also arrested and released on the same day.
Expression
Activists, journalists sentenced to jail
On 29th September 2021, the Duhok Criminal Court issued a six-month prison sentence to civil society activist, Khalat Sindi, after he was charged with criticising the Kurdistan Regional Government on social media networks and during his media interviews. He was arrested on 15th July 2021 upon his arrival in the Kurdistan Region after travelling from Britain, where he had been living for a number of years as a British citizen.
On 23rd September 2021, the Criminal Court in Duhok imposed a one-year prison sentence on journalist and civil society activist Omid Haji Brushki in both cases brought against him. The first case is related to his alleged "destabilisation of security in the region," while the second case concerns "his criticism and his attitudes toward the Kurdistan Regional Government." The court postponed the sentencing hearing in a third case related to his publication on his Facebook page about a parliamentarian from the Kurdistan Democratic Party (KDP) travelling outside the region during the COVID-19 pandemic without being punished.
Preacher banned from making speeches
In retaliation against a Friday sermon delivered on 24th September 2021 that was critical of the Kurdistan Regional Government, the Directorate of Endowments of Sheikhan District of Dohuk Governorate decided, after pressure from the security authorities, to ban the muezzin and preacher of the Great Mosque in Kalakji sub-district of Sheikhan district in Dohuk governorate, Mullah Shirwan Kalakji, from giving speeches. He was also dismissed from his job as a preacher at the Great Mosque.
Prisoners of conscience declare hunger strike over postponement of cases
In protest against the deliberate and repeated postponement of their trials, prisoners of conscience detained from Badinan area (Dohuk Governorate) in the Kurdistan Region began a hunger strike on 8th September 2021. Local reports confirmed that the end of the strike has not been officially announced, despite the deteriorating health of some participants, such as journalist and civil society activist Ayaz Karam Burji and journalist Kohdar Mohammed Amin Zebari.
The hunger strike comes against the backdrop of the repeated postponement of court hearings for a number of prisoners of conscience. A member of the prisoners' defence team (a group of volunteer lawyers) stated in a press conference held in front of the Criminal Court in Erbil on 8th September 2021, that the trials of several prisoners had been postponed until further notice, following which the detainees declared a hunger strike before the judge in light of the despair they feel at the repeated postponement of their trials. The member of the defence team also confirmed that the detainees had reached a stage where they could no longer bear the lack of a verdict in their cases.
The Criminal Court in Erbil had decided to postpone the trials of political activists Shirwan Taha Amin Cougar, Masoud Ali Haji Sinjari, Karkar Abbas Ali Rostinki and Bandwar Ayoub Rashid until 20th October 2021. Also, the trials of political activists Amer Khaled Akeed Dohuki, Fershat Ahmed Saeed, Jamal Khalil Majeed Sindi, Suleiman Mousa Ahmed Zebari and Suleiman Kamal Suleiman Hariki have been postponed until 21st October 2021.
Journalists and online activist arrested, detained
On 15th September 2021, security authorities in Simele district arrested journalist Dalman Faraj Khanki. He was finally released on 20th September 2021, on bail of three million Iraqi dinars, on condition that he would not engage in any media activities on social networks. He was summoned 83 times by the security forces since 2014 due to his peaceful activities on social media networks.
According to the Press Freedom Advocacy Association in Iraq, on 4th September 2021, security forces in Kirkuk Governorate detained five journalists who were covering security incidents in the village of Shaal in the Sarkaran sub-district of the Dibis district. They are: Anadolu Agency correspondent Eugene Gula; cameraman Hisham Mohammed; NRT channel correspondent Diyar Mohammed; cameraman Ali Baghdadi; and Kirkuk TV correspondent Yousif Murad. The journalists were taken to a local police station where they were interrogated for more than two hours before their eventual release. The police also checked their photographic equipment to ensure that members of the security forces had not been captured on their footage.
On 26th August 2021, National Security Apparatus forces from Basra Governorate, who were wearing civilian clothes, arrested internet activist Hussain Al-Shahmani. Al-Shahmani is known for the videos he posts on social media in which he criticises corruption, poor public services and poor governance. He was never informed of the reason for his arrest and was released after three days.
Journalist's home attacked
On 4th September 2021, the family home of journalist Ali Fadel was targeted by a sound bomb which damaged the roof of the house and frightened the journalist and his family. According to Fadel, who lives in the village of Shafta in the Diyala Governorate, "Unidentified gunmen placed a sound bomb in front of my house in Baquba district, but, thank God, it did not cause any human losses, but rather material losses due to the damage it caused to the house." The day before the attack, Fadel published a post on his Facebook page which read, "An important part of the failure of officials is the shortcoming of their media offices and their failure to realise the importance of dealing with society positively. We have competencies, but unfortunately they are excluded or frozen for several reasons." Sadly, following the attack on his home, the journalist felt compelled to close his Facebook account.