Human rights defenders, journalists and Papuan protesters targeted in Indonesia despite UN human rights review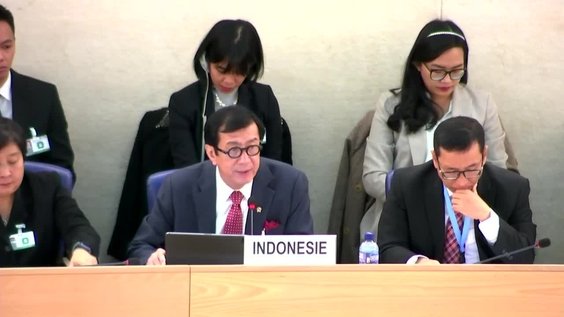 The state of civic space in Indonesia remains rated as 'obstructed' by the CIVICUS Monitor. Ongoing concerns include the arrest, harassment and criminalisation of human rights defenders and journalists as well as excessive use of force by the police during protests, especially in the Papuan region.
In October 2022, Amnesty International published a report on the decline of civil liberties in the country. The report covers issues related to the assault on human rights defenders - especially those who work on land and the environment - threats to press freedom, curbs on academics, attacks on protesters as well as repressive cyber security measures and internet shutdowns.
Indonesia's human rights record was reviewed at the UN Human Rights Council in November 2022. Ahead of the Universal Periodic Review (UPR), reports were submitted by numerous civil society groups including CIVICUS together with the Institute for Policy Research and Advocacy (ELSAM) and YAPPIKA-ActionAid.
Among the recommendations raised by states during the UPR were better protection for human rights defenders (Costa Rica, Switzerland, Romania, Greece, Uruguay, Belgium, Norway, Netherlands, Estonia, Luxembourg and Latvia), to respect the right to peaceful assembly (Luxembourg, Canada, Switzerland, Norway, Australia), to repeal laws that unduly restrict freedoms of association (United States of America, Costa Rica, Canada, Switzerland), to decriminalise libel, blasphemy and defamation (Austria, Estonia) and to uphold, respect and promote its human rights obligations in Papua (New Zealand, Vanuatu).
Indonesia passed a new criminal code on 6th December 2022, containing provisions that seriously violate international human rights law and standards. Among the many concerns were provisions that ban insulting the president, the vice president, state institutions, Indonesia's national ideology known as Pancasila, and the national flag. The law contains dozens of other articles on online and offline criminal defamation, making it possible for anyone to report anyone else for criminal defamation. The law also outlaws unsanctioned public demonstrations deemed to be disturbing public order.
In a positive move in January 2023, President Joko Widodo acknowledged "gross human rights violations" in his country's history and vowed to prevent any repeat. He cited 12 incidents that took place between 1965 and 2003 and included the communist purge, the abduction of democratic activists during protests against former leader Suharto in the late 1990s and violations in the region of Papua. A spokesperson for the UN High Commissioner for Human Rights said that a full transitional justice process "will help to break the decades-long cycle of impunity, advance national healing and strengthen Indonesia's democracy."
In recent months there have been reports that a student was tortured or ill-treated for his criticism of the police, while human rights defenders Fatia Maulidiyanti and Haris Azhar were questioned again for defamation. Threats and attacks on journalists have persisted. The authorities continued to crack down on protests on Papua while a human rights court cleared a retired army major of killings during a 2014 protest in Paniai.Civil society activists were harassed and blocked around the G20 Summit in Bali.
Expression
Student tortured by police following comments on WhatsApp
Yulius Yatu, alias Ongen, mahasiswa Universitas Halmahera, Maluku Utara, diduga mendapat tindak kekerasan dari oknum anggota Polres Halmahera Utara pada Selasa (20/9), karena status Whatsapp. Ia mengaku dipukuli hingga dimasukan ke kandang anjing. #TopNews https://t.co/Z6qPyRHtNK pic.twitter.com/NrZbpg7zAr

— kumparan (@kumparan) October 6, 2022
In late September 2022, a university student in North Halmahera, North Maluku was tortured or ill-treated by the police after he expressed his opinions on a messaging app critical of the authorities.
Yulius Yatu, alias Ongen, had made comments on WhatsApp around the conduct of the police related to a demonstration on rising fuel prices. A day later, four unidentified individuals, believed to be police officials, came to look for him at his residence. They then punched him in the face, strangled him and took him out of the house to a public road wher they continued to physically assault him. He was then taken to the North Halmahera police station and put in a dog kennel. He was then threatened with death as the assault against him continued. He was also forced to run, squat and roll in the road. After approximately two hours he was taken back home.
Human rights group Kontras called for the incident to be investigated by the North Maluku Regional Police Chief, that the perpetrators be given the maximum punishment and that the victim and his family be provided with as much information as possible around the investigation and prosecution of the perpetrators.
Subsequently, it was reported that the four perpetrators had been detained and were found guilty of disciplinary violations but there is a lack of information as to whether criminal charges were brought against them. In December 2022, it was reported that Yulius had received compensation from the police.
Human rights defenders hauled up again by police
Penyidik Polda Metro Jaya kembali memanggil Direktur Lokataru Haris Azhar dan Koordinator KontraS Fatia Maulidiyanti untuk diperiksa. #PoldaMetroJaya #FatiaMaulidiyanti #HarisAzharhttps://t.co/RcZjDZpULP

— Chatnews ID (@chatnews_id) November 1, 2022
On 1st November 2022, human rights defenders Fatia Maulidiyanti and Haris Azhar were once again summoned by the police for further questioning as suspects in a defamation case against the Coordinating Minister for Maritime Affairs and Investment, Luhut Binsar Panjaitan.
In March 2022, the two human rights defenders were charged with defamation for speaking up about human rights violations connected to corporate crime in Papua, allegedly linked to government officials.
As previously documented, the case stemmed from a YouTube talk show in August 2021 during which they discussed the findings of an investigative report conducted by several NGOs revealing the alleged connection of the Coordinating Minister for Maritime Affairs and several other authorities with gold mining activities in the Blok Wabu area in the Intan Jaya district of Papua.
Following the release of the video, the Coordinating Minister sent two subpoenas on 26th August and 2nd September 2021. On 22nd September, the Coordinating Minister reported them to the police using the Electronic Information and Transactions Law (ITE Law) – a vague and overbroad law that has often been used to arrest, prosecute and punish activists, journalists and government critics. He further demanded that each pay him 100 billion rupiahs (approximately USD 7 million) as compensation. On 17th March 2022, the two were declared suspects under Article 27(3) in conjunction with Article 45 of the Electronic Information and Transaction Law (ITE Law) and Articles 310(1) and 311 of the Penal Code.
In November 2021, Mary Lawlor, UN Special Rapporteur on the situation of human rights defenders, raised concerns on the case and called on the government to immediately stop using criminal laws to harass human rights defenders who have spoken out against alleged corruption. She added that "defamation laws are being used in Indonesia to undermine the right to freedom of opinion and expression."
Threats and attacks on journalists
Threats and attacks against journalists have been reported by groups working on press freedom.
According to the International Federation of Journalists (IFJ), independent media outlet Konde.co was hit by a cyber-attack after publishing an article on sexual harassment within the Indonesian Ministry of Cooperatives and Small Medium Enterprises. On 24th October, Konde published an article about incidents of sexual harassment committed by four public servants at the ministry. The same afternoon, Konde.co's website was reported as down after the article spread rapidly across social media platforms. Later investigation by Konde.co staff revealed the website had suffered a Distributed Denial of Service (DDoS) attack, in which a party attempts to disrupt the normal functioning of an internet server by overloading it with traffic. This is the second attack experienced by Konde.co after publishing an article on sexual violence.
On 29th October 2022, police officers from Polres Tomohon, North Sulawesi, summoned local Manado Pos journalist Julius Laatung over his coverage of an illegal lottery. According to IFJ, Laatung said he was approached by five police officers and forced to come to the station. Law enforcement allegedly demanded Laatung surrender his phone, which the journalist refused to do. On the way to the police station, police officers interrogated him, demanding that he betray the confidentiality of his sources. The interrogation continued at the station for around two hours, wherein police questioned the journalist's ethics and accused him of publishing the story to discredit the police.
On 7th November 2022, IFJ reported that North Sulawesi police harassed and arrested Sulawesian reporter Noufriadi Sururama while he was at a land dispute protest in Mandolang. Police officers asked for Sururama's identity card, but according to reports did not respect his press card. Law enforcement apprehended the journalist, tearing his shirt in the process. Sururama was then detained and taken to the Manado Precinct Police office.
Explosive device detonated outside journalist's home in Papua
Shawn Crispin, @pressfreedom's senior Southeast Asia representative said that "Indonesian authorities must identify and apprehend all those behind the recent attack on (Papuan) journalist Victor Mambor." https://t.co/BOphSeKgR7

— IFEX (@IFEX) February 9, 2023
On 23rd January 2023, an improvised explosive device was detonated outside journalist Victor Mambor's house in Jayapura, a city in the province of Papua.
According to the Committee to Protect Journalists (CPJ), Mambor, editor and co-founder of the local independent news website Jubi.id and a regular contributor to the Radio Free Asia-affiliated outlet BenarNews, was still awake when the bomb detonated. He said no one was injured in the blast and his home was not damaged.
CCTV camera footage showed a Honda motorcycle passing by Mambor's house moments before the blast, according to the journalist and those news reports.
Mambor has faced persistent harassment over his reporting on human rights issues associated with the long-running conflict between Indonesian security forces and the secessionist West Papua National Liberation Army. Mambor said he frequently receives threats and hate speech on his social media accounts, and his Twitter account was hacked and deleted in 2022 after he posted a video showing Indonesian security forces allegedly abusing a disabled civilian.
Peaceful Assembly
Crackdown on protests on Papua
The authorities cracked down on a number of protests on Papua, arresting and detaining pro-independence activists for their peaceful activism. 
10/11/22
Jayapura,West Papua.

Mahasiswa USTJ mengibarkan dua helai Bendera Bintang Kejora di halaman Kampus. pic.twitter.com/1jCmvUutXs

— PAPUANI (@Sedangaktf) November 10, 2022
On 10th November 2022, seven students in Papua were arrested by police over a protest action which included the flying of banned Morning Star flags, a symbol of Papuan independence. Action coordinator Kaitanus Ikinia said that the action, at the Jayapura Science and Technology University (USTJ) campus in Abepura, was part of the commemoration of 22 years since the death of Papua independence figure Theys Hiyo Eluay. Ikinia said the police fired teargas in breaking up the rally.
Mahasiswa di Papua yang sedang melakukan aksi protes terhadap G20, dibubarkan dengan gas air mata oleh TNI dan POLRI. Mereka juga dipukul, 7 orang mahasiswa ditangkap dan 1 telepone genggam disita.#EliteTogetherEliteStronger pic.twitter.com/1DrkFlkVcj

— YayasanLBHIndonesia (@YLBHI) November 16, 2022
On 16th November 2022, several students were injured when security forces forcibly dispersed a protest against the G20 summit in Abepura in Papua. According to reports, the security forces used tear gas to disperse the demonstrators who were marching to the Papuan People's Representative Council building. Seven protesters were arrested. Three police personnel were also reported to have been injured.
Yan Warinussy Dampingi Tiga Tersangka Kasus Makar Saat Diperiksa Penyidik Polres Manokwari - https://t.co/YlsEDDnWSi#jagatpapua #beritajagatpapua #beritapapua #beritapapuabarat #updateberitapapua #infopapua #infopapuabarat pic.twitter.com/IDnzPdekI9

— webjagatpapua (@webjagatpapua) October 29, 2022
According to Amnesty International Indonesia, on 27th November 2022, at least 15 peaceful protesters in Manokwari, Papua were arbitrarily arrested by security forces. At least three (photo above) were named suspects and charged with treason by the police under Article 106 of the Criminal Code (KUHP). In Sorong, Papua, the police forbade all protesters from displaying the Morning Star flag on 29th November 2022. Two people were briefly arrested.
The police and the military ramped up security measures in Papua in anticipation of protests on 1st December. In Jakarta, protesters were subjected to a heavy presence of Indonesian security forces, while in Mataram, Lombok Province, Papuan students were subjected to harassing surveillance throughout the day.
Ternate, 1/12/22 Massa aksi FRI (Tolak Produk Kolonialisme Indonesia Melalui: Otsus, (DOB), Serta Demiliterisasi dan Berikan Hak Menentukan Nasib Sendiri.) pic.twitter.com/51AnFhpBFg

— Front Rakyat Indonesia untuk West Papua (@friwp) December 1, 2022
At least eight protesters were arrested in a peaceful demonstration protesting the central government's policies on Papua in Ternate City, North Maluku, on 1st December. They were also allegedly forced to sign a statement saying that they would stop calling for a referendum on independence on 1st December.
Court clears retired army major of killings during 2014 protest in Paniai
[BREAKING] Pada 8 Desember 2022, tepat delapan tahun setelah pelanggaran HAM berat Paniai terjadi, Majelis Hakim Pengadilan HAM Paniai memutus bebas terdakwa, mantan anggota Tentara Nasional Indonesia (TNI), Isak Sattu.https://t.co/Zd9Hnqto1q

— Amnesty International Indonesia (@amnestyindo) December 9, 2022
On 8th December 2022, Indonesia's Human Rights Court in Makassar, South Sulawesi Province, acquitted Isak Sattu, a former military officer, of all charges of crimes against humanity and of murder based on command responsibility in the 2014 Paniai case in Papua when four teenagers were killed. Sattu served as a liaison officer at the Military District Command in Paniai Regency during the time of the incident.
In the verdict, the five-panel bench confirmed that the murders committed by military personnel against civilians in Paniai were "systematic attacks" and thus constituted crimes against humanity. However, the court argued that Isak, as a liaison officer, had no effective authority to command and control the forces when the shootings occurred on 8th December 2014. At that time, the court said, the command was still with the Commander of Enoratoli Sub-District Military Command's Office even though he was not at the office when the incident happened. Two of five judges in the panel gave dissenting opinions.
As previously documented, on the morning of 8th December 2014, at least four protesters were killed and over a dozen injured when security forces, both police and military, opened fire on a crowd that was protesting at the Karel Gobai field located near the Paniai District Military Command (Koramil) in Papua province. The crowd had gathered to protest against soldiers from the Special Team Battalion 753, who had allegedly beaten a child from Ipakije village the night before, who had to be hospitalised.
The National Human Rights Commission, which initially led the investigation into the Paniai killings, found credible evidence that at least four different branches of the Indonesian security forces were involved in the killings, including army infantry and air force officers. The evidence also included videos of military personnel carrying assault rifles, eyewitness testimony and internal communications up the chain of command.
Human rights activists and the families of the victims have slammed the trial, which began on 21st September 2022, as a farce to deflect international scrutiny.
Association
Civil society activists harassed and blocked around G20 Summit
Around the G20 Summit in Bali, Indonesia in November 2022, CIVICUS and the Fight Inequality Alliance raised concerns around actions by the authorities to disband the activities of civil society groups and harass their organisers.
Ahead of the summit, the Indonesian government imposed several measures under the pretext of ensuring safety and security. These included enforcing restrictions on public activities in Bali and tightening security within the province. The groups said that they were disproportionately deployed by the authorities against activities conducted by civil society groups, even those that were located far from the G20 Summit.
In one incident on 9th November 2022, a team of cyclists from Greenpeace Indonesia conducting a bike rally campaign named "Chasing the Shadow" from Jakarta to Bali to voice their concerns on climate change during the G20 Summit, were stopped and barred from entering Bali by the authorities in Probolinggo, East Java. The organisers were also physically intimidated and were forced to sign an agreement not to travel to Bali and conduct any campaign activities in the province during the Summit.
On 12th November 2022, a closed-door internal meeting conducted by the Indonesia Legal Aid Foundation (YLBHI) in Sanur, Bali - a venue located far from the venue of the G20 Summit and not on the list of restricted activities - was raided by local police and village authorities, demanding the organisers disband the event. The authorities also insisted on checking ID cards and the electronic devices of participants without a warrant, which was resisted by the organisers as it violated their rights to privacy. Some of the organisers were not allowed to leave the venue and were questioned. They were also put under heavy surveillance before they were allowed to leave the venue.