Hong Kong protesters face arrests, excessive force and torture while journalists ill-treated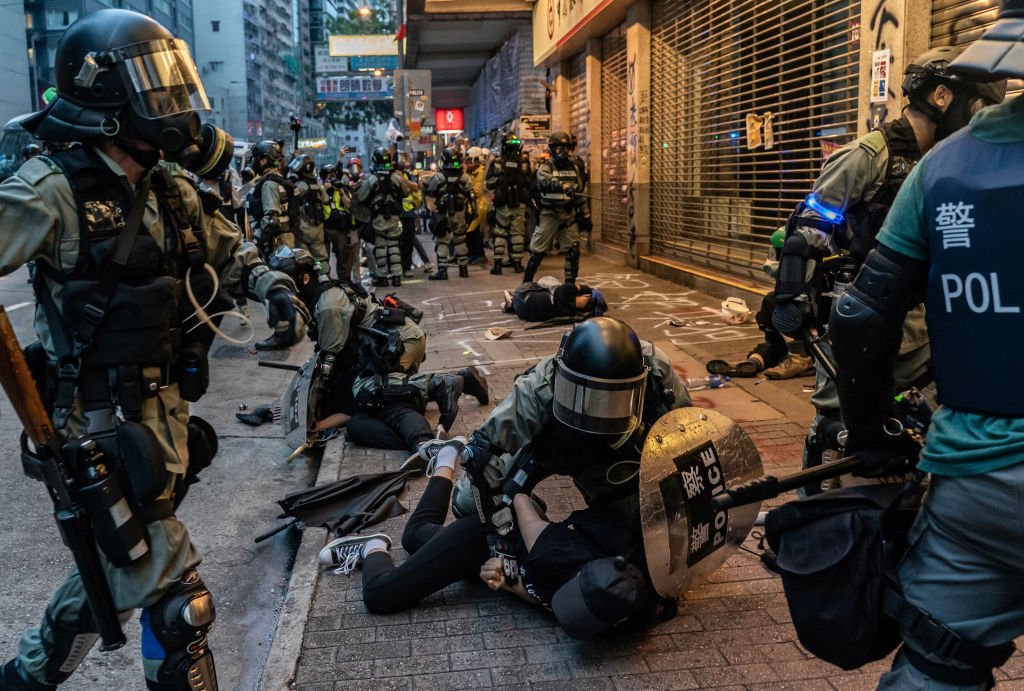 Protests in Hong Kong have now continued for the 22nd straight weekend. As previously documented, millions of people have taken to the streets of Hong Kong since 9th June 2019 to protest against a proposed extradition bill. Amendments to the Fugitives Offenders Ordinance Bill would allow individuals, including foreigners, to be sent to mainland China to face trial in courts controlled by the Communist Party.
Since then there have been reports of excessive and unlawful force against protesters with some being arbitrarily arrested, harassment and attacks against journalists, attacks against protesters by thugs and the continued failure to hold the perpetrators to account. While the vast majority of protesters have been peaceful, there has been violence, which appears to be escalating alongside excessive use of force by the police.
On 4th September 2019, Hong Kong leader Carrie Lam said she would withdraw the highly controversial extradition bill which has triggered months of protests. On 6th October 2019, UN human rights chief Michelle Bachelet said she was "troubled" by Hong Kong's increasingly violent pro-democracy protests, and stressed that any measures to quell the unrest must be grounded in law.
On 16th October 2019, the US House of Representatives passed a bill aimed at upholding human rights in Hong Kong. The Hong Kong Human Rights and Democracy Act - which still needs to pass the upper house, the Senate - would mandate an annual review to see whether Hong Kong had sufficient autonomy from the rest of China to justify its special trading status. The House also passed, by a similar voice vote, the Protect Hong Kong Act which would bar commercial exports of military and crowd-control items that Hong Kong police could use against demonstrators.
Over the last two months there have been continued reports of arbitrary arrests, brutal beatings and torture by the police on protesters, a ban on face masks and attacks on protest leaders and journalists. At least 750 children were arrested during the first four months of the protest. Further, protesters have been targeted by trolls on social media while Apple deleted a protest app.
Peaceful Assembly
Rights group documents arbitrary arrests, brutal beatings and torture in police detention 
@Amnesty's investigation into #HongKong's police treatment of protesters - egregious cases of torture in detention, denial of medical care, delayed access to lawyers, arbitrary arrests & degrading body searches https://t.co/baeSuNjyEY

— Suki Chung (@Sukichungml) September 20, 2019
A report by Amnesty International on 19th September 2019 documented an alarming pattern of the Hong Kong Police Force deploying reckless and indiscriminate tactics, including while arresting people at protests, as well as evidence of torture and other ill-treatment in detention.
According to Amnesty International more than 1,300 people have been arrested (as of mid-September 2019) in the context of the mass protests that started over proposed legislative amendments that would have allowed for extradition to mainland China.
Interviews of arrested persons and lawyers by Amnesty International show that police violence most commonly occurred before and during arrest. In several cases, detained protesters have also been severely beaten in custody and suffered other ill-treatment amounting to torture. In multiple instances, the abuse appears to have been meted out as "punishment" for talking back or appearing uncooperative.
Amnesty International also documented a clear pattern of police officers using unnecessary and excessive force during arrests of protesters, with anti-riot police and a Special Tactical Squad (STS), commonly known as "raptors", responsible for the worst violence. Almost every arrested person interviewed described being beaten with batons and fists during their arrest, even when they posed no resistance.
The organisation also documented multiple instances of arbitrary and unlawful arrests, as well as numerous cases where police denied or delayed detainees access to lawyers and medical care.
Emergency powers invoked to ban face masks
Hong Kong's embattled leader Carrie Lam invoked colonial-era emergency powers banning face masks that many protesters wear to hide their identity due to fears employers could face pressure to take action against them. More photos: https://t.co/shMRfuZhZP pic.twitter.com/jKCyynhLxj

— Reuters Pictures (@reuterspictures) October 4, 2019
The Hong Kong government announced on 4th October that it would invoke a colonial-era law, the Emergency Regulations Ordinance, in order to ban face coverings at public gatherings. The law also grants the Hong Kong government sweeping powers relating to detention and to restriction of freedom of expression and peaceful assembly.
Under the Emergency Regulations Ordinance that was tabled in 1922, a relic of the British colonial era, the laws grant the city's chief executive the power to "make any regulations whatsoever" on "occasions of emergency or public danger". The legislation allows "censorship" of publications including the media, arrest, deportation, detention, seizure of property, and authorises the entry and search of premises.
The ban on face masks outlaws any face covering that obscures a person's identity in public assemblies and marches, regardless of whether those gatherings are lawful. The ban exempts those who need to wear masks for "employment," "religious," or "health" reasons. The order apparently bans gas masks, which many protesters have worn to protect themselves from the routine use of teargas by the police against even peaceful demonstrations.
According to Human Rights Watch, the Hong Kong government's broad ban on protesters wearing face masks is "a disproportionate restriction on peaceful assembly rights". The organisation stated that "the ban on face masks is limited neither by scope nor duration and should immediately be revoked".
Maya Wang, senior China researcher at Human Rights Watch said:
"The broad face mask ban seems aimed to discourage protests, not to serve a necessary law enforcement function. Hong Kong authorities should be upholding rights, not undermining them."
Violators of the ban face up to one year in prison and fines of HK$25,000 (US$3,190). The ban also empowers the police to request anyone to remove their face covering, and those who refuse to do so are liable for up to six months in prison and a HK$10,000 (US$1,280) fine. The ban was effective as of midnight on 5th October 2019.
At least 750 children arrested during protests
On 11th October 2019, it was reported that 750 people arrested during four months of unrest were children. Out of the 2,379 people arrested since June 2019 nearly a third were under 18, and 104 were under 16.
A growing number of children have been arrested or injured in the increasingly violent and radical protests in recent weeks. A policeman fired at an 18-year-old high school student's chest during heated, territory-wide protests on China's National Day on 1st October, while on 4th October, a 14-year-old was shot in the thigh by a plainclothes police officer during protests against the anti-mask ban.
Association
Protest leader attacked by hammer-wielding men
BREAKING: Within 24 hours after US House passing the Hong Kong Human Rights and Democracy Act, Jimmy Sham, the convenor of the Civil Human Rights Front and candidate of District Council Election, was chopped and severely wounded by 4 masked persons this evening. pic.twitter.com/ys4pU98fRY

— Demosistō 香港眾志 😷 (@demosisto) October 16, 2019
On 17th October 2019, protest leader Jimmy Sham of the Civil Human Rights Front (CHRF) was attacked. The CHRF is one of the non-violent protest groups behind several of the huge marches since June 2019. Sham was set upon by a group of up to five hammer-wielding men in the Mong Kok district of the Kowloon peninsula. 
Sham, 32, spent four nights in hospital with three wounds to the head that required stitches, severe swelling of his left knee and bruises on his body. He has kept a low profile since his discharge and is still in a wheelchair due to an injured knee. The CHRF linked the attack to government supporters, who are suspected of assaulting other pro-democracy activists in recent months.
This is not the first of such attacks. As documented previously, on 29th August 2019, Jimmy Sham and a friend were attacked inside a restaurant in the Jordan area of Kowloon by two unidentified masked men with baseball bats but escaped with minor injuries. In a separate incident, Max Chung, the organiser of the Yuen Long march in July 2019 was attacked by four men in August 2019, near the Tai Po police station, They wielded metal rods and umbrellas.
Expression
Journalists facing ill-treatment while reporting on protests
Indonesian journalist Veby Mega Indah demands answers after she was shot in the face with by Hong Kong police officer. It's unclear if she was shot by a beanbag round or rubber bullethttps://t.co/aMKRAhpycV

— The Asian Feminist (@theasianfmnst) September 30, 2019
According to Reporters Without Borders (RSF), since the beginning of the demonstrations in June 2019, there have been numerous cases of ill-treatment against journalists.
2nd September 2019: The police extensively used pepper spray against reporters in front of the Mongkok Police station. The Special Tactical Contingent pushed a journalist from Now TV to the ground;

7th September 2019:Two officers from the Special Tactical Squad used pepper spray against journalists from AFP, Ming Pao, HK01 and Cable TV. In the area of Yau Ma Tei, a reporter from Stand News was punched by a man while reporting;

24th September 2019: An Apple Daily journalist, who was previously the victim of doxxing and stalking, was assaulted by four masked men when dining in the area of Sau Mau Ping;

29th September 2019: In the area of Wanchai, a reporter working for Indonesian-language media outlet Suara Hong Kong News, Veby Mega Indah, permanently lost the sight in her right eye after she was hit by a rubber bullet by the police during a protest. In the area of Causeway Bay, police attacked a journalist with pepper spray;

1st October 2019: Journalists from Stand News and RTHK were hit by rubber or sponge bullets. A reporter from Local Press was arrested and held at the police station for more than 24 hours. Journalists from Apple Daily were threatened by police carrying guns.

5th October 2019: American journalist Suzanne Sataline was violently pushed against a billboard by the police and momentarily detained while she was covering the protests. The journalist claims to have been hit and threatened;

17th October 2019: Chinese independent journalist Huang Xueqin, who covered the Hong Kong protests, was arrested in Guangzhou under the ill-defined charge of "making trouble and picking quarrels";
Trolls renew social media attacks on protesters
On 4th November 2019, it was reported that researchers had identified suspicious accounts that suggest take downs by Facebook and Twitter in August 2019 but which didn't stop online activity targeting the protesters. Instead, some accounts with suspected links to the Chinese government that were removed have been replaced by different ones, engaging in similar types of tactics, the researchers said.
The findings highlight the challenges Facebook, Twitter and Alphabet Inc.'s YouTube face in trying to dismantle disinformation campaigns that operate through their platforms. They also underscore growing concerns about governments and other political actors using social media platforms to sway popular opinion or silence their critics.
Twitter said in August 2019 it had suspended 936 accounts linked to a China-backed operation, as well as a network of 200,000 other accounts. Facebook and YouTube announced similar moves the same month.
Still, researchers from Astroscreen, as well as Nisos Inc., FireEye Inc. and Graphika Inc., have found evidence suggesting that digital activity targeting the Hong Kong protests continued after the removals. They cautioned that gauging the scope of any kind of apparently coordinated, inauthentic activity -- and tying it to China or any other entity -- is difficult without additional data like IP addresses, which social media companies generally don't disclose.
Apple deletes a Hong Kong protest app
Apple removes Hong Kong protest app following Chinese pressure https://t.co/PHnbnB950B pic.twitter.com/2xhXQ9Ozvc

— Engadget (@engadget) October 10, 2019
In October 2019, Apple withdrew an app that tracked the movements of Hong Kong police through crowdsourced data, after it was put under pressure by China. The creators of HKmap.Live said the app was pulled after Apple found it was in violation of local laws and company guidelines.
It shows real-time locations of Hong Kong police vehicles, riot and special tactical police and locations where tear gas has been fired, as well as directions to where protests should move. Information is crowdsourced by users through a Telegram bot and similar channels. The app had been available for less than a week after making its debut on 5th October 2019. The removal of the app follows an editorial in China's People's Daily that accused Apple of "protecting rioters" with its "poisonous app".
On Twitter, HKmap.Live said it never solicits or promotes criminal activity and its moderators vote down content that appeared to do that. It claimed Apple's decision was "clearly a political decision to suppress freedom and human rights in #Hong Kong". Many protesters also prefer to use the messaging app Telegram to share police movements, where channels share similar information in real time to users.