Prominent Hong Kong activists arrested after weeks of police violence at protests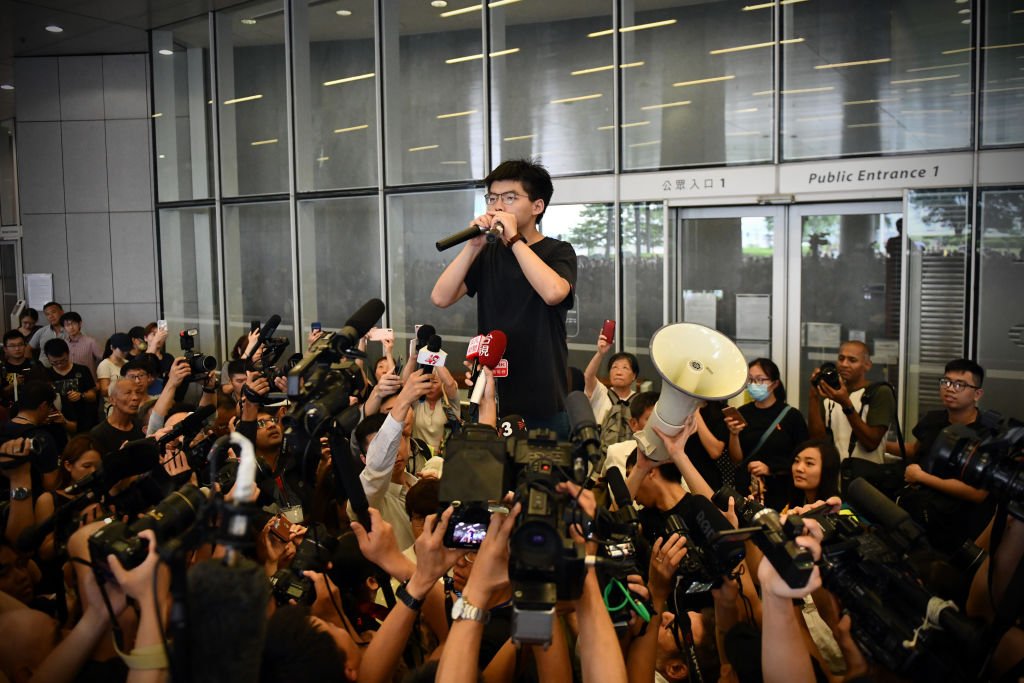 As previously documented, millions of people have taken to the streets of Hong Kong since 9 June to protest against a proposed extradition bill. Amendments to the Fugitives Offenders Ordinance Bill would allow individuals, including foreigners, to be sent to mainland China to face trial in courts controlled by the Communist Party.
On 18th June 2019, Hong Kong Chief Executive Carrie Lam offered a personal apology for how she handled the extradition bill saga and stated that she would not restart the legislative process of the extradition bill "as long as the conflict in society is not resolved". However, protesters have made several demands, including the complete withdrawal of the extradition bill and for Lam to step down.
In the last two months, there have been continued reports of excessive and unlawful force against protesters with some being arbitrarily arrested, harassment and attacks against journalists, attacks against protesters by thugs and the continued failure to hold the perpetrators to account. In the last 24 hours, three prominent activists have been arrested.
Association 
Three prominent activists arrested and two others attacked
On 29th August 2019, three prominent pro-democracy figures were arrested. According to media reports, Joshua Wong and Agnes Chow, former student leaders of pro-democracy protests in 2014 were arrested for unlawful assembly. Joshua Wong was forcefully pushed into a private minivan on the street while walking to a subway station at about 7.30am. He was then taken to police headquarters in Wan Chai. Agnes Chow was arrested at her home and also taken to the Wan Chai police headquarters. Andy Chan, head of a now banned pro-independence party, was arrested on suspicion of rioting and assaulting a police officer. He was arrested at Hong Kong International Airport while on his way to Japan. 
Civil Human Rights Front convener Jimmy Sham, one of the protest organisers was attacked by two unidentified armed masked men inside a restaurant in the Jordan area of Kowloon around midday local time on 29th August. The men were wielding at least one baseball bat and one long knife. In a separate incident, Max Chung, the organiser of the Yuen Long march in July 2019 said he was attacked by four men near the Tai Po police station on the same day.. They wielded metal rods and umbrellas.
Peaceful Assembly 
The following are reports of the protests that the CIVICUS Monitor has documented has over the last seven weeks:
On 13th July 2019, the fifth week of the protest, thousands marched in Sha Tin, urging the Hong Kong government to meet their demands over the now-suspended extradition bill. They called for a complete withdrawal of the bill, the withdrawal of the "riot" characterisation of the 12th June protests, the unconditional release of all arrested protesters, the formation of an independent commission of inquiry into police behaviour, as well as universal suffrage. Marchers also condemned the "violent clearance" of the demonstrations in Kowloon the previous week. Organisers said that more than 100,000 people had gathered. Police used pepper spray and batons to clear protesters in Sheung Shui, on the Chinese border, after they refused to leave after a protest there.
Anti #extradition protests in Sha Tin, Hong Kong, right now @SCMPNews pic.twitter.com/NRCScMX8US

— Phila Siu (Bobby) (@phila_siu) July 14, 2019
The following day protests continued, drawing tens of thousands that turned violent after an hours-long standoff that began in the late afternoon. Riot police reportedly chased protesters into a shopping centre in Sha Tin. Police used truncheons and pepper spray against the protesters, who threw objects such as umbrellas and plastic water bottles at them. Police commissioner Stephen Lo said on 15 July 2019 that more than 40 protesters were arrested and at least 10 policemen were injured?
On 21st July another protest march was held in Hong Kong. Protesters marched from Causeway Bay to Wan Chai in the afternoon and the action broke up into rolling waves of protests that spread to Admiralty, Central and Sheung Wan, the main road outside the Hong Kong-Macau Ferry Terminal. A small group of protesters vandalised the central government's liaison office in Hong Kong. Derogatory graffiti was written on the liaison office building, while the national emblem was defaced with black paint by protesters. Later that evening police moved in to clear the roads with fully equipped officers from the elite Special Tactical Squad firing tear gas and rubber bullets, while protesters fought back or counter-attacked with bottles, bricks, poles and umbrellas. 
Hong Kong - A mob of thugs dressed in white shirts wielding sticks and metal rodsstormed into a Hong Kong subway station and indiscriminately beat passengers and black-clad protesters.

Follow me thd page facebookhttps://t.co/NgEjJ0KEsk pic.twitter.com/2f8JnvSaBw

— AlJazeera News (@AlJazee03398032) July 22, 2019
In a separate incident on 21st July, hundreds of masked men dressed in white, believed to be paid thugs, assaulted residents, protesters, journalists and a lawmaker in Yuen Long, hours after the anti-extradition law march ended. The group used bamboo sticks and other weapons to attack people in the area and in the West Rail Line station, injuring Democratic Party lawmaker Lam Cheuk-ting, who was seen bleeding from his mouth in a social media live stream. The Civil Human Rights Front, which organised the rally, accused the police of failing to take action in Yuen Long while people were being attacked and instead, unnecessarily firing tear gas at protesters in Sheung Wan. The Hong Kong Journalists Association said a male reporter was beaten and left bleeding from his mouth.
On 27th July, tens of thousands of people took to the streets of Yuen Long to protest the failure of police to respond swiftly to scores of thugs beating people at Yuen Long MTR the weekend before. Police had declared the protest unlawful and fired multiple rounds of tear gas, rubber bullets and foam rounds at protesters.
Strikes cripple Hong Kong transport as leader Carrie Lam digs her heels in https://t.co/iErL3MIEee pic.twitter.com/9Qbr4WwTxk

— The Sydney Morning Herald (@smh) August 5, 2019
On 5th August, as tensions escalated in Hong Kong, a general strike was called, causing widespread chaos to much of the city's transport network, including Hong Kong International Airport. Over 10,000 workers participated in the strike. Protests also took place in various districts. As the afternoon wore on, clashes between protesters and police broke out across the city and police fired tear gas in five districts. According to Amnesty International police fired 800 rounds of tear gas across eight districts of the city to disperse protesters and nearly 150 people were arrested.
Amnesty International urged the Hong Kong police to exercise extreme caution in any deployment of water cannon in upcoming protests, warning that the use of these powerful weapons in the city's densely populated streets could cause serious injuries and further inflame tensions. The organisation highlighted that Hong Kong police have repeatedly used tear gas, rubber bullets and sponge grenades in an excessive and unlawful way during recent protests. They have called for an independent investigation into the use of force by Hong Kong police against protesters. The organisation also condemned the alleged sexual assault of a female Hong Kong protester by the police.
Man-kei Tam, Director of Amnesty International Hong Kong said:
"The Hong Kong authorities should send a clear message that these failures in policing will not be tolerated. A thorough, independent and effective investigation needs to take place and any officers found responsible must face justice, at any level of the chain of command".
On 7th August, hundreds of protesters gathered outside the Hong Kong Space Museum on the Tsim Sha Tsui waterfront, shining laser beams on its dome against the recent arrest of a student for possessing laser pointers which police claimed was an 'offensive weapon.' The student arrested, Keith Fong, is the president of Baptist University's student union and was caught and searched by five off-duty police officers shortly after the purchase. According to the student union, he was choked by police officers while they interrogated him for purchasing laser pointers.
9th August marked the tenth consecutive week of protest in Hong Kong. Thousands of protesters joined a massive three-day sit-in at Hong Kong International Airport to "put their case in front of the international audience" and to protest against the use of excessive violence by the police. 
Protesters in Hong Kong wear eye patches in solidarity with a young woman who was shot in the right eye with a pellet round during a violent police crackdown. More photos: https://t.co/OZGNA4vXR2 pic.twitter.com/5L6NGihGWA

— Reuters Pictures (@reuterspictures) August 14, 2019
On 11th August, Hong Kong police intensified their crackdown on protesters. According to Human Rights Watch instances of excessive and questionable use of force were reported by the media or video recorded by protesters. These include in Kwai Fong where police fired teargas inside an enclosed subway station in an attempt to force out protesters. In Tsim Sha Tsui, a police officer reportedly fired a bean bag round into a woman's face, causing heavy bleeding from her right eye, while in Tai Koo, a police officer was video recorded shooting pepper balls at close range at protesters as they were leaving the protest scene through the subway station. In Causeway Bay, a police officer knelt on the head of a protester, pressing his face into a pool of his own blood.
Protesters occupy the arrival hall of the Hong Kong International Airport during a demonstration on Aug. 11, 2019, in Hong Kong, China.
Photo: Getty Images pic.twitter.com/zjlV5p5Kk8

— USA TODAY (@USATODAY) August 19, 2019
On the night of 13th August, the peaceful sit-in that started at the Hong Kong International Airport turned violent, with police clashing with protestors. According to the police, five protesters were arrested and two police officers were injured during the clash. Some demonstrators seized and beat two men they suspected of being pro-Beijing infiltrators. Some protesters said they believed one of those men was an undercover Chinese agent, while another was confirmed as a reporter from mainland China's Global Times.
Human Rights Watch repeated its calls on 13th August for Hong Kong authorities to establish an independent commission to investigate alleged excessive use of force by police. The authorities so far have rejected such calls and repeatedly contended that existing police complaint mechanisms are adequate in dealing with allegations of police abuse. However, the police internal review board, Complaints Against Police Office (CAPO), and its oversight body, the Independent Police Complaints Council (IPCC), have long been criticised for being ineffective in holding officers accused of misconduct to account.
Chinese state media vow there "won't be a repeat" of the Tiananmen Square crackdown if Beijing moves to quash Hong Kong's pro-democracy protestshttps://t.co/BVxJOp6SrJ

📸 Chinese military personnel perform drills at a sports stadium in Shenzhen, near the border with Hong Kong pic.twitter.com/3j1Fr8nb4U

— AFP news agency (@AFP) August 16, 2019
In response to the protests, Chinese social media showed footage showing military vehicles arriving in Shenzhen, a city in mainland China bordering Hong Kong, "in advance of apparent large-scale exercises," according to the Chinese state media the Global Times.
On 19th August, hundreds of thousands of people turned out for another protest in Hong Kong, amid increasingly severe warnings by Beijing. The protest's organisers, the Civil Human Rights Front, were denied authorisation for a march through the city, but police allowed a pre-approved demonstration in the city's Victoria Park. Large crowds also marched in the nearby areas of Admiralty, Causeway Bay and Wan Chai in defiance of the police ban.
WATCH: Protesters in Hong Kong form 28-mile human chain. https://t.co/Ivhk80UJ3s pic.twitter.com/hSm7XO5wKa

— NBC News (@NBCNews) August 23, 2019
On 23rd August, protesters formed a human chain across Hong Kong in a show of solidarity with the city's pro-democracy protest movement. The action was planned to coincide with the 30th anniversary of the "Baltic Way," a historically significant peaceful demonstration against Soviet occupation. Starting from around 8pm local time thousands of Hong Kong protesters began holding hands, forming chains along three subway lines to form the "Hong Kong Way."
The following day, thousands joined a march from Tsun Yip Street Playground at 1pm in protest at the introduction of smart lampposts, which protesters fear may be used for surveillance. Demonstrators also reiterated the five core demands of the anti-extradition law movement – including a full withdrawal of the bill, universal suffrage and an independent investigation into alleged police brutality. The smart lampposts, of which 50 are being piloted in Kwun Tong and the Kai Tak development zone, were installed in June 2019. 350 more are set to be rolled out as part of a three-year plan but critics have expressed fear over the potential for personal data to be collected and shared with the police or other departments.
After 4.30pm, police at Ngau Tau Kok police station urged protesters to disperse and fired multiple rounds of tear gas to disperse protesters occupying roads around the police station. According to the Hospital Authority, six people were sent to hospital, with one male in a serious condition and the others in a stable condition. Local media reported that one man suffered an injury to his left eye after he was shot with a suspected police rubber bullet.
Cathay denounced for firing Hong Kong staff after pressure from China https://t.co/RxkXIdrN3C

— Guardian news (@guardiannews) August 28, 2019
On 28th August, hundreds of demonstrators gathered to denounce Cathay Pacific for firing staff after it came under pressure from Beijing. Businesses, pushed to voice support for the authorities, are facing a growing backlash from employees and customers who see the pressure as part of a broad strategy to wear down opposition after two and a half months of protests. Protesters, many from the aviation industry, rallied in the financial district before marching to the headquarters of Swire Pacific, the airline's controlling shareholder. Later that night thousands of protesters attended a separate rally against alleged sexual violence by police against participants in the movement.
Expression
Harassment and attacks on journalists during protests
ICYMI: Reporters Without Borders: Dear Carrie Lam, here's how to repair trust in the Hong Kong gov't @rsf_en @RSF_inter #HongKong #NoToChinaExtradition #PrayForHongKong https://t.co/vwCp1lt5nr pic.twitter.com/z1MpONkrEP

— Hong Kong Free Press (@HongKongFP) July 26, 2019
The Hong Kong Journalists Association issued a number of statements regarding attacks on the media and journalists during the protests:
According to Reporters Without Borders, in the past two months, journalists covering the anti-extradition bill protests were increasingly victims of intimidation and physical abuse by the police as well as pro-Beijing mobs.In the RSF World Press Freedom Index, China's Special Administrative Region of Hong Kong has plummeted from 18th in 2002 to 73rd in 2019. China itself is ranked 177th out of 180.
Cédric Alviani, head of Reporters Without Borders (RSF) East Asia bureau said:
"Violence against journalists has now become systematic and clearly aims to discourage them from covering the protests. [The authorities must] terminate the violence against the press and launch an independent investigation into the past acts of brutality."