Democratic backslide in El Salvador deepens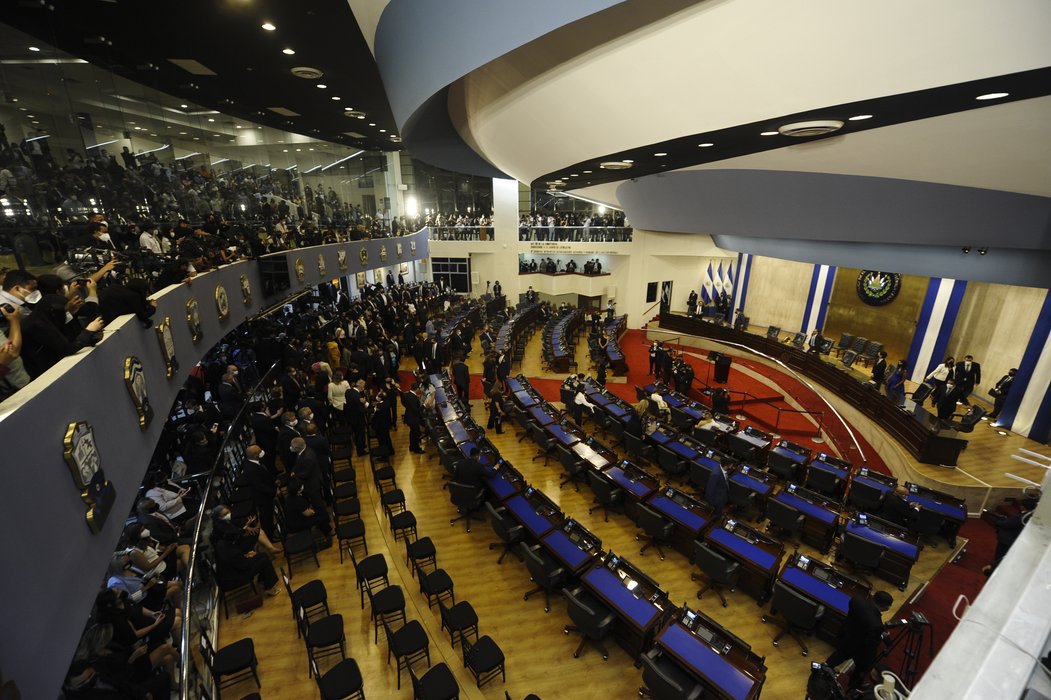 On 1st May 2021, newly elected lawmakers took office in the Legislative Assembly after ruling party Nuevas Ideas won a two-thirds majority in February 2021. On their first day, government allies in the Legislative Assembly voted to remove and replace the five judges on the Constitutional Chamber of El Salvador's Supreme Court, as well as the Attorney-General.
During his time in office, President Bukele had publicly defied rulings by the magistrates. According to Human Rights Watch, the decision to remove them "was a frontal attack on judicial independence, as international standards make clear that no judge should be removed simply because the government does not like its rulings".
The UN High Commissioner for Human Rights, Michelle Bachelet, warned that the move seriously undermines democracy and the rule of law in the country. In a statement, she said:
"The separation of powers is a cornerstone of any democracy. Weakening of this important system of checks and balances leads to the erosion of the pillars of the rule of law and thus of a country's democratic system."
Within their first month, lawmakers also approved a US$ 730 million loan to fund President Nayib Bukele's security plan. The previous legislature's resistance to the loan led to a dispute between lawmakers and the government which culminated in a controversial incident in February 2020, when Bukele marched into El Salvador's Legislative Assembly with several armed soldiers.
In a separate but related development, on 1st July 2021 the United States State Department released a list known as the "Engel List" with the names of more than 50 officials, former officials, political leaders and businessmen from El Salvador, Guatemala and Honduras, whom it considered "corrupt and anti-democratic actors" and banned them from entering the country. The list names 14 current or former public officials from El Salvador, including Bukele's Chief of Staff, his legal adviser, the Labour Minister and a magistrate of the Electoral Court.
Peaceful Assembly
Following the controversial dismissal of Constitutional Chamber magistrates and the Attorney-General, anti-government protesters organised a series of demonstrations against authoritarianism from Nayib Bukele's government and allied legislators. On 5th May 2021, 43 labour unions and grassroots groups organised a public action against what they called a "coup" by the lawmakers. On 6th June 2021, about 50 protesters joined a demonstration in San Salvador. Members of the Resistencia Ciudadana (Citizen Resistance) movement held signs with messages such as "There's no democracy without judicial independence!" On 3rd July 2021, lawyers and law students protested in front of San Salvador's Monument to the Constitution, saying that the government's recent actions had violated the country's Constitution. "Justice is not a toy for the powerholders," said a protester's banner.
🌱 Vinieron desde diferentes comunidades del país, para participar en la #XXICaminataEcológica. Son mujeres que luchan por la protección de los bienes naturales. Junto a las iglesias históricas, organizaciones y estudiantes marcharon por #AguaTerritorioYSoberanía. Te contamos 🧵 pic.twitter.com/s8oRKpz8ZE

— UNES (@UNES_ElSalvador) June 8, 2021
Separately, on 8th June 2021, civil society organisations and religious groups organised the 21st edition of the "Ecological Walk" to commemorate World Environment Day. Over 5,000 demonstrators joined the march, whose leaders intended to deliver a letter to the Legislative Assembly requesting the recognition of the human rights to water, sanitation and food. However, police put up barricades and prevented them from reaching the Legislature's headquarters.
Association
📢⚠️🚨#AlertaUrgente EL SALVADOR / La Comisión de Justicia y Derechos Humanos de la Asamblea Legislativa "archiva" ley para el reconocimiento y protección integral de las personas defensoras de DDHH.
📌 Más información 👉🏾 https://t.co/IeRplBNMlV pic.twitter.com/sKbjS2auwy

— IM-Defensoras (@IM_Defensoras) May 19, 2021
On 19th May 2021, the Commission of Justice and Human Rights of the Legislative Assembly of El Salvador decided to shelve the proposed "Law for the recognition and comprehensive protection of human rights defenders" for discussion by lawmakers. The bill was supported by several civil society organisations and collectives that make up the Roundtable on the Right to Defend Rights. The organisations called on representatives to reconsider their decision and to make a commitment to the protection of human rights defenders in the country. IM-Defensoras and the Salvadoran Network of Women Defenders said in a statement:
"The refusal to consider this proposed law not only constitutes a lack of respect for the organisations that introduced it, but also represents a blow to the human rights agenda in the country by prolonging the situation of hostility and defencelessness in which human rights defenders carry on their work."
In a separate development, three human rights organisations, the Salvadoran Network of Women Defenders, IM-Defensoras and Centro por la Justicia y el Derecho Internacional (CEJIL), requested that the Inter-American Commission on Human Rights grant precautionary measures to lawyer and former criminal prosecutor Bertha María DeLeón. A former adviser to President Bukele, DeLeón faced online harassment from his supporters after she became an outspoken critic of his government. She has also faced criminalisation, threats and a smear campaign from former Electoral Court president Walter Araujo after she filed a complaint against him. Her complaint led to Araujo's disqualification from running for legislative office as a candidate of ruling party Nuevas Ideas.
Expression
#ÚltimaHora |La Asociación de Periodistas de El Salvador (APES), se pronuncia por las declaraciones que realizó el ministro de Seguridad, Gustavo Villatoro, quien dijo que da seguimiento a periodistas por "apología del delito". pic.twitter.com/TtyBXKjchs

— LPGJudicial (@LPGJudicial) June 9, 2021
On 5th May 2021, lawmakers approved a reform to Article 8 of the country's Ley de Imprenta (Printing Law), which provided a tax break to imported newsprint. The new text, supported by both government allies and opposition party FMLN, ends tariff exemptions and benefits deductions which previously applied to newspapers.
On 31st May 2021, journalists' union Asociación de Periodistas de El Salvador (El Salvador's Journalists' Association - APES) published a report of aggression against the press during the first four months of the year. According to the organisation, there were 113 attacks against journalists, twice the number of attacks reported in the same period of the previous year. The most recurrent violations were obstruction to journalistic work, stigmatisation and restriction of access to information. 46% of the journalists affected were men and 34% women, with the rest corresponding to groups, media outlets, APES itself and LGBTQI+ persons. The main perpetrators were police officers and public officials.
In a separate development, on 8th June 2021 the Minister of Security, Gustavo Villatoro, recognised that his office monitors the work of journalists "because freedom of expression has its limits". Villatoro stigmatised the work of the press, saying some journalists promote violence and publish unethical content. APES rejected the Minister's declarations, which they said took place after journalists covered a statement by the Union of Workers of the Legal Medicine Institute claiming there had been tampering with evidence in the case of a clandestine mass grave in Chalchuapa. The Chalchuapa case, where dozens of bodies were found in a former police officer's house, shocked El Salvador and has had widespread coverage in local media.
In connection with the same case, on 14th June 2021 the First Peace Court of Santa Ana ordered Revista Factum to take down an article the about the ongoing investigation. The prosecutors accused the website of violating the Salvadoran Constitution. According to the ruling, this included a violation of due process in the ongoing criminal trial related to the grave and the right to privacy of the crimes' "indirect victims". However, the Court did not specify which parts of the media outlet's article violated these laws. The Committee to Protect Journalists (CPJ) called on Salvadoran authorities to rescind the court order and allow the media to report freely on issues of public interest. The organisation's Central and South America Program Coordinator, Natalie Southwick, challenged the court's blanket ban:
"Authorities cannot use vague claims to justify censoring an entire article, and should reverse this decision immediately to avoid setting a dangerous precedent."
🇸🇻 #ElSalvador: The decision by the Legislative Assembly to dismiss the magistrates of the Constitutional Chamber of the Supreme Court of Justice and the Attorney General seriously undermines democracy & the rule of law – UN Human Rights Chief @mbachelet: https://t.co/s5LzZnUghP pic.twitter.com/UlLOBCwCCO

— UN Human Rights (@UNHumanRights) May 4, 2021