Continued attacks on HRDs, journalists and activists through prosecutions
Association
Amendments to 'Terror List' Bill a concern
On 10th February 2020 new amendments to the "Terror Lists" Bill (The Terrorist Entities Law no 8 of 2015) was approved by the Egyptian Parliament's House of Representatives. The proposed law has now been referred to the State Council for review before the final vote. As documented by Egypt Today, the amendments include:
"The terrorist entity is any association, organisation, group, society, cell, company, union or other, regardless of its legal or real status, that practices or has as purpose calling - by any means internally or abroad – for:
harming individuals, spreading terror among them, exposing their lives, freedoms, rights, security to danger;

harming the environment, natural resources, artefacts, communications utilities, urban, maritime transportation, and air transport, other assets, buildings, public and private properties;

occupying and taking over them;

inhibiting or crippling the work of public, judicial, and governmental authorities, municipal entities, worship places, hospitals, educational institutions, other public facilities, diplomatic missions, regional and international organisations and authorities in Egypt;

cutting off the road to public and private vehicles or exposing them to danger;

jeopardising public order;

exposing society's security, interests or safety to danger;

suspending the provisions of the constitution and laws;

violating individual freedoms;

harming national unity, social peace and national security."
Prior to approval of the bill, a concern about the inclusion of satellite channels was raised by the Chairman of Parliament's Human Rights Committee and was taken out.
A statement issued by Reporters Without Borders condemned the proposed amendments:
"The amendment would expand the list of "terrorist entities" to include "TV channels, print media, radio stations and social media" inside or outside the country that intend "to harm individuals, terrorise them or endanger their lives, freedoms, rights or security,"- Sabrina Bennoui, the head of RSF's Middle East desk.
RSF adds that many journalists who are currently held in Egyptian prisons are charged with "spreading false news" or "membership of a terrorist group". As a result, this amendment would serve as a "legislative arsenal" for Egypt, which was previously modified in 2015 to enable journalists to be given long jail terms.
Travel ban imposed on CSOs, lawyers and activists
In a separate development, on 15th February 2020, the Cairo Criminal Court said it would rule on the appeal brought by 14 civil society workers, lawyers and activists against their state-imposed travel bans at its next hearing, scheduled for 23rd April 2020. As reported by Mada Masr, during the court hearing a letter was presented by the prosecution regarding the court order received from the judge in the case which prevents eight of the fourteen individuals from travelling. No reasons were provided by the court for the travel ban. On the same day, the court is set to make a decision in the appeal case involving NGO Nazra, against the asset freeze order imposed on the organisation
The organisation issued a statement prior to the session:
"The targeting and legal harassment of Nazra and its executive director, Mozn Hassan continues as the Court decided to postpone considering the appeal requests four times since June 2019. Nazra and Mozn Hassan have been persecuted and targeted on the background of Case 173/2011, widely known as the "foreign funding" case through an asset freeze order that was placed by a Cairo Elementary Court based on the request of the investigative judge of Case 173. The decision is unprecedented as Nazra is the only NGO in the case that received an asset freeze order."
#Egypt court sets April 23 as date to rule on travel ban against WHRD @mozn & same date to rule on assets freeze of @NazraEgypt as judicial harassment continues @declanwalsh @BaheyHassan @AWID
https://t.co/s1H6F7fA32

— Brian Dooley (@dooley_dooley) February 15, 2020
Cases against HRDs, journalists 'recycled'
Seven organisations issued a joint statement noting that recycling or arbitrary revival of cases has been used against human rights defenders, journalists, political opponents and others perceived as critical of the Egyptian government.
Some examples of 'recycling cases' include:
Mohamed al-Qassas, the deputy president of the opposition party Strong Egypt was sentenced to 15 days by the Supreme State Security Prosecution after he was investigated for organising meetings in his solitary confinement cell and joining a terrorist group. This came after his release on 8th December 2019, where he served two years in solitary confinement at a high-security prison.

Blogger Islam al-Refaei was investigated in another case shortly after being released on bail. He is accused of contacting Amnesty International and Human Rights Watch from inside the prison facility. Al- Refaei is currently in pre-trial detention.

Lawyer Ibrahim Metwally, founder of the Association of the Families of the Disappeared, remains in pre-trial detention, pending a new case. He was accused of joining a terrorist group and involvement in terrorist financing crimes, just two weeks after his release, after spending two years in solitary confinement.
Peaceful Assembly
A joint letter directed to the EU presidency by Amnesty International, Human Rights Watch, Solidar, Euromed Rights, International Federation for Human Rights (FIDH), Reporters Without Borders and Cairo Institute for Human Rights Studies, pointed out the increasing suppression against peaceful protesters in Egypt. As previously covered by the CIVICUS Monitor, there was a massive wave of arrests since the September 2019 protests. These arrests were accompanied by a violent crackdown on journalists, human rights defenders (HRDs), trade unionists, NGOs and peaceful opposition party figures. The letter criticises the EU's current response to Egypt.
"Sadly, the severe deterioration of human rights in Egypt was met by silence from the EU, mostly due to EU member states' divisions which have made it nearly impossible to secure EU statements of concern, let alone to adopt more persuasive measures. The EU's passivity regarding the latest wave of government violence, arrests and intimidations prompted the European Parliament to call for a comprehensive review of the EU's relations with the country, which we agree is urgently needed given the failure of the current approach to produce any meaningful results."
It calls for a partnership between the EU and Egypt to reaffirm that 'human rights, democracy and the rule of law' are central elements in the EU-Egypt Partnership Priorities and to ensure that these commitments are properly implemented.
Despite this, prior to 25th January 2020, security measures were increased by Egyptian authorities in conjunction with calls to celebrate the ninth commemoration of the Egyptian revolution which led to the fall of Hosni Mubarak's regime.
Expression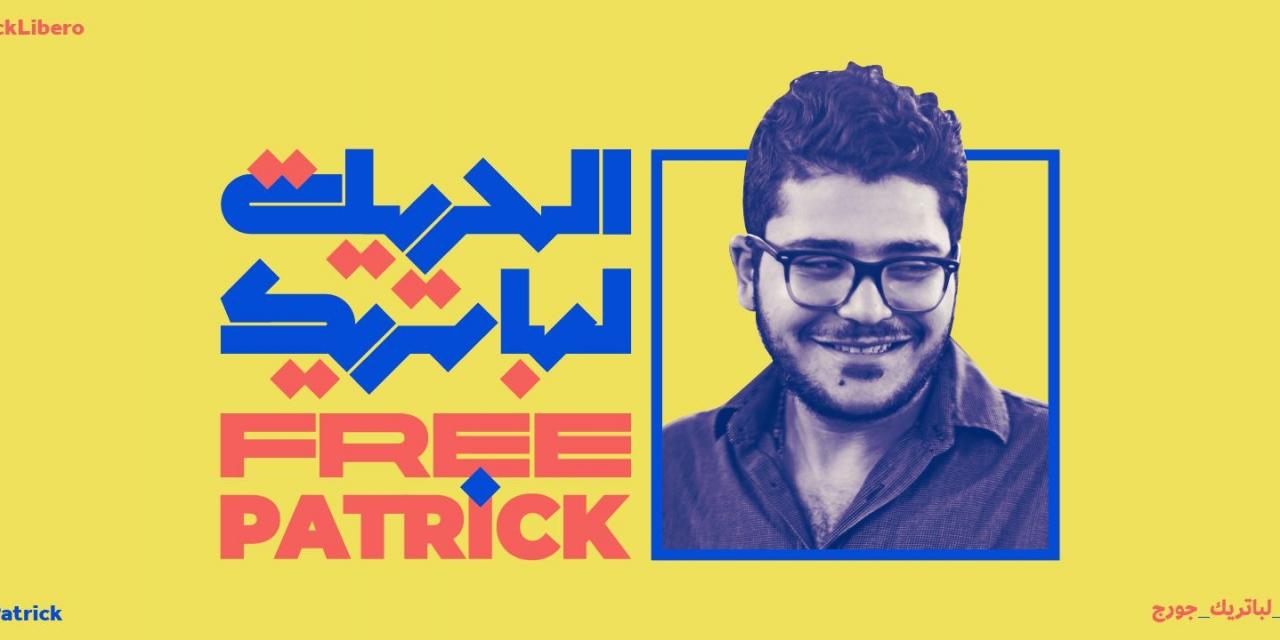 On 7th February 2020, human rights activist and researcher Patrick Zeki was arrested at Cairo International Airport. Zeki, who is a postgraduate student at Bologna University in Italy, was returning home to visit his family when he was stopped and arrested. Egyptian Initiative for Personal Rights (EIPR), the organisation where Zaki works on gender and sexuality rights, called for his immediate release and noted (that he was) threatened, tortured and interrogated. He was then sent to the public prosecution where he was presented with a long list of accusations, including "calling for protests without permission," "spreading false news" and inciting violence and terrorism. The accusations, which Zaki denies, are solely based on posts that he made on social media accounts dating back to September 2019.
On 22nd February 2020, Zaki stood before the Mansoura II Prosecution for a scheduled hearing on the state of his detention. The Prosecution decided to renew Zaki's detention for a further 15 days, pending investigation in the administrative case (7245/2019) against him.
#PatrickGeorgeZaki CEU students stand up for detained student Patrick George Zeki, detained by the Egyptian authorities. We do so at 6pm, along with our six #ErasmusMundus #GEMMA sisteruniversities . #AcademicFreedom #genderstudies #freeZeki #FreePatrick pic.twitter.com/JcJZmZETBr

— Central European U (@ceu) February 17, 2020
تطالب المبادرة المصرية بالإفراج الفوري عن باتريك جورجزكي ووضع حد للمضايقات والاعتقالات العشوائية التي تستهدف العاملين بحقوق الإنسان والمجتمع المدني والصحافيين المستمرة منذسبتمبر 2019. #الحرية_لباتريك_جورج https://t.co/Ng1xORdatR pic.twitter.com/Y7N1AuxXet

— EIPR المبادرة المصرية للحقوقالشخصية (@EIPR) February 9, 2020
In a statement, Human Rights Watch noted increasing attacks, arrests and prosecutions of human rights defenders.
"Instead of facilitating the much-needed work of human rights defenders like Patrick George Zaki, security forces detained and allegedly tortured him," - Joe Stork, deputy Middle East and North Africa director at Human Rights Watch.
In a separate case, Reporters Without Borders issued a statement calling for the immediate release of three journalists who in the past two years have been held for the maximum legal period for administrative detention in Egypt. Two of the three journalists, Hassan al-Banna Mubarak and Mostafa Al-Aasar are suffering from ill health. However, prison authorities have refused requests for a transfer. The third journalist, Moataz Wednan, has only been permitted four family visits since his arrest in February 2018.
"The Egyptian authorities use administrative detention as a way to keep holding journalists arbitrarily, and they violate the two-year limit on this form of detention although it is already an abnormally long period to hold someone without trial," - Sabrina Bennoui, the head of RSF's Middle East desk.
In a separate case, RSF reports that the whereabouts of Al-Jazeera journalist Badr Mohamed Badr within the prison system, who has been detained since 2017, have been unknown for the last three months. However, he reappeared in court this month. Badr was charged with "membership of a terrorist group" and "spreading false news". Although he should have been released in March 2019 due to Egyptian law which limits preventive detention to a maximum of two years, this was not carried out.
Badr learned in court this month that he is now under investigation for other crimes.
"As if nothing untoward had ever happened, the Egyptian justice system has reversed its decision to free Badr Mohamed Badr and has brought him back to light after a disappearance of several months....To keep journalists in prison and circumvent the two-year limit on preventive detention, they reset the counter to zero by opening a new investigation,"- Sabrina Bennoui, the head of RSF's Middle East desk.
The very same methods have been used to keep other journalists imprisoned in Egypt.