Closure of 45 civil society organisations within one month in Nicaragua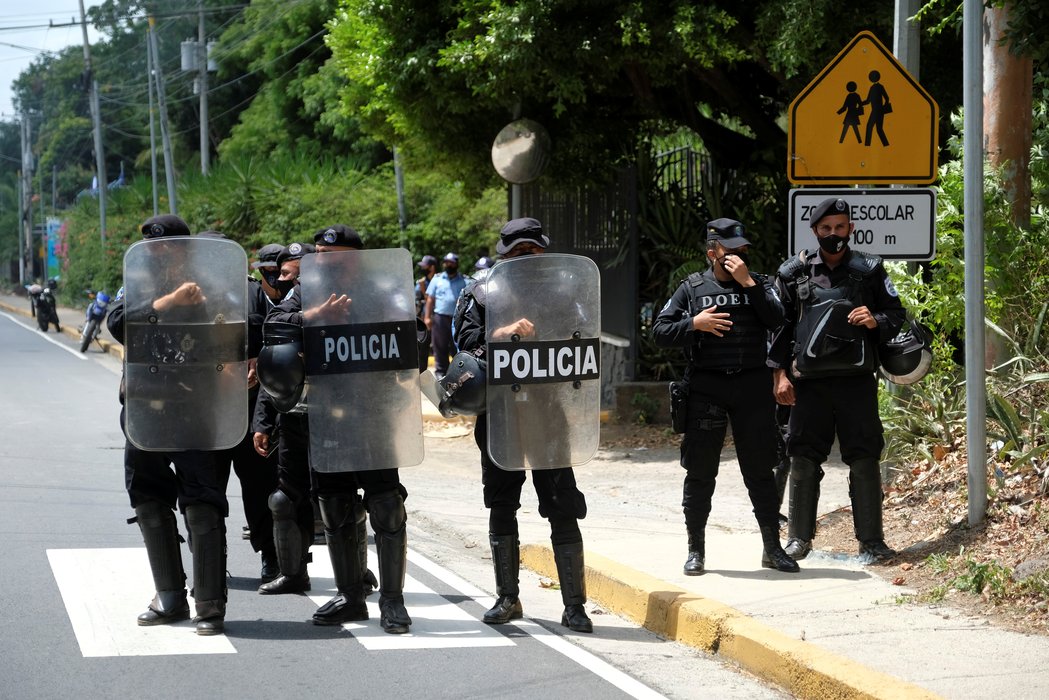 As reported in the CIVICUS Monitor in previous updates, an unprecedented crackdown against civil society and political opposition has been ongoing in Nicaragua since the end of May 2021. Dozens of human rights defenders and members of the political opposition have been arrested on trumped-up charges. Business leaders, journalists and former allies of President Ortega have also been targeted.
The wave of repression has led to a surge in migration to neighbouring countries, with Costa Rica registering over 5,000 asylum applications from Nicaragua in July 2021 alone. This represents the highest number of refugee requests submitted by Nicaraguans to Costa Rica since 2018's deadly protests. Claudia Vargas, a refugee herself and coordinator of the Nicaraguan community for the Arias Foundation in San José, told Reuters: "We are amazed at the number of people who have arrived, most of them activists or people from civil society organisations."
In July and August 2021 the crackdown on civil society has continued and deepened, as detailed in the below sections.
Association
Wave of CSO closures
Posición de la Plataforma de Redes de ONG'S Nicaragüense ante la cancelación de personerías jurídicas a 24 organizaciones sin fines de lucro en #Nicaragua. pic.twitter.com/VXs4PlgEul

— La Mesa Redonda (@lamesaredondan1) July 29, 2021
In the space of a month, at least 45 civil society organisations had their legal status revoked by Nicaraguan authorities. The country's government accused the organisations of failing to comply with civil society reporting requirements and of obstructing authorities' work. The cancellations were based on legal instruments such as the "foreign agents law", the law on non-profit entities (Law 147), the law against money laundering (Law 977) and other regulations on non-profit oversight.
On 28th July 2021, Nicaragua's lawmakers cancelled the legal personality of 24 organisations, 15 of which were medical associations or provided health services to communities. In some cases, their leaders had expressed criticism of the government's management of the COVID-19 pandemic. The National Assembly also determined that the CSOs' assets should become State property. On 16th August 2021, another six organisations were closed through a resolution published on Nicaragua's official diary (Gaceta Diario Oficial 152). They were international organisations operating in the country, including local chapters of Oxfam.
On 26th August 2021, lawmakers ordered the cancellation of 15 CSOs, including feminist organisations and organisations working on the promotion of social, economic and cultural rights. Civil society coalitions such as Red Nicaragüense por la Democracia y el Desarrollo Local (Nicaraguan Network for Democracy and Local Development) and the Federación de Organismos No Gubernamentales de Nicaragua (Federation of Nicaraguan Non-Governmental Organisations) were also affected. On 28th August 2021, the Inter-American Commission on Human Rights (IACHR) condemned the cancellation of the legal status of civil society organisations, expressing concern about the negative impact that the closure of CSOs has on human rights in the country.
Detention of activists and human rights defenders
La CPDH presentó este 14 de julio un recurso de Exhibición Personal por "Graves amenazas a la integridad física" en el caso de Medardo Mairena, Freddy Navas y Pedro Mena. pic.twitter.com/eG6DBH2Ilx

— Comisión Permanente de Derechos Humanos (@CPDHNicaragua) July 14, 2021
In July 2021, several former political prisoners who had been released in 2019 under Nicaragua's Amnesty Law were rearrested. Campesino leaders and human rights defenders Medardo Mairena, Pedro Mena and Freddy Navas were detained on 5th July 2021 under accusations of "terrorism". Mairena was planning to run for the Nicaraguan presidency, making him the sixth presidential pre-candidate arrested in the recent crackdown on the opposition. Student leaders Lesther Alemán and Max Jerez, members of the Alianza Universitaria Nicaragüense (Nicaraguan University Alliance - AUN), were also detained.
Many of those arrested are accused of alleged crimes committed during mass protests in 2018. The authorities also said that they were investigating those arrested for inciting foreign interference and violating national sovereignty. On 1st September 2021, the Nicaraguan Public Prosecutor's Office formally charged Freddy Navas with "conspiracy against national integrity" under articles 410 and 412 of the Penal Code. He had been held incommunicado for nearly two months.
Situation of political prisoners
The enforced disappearance of people is the latest tactic that authorities in Nicaragua have adopted to silence any criticism or dissenting voices. We demand that Daniel Ortega's government immediately release all those detained for exercising their rights. pic.twitter.com/ADTcIy7303

— Amnesty International (@amnesty) August 25, 2021
In a report released on 25th August 2021, Amnesty International underscored the increasing repression in Nicaragua since May 2021, documenting the cases of ten people detained for exercising their civic freedoms. The cases detailed were those of Tamara Dávila, Miguel Mendoza, José Pallais, Suyen Barahona, Víctor Hugo Tinoco, Félix Maradiaga, Ana Margarita Vijil, Violeta Granera, Jorge Hugo Torres and Dora María Téllez. According to Amnesty International's analysis, the concealment of the whereabouts of these detainees constituted enforced disappearance from the perspective of Nicaragua's international human rights obligations. In addition, these are not isolated cases and occur in a context where there are many reports of other detainees in similar situations. The report states:
"In the case of Nicaragua, enforced disappearance is one more of a series of measures implemented by a repressive apparatus created by state authorities to silence criticism or opposition of any kind."
On 27th August 2021, the Inter-American Court of Human Rights held a public hearing on the case of detained presidential pre-candidate Juan Sebastián Chamorro and others in similar situations. The hearing followed a resolution by the Court from July 2021 requesting the immediate release of José Adán Aguerri Chamorro, Félix Maradiaga, Violeta Granera and Tamara Dávila Rivas. At the hearing, the family members of political prisoners said they had had little or no information about their relatives' whereabouts.
While the State of Nicaragua did not send a representative to attend the Court's virtual hearing, on 31st August 2021 Nicaragua's authorities finally allowed visits to at least five of the 35 opposition leaders detained in recent months. According to news reports, the family members of Félix Maradiaga and Juan Sebastián Chamorro said their loved ones had been subjected to ill-treatment and "psychological torture" in jail. Both have reportedly been subjected to daily interrogations; Maradiaga would have spent an extended period in solitary confinement.
Massacre of Indigenous peoples on the Caribbean coast
Mujeres Mayangna se pronuncian sobre la #Masacre indígena y aumentan a 18 los asesinados en el cerro Kiwakumbaih del territorio Mayangna Sauni As. He incluyen la violacion de una mujer indígena por
al menos 20 colonos. Muchos de los cuerpos ya fueron enterrados. #SOSNicaragua

— Amaru Ruiz (@AmaruRuiz) August 27, 2021
On 23rd August 2021, land invaders perpetrated a massacre against the Indigenous community of Kiwakumbaih on the Caribbean coast of Nicaragua, leaving at least 18 Mayangna and Miskitu people dead. According to a statement by the Government of Mayangna Women of Nicaragua, around a hundred armed attackers entered the Mayangna Sauni As territory, sexually assaulted at least one woman, and tortured and murdered Indigenous peoples. They have confirmed 18 people killed, with the expectation that more would be confirmed in a tunnel dynamited by attackers, where community members worked on legal artisanal gold mining.
The region, inside the Bosawás reserve, has been targeted by land grabbers since 2012, leaving communities exposed to extreme violence.
Expression
El diario La Prensa, el más antiguo de Nicaragua, dejará de circular en su versión impresa a partir del viernes y denunció en su portada final que "la dictadura", en alusión al Gobierno de Daniel Ortega, retiene su papel, pero "no puede ocultar la verdad"https://t.co/o6O59fyPzo pic.twitter.com/8lbdkpkmVx

— EFE Noticias (@EFEnoticias) August 12, 2021
At the beginning of August 2021, National Police opened an investigation against the independent newspaper La Prensa and its employees on suspicion of "customs fraud and money laundering". On 12th August 2021, the newspaper published in its last print edition a front-page headline saying: "the dictatorship is holding on to our newsprint, but it cannot hide the truth". The next day police raided the newspaper's headquarters, turned off its servers, disconnected electricity and internet access and detained the employees, who were in the building for several hours. La Prensa's director, Juan Lorenzo Holmann, was detained during the raid. The Public Prosecutor's Office said he would be held for 90 days while the newspaper is investigated.
On 24th August 2021, the Public Prosecutor's Office indicted journalist Carlos Fernando Chamorro and his brother, the detained former deputy Pedro Joaquín Chamorro, for alleged money laundering. The charges were also extended to Cristiana Chamorro, their sister and a former presidential candidate who has been under house arrest since 2nd June 2021.
In a related development, Carlos Fernando Chamorro announced on 26th August 2021 that his programme Confidencial would no longer be broadcast on Radio Corporación because of government censorship and criminalisation. Radio Corporación also suspended the programme Onda Local, whose hosts often expressed criticism of government. The programme's website said the decision "is evidently a consequence of the censorship and threats that the regime of Daniel Ortega and Rosario Murillo continues to impose on the media."
On 28th August 2021, the journalist and head of press for Unidad Nacional Azul y Blanco (UNAB), Josué Garay Alcántara, said he had left Nicaragua after being alerted to an imminent arrest warrant and travel restriction against him. The journalist has been subjected to constant attacks and threats since 2018, when he worked with La Prensa.
Eye on Nicaragua, an observatory set up by free expression group PEN, reported at the end of August 2021 that Ortega's government increased repressive attacks against dissenting voices by using the recently adopted laws on crimes against the state. For example, on 31st August 2021 the Public Prosecutor's Office announced charges of "conspiracy to undermine national integrity" against the journalists Miguel Mora and Miguel Mendoza, who have been under arrest since June 2021.