'Closed' civic space shows Laos not taking annual human rights dialogues seriously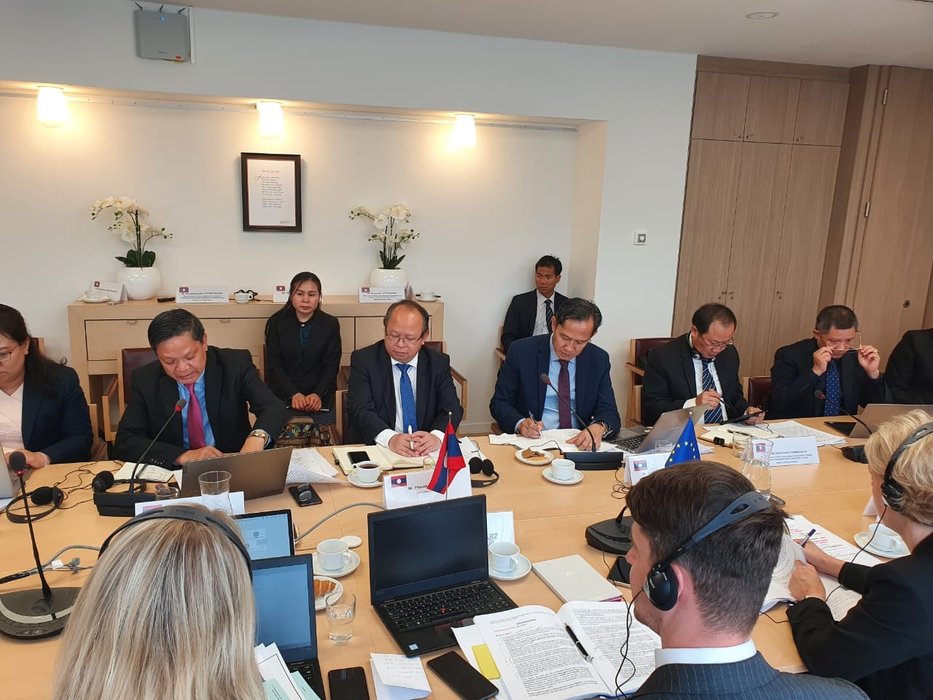 Civic space in Laos is rated as 'closed' based on research by the CIVICUS Monitor. The rights to freedom of expression, association and peaceful assembly remained severely restricted, while the state exercises strict control over media and there is extensive surveillance of society.
On 13th July 2022, the European Union and Laos held the 11th meeting of their Human Rights Dialogue in Brussels. The dialogue reportedly covered various topics including freedom of expression and association. It focused on the implementation of the recommendations from the third cycle of the Universal Periodic Review (UPR) and Laos' recently adopted UPR Action Plan.
During the dialogue, individual cases of persons of concern were reportedly raised by the EU. A number of concrete deliverables were agreed upon, to be followed up ahead of the next Human Rights Dialogue, including cooperation with the UN special procedures, reporting under the UN conventions and registration of civil society organisations.
Despite the dialogues, human rights groups stated there was 'no improvement in the human rights situation in Laos' and raised a number of concerns related to civic space including the detention of political prisoners and issues of enforced disappearances that reman unaddressed. Further, civil society groups and media have continued to highlight the regime's iron grip on the media, persecution of religious minorities and restrictions on protests related to land.
Association
Political prisoners remain in detention
#Laos: Ahead of tomorrow's human rights dialogue between the government and the EU, @fidh_en and @mldh_fr publish a joint briefing paper on human rights developments over the past year https://t.co/IZ3tXjI5Z4

— AG (@ag_fidh) July 12, 2022
In a briefing to the EU published by the International Federation for Human Rights (FIDH) and its member organisation, the Lao Movement for Human Rights (LMHR), the groups highlighted that several individuals who have been imprisoned for the exercise of their right to freedom of opinion and expression remain behind bars.
They include Houayheuang Xayabouly (aka Mouay), who has been detained since 12th September 2019, and is serving a five-year prison sentence on spurious charges under Article 117 of the Criminal Code ("Propaganda against the Lao People's Democratic Republic"). Mouay is currently detained in Champasak provincial prison.
As previously documented, Mouay had repeatedly used Facebook to criticise the Lao government, from instances of corruption to the mishandling of the Xe-Pian Xe-Namnoy dam collapse in Attapeu Province. She was arrested in September 2019 on defamation charges after condemning on Facebook the slow response of authorities in Laos' flooded southern Champassak and Salavan provinces.
In June 2021, the United Nations Working Group on Arbitrary Detention (UNWGAD) determined that her arrest and subsequent imprisonment was arbitrary and in violation of international law.
Further, the two groups highlighted the cases of Somphone Phimmasone, Soukan Chaithad and Lodkham who have been detained since March 2016, and are serving prison sentences of 20, 16 and 12 years respectively, on trumped-up charges under Articles 56, 65 and 72 of the Criminal Code. Somphone and Lodkham are currently detained in Tan Piao prison, Vientiane Province, while Soukan is incarcerated in Kaeng Khan prison, Savannakhet Province.
As previously documented, they were arrested for taking part in a demonstration outside the Lao Embassy in Thailand to express concerns over the government's human rights record. The three had also posted messages on social media criticising the government.
Failure to address enforced disappearances
FIDH and LMHR also reported that "the government's approach to enforced disappearances remains characterised by silence, inaction and lack of political will to address them".
Ten years after the enforced disappearance of human rights defender Sombath Somphone, the government has continued in its failure to provide details about its claim that it has continued to investigate Sombath's disappearance and about the steps it has taken to determine his fate or whereabouts.
In addition, the two groups stated that the fate and whereabouts of at least 13 other individuals remain unknown. Two communications sent jointly by various UN special procedures to the government in December 2020 and February 2021 on cases of enforced disappearances have remained unanswered. The government has also refused to ratify the International Convention for the Protection of All Persons from Enforced Disappearance (ICPPED), despite having signed the treaty in September 2008.
Expression
Press freedom severely restricted
In May 2022, Reporters Without Borders (RSF) issued the 2022 edition of its World Press Freedom Index, which assesses the status of press freedom in 180 countries. Laos was ranked close to the bottom at 161st place.
RSF stated that in Laos, "the state exerts complete control over the media, is an information "black hole" from which little reliable information emerges". The government essentially controls all press. Laos' 24 newspapers, 32 television networks and 44 radio stations are required to follow the party line dictated by the People's Propaganda Commissariat, which is disseminated by the three dailies published by the ruling party.
The Lao Popular Revolutionary Party (LPRP) keeps the press under close surveillance and makes the creation of independent media impossible. This political environment encourages self-censorship.
A reporter in the capital Vientiane told Radio Free Asia that no media outlet there is free or independent. "If we're told to cover that event, we'll go and do it. They'll tell us whether we can or can't go and we must follow government policy. We only report what is approved and permitted by the authorities," the Vientiane reporter said.
Continued restrictions and attacks on Christians
On 24th March 2022, Radio Free Asia reported that officials in southern Laos had ordered a Christian family to remove social media posts and videos of villagers attacking a man's coffin during his funeral in December 2021 because they opposed the family's faith.
According to RFA, when the family from Savannakhet province's Dong Savanh village took the body of a family member to the cemetery for burial, local authorities and residents angered by the group's practice of a "foreign religion" beat the coffin with sticks and struck mourners and pallbearers with clubs. The family buried the man in their own rice field, but authorities and residents continued to harass them.
At a meeting in March 2022, the district authorities demanded the family take down the posts and the videos of their burned home and the attack on the coffin, or make changes to the posts. One of the proposed changes was that the social media post should imply that someone else burned down their home, and not the village chief.
The family refused to make any changes to the posts or to delete the video recording, and said they would file a complaint with the provincial and central governments.
Christians in Laos have faced a string of similar assaults and legal moves against them in the one-party communist state with a predominantly Buddhist population despite a national law protecting the free exercise of their faith.
A report published in May 2021, documented incidents of religious restrictions including arrests and detention of followers of minority religious groups, particularly Christians associated with the Lao Evangelical Church (LEC).
Peaceful Assembly
Arrests of villagers planning to protest land grab by military 
Lao villagers beaten, detained by soldiers in land dispute https://t.co/ixdbiysLcD pic.twitter.com/5vZdO8TuCJ

— TheEazyCadet (@EazyCadet) April 12, 2022
On 10th April 2022, five villagers from Houay Nam Yen village, north of Vientiane, were assaulted and threatened with rifles by soldiers who claimed the villagers and families were living on the military-owned property.
The five villagers were transported in a truck for "re-education" and detained at Vientiane Military Division because they had gathered to stage a protest over a land dispute. According to the Naxaithong district deputy head, the officers' actions were necessary to impose their authority and avert more incidents.
The land dispute located in the Naxaithong area is rich and well suited to grazing animals and cultivating crops. Around 40 families have lived and farmed the land for many decades. However, a few months prior to the incident, troops began to claim ownership of the area by erecting shelters and a gate on the property and prohibiting residents from cultivating there.
As previously documented, land grabs and the appropriation of public property to turn over to foreign and domestic companies are common in Laos, and villagers affected by them often refuse to speak out publicly for fear of retribution.