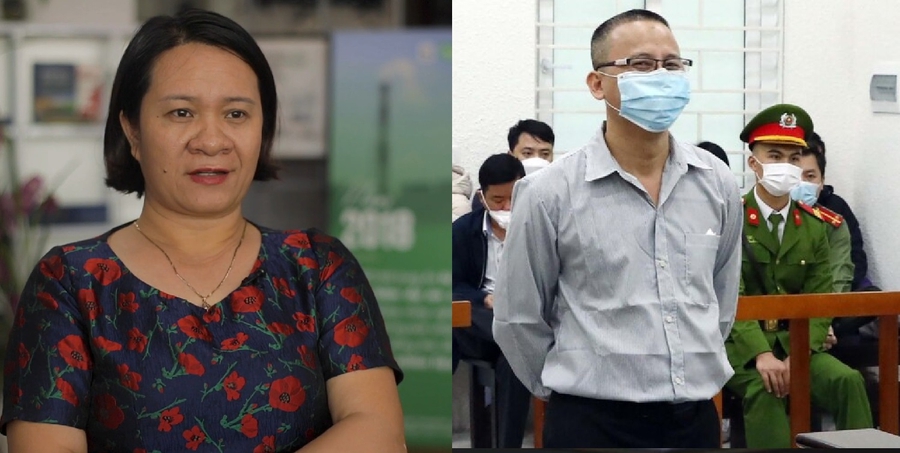 The state of civic space in Vietnam is rated 'closed' by the CIVICUS Monitor. In recent months, civil society has documented the use of tax evasion laws to target activists, in particular those involved in a network of NGOs to monitor the implementation of the EU-Vietnam Free Trade Agreement (EVFTA). New reports highlight the restrictions on movement for activists as well as increased arrests of media workers and environmental activists.
The Vietnamese government plans to adopt new regulations to tighten control over social media platforms, while journalists have been arrested and convicted for exposing abuses or for criticism of the state. Police have also failed to prevent plainclothes thugs from attacking land rights protesters.
Association
Authorities use tax laws to criminalise activists
In January 2022, Nguy Thi Khanh (photo above), the founder of the non-profit Green Innovation and Development Centre was arrested on tax evasion charges. State media did not confirm her detention until 9th February. Khanh, who won the Goldman Prize in 2018, has campaigned for Vietnam to adopt greener energy strategies, putting her at odds with the country's ambitions to boost its coal production. Her office and home were searched in January 2022 and documents and devices were confiscated.
Khanh is the latest activist to be detained and sentenced by the authorities on tax-related charges. As previously documented, on 11th January 2022, the Hanoi People's Court tried and sentenced former journalist Mai Phan Loi, who heads the Center for Media in Educating Community, to a total of 48 months in jail. He is a former editor-in-chief of Phap Luat, a prominent state-run magazine focused on legal issues.
Loi is also an executive board member of the Vietnamese NGOs on the EU-Vietnam Free Trade Agreement (EVFTA), a group of seven community service organisations (CSOs) established in November 2021 to satisfy the formation of the Domestic Advisory Group (DAG), a civil society component of EVFTA.
The convictions of Dang Dinh Bach and Mai Phan Loi, are widely seen as #Hanoi's effort to prevent the establishment of a network of NGOs to monitor the implementation of the #EVFTA. https://t.co/DmA7ASJyUM

— The Vietnamese Magazine (@thevnmesemag) January 25, 2022
On 24th January 2022, the Hanoi's People's Court tried Dang Dinh Bach, director of the non-profit organisation Law and Policy of Sustainable Development (LPSD), for alleged "tax evasion" under Article 200 of Vietnam's 2015 Penal Code. The court announced its verdict on the same day, sentencing Bach to five years in prison.
The Vietnamese reported that the convictions of Dang Dinh Bach and Mai Phan Loi are widely seen as Hanoi's effort to prevent the establishment of a network of NGOs to monitor the implementation of EVFTA. These NGOs could play an essential role in advocating for workers' rights, land rights and the environment in Vietnam.
Further, analysts believe the use of Vietnam's tax laws to criminalise activists is because it may be seen as a less obvious means of repression by foreign governments. Tax affairs of activists and NGOs can be framed as part of the anti-graft campaign. Local laws aid the authorities since the legality of NGOs or civil society organisations (CSOs) is opaque in Vietnam. Some believe that communist authorities are moving their focus away from political dissidents, who they have now effectively crushed, and onto the informal NGO sector.
Report highlights restrictions on movement against activists
On 17th February 2022, Human Rights Watch published a new report entitled "Locked Inside Our Home: Movement Restrictions on Rights Activists in Vietnam", that documents the government's routine violation of the right to freedom of movement and other basic rights by subjecting activists, dissidents, human rights defenders and others to indefinite house arrest, harassment and other forms of detention.
The human rights group documented the systematic blocking of more than 170 rights activists, bloggers, dissidents and their family members from domestic and international travel, including by stopping them at airports and border gates, and denying passports or other documents that would allow them to leave or enter the country. The government does not publish its travel ban list or notify those on the list or let them know how long a ban will last. Rights activists and bloggers may only find out when the police stop them at airports or border gates. The authorities have also engaged in collective punishment, imposing both house arrest and international travel bans on family members of rights activists.
The authorities have used various methods to keep people under house arrest, including stationing plainclothes security agents outside homes, locking dissidents' homes with padlocks or even putting superglue on locks, erecting roadblocks and other physical barriers, and mobilising neighbourhood thugs to intimidate people.
Phil Robertson, deputy Asia director at Human Rights Watch said: "The authorities employ rights abuse tactics such as holding activists under indefinite house arrest, detention when away from home, and bans on leaving the country under fabricated national security grounds."
12 jailed on subversion charges in trial deemed unfair
In a trial described by lawyers as unfair, a court in Ho Chi Minh City on 18th April 2022 sentenced 12 individuals to prison terms of between three and 13 years on charges of supporting an exile group accused of attempting to overthrow the government.
Defence attorney Nguyen Van Mieng told Radio Free Asia: "This trial violated legal procedures as it gathered nine cases from different provinces and cities and then combined them in a single trial. These 12 people had no relationships or links with each other."
Prosecutors had charged the group with "carrying out activities aimed at overthrowing the government" under Article 109 of Vietnam's Penal Code and with recruiting others to join the Provisional Government of Vietnam, a U.S.-based opposition group described by Vietnamese authorities as a terrorist organisation.
Their lawyer also said that the defendants had only thought they were joining projects aimed at helping the country's poor.
Based in Orange County, California, the Provisional Government of Vietnam was founded in 1991 by former soldiers and refugees loyal to the South Vietnamese government that existed before the country's takeover by North Vietnam in 1975. The group was designated a terrorist organisation by Vietnamese authorities in January 2018. At least 18 Vietnamese have been jailed in recent years for alleged involvement with the group.
Report highlights increased arrests of media workers and environmental activists
Our annual #report is out! Vietnam's one-party state stepped up arrests of both media professionals and online commentators in 2021, and targeted environmental #activists. Another development in 2021 was the increase in the severity of sentences. Read more:https://t.co/wphkxId1lW

— The 88 Project (@The88Project) May 9, 2022
On 9th May 2022, human rights group, The 88 Project released its annual report on the situation of activists and political prisoners in Vietnam. According to the group, Vietnam's one-party state stepped up arrests of media professionals, bloggers, journalists, authors and online commentators in 2021.
In total, Vietnam arrested 12 media professionals in 2021, up from seven in 2020, and three in 2019, representing a desperate attempt to stamp out fledgling efforts to promote press freedom in the country. The authorities also targeted civil society leaders engaged in environmental activism, suggesting that it is increasingly unwilling to tolerate any organised activism, even on issues that it formally recognises as political priorities such as climate change.
The group said that a notable development of 2021 was an increase in the severity of sentences handed down to activists compared to a year earlier. Forty-eight percent of those tried in 2020 were sentenced to five years or longer; in 2021, this rose to 72 percent. Notably, nine women were sentenced to prison in 2021, with seven of them receiving sentences of five years or more.
Expression
New regulations to tighten control over social media platforms
According to reports, the Vietnamese government plans to adopt new regulations to tighten control over social media platforms. The planned amendments to existing Decree No. 72/2013/ND-CP will require social media companies like Facebook and TikTok to remove within 24 hours content and services deemed illegal, block illegal livestreams on three hours' notice, and immediately remove content that harms national security. Companies that do not comply with the requirements risk having their social media platforms banned in Vietnam.
The amendments, which have not been made public, are expected to be signed by Prime Minister Pham Minh Chinh in May 2022 and enforced from July 2022.
Raman Jit Singh Chima, Asia Pacific Policy Director and Senior International Counsel at Access Now said : "Vietnam's new amendments impose near-impossible time pressures on platforms to respond to take-down orders from the authorities, giving them no space to evaluate which ones they should push back on to protect free expression - and that's probably the point. Platforms will be pushed to 'comply-first-evaluate-later', which will ramp up censorship online."
In Vietnam, where traditional media is state-controlled, people rely heavily on social media to freely express themselves and share information. Journalists, activists and artists widely use platforms such as Facebook and YouTube to bring human rights violations to light, often relying on live-streaming tools for reporting and advocacy.
Targeting of journalists for criticism of the state persists
The Communist Party controls all print, broadcast, online and electronic media and journalists have been prosecuted or physically attacked by persons suspected of being linked to the authorities for exposing state abuses. According to Reporters Without Borders, Vietnam's press freedom ranking is at 174th out of 180 countries in data published in May 2022 and is the world's third largest jailer of journalists.
The People's Court of Hanoi convicted journalist Le Van Dung in a two-hour trial on 23rd March 2022, under Article 117 of the penal code, an anti-state provision that bans "creating, storing and disseminating information and materials" against the state, and sentenced him to five years in prison and five subsequent years of probation.
According to the Committee to Protect Journalists, the charges against Dung stem from videos he made and posted online from March 2017 to September 2018, which the court ruled had defamed the Communist Party administration. Dung, who goes by "Le Dung Vova", regularly broadcasts live to thousands of followers on Facebook and YouTube. As previously documented, on 30th June 2021, police detained Dung just outside Hanoi, more than a month after he had been summoned by the Hanoi police several times for questioning.
A court in Vietnam's Ho Chi Minh City Tuesday sentenced journalist Nguyen Hoai Nam to three years and six months in jail for criticizing how authorities handled a corruption case he uncovered as a reporter. https://t.co/8KMttLJ0GW

— Radio Free Asia (@RadioFreeAsia) April 6, 2022
On 5th April 2022, the People's Court of Ho Chi Minh City sentenced journalist Nguyen Hoai Nam to three years, six months in prison under Article 331 of the penal code, a vague and restrictive law that bans "abusing freedom and democracy to infringe on the legal interests of the state, organisations, and individuals." It has been used to jail activists and journalists for dissent.
According to the Committee to Protect Journalists, the charges stemmed from Nam's critical reporting on how authorities handled a corruption case at the Vietnam Internal Waterways Agency, which he posted on his personal Facebook page, which has about 7,800 followers. Nam, a former state media reporter, also frequently posted criticism of Communist Party officials.
In #humanrights news: a court in Quang Tri Province sentenced #journalist Phan Bui Bao Thy and businessman Le Anh Dung to a year of "non-custodial re-education" for allegedly defaming government officials. Also, another FB'er was arrested. Read more: https://t.co/XgOHFbnQ2i

— The 88 Project (@The88Project) April 18, 2022
On 7th April 2022, the People's Court of Quang Tri sentenced journalist Phan Bui Bao Thy to one year of "non-custodial re-education" for allegedly defaming state leaders on social media. That sentence allows Thy to live outside prison but under state supervision that requires him to attend classes on local laws and regulations for the duration of his sentence, CPJ reported. The ruling, handed down after five days of deliberations, cited 79 posts allegedly published by Thy and Le Anh Dung, a local businessman, on Facebook pages, which the authorities say infringed on the "reputation, honour and dignity" of provincial leaders.
Peaceful Assembly
Workers at electronics plant strike for better wages and benefits
According to RFA, more than 2,000 workers at a Korean electronics company factory in Vietnam's Red River Delta went on strike on 14th February 2022. Employees at Cresyn Hanoi Co., Ltd. in the Bac Ninh province are demanding wage increases, meal allowances and bonuses for working on Vietnam's Reunification Day on 30th April and Labour Day on 1st May.
Workers also called on the company to pay employees based on the number of years they have worked. Furloughed employees would earn 70 percent of their base salary, under the workers' demands. They also asked management to create a COVID-19 testing calendar, provide more worker uniforms and expand the company parking lot.
Following this the authorities asked the company to make sure it is adhering to Vietnamese labour laws on annual raises, overtime pay and worker seniority. Cresyn Hanoi said it would respond to worker demands for higher base pay, allowances and bonuses. The company agreed to test workers weekly for the COVID-19 virus, increase employees' meal allowances, replace worker uniforms each year and expand the parking area.
Police fail to prevent plainclothes thugs from attacking land rights protesters
More than 100 villagers demanding title to their land were attacked and beaten on 5th March 2022 by attackers wearing civilian clothes while police looked on and refused to intervene, according to a report by Radio Free Asia (RFA).
The attack in Dien Ban town in central Vietnam's Quang Nam province came after petitioners set up tents and raised banners in front of the town's People's Committee headquarters, asking for their right to land for which they paid five years ago. Roads leading to Dien Ban had already been blocked to prevent access to the town centre when protesters arrived. Protesters raised banners and set up mats and blankets, planning to stay there.
According to RFA, a group of around 30 men wearing face masks, helmets and civilian clothes then arrived and attacked the group, beating petitioners including children and elderly women. The attackers also sprayed the protesters with fire extinguishers and took away their tents. They also illegally detained protesters and took them to a nearby police station. The unidentified attackers appeared to be working in coordination with local authorities to attack and disperse the protest.
Thugs associated with the police have frequently been used by Vietnamese authorities in the past to break up land rights protests or attack political dissidents or members of unsanctioned religious groups. In most cases no one is brought to justice despite the fact that victims often report their beatings to the police.