Civic space violations continue in Senegal: protesters killed, HRD and journalists judicially harassed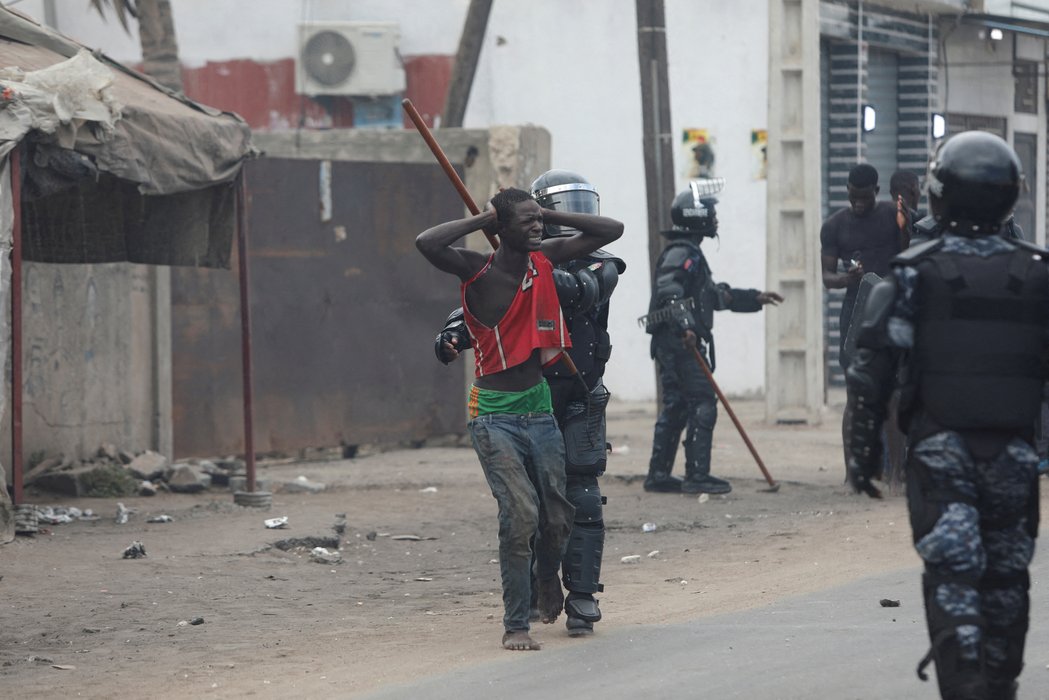 🇸🇳#Senegal added to our watchlist ahead of elections:

🟡Opposition politician, Ousmane Sonko, arrested, his political party dissolved
🟡Excessive & lethal force used to repress protests
🟡Several journalists detained

🔎Country rated OBSTRUCTED:https://t.co/4BJIS35GMR pic.twitter.com/RM9CvCZWja

— CIVICUS Monitor (@CIVICUSMonitor) September 21, 2023
General
Senegal added to the CIVICUS Monitor Watchlist
In September 2023, the CIVICUS Monitor placed Senegal on the Monitor Watchlist due to concerns about the deteriorating state of civic space in the country. Ahead of contested presidential elections in February 2024, authorities have increased the repression of opposition and dissenting voices, including journalists, while civic space violations have multiplied in the context of heightened political tension. Senegal's civic space is currently rated as 'obstructed'.
Association
Opposition party PASTEF dissolved, opposition leader remanded in custody, charged and declared ineligible to run for presidential elections
On 31st July 2023, opposition leader Ousmane Sonko of political party PASTEF (Parti Patriotes Africaines du Sénégal pour le Travail, l'Ethique et la Fraternité) was indicted and charged with various crimes, including fomenting an insurrection and undermining state security, in relation to the deadly June 2023 and March 2021 protests, both in response to the judicial prosecution of Sonko. Sonko had already been arrested on 28th July 2023 in relation to another incident.
A few hours later on 31st July, Minister of Interior Antoine Felix Abdoulaye Diome announced in a decree the dissolution of Sonko's political party PASTEF due to its party leaders "frequently calling on its supporters to insurrectional movements, which has led to serious consequences, including the loss of life, many wounded, as well as acts of looting of public and private property".
On 31st August 2023, Senegal's Minister of Justice Ismaïla Ladior Fall declared that Sonko's conviction for 'corrupting youth', for which the opposition leader was sentenced, in absentia, to a two-year prison sentence, was "final", therefore removing him from the electoral lists and rendering Sonko ineligible to run in the upcoming presidential elections set to take place in February 2024. However, on 12th October, a district court in Zinguichor ordered the re-enrolment of Sonko in the electoral lists.
1/ HRF condamne l'emprisonnement d'Aliou Sané, éminent militant sénégalais et leader du mouvement de jeunesse pro-démocratique Y'en a Marre. Sané a été arrêté le 5 octobre dans une affaire criminelle montée de toutes pièces. https://t.co/PBD5u04KuJ

— Human Rights Foundation en français (@HRF_fr) October 18, 2023
Social movement leader Aliou Sané arrested
On 5th October 2023, urban security police officers arrested Aliou Sané, coordinator for social movement Y en a Marre and deputy coordinator of the platform Forces Vives de la Nation (F24), at his home in Dakar in execution of an arrest warrant issued by the Dakar High Court on 25th July 2023, who ruled in favour of the prosecution. The latter had appealed the decision of the investigating judge, on 4th June 2023, to grant Sané provisional release after he was arrested on 29th May 2023. As reported previously on the Monitor, that day, Sané was arrested when he attempted to visit opposition leader Ousmane Sonko at his residence in Dakar. At the time, Sonko was prevented from leaving the residence. Sané is accused of participation in an unauthorised demonstration and disturbing public order.
Civil society organisations, including the West African Human Rights Defenders Network (WAHRDN) and Coalition Sénégalaise des Défenseurs des Droits Humains (COSEDDH), have strongly condemned the arrest.
#Sénégal - 11 sept

Une manif à été violemment réprimée à Khossanto (Saraya, Kédougou) avec au moins deux morts et plusieurs blessés enregistrés

AmnestySN, Raddho, Lsdh et AfricaJom condamnent la répression et demandent l'ouverture d'une enquête indépendante et impartiale

👇🏿

— Amnesty Sénégal (@AmnestySenegal) September 11, 2023
Peaceful Assembly
Two people killed in protests over mining sector recruitment reform in Khossanto
On 11th September 2023, protests erupted in Khossanto, Kédougou region, over changes in local rules on the recruitment of non-skilled workers by mining companies. According to news reports, clashes between protesters and police officers occurred, and protesters blocked roads and burnt tyres. At least two people were killed and eight injured when police officers reportedly used excessive force, including live ammunition, against protesters. Additionally, at least 37 people were arrested.
The protests erupted over a prefectural decree modifying the process of recruitment of local unskilled workers by mining companies. Before the modification, the selection of unskilled workers was done by a committee, which included the village chiefs and local authorities as its members. Under the new decree, the selection will be overseen by the prefect.
Human right groups, such as the Ligue Sénégalaise des Droits Humains (LSDH; Senegalese Human Rights League), the Rencontre Africaine pour la Défense des Droits de l'Homme (RADDHO), AfrikaJom Center and Amnesty International have condemned the crackdown on protesters and have requested the opening of an independent investigation into the circumstances of the protest killings.
Two people killed in opposition protests against Sonko's new charges
On 31st July 2023, spontaneous protests and clashes erupted over the indictment and arrest of opposition leader Ousmane Sonko (see under Association), killing at least two people in Zinguinchor. According to news reports, security forces used tear gas to disperse protesters while the latter barricaded roads and burnt tyres. Authorities suspended mobile internet (see under Expression).
#Senegal🇸🇳: Journalist Pape Ale Niang was arrested on July 29 following a live-streamed video commenting on the detention of opposition leader Ousman Sonko. The journalist has started a hunger strike. We demand his immediate release! https://t.co/8eSKseIckk

— IFJ (@IFJGlobal) August 4, 2023
Expression
Detention of journalists
Journalist for online media outlet Senego, Khalil Kamara, was arrested on 5th September 2023 and arraigned the following day on a range of charges including disseminating false news, defamation, insulting an official body and offending the head of state. The charges relate to the publication of the opinion of a reader in connection with the arrest and indictment of opposition leader Ousmane Sonko (see under Association), which was critical of Senegal's President Macky Sall and some judges. Kamara was released on 6th September 2023.
On 14th August 2023, another journalist for Senego, Abdou Khadre Sakho, was briefly detained after he was summoned by the Police's Division of Criminal Investigations over an article published on 13th August 2023 alleging the existence of secret negotiations for the release of Ousmane Sonko. He was reportedly accused of 'dissemination of false news' and 'acts and manoeuvres likely to bring discredit to institutions'. He was released on 16th August 2023.
On 29th July 2023, journalist Pape Alé Niang of news site Dakar Matin was arrested and placed in pretrial detention on accusations of having called for an insurrection in the comments he made about Ousmane Sonko's arrest during a live broadcast on his website's Facebook page. Niang was granted provisional release on 8th August 2023. He was previously arrested on 6th November 2022 and charged with 'revealing information likely to harm national defence', 'receiving confidential administrative and military documents' and 'disseminating false news likely to discredit state institutions' for statements he made during a live-streamed video. He spent six weeks in detention before a court granted him bail but was re-arrested on 19th December 2023 for reportedly having violated his bail conditions.
⚠️ Update: Network connectivity analysis shows #Senegal is now in its 5th day of curfew-style mobile internet blackouts following the arrest of opposition leader Ousmane Sonko, severely limiting public freedom of expression and access to information 📵

📰 https://t.co/uYO2Zhzq5T pic.twitter.com/LiV50A8uI4

— NetBlocks (@netblocks) August 4, 2023
Restrictions on internet access, social media
On 31st July 2023, the day of the indictment of opposition leader Ousmane Sonko (see under Association), Communication Minister Moussa Bocar Thiam announced the temporary suspension of mobile data internet during certain hours 'due to the dissemination of hateful and subversive messages on social networks'. Two days later, on 2nd August 2023, the Communication Minister suspended social network TikTok until further notice, accusing it of threatening the stability of the country.