Protests and clashes after arrest opposition leader: several killed, arrested, TV stations suspended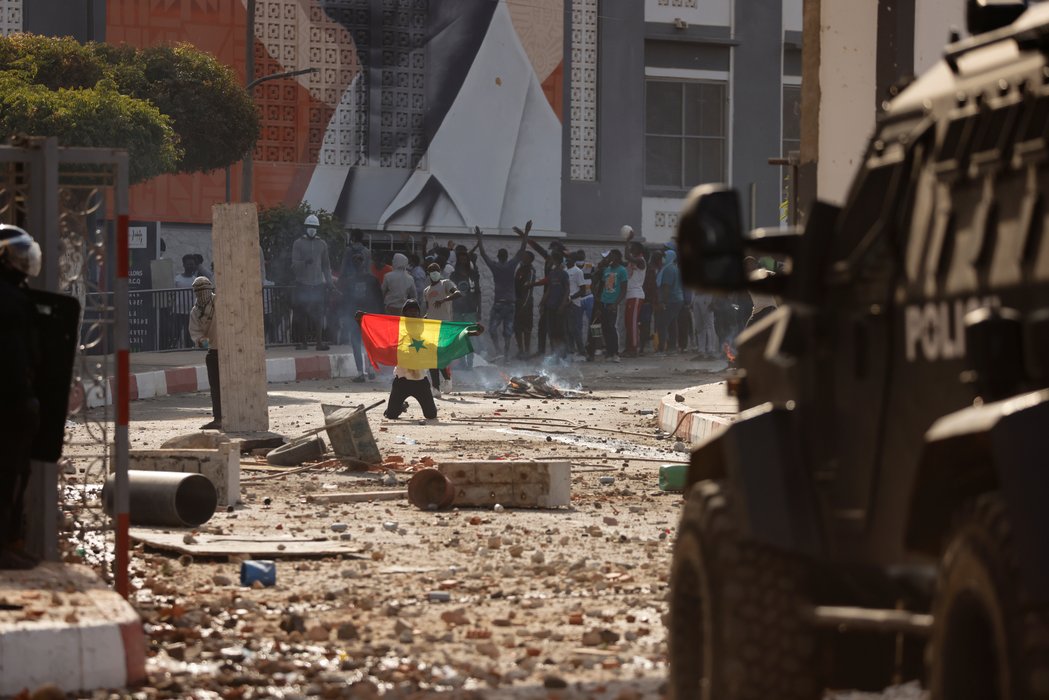 Tension has been on the rise in Senegal since the leader of political opposition party PASTEF (Patriotes du Sénégal pour le travail, l'éthique et la fraternité) and member of parliament Ousmane Sonko was accused of sexual assault and death threats. Sonko denies the accusations and accuses authorities of a 'political complot'. Protests and clashes erupted after the arrest of Sonko, killing several people. Journalists have been subjected to threats and political supporters and activists have been arrested. 
#Sénégal Appel à manifester après la mort de huit personnes la semaine dernière : les forces de sécurité doivent faire preuve de retenue https://t.co/WZ7XpJzxSV

— Clément Boursin (@ClementBoursin) March 10, 2021
Peaceful Assembly
Sonko protests: clashes, arrests, several killed
On 8th February 2021, the day when Sonko was summoned to appear at the gendarmerie, dozens of supporters gathered in the surrounds of Sonko's residence in Dakar's Cité Keur Gorgui neighbourhood to show their support for the opposition leader, who had declared previously he did not intend to respond to the summons as, according to him, the proper legal proceedings were not followed. Clashes between Sonko supporters and police officers ensued, with protesters throwing stones and setting cars and tyres on fire and police officers using tear gas against the gathering crowd. Police claim they were at the scene to disperse the protest - which was unauthorised due to the COVID-19 pandemic restrictions - and not to arrest the opposition leader. Clashes were also reported in surrounding neighbourhoods in Dakar. According to media reports, 43 people were arrested in Dakar and a further three in Ziguinchor Region, for similar protests. 
Following the National Assembly vote on 26th February 2021 which saw Ousmane Sonko lose his parliamentary immunity, 17 women who attempted to protest near Sonko's residence were arrested. Authorities reportedly also deployed police officers to prevent protests from happening. 
On 4th March 2021, the day after Ousmane Sonko was arrested for 'disturbance of public order', new protests and clashes broke out across the country, reportedly killing one person in Bignona, Ziguinchor Region. Clashes between security forces and protesters were also reported in other cities. In Dakar, clashes between security forces and protesters occurred, with security forces using tear gas and groups of protesters throwing stones. Protest and violent clashes continued in the days that followed. According to Amnesty International, at least eight people were killed, some through excessive use of force and the use of firearms by security forces. Individuals in plain clothes with batons, sticks and arms were observed beating up protesters at several sites. 
Since 15th February 2021, several political supporters and activists have been arrested on a range of accusations, including 'threats to disturb public order', 'criminal association', 'complicity in the dissemination of content contrary to good morals' and 'threats of assault and violence'. Among those arrested is Guy Marius Sagne of FRAPP – France Dégage, who has been arrested several times in the past in relation to protests. On 1st March 2021, teachers' unions observed a 24-hour strike to support teachers who were arrested, including a trade unionist that was arrested in a pro-Sonko protest. On 5th March 2021, six members of the movement Y en Marre were arrested. 
A new coalition of opposition parties and civil society movements - Mouvement pour la défense de la démocratie (M2D) - was formed during the March protests and has called for new protests on 13th March 2021 'to defend democracy and the rule of law'. 
Protest against COVID-19 curfew
Protests and clashes erupted in Dakar on 6th January 2021 after authorities in Senegal announced a new COVID-19 curfew in Dakar and Thiès. In the neighbourhood Ngor, people burned tyres, erected barricades and threw projectiles at security forces. Incidents were also reported in other neighbourhoods and suburbs such as Médina, Yoff, Pikine, Guédiawaye and Thiaroye.
Deux télévisions suspendues au Sénégal après avoir diffusé des images de troubles à Dakar https://t.co/Ds4FTKPmAc pic.twitter.com/5T7e4LpQ7c

— FRANCE 24 Français (@France24_fr) March 4, 2021
Expression
Sonko protests: two television stations suspended for 72 hours, access to social media disrupted
On the evening of 4th March 2021, after a day of protests and clashes, Senegal's national media regulator Conseil national de regulation de l'audioviduel (CNRA) suspended two private television stations – Sen TV and Walf TV - for a period of 72 hours for having 'persisted in (their) logic of violation of the regulations by broadcasting images of violence over and over'. CNRA had warned on 3rd March 2021 against the dissemination of content 'explicitly or implicitly condoning violence', 'inciting public disturbances' or 'likely to constitute a threat to national stability or social cohesion'.
Access to social media and messaging apps were disrupted in the early morning 5th March 2021 According to NetBlocks, metrics showed that Facebook, YouTube, WhatsApp and some Telegram servers were restricted on the Orange/Sonatel cellular network. The affected services were restored at 7.30 AM (UTC). 
Journalists subjected to death threats for covering the Sonko case
At least six journalists from different media outlets were subjected to death threats following their covering of the Sonko case, according to a statement from the International Federation of Journalists (IFJ) and the Syndicat des Professionnels de l'Information et de la Communication du Sénégal (Union of Information and Communication Professionals of Senegal: SYNPICS). Journalists Cheikh Omar Ndaw, Daouda Thiam, Yakham Mbaye, Zeynab Sankhare, Mame Maty Fall and Maimouna Ndour Faye have reported receiving death threats from unidentified individuals on social media. SYNPICS commented: 
"These attempts to obstruct [freedom of the press] are unacceptable in a Republic like Senegal! In the name of [what principle], journalists who do their work should suffer [the anger] of Senegalese citizens going so far as to deny them the right to live?" (translated from French)
Police officers physically assault camerawoman
On 28th September 2020, camerawoman Adja Ndiaye from online media outlet Dakaractu was physically assaulted, thrown on the ground and subdued by police officers at the police station in Dakar's Medina neighbourhood. Ndiaye was at the police station to report on the case of DJ Malick, who was summoned by the cybercrime police unit. The media worker's camera was damaged. 
New press law with restrictive provisions signed into law
On 6th January 2021, president Macky Sall signed the new press code into law, three years after it adoption. The press code has been criticised for some of its restrictive provisions. Reporters without Borders have asked authorities in Senegal to amend the press code and in particular: 
Prison sentences up to two years for defamation and up to three years for publishing "fake news" liable to "prejudice public decency" or "discredit public institutions";

Under article 194, news media editors who cannot demonstrate at least seven years of journalistic experience and publishers who cannot demonstrate at least ten years of experience can be sentenced to up to a year in prison; 

According to article 192, certain government officials can order the closure of a media outlet under "exceptional circumstances" such as a threat to state security or on the grounds of inciting hatred.
Assane Diagne of RSF said:
"Maintaining long jail terms for many ordinary press offences or for failing to have what is deemed to be sufficient experience to occupy senior media positions poses major threats to journalism in Senegal."