Investigative journalist spends weeks in prison on national security charges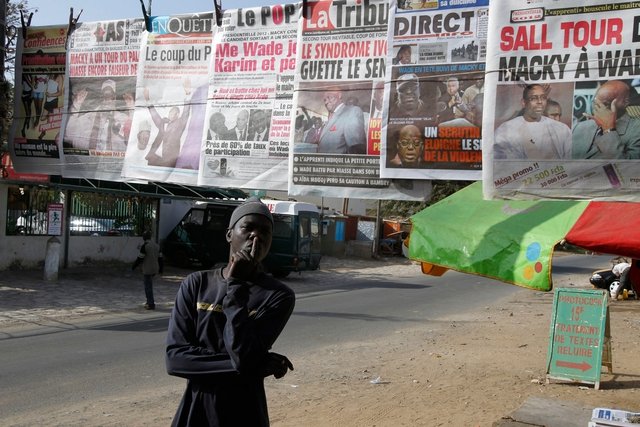 A court in Dakar, #Senegal on Tuesday ordered a temporary release of journalist Pape Alé Niang. The journalist was arrested again on December 19, 2022, after he was released from a 6-week detention.#FreePapeAleNiang
1/3 pic.twitter.com/5ByXf2hKkJ

— Media Foundation for West Africa (@TheMFWA) January 11, 2023
Expression
Investigative journalist spends weeks in prison on national security charges
On 6th November 2022, investigative journalist Pape Alé Niang, who works for the online news site Dakar Matin, was detained in relation to a live-streamed video claiming the contents of an internal report from the national gendarmerie reportedly exonerate opposition leader Ousmane Sonko, who was accused of rape in March 2021.
On 9th November 2022, Niang was charged with "revealing information likely to harm national defence", "receiving confidential administrative and military documents" and "disseminating false news likely to discredit state institutions", described by Niang's lawyer Ciré Clédor Ly as "a mountain of nonsense". Seydi Gassama, director of Amnesty International Senegal commented:
National security and public order must not be misused to torpedo freedom of expression or the right to information. We ask the authorities to respect journalistic work and not to force journalists to disclose their sources of information, nor to penalise whistle-blowers who publish information of public utility. - (Translated from French)
Niang was provisionally released six weeks later, on 14th December 2022, and placed under judicial supervision. His bail conditions included prohibition from traveling and from talking about the case, and the confiscation of his passport. Niang had been on hunger strike since 2nd December 2022.
On 19th December 2022, the journalist was re-arrested for having violated his bail conditions. Niang reportedly discussed his ongoing prosecution during a Facebook Live broadcast, which was denied by Niang's lawyers.
On 10th January 2023, Pape Alé Niang was placed under judicial control and released under conditions. Bail conditions include presenting himself weekly at a police station; a ban on travel and publicly speaking about his case. Again, the journalist had been on a hunger strike against his incarceration.
Press freedom advocates and journalist have mobilised against the arrest of Niang, including through sit-ins, protest marches, social media and offline campaigns and petitions to UN bodies. The Coordination des Associations de la Presse (CAP; Coordination of Press Organisations) set up the Committee for the Liberation of Pape Alé Niang.
Second Journalist Jailed in #Senegal. First it was Dakar Matin's Pape Ale Niang, now it's WalFadjri's Pape Ndiaye. Drop the charges and free him now. #JournalismIsNotACrime. https://t.co/XFRZN1ye0a

— Angela Quintal (@angelaquintal) March 9, 2023
Journalist detained for "spreading false news"
On 3rd March 2023, journalist and court reporter for Walf TV, Pape Ndiaye, was placed in custody on accusations of "spreading false news" and "insulting magistrates". Initially, Ndiaye was summoned by police over the statements the journalist made during the TV morning show 'Petit-déj' regarding a case of alleged sexual assault by opposition leader Ousmane Sonko. Ndiaye alleged, during the live programme, that all the substitutes for the Dakar prosecutor's office were in favour of dismissing the case, and that this was ignored by the Prosecutor on orders of the Head of State.
According to news reports, police officers asked the journalist during his interrogation to reveal his sources for the statement.
Sénégal: la chaîne Walf TV suspendue pour sept jours https://t.co/ZwJcnItv9F pic.twitter.com/Xtl4w8xNQJ

— RFI (@RFI) February 12, 2023
Broadcaster Walf TV suspended for seven days
On 10th February 2023, the Conseil national de regulation de l'audiovisuel (CNRA), Senegal's media regulator, suspended Walf TV from broadcasting for seven days with immediate effect. CNRA said that the suspension was due to the "irresponsible coverage of the protests in Mbacké by repeatedly broadcasting images of violence exposing adolescents, accompanied by dangerous remarks, including from reporters, in total violation of the regulations". The protest, organised by opposition party Pastef, became violent with clashes between protesters and security forces and were banned by authorities.
Camerawoman assaulted during protest
On 5th November 2022, police officers reportedly physically assaulted Fatou Dione, a camerawoman with online media outlet Buur News, while covering a protest in Dakar, causing her to lose consciousness. During the protest, which was organised by the Collectif pour la libération des détenus politiques (COLIDEP – Collective for the Liberation of Political Prisoners), police pushed Dione, who fell to the ground as a result (see also under Peaceful Assembly).
#Sénégal : interdiction d'une manifestation de l'opposition contre des irrégularités dans un fonds anti-Covid. La gestion des deniers publics, « le recul démocratique et l'impunité des hommes du pouvoir » sont au cœur de la contestation 👇https://t.co/Ler3xjF4Mp

— Le Monde Afrique (@LeMonde_Afrique) January 6, 2023
Peaceful Assembly
Protests banned, dispersed
On 3rd November 2022, the prefect of Dakar issued an order prohibiting a protest planned for 5th November 2022 at the Place de l'Indépendance in Dakar to demand the release of political prisoners. The prefect banned the protest, organised by the Collectif pour la libération des détenus politiques (COLIDEP – Collective for the Liberation of Political Prisoners), on grounds of "risks to the disturbance of public order" and "hindrance to the free circulation of people and goods".
Despite the protest ban, people attempted to gather on 5th November 2022 and were met by police officers who reportedly cornered off the Place de l'Indépendance. At least 17 people, members of COLIDEP, were allegedly arrested for having contravened the protest ban. Additionally, police assaulted camerawoman Fatou Dione (see under Expression).
Another protest, planned for 6th January 2023 at the Place de la Nation in Dakar, against irregularities in the management of a public COVID-19 fund, as revealed by an audit report by the Court of Auditors, was banned by the prefect of Dakar. The latter invoked public works at the Place de la Nation in preparation for Independence Day, making it "impossible to hold rallies, because of the risk of accidents" and risks of delaying the work. The protest was organised by opposition coalition Yewwi Askan Wi. A previous protest, organised by civil society, took place in Dakar on 30th December 2022, reportedly without incident.
As reported previously on the Monitor, protests organised by the opposition coalition in June 2022, in response to the invalidation of their electoral list by the Constitutional Court, were banned by local authorities.
Sénégal: à Dakar, le concert «pour la limitation à 2 mandats présidentiels» interdit par le préfet https://t.co/ttEoKCRXi7 pic.twitter.com/9F1SdmS5t2

— RFI (@RFI) September 17, 2022
Civil society pan African concert banned
In September 2022, the prefect of Dakar prohibited a civil society concert for the "limitation to two presidential terms" foreseen for 17th September 2022 at the Radisson Blu hotel in Dakar. The concert was part of the Citizen Campaign for the Limitation of Mandates, had 11 artists from seven countries on its schedule, and aimed at presenting a new song celebrating democracy and good governance.
According to a statement by pro-democracy group Tournons la Page, one of the initiators of the concert, a request to authorise the concert was submitted to the Dakar prefecture on 2nd September 2022. The prefect prohibited the concert at the last minute - on 17th September 2022 – using grounds of "risks to disturb public order and accidents", while also saying that the venue for the event "does not present all the security guarantees for an event of such a size".
The concert and its ban come in a context in which President Macky Sall remains silent on whether or not he will be running for a third term in 2024, which would be unconstitutional as Senegal's Constitution only allows for a maximum of two consecutive terms. Supporters of the presidential camp, however, claim that the constitutional revision in 2016 has reset the clock, thereby allowing Sall another term. In response to Sall's silence, a dozen CSOs launched the initiative "Jàmm a Gën 3ᵉ mandate" ("Peace goes better than a third term" in Wolof) in October 2022.
Tribunal d'Instance : Les activistes Ousmane Sarr et Cie écopent 2 mois de prison ferme https://t.co/KHr877bBXs pic.twitter.com/SRk0cARPvs

— Dakaractu.com (@dakaractu) January 16, 2023
Association
Activists sentenced to two months in prison
On 12th January 2023, a court in Dakar sentenced three activists - Bayna Guèye, Ousmane Sarr and Ahmad Sourang Diallo – to a prison sentence of two months for "participation in an undeclared protest". They were arrested on 3rd January 2023 for having yelled "Free Pape Alé Niang", referring to the journalist who was detained since November 2022 (see under Expression), at the office of the Prime Minister during a meeting between the Prime Minister and CSOs to discuss the report by the Court of Auditors on irregularities in the management of a COVID-19 fund.