China continues Hong Kong crackdown, persecution of activists and journalists for their reporting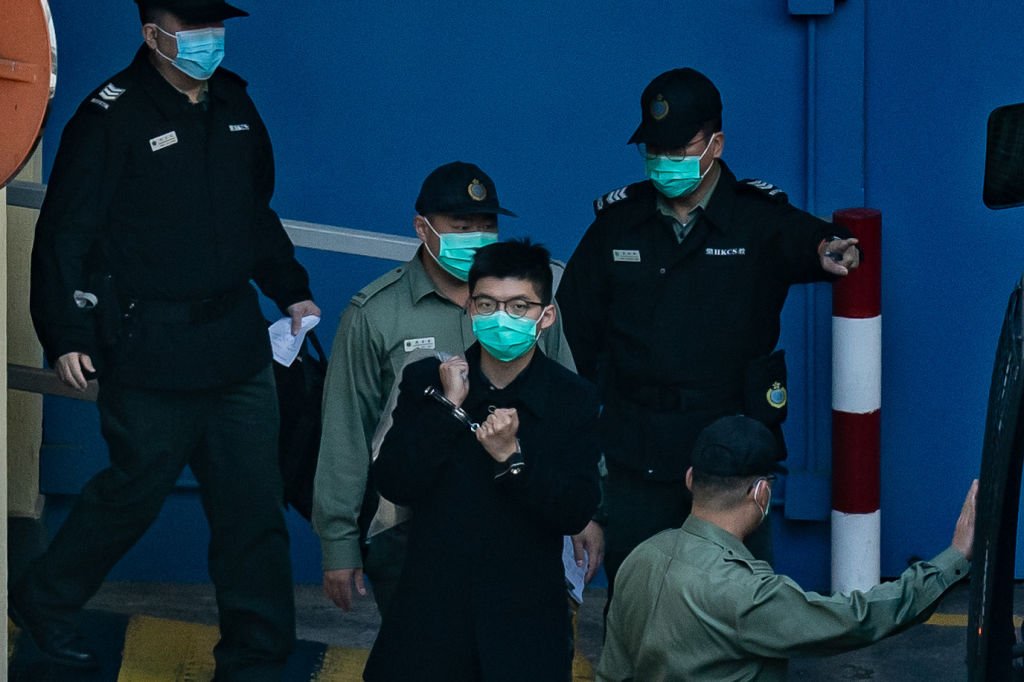 The Chinese government's heightened repression in Hong Kong is emblematic of the worsening human rights situation under President Xi Jinping. According to Human Rights Watch, in its World Report 2021 published on 13th January 2021, "these crackdowns, along with the authorities' initial cover-up of COVID-19, which contributed to the global pandemic, have generated growing international mobilisation against Beijing's rights record". The organisation stated that "an increasing number of governments, United Nations officials and rights experts, and civil society groups around the world, publicly expressed concerns about China's human rights violations in 2020".
Ahead of the upcoming Plenary session of the European Parliament, a coalition of 36 civil society organisations launched a Joint Appeal to the European Institutions calling for the inclusion of enforceable human rights clauses in the EU-China Comprehensive Agreement on Investment (CAI). In the appeal, the CSOs express "grave concern" at the omission of a human rights clause from the discussion about the agreement and its final text. The groups stated that the omission "sends a signal that the European Union will push for closer cooperation [with China] regardless of the scale and severity of human rights abuses carried out by the Chinese Communist Party, even when Beijing is in direct and open violation of international treaties and continues to obstruct international monitoring of the human rights situation."
In recent months, the authorities have continued the crackdown on activists in Hong Kong with mass arrests of the opposition and activists, charging individuals under the draconian National Security Law and jailing pro-democracy activists, including Joshua Wong, Agnes Chow and Ivan Lam. The 'Hong Kong 12' youth activists were also convicted in an unfair trial. There has also been a lack of accountability for police violence during 2019 protests.
On the mainland, activists and journalists have been arrested, while Zhang Zhan, a 37-year-old former lawyer and citizen journalist was sentenced to four years in jail for her reporting on Wuhan. Human rights groups reported that a big data program for policing in China's Xinjiang region arbitrarily selects Turkic Muslims for possible detention.
Association
Mass arrests of opposition and activists in Hong Kong
Condemnation swells over Hong Kong opposition mass arrests https://t.co/Z4OXE6CBNu

— ST Foreign Desk (@STForeignDesk) January 7, 2021
Fifty three people, including pro-democracy activists, opposition candidates, former lawmakers and lawyers, were arrested and detained under the draconian National Security Law (NSL). The 53 have been accused of 'subverting state power' by holding and participating in primary elections held by Hong Kong's pro-democratic party in July 2020. At the time, the Hong Kong Chief Executive Carrie Lam said the polls were illegal and warned that they could be in breach of the national security law, which had been enacted weeks earlier.
Among those arrested were Benny Tai, an activist and legal scholar, and former legislators James To, Lam Cheuk-ting, Claudia Mo and Leung Kwok-hung and Eddie Chu Hoi-dick. Others include young pro-democracy campaigners Lester Shum, Gwyneth Ho, Tiffany Yuen and Jeffrey Andrews. Human rights lawyer John Clancey, a US citizen, was also detained. Police also searched the home of already-detained activist Joshua Wong, as well as three news outlets.
Apple Daily and Stand News, which had co-organised election forums for the primaries candidates, and In-Media, which ran ads around the primaries, were ordered to hand over information.
The arrests took place in early-morning raids on 6th January 2021, compounding a climate of fear pervasive in Hong Kong since the NSL was adopted in June 2020. The NSL has been heavily criticised by human rights groups for undermining fair trial rights, providing sweeping new powers to the police, increasing restrictions on civil society and the media and weakening judicial oversight. Protests against the law were some of the biggest in Hong Kong's history.
Amnesty International's Asia-Pacific Regional Director Yamini Mishra said: "This shocking crackdown on Hong Kong's political opposition – sweeping up candidates, activists and pollsters alike – is the starkest demonstration yet of how the national security law has been weaponised to punish anyone who dares to challenge the establishment."
Police released nearly all of the activists arrested except for former Democratic Party chairman Wu Chi-wai, who was remanded after he failed to surrender his British National (Overseas) passport as ordered by a magistrate. West Kowloon Court revoked Wu Chi-wai's bail, as police accused the 58-year-old of violating the conditions of his temporary release arising from a previous charge
'Hong Kong 12' youth activists convicted in unfair trial
12 HongKong Youth caught fleeing Chinese persecution to Taiwan sentenced to prison. Defense Lawyer license canceled. Since 2015, Human Rights Lawyers have been jailed in Mainland China. Now, it starts in HK #save12hkyouthhttps://t.co/H3lTFZv44x pic.twitter.com/lBkkQhn8HA

— Shanel Veach (@ShanelVeach) January 18, 2021
As previously documented, on 23rd August 2020, the Chinese coast guard intercepted a boat sailing from Hong Kong to Taiwan and detained all 12 youth activists aboard. The group known as the 'Hong Kong 12' includes Andy Li, an activist who had been arrested in Hong Kong on 10th August for allegedly "colluding with foreign elements" under the National Security Law. The others were protesters accused of arson, rioting, assaulting the police and other crimes under Hong Kong law, and were either wanted by the Hong Kong police or had been barred from leaving the city under bail conditions. They were then taken to Shenzhen on mainland China and held incommunicado after their arrest.
On 30th December 2020, a Chinese court sentenced ten of the activists to between seven months and three years in prison for illegal border crossing. Of the two who organised the boat journey, Tang Kai-yin was sentenced to three years while Quinn Moon was given two years. The others received seven-month sentences. All ten were also fined. The remaining two – aged just 16 and 17 – were repatriated into the custody of the Hong Kong police.
All members of the group are believed to have pleaded guilty at the one-day trial which was effectively closed to the public as foreign diplomats and press were turned away from the courtroom. The trial date was announced three days earlier, leaving family members no time to travel to Shenzhen and complete quarantine.
They were also assigned government-appointed lawyers rather than their own. Multiple mainland lawyers attempted to represent them at the families' request, but they were threatened by the Chinese authorities to force them to drop the cases.
Woman human rights defender He Fangmei forcibly disappeared 
China must release vaccine safety advocate He Fangmei, detained 3 months ago. She campaigned for accountability for sickened children, inlcud her own daughter. She's now 7-month pregnant & her whereabouts are unknown. https://t.co/iiRPImXQNz pic.twitter.com/22UsEMxgl8

— CHRD人权捍卫者 (@CHRDnet) January 14, 2021
According to Frontline Defenders, woman human rights defender He Fangmei has been forcibly disappeared after conducting a protest in front of a local government office in Huixian, Xinxiang, Henan province on 9th October 2020. He Fangmei is pregnant and a mother of two young children, one of whom is disabled and requires regular medical treatment.
He Fangmei is a health rights defender who advocates for vaccine safety and for access to remedies for victims of defective vaccines. She began seeking accountability and compensation after her daughter was paralysed with a neurological disease after receiving defective vaccines in March 2018 when the child was ten months old. She then co-founded "Home for Vaccine Babies" an informal network of families whose young children became seriously ill or disabled as a result of receiving defective vaccines.
Frontline Defenders reported that in March 2019 she was arrested while fundraising on the streets of Beijing along with other families affected by defective vaccines. She was then taken back to Henan and detained until she was put on trial in November 2019 for "picking quarrels and provoking trouble". In January 2020, she was released after local prosecutors withdrew the charges against her.
On 2nd October 2020, He Fangmei went to the Huixian municipal government office and splashed black ink at the front entrance to protest the government's failure to provide her with remedies for her daughter's illness and compensation for her detention in 2019. She was also protesting against the close police surveillance and restrictions of movement against her and her family which obstructed their travel to Beijing, where her daughter seeks better quality medical care. The local public security office issued an order of ten-day administrative detention against her but decided to suspend its enforcement because she is pregnant. On 9th October 2020, He Fangmei went to the same government office and splashed black paint at the front entrance. She then became uncontactable some time between 9th and 10th October 2020.
Mass surveillance and arbitrary detention of Xinjiang's Turkic Muslims
On 9th December 2020, Human Rights Watch reported that a big data program for policing in China's Xinjiang region arbitrarily selects Turkic Muslims for possible detention. A leaked list of over 2,000 detainees from Aksu prefecture provided to Human Rights Watch was further evidence of China's use of technology in its repression of the Muslim population.
The big data program, the Integrated Joint Operations Platform (IJOP), apparently flagged the people on the Aksu List, whom officials then evaluated and sent to "political education" camps in Xinjiang.
Human Rights Watch first reported on the IJOP in February 2018, noting that the policing program aggregates data about people from various sensory systems in Xinjiang, and flags to officials those it deems potentially threatening. Officials then evaluate these individuals' "general performance" together with other sources of information and send some to political education camps and other facilities. Human Rights Watch "reverse engineered" the IJOP mobile app in May 2019 and revealed the dubious criteria this mass surveillance system was programmed to flag, including many lawful behaviours.
Human Rights Watch's analysis of the Aksu List strongly suggests that the vast majority of the people flagged by the IJOP system are detained for everyday lawful, non-violent behaviour. This contradicts the Chinese authorities' claims that their "sophisticated," "predictive" technologies, like the IJOP, are keeping Xinjiang safe by "targeting" criminals "with precision". Those facing detention have no right to due process, including access to lawyers and family members, or a chance to stand trial to contest such allegations.
Peaceful Assembly
Three leading Hong Kong pro-democracy activists convicted
Hong Kong democracy activists Joshua Wong, Agnes Chow and Ivan Lam sentenced to jail for involvement in mass protests last year https://t.co/JpMj2l0nVB

— BBC Breaking News (@BBCBreaking) December 2, 2020
On 2nd December 2020, a court in Hong Kong sentenced pro-democracy activist Joshua Wong to 13 and a half months in prison after he pleaded guilty to organising and inciting an unauthorised assembly outside a police station during mass protests against the government in June 2019.
Wong's long-time fellow activists Agnes Chow and Ivan Lam were also sentenced to 10 and seven months in prison, respectively, on charges linked to the same protest. The activists were remanded in custody until sentencing, with Wong placed in solitary confinement.
The protest took place in the district of Wanchai on 21st June 2019 and saw thousands surround the police headquarters as they demonstrated against excessive force used by police against protesters, as well as a now-withdrawn extradition bill that would have allowed suspects to be extradited to mainland China for trial.
In comments posted on Twitter via his lawyers, Wong said: "We're now joining the battle in prison along with many brave protestors, less visible yet essential in the fight for democracy and freedom for HK."
Students arrested and charged for protest at university
Eight people were arrested by the #HKPolice on Monday morning in relation to a protest on the campus of the #CUHK on graduation day last month.

Read more: https://t.co/Sgaufs44Ql#AppleDailyENG #HongKong #NationalSecurityLaw pic.twitter.com/hpFAKM66ca

— Apple Daily HK 蘋果日報 (@appledaily_hk) December 7, 2020
On 7th December 2020, Hong Kong authorities arrested eight people in connection with a protest at a university campus in November 2020. More than 100 people protested at the Chinese University of Hong Kong (CUHK) against a decision to hold graduation ceremonies online. Such ceremonies are often used as a way for students to express political views. Some protesters had called for Hong Kong's independence, and held up signs that read "Liberate Hong Kong, Revolution of our times".
Police said they were arrested for illegal assembly and three of them - who were not students at the university - were also arrested on suspicion of inciting secession outlawed under the city's national security law.
Amnesty International Hong Kong's Programme Manager Lam Cho Ming said: "Chanting political slogans, singing songs and waving flags should never be crimes, but there is a grim predictability about these arrests that lays bare the deterioration of human rights in Hong Kong since the national security law was enacted."
Lack of accountability for police violence during 2019 protests
Human Rights Watch (HRW) reported that the Hong Kong High Court had ruled on 19th November 2020 that the government had violated its Bill of Rights by not providing an independent mechanism for complaints about police.
Hong Kong's Journalist Association had launched a judicial review in 2019 following widespread anti-government protests, arguing that the government had an obligation to set up a mechanism capable of "effective investigation" into suspected ill treatment by the police.
Two days earlier, Professor Clifford Stott, an independent policing expert in the UK, published a report concluding that the indiscriminate use of force by the Hong Kong police escalated the 2019 protests. Stott had last year quit a panel appointed by the Hong Kong government to investigate police conduct, citing the body's limited investigative powers.
The report stated that protester radicalisation was in response to an "almost complete collapse of police legitimacy among protesters." Police attempts to disperse mass demonstrations on 12th June 2019 marked a "tipping point" and a fundamental shift in protester attitude towards officers, the paper concluded: "Protesters described the escalating situation as… an indiscriminate attack by the police on those merely seeking to protest peacefully."
Human rights groups had reported numerous cases of police brutality in 2019. Police officers were seen beating, pepper-spraying and teargassing people, including those subdued on the ground; shooting and blinding several, including a journalist; unnecessarily tackling demonstrators to the ground, including pregnant women, children and older people; and then giving patently improbable and outright false explanations about their actions in press conferences.
According to HRW, no police officers alleged to have used excessive force during the 2019 protests have been held accountable. Hong Kong's chief executive Carrie Lam still claims that the existing police complaints mechanism – one that is part of the Police Force – is adequate.
Expression
Activists and journalists detained and convicted
The Chinese authorities have stepped up arbitrary detentions of journalists and activists reporting on the COVID-19 pandemic or criticising the government.
In apparent reprisal against human rights monitoring and reporting, police in China criminally detained rights activist, Ou Biaofeng, and placed him under "residential surveillance in a [police] designated location," a notorious form of state-enforced disappearance, on December18 pic.twitter.com/iMHeOZvYxB

— CHRD人权捍卫者 (@CHRDnet) December 22, 2020
On 3rd December 2020, police in Zhuzhou, Hunan province detained activist Ou Biaofeng, 40, after he disclosed online information about the psychiatric detention of the "ink girl," who defaced President Xi Jinping's poster by throwing ink on it. Police accusing him of "picking quarrels and provoking trouble" – an accusation commonly used against dissidents, activists and journalists – under article 293 of China's penal code. Conviction carries a penalty of up to five years in prison. Ou has been an outspoken critic of the Chinese government. He was placed under "residential surveillance in a [police] designated location," a notorious form of state-enforced disappearance, on 18th December 2020.
On 7th December 2020, Beijing authorities detained Haze Fan, a journalist for the Bloomberg News bureau in Beijing, on suspicion of endangering national security. On 16th December, the Beijing police detained Du Bin, 48, a journalist who worked as a freelance photographer for the New York Times, on suspicion of "picking quarrels and provoking trouble." Du's friends believe the detention could be connected to his recent book projects critical of the Chinese government. He is being held at the Daxing District Detention Centre in Beijing.
Incarcerated Chinese citizen journalist Zhang Zhan has decided not to appeal against her sentence, according to her defense lawyer.

Read more: https://t.co/xgmK81WFYr#AppleDailyENG #China pic.twitter.com/TPMgGKAGBx

— Apple Daily HK 蘋果日報 (@appledaily_hk) January 14, 2021
On 28th December 2020, Zhang Zhan, a 37-year-old former lawyer and citizen journalist who was arrested in May 2020 while reporting from Wuhan, was sentenced to four years in jail. Zhang was arrested for "picking quarrels and provoking trouble" with her video and blog reports from the Wuhan lockdown. In November, she was charged with disseminating false information.
Activists charged under the repressive national security law
Tony Chung, a former leader of student-led group Studentlocalism, was charged on 29th October 2020 under Hong Kong's national security law with secession, money laundering and conspiracy to publish seditious material. Chung was arrested near Hong Kong's US consulate, where media reported he was planning to seek asylum. Two other former members of Studentlocalism, Yanni Ho and William Chan, were also arrested on the same day.
Breaking: Tony Chung, convenor of pro-independent Studentlocalism, is reportedly arrested for "inciting separatism" after national security officers searched his home (source: Facebook). Chung disbanded Studentlocalism prior to the implementation of the National Security Law. pic.twitter.com/F4pLAgKxtc

— Maya Wang 王松莲 (@wang_maya) July 29, 2020
Studentlocalism is an organisation advocating for political reforms in Hong Kong. It publicly announced the dissolution of its Hong Kong branch the day before the security law was enacted.
On 24th November 2020, police charged Adam Ma with inciting secession. They accused him of repeatedly chanting pro-independence slogans on 19 occasions between August and November 2020. His bail application was denied and the case was adjourned until February 2021.
Hong Kong's crackdown on dissent has escalated, with national security charges laid against media mogul Jimmy Lai, and a guilty verdict for teenage activist Tony Chung for defiling China's flag.
On 11th December 2020, media mogul Jimmy Lai, 73, was charged with foreign collusion offences and endangering national security under the draconian national security law. The owner of Hong Kong tabloid Apple Daily and founder of Next Digital Media, Lai has been one of the loudest pro-democracy voices in Hong Kong and among the few business leaders in the financial hub willing to criticise Beijing.