Cambodia: Ongoing assault on civic space including physical attacks, criminalisation of the opposition, as election draws near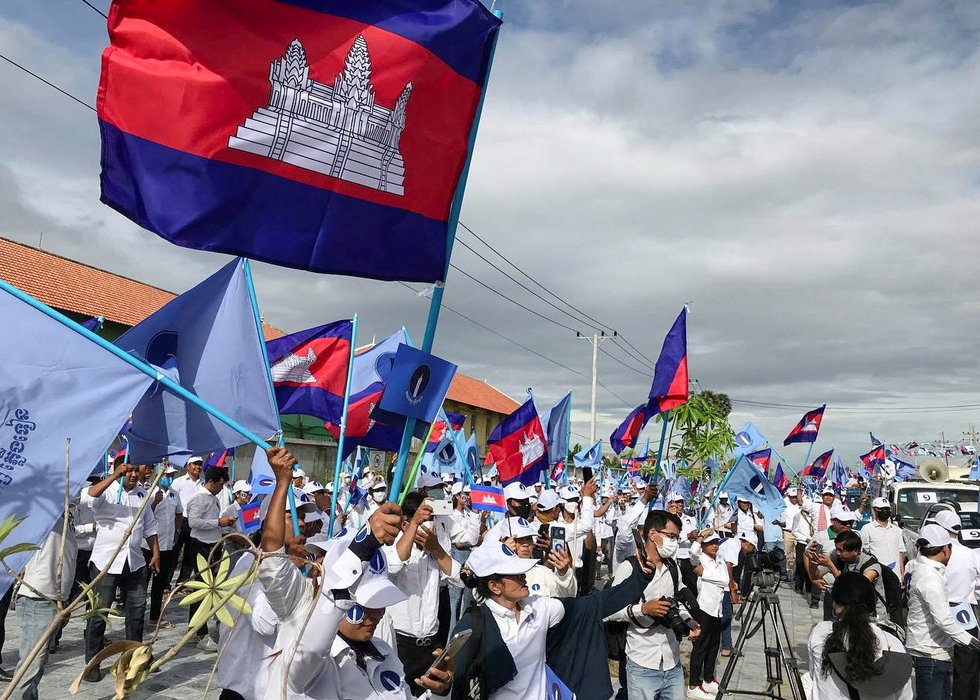 The state of civic space in Cambodia is rated 'repressed' by the CIVICUS Monitor. Repressive laws are routinely misused to restrict civic freedoms, undermine and weaken civil society and criminalise human rights defenders, trade unionists, youth activists, journalists and other critical voices for exercising their rights to the freedoms of association, peaceful assembly and expression.
In February 2023, Cambodia was added to a watchlist of countries by the CIVICUS Monitor due to the increasing assault on fundamental freedoms by Prime Minister Hun Sen ahead of elections scheduled for 23rd July 2023.
To undermine and harass the opposition, the ruling Cambodian People's Party (CPP) has used various tactics including offering jobs in the government to opposition party members as well as threatening them. In March 2023, a pro-government news site published details around a tapped telephone conversation between an opposition leader, Candlelight Party Secretary General Lee Sothearayuth and his alleged mistress.
The United States, European Union, France and Japan say they have no plans to send electoral observers or to provide assistance to Cambodia's election committee. Barbara Plinkert, the EU's Head of Division for Southeast Asia, told an EU subcommittee in March 2023 that conditions in Cambodia for "holding inclusive, transparent and credible elections" are not in place. In March 2023, Hun Sen warned foreigners "not to be involved in or instigate anti-government protest movements that seek to destroy the country's peace and political stability."
Since February 2023, there have been reports of physical attacks against the opposition, their ongoing criminalisation on politically motivated charges as well as the disruption of an opposition protest. NagaWorld unionists are facing trial for their peaceful strike while protests were held around International Women's Day as well as around land disputes. The licences of media outlets continue to be revoked for their reporting critical of the authorities.
Association
Attacks and judicial harassment of the opposition
Opposition says police haven't investigated attacks on them https://t.co/2arPAxOzL1 pic.twitter.com/3ysRx5wTYB

— TheEazyCadet (@EazyCadet) April 12, 2023
Over the last year, as previously documented, the government harassed and criminalised the opposition.
According to Human Rights Watch, the Cambodian government has stepped up its attacks on political opposition members in advance of national elections slated for July 2023. In his 9th January 2023 speech, Hun Sen "offered his opponents the choice between accepting the rulings of the courts, which the ruling party has long controlled, or violence."
HRW reported that since that speech, seven reported acts of violence have targeted a total of six opposition party members. Three instances occurred following the opposition Candlelight Party planning meeting for the July elections in Phnom Penh on 18th March 2023. Four additional cases were reported following a 20th March 2023 visit by party activists to the United Nations human rights office in Phnom Penh and their participation in a public gathering calling for the release of political prisoners.
The organisation said that the attacks had multiple similarities, suggesting that the same people were responsible for all of them. All four attacks were carried out by two men in dark clothes with dark motorcycle helmets riding a single motorbike, with the driver remaining on the bike while the passenger assaulted the victim.
Former Opposition Activists, Yim Sinorn and Hun Kosal, Detained on Two Charges https://t.co/BM4HOMYqi5

— EAC NEWS (@EAC_News_KH) March 23, 2023
On 23rd March 2023, two former opposition activists were arrested and charged with incitement and insulting the King under articles 437, 494 and 495 of the Penal Code for Facebook posts commenting on the relationship between King Norodom Sihamoni and Prime Minister Hun Sen. Activists Yim Sinorn and Hun Kosal appeared to imply in their posts that the Prime Minister had more power than the King, with Sinorn appearing to state that the Prime Minister had supplanted the King. The court placed the two activists in pretrial detention at Prey Sar prison.
Ros Sotha, the executive director of the Cambodian Human Rights Action Committee, a coalition of 22 local NGOs, said what the two men said were just expressions of opinion and that they shouldn't be criminalised. On 28th March 2023, Sinorn was released on bail after he posted a video and a statement from prison apologising to Hun Sen and asking for forgiveness from the King. Hun Kosal remains detained.
On 24th March 2023, the Phnom Penh Municipal Court convicted Seam Pluk, co-founder of the Cambodia National Heart Party (CNHP), and twelve others on politically motivated charges of forgery and use of forged documents under Articles 626, 627 and 628 of the Criminal Code. The court sentenced Pluk to two years and six months in prison and imposed a fine of 5 million riel (USD 1,250), while the other 12 defendants received two-year sentences with the same fine.
According to HRW, on 12th April 2023, the authorities arrested and continue to detain two additional Candlelight Party members on forgery charges related to the party's candidate lists, which had been approved nearly a year earlier.
Two more opposition party activists were assaulted over the weekend as they traveled in Phnom Penh – the latest in a series of similar attacks in recent months that members of the Candlelight Party insist are all politically motivated.https://t.co/6tK8nHWOZ8

— Radio Free Asia (@RadioFreeAsia) April 25, 2023
Radio Free Asia (RFA) reported on 22nd April 2023 that Candlelight Party activist Thy Sokha's car was intentionally rammed by an unknown assailant who drove a black 470-series Lexus. The following day, Thun Chantha, who has worked for the main opposition party for several years, was attacked during the day by four assailants who surrounded him on their motorbikes, struck him several times with a metal baton and left him with bruises all over his body.
NagaWorld unionists on trial for peaceful strike
NagaWorld union leader Chhim Sithar and eight co-defendants appeared for their first day of trial in Phnom Penh Municipal Court on Tuesday. Sithar and all her colleagues, except for one, denied the incitement charges against them.https://t.co/qsKWKZgXB4

— CamboJA News (@cambojanews) February 21, 2023
On 21st March 2023, Chhim Sithar, President of the Labour Rights Supported Union of Khmer Employees of NagaWorld (LRSU) and eight LRSU co-defendants - Chhim Sokhorn, Hay Sopheap, Kleang Soben, Ry Sovandy, Sok Kongkea, Sok Narith, Sun Sreypich and Touch Sereymeas - appeared for the first time in court for their trial. They are facing 'incitement' charges for a peaceful strike action launched by more than 3,000 NagaWorld workers. As previously documented, the LRSU members have been striking to demand better pay and working conditions at the NagaWorld Casino since December 2021 following mass layoffs at the casino that included the union's entire leadership and a significant number of members.
During the trial, the presiding judge questioned Sithar about strike activities and sources of financial support, particularly from international donors, while the deputy prosecutor stated that Sithar had led the protest without permission from the Phnom Penh municipal authorities and that international funds supported the union's illegal activities.
The unionists were released from Prey Sar prison on bail in March 2022 but Sithar was re-arrested in November 2022 while returning from a labour rights conference in Australia for allegedly violating her bail conditions. Neither she nor her lawyers were ever informed of any conditions and Sithar remains in Correctional Center 2 prison in Phnom Penh.
On 24th March 2023, the Supreme Court rejected an appeal filed in December 2022 by seven LRSU women unionists, including Sithar, challenging the decision of the Phnom Penh Municipal Court's Investigating Judge who had ordered Sithar's detention. As a result, Sithar will remain in prison for the duration of an ongoing incitement trial.
On 1st February 2023, the US Department of State named the union leader Chhim Sithar as one of ten recipients of the annual Human Rights Defender Award. The award recognises courageous individuals who have demonstrated exceptional bravery and leadership in advocating for the promotion and protection of universally recognised human rights and fundamental freedoms.
Court sentences opposition leader to 27 years' jail for treason
Cambodia 📍Kem Sokha has been sentenced to 27 years in prison and effectively barred from politics for life 🚨

FIDH condemns today's conviction and prison sentence of former opposition leader Kem Sokha ✊https://t.co/DkoHXTGGX8

— FIDH (@fidh_en) March 3, 2023
On 3rd March 2023, the Phnom Penh Municipal Court convicted Kem Sokha, former President of the disbanded opposition Cambodia National Rescue Party (CNRP), of treason and conspiracy with a foreign power under Articles 439 and 443 of the Criminal Code. He was sentenced to 27 years in prison, and immediately transferred to house arrest after being escorted from the courtroom by five police and security officers.
The court also ordered the permanent removal of Kem Sokha's political rights to stand for or vote in an election as an additional penalty under Article 450 of the Criminal Code. The judgment stated that the level of damages is pending assessment, which is likely in relation to a civil action that may be filed in accordance with Article 22 of the Criminal Procedure Code.
Kem Sokha was arrested on 3rd September 2017, just two months after the July 2017 commune elections. Following the arrest, the Supreme Court forcibly dissolved the CNRP in November 2017 and ordered a five-year ban on political activities for 118 party officials. Although Kem Sokha was released on bail on 10th September 2018, he was subject to de facto house arrest under judicial supervision conditions.
Amnesty International said: "This verdict is an unmistakable warning to opposition groups months before national elections" while Human Rights Watch said the verdict demonstrated a "total lack of independence" between the Cambodian judiciary and Hun Sen's ruling CPP.
Peaceful Assembly
Protests around International Women's Day
According to human rights group LICADHO, about 3,000 people gathered across at least 10 provinces and Phnom Penh to celebrate International Women's Day 2023. Between 5th March and 8th March 2023, land and indigenous community members, labour rights activists, children, youth, local authorities and NGOs joined events to give speeches, march, dance and share solidarity meals.
Participants called for equality and respect for women's rights and called on the authorities to address land disputes, gender-based violence, limited access to social protection and harmful microfinance debt.
Youth protest in Phnom Penh to mark International Women's Day. They gathered at the Thai Embassy in Cambodia's capital, calling for the release of jailed Thai and Cambodian women activists. pic.twitter.com/9DduaEMgQl

— Radio Free Asia (@RadioFreeAsia) March 8, 2023
In Phnom Penh, youth protesters gathered at the Thai Embassy in Cambodia's capital, calling for the release of jailed Thai and Cambodian women activists.
LICADHO reported that there were attempts at restricting several gatherings. Local authorities warned community members in Kampot province on 7th March against proceeding with their event planned for the following day, threatening that it would be forcefully dispersed. Police also monitored an event and demanded participant lists in Koh Kong province on 6th March. Both events were able to proceed.
Protests around evictions and land grabbing
According to LICADHO, on 27th and 28th March 2023, about 150 people from seven Siem Reap communities gathered in Phnom Penh to present petitions to the Ministry of Interior and Ministry of National Defence on behalf of approximately 10,000 families who live within the Angkor Archaeological Park, a UNESCO World Heritage site that includes the temple of Angkor Wat. In the name of conserving the site, locals are being evicted, devastating their livelihoods and violating their rights. The communities called on the government to return land titles to community members, to protect the Kleang Tuek 78 reservoir and to compensate those who were evicted from the site. The gatherings were monitored by police, security forces and undercover authorities.
Land protesters make an overnight trek to petition Cambodia's government. The protesters say they made the 20-kilometer march because authorities blocked their vehicle convoy from entering the capital. pic.twitter.com/vdlGGnEFVX

— Radio Free Asia (@RadioFreeAsia) March 29, 2023
On 29th March 2023, in a separate gathering, protesters from the Kampong Speu and Koh Kong communities organised a 20-kilometre overnight march to petition the government over land grabbing. The authorities had blocked their vehicle convoy from entering the capital. According to a video by Radio Free Asia, the dispute stemmed from land that local officials awarded to the Heng Huy Agricultural Company and the Ly Yong Phat Sugar Company - owned by a ruling party Senator - for sugar cultivation. The companies had encroached on their property, and therefore protesters demanded they be compensated by returning the land occupied by the companies. Land disputes are common in Cambodia, where officials seize land for profitable projects, leaving ordinary people with few or no resources.
Opposition Candlelight Party protest shut down
Candlelight Party starts first protest in years, but police quickly shut them down https://t.co/1m6TCyHl5b pic.twitter.com/uwrMq8usbK

— TheEazyCadet (@EazyCadet) April 7, 2023
On 7th April 2023, the authorities shut down a rare but brief opposition protest carried out by 100 activists who staged their first protest in several years in Phnom Penh. Police quickly confronted and dispersed them, claiming they were causing a traffic jam.
According to the Candlelight Party, the authorities had refused to allow them to protest at Freedom Park, the site of previous protests against Prime Minister Hun Sen's government. Therefore, activists gathered in front of the party's headquarters to demand the release of recently arrested party officials.
Buddhist monk detained and defrocked flees country
RFA reported that a Buddhist monk walking across Cambodia to urge the government to restore social ethics was detained twice and defrocked by authorities worried about his supposed ties to opposition politicians.
The 72-year-old Venerable Soy Sat began his march on 1st March 2023. He was stopped for several hours on 7th March and questioned by police in Pursat province. Earlier that day, Soy Sat had accepted a food donation from Candlelight Party Vice President Rong Chhun, who was in the area for a party meeting. On 9th March, police arrested Soy Sat in Battambang province's Moung Ruessei district and took him to a local temple where he was defrocked for being affiliated with the opposition Candlelight Party.
On 16th March 2023, he fled the country, citing concerns over his security, including surveillance and threats, and moved to neighbouring Thailand.
Expression
Independent media outlet shut down
#Cambodia: Authorities must reverse the recent order to shut down the Voice of Democracy independent news outlet and allow the organization to continue reporting without fear of reprisal. #SaveVoD @VOD_English @VODKhmer https://t.co/sZ3rgnogmY

— CPJ Asia (@CPJAsia) February 13, 2023
On 13th February 2023, Voice of Democracy (VoD), one of the few independent media outlets left in Cambodia, run by the Cambodian Center for Independent Media, was shut down.
The order to close and revoke the centre's licence was issued a few days earlier, in reaction to an article by VoD released on 9th February 2023, titled "Government official says Hun Manet's acting in an official role on behalf of his father in delivering assistance was not improper". The article stated that Hun Sen's eldest son, Lieutenant General Hun Manet, allegedly approved financial aid and thus overstepped his father's authority by signing an agreement to donate aid to the devastating earthquake in Turkey.
Following the son's denial of the fact, stating that he was not in a legal position to do so and challenging VoD to produce the documents, Hun Sen requested that VoD issue a public apology for purposefully slandering not only Manet but also the entire government or face the loss of their media licence.
Although VoD sent a letter to the head of the government via the Cabinet "expressing regret and asking forgiveness if the outlet had committed any unintentional wrongdoing", the prime minister was unsatisfied with VoD's response. As a result, he directed the Ministry of Information to revoke VoD's licence.
The heavy-handed and disproportionate order drew the condemnation of civil society groups including CIVICUS. They saw this action as a blatant attempt to close the door on what's left of the country's independent media, as well as a clear warning to other critical voices months before national elections.
On 20th February 2023, Prof. Vitit Muntarbhorn, Special Rapporteur on the situation of human rights in Cambodia, Ms. Mary Lawlor, Special Rapporteur on the situation of human rights defenders and Ms. Irene Khan, Special Rapporteur on the promotion and protection of the right to freedom of opinion and expression, called on Cambodian authorities to review the revocation with immediate effect in the run-up to crucial national elections.
Information Ministry revokes three media licences after reports on land fraud
On 18th March 2023, the Information Ministry revoked the licenses of three media outlets after they published reports exposing a senior government official's role in land fraud.
The Ministry stated that online Khmer language media outlets Federation of Cambodia-ASEAN journalists Raksmey Kampong Cham and Dumnong Knong Srok had "committed serious violations of journalistic ethics" and "not followed the instruction of the ministry."
One report, published in all three outlets, revealed that senior ruling CPP National Assembly member Sar Chamrong, former deputy governor of Banteay Meanchey, allegedly forged documents to gain more than 60 hectares of land in Banteay Meanchey.
The Information Ministry claimed the articles damaged the honour of the officials named in the report. Another article published in the three outlets revealed that a Takeo provincial deputy prosecutor had seized property from three families who had bought it from Ratanakiri province and demanded they pay him money to get it back.