Authorities continue to harass NagaWorld union strikers and criminalise activists and opposition members in Cambodia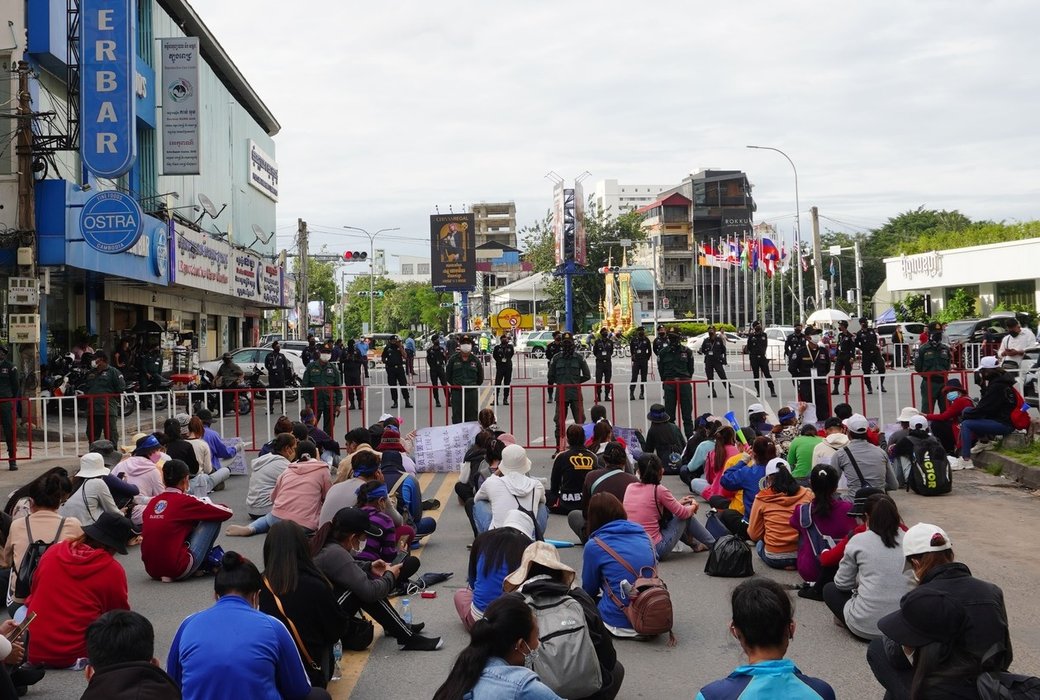 The state of civic space in Cambodia is rated 'repressed' by the CIVICUS Monitor. Repressive laws are routinely misused to restrict civic freedoms, undermine and weaken civil society and criminalise human rights defenders, trade unionists, youth activists, journalists and other critical voices for exercising their rights to the freedoms of association, peaceful assembly and expression.
Commune elections were held on 5th June 2022. Members and activists of the opposition Candlelight Party faced political harassment from the ruling Cambodian People's Party (CPP). Results announced on 27th June 2022 by the NEC confirmed a landslide victory for the CPP. The results showed it received 74.3 per cent of the votes, while the Candlelight Party won 22.3 per cent. It meant that the CPP won 1,648 of 1,652 commune chief positions, and the Candlelight Party the remaining four. The Committee for Free and Fair Elections in Cambodia noted various irregularities in the process.
On 26th August 2022, the UN Special Rapporteur on the human rights situation in Cambodia, Vitit Muntarbhorn, issued a 10-point human rights agenda to improve the human rights situation in Cambodia, open up civil and political space and pave the way for democratic reform. Among the points include ending prosecution of the political opposition and human rights defenders, releasing them and dropping the charges against them.
On 19th September 2022, CIVICUS published a brief to highlight the regression of the state of civic space in Cambodia following the UN Human Rights Council's resolution adopted on 11th October 2021 as well as the lack of commitment by the Cambodian government to undertake democratic and civic space reforms.
Human rights group LICADHO published a legal briefing on 29th September 2022 highlighting how Cambodia's Law on Preventive Measures Against the Spread of COVID-19 and Other Severe and Dangerous Contagious Diseases (COVID-19 Law) resulted in serious human rights violations over the past year through the discriminatory application of its overbroad scope and powers and the imposition of excessive penalties. The law was used arbitrarily to repress the work of human rights and land rights defenders, to arrest journalists and other public critics, as well as restrict citizens' exercise of freedom of peaceful assembly and other rights.
In recent months, the harassment and attacks against the NagaWorld casino workers' union has persisted. Communities involved in land disputes faced harassment while travelling to the capital. Five forests activists were convicted, while the convictions of other activists were upheld. The harassment and prosecution of the opposition has persisted. Press freedom continues to be at risk in Cambodia and there has been slow progress on the Access to Information Bill.
Peaceful Assembly
NagaWorld strikers continue to face harassment and attacks
Hundreds of workers from the Labour Rights Supported Union of Khmer Employees of NagaWorld (LRSU), a casino workers' union, have been on strike since 18th December 2021. The union was demanding, among other things, the reinstatement of workers laid off by the company.
As previously documented, the NagaWorld strikers have faced harassment and intimidation from the authorities. Some have been charged with 'incitement' or obstruction charges under the COVID-19 law.
Despite this, the strikers have continued their protests near the casino complex, but each time the authorities have blocked roads and dragged strikers, sometimes violently, onto city buses and driven them to the outskirts of the city, dropping them off and forcing them to arrange and pay for their own way back. Strikers, mostly women union members, have been violently assaulted to stop them passing the barricades near the casino. There have been incidents of strikers being violently pushed to the ground by the authorities, punched in the face by uniformed officers and also targeted with sexual harassment.
On 27th June 2022, security forces violently dispersed the strike by an estimated 150 workers near the downtown casino, requiring at least ten of them to seek medical assistance. Radio Free Asia reported that the authorities prevented civil society representatives and United Nations human rights officials from monitoring the protest and threatened to confiscate the phones and cameras of anyone seen documenting the incident unless they deleted their photos and videos. On 11th August 2022, the authorities violently attacked the strikers who had gathered outside the casino, breaking one woman's nose and injuring several others.
During the visit of the UN Special Rapporteur on the human rights situation in Cambodia in August 2022, the authorities allowed protests in front of the casino for two days in a row. However, Rong Chhun, president of the Cambodian Confederation of Unions, stated that this was a ruse to demonstrate to the international community that the authorities respected the right to peaceful assembly.
On 28th September 2022, 17 union & CSO representatives held a press conference to discuss the NagaWorld labour dispute. The conference called on the company to reinstate the laid-off workers, pay seniority benefits & comply with labour law.
Communities involved in land disputes face harassment while travelling to the capital
Authorities pressured and prevented dozens of members of communities embroiled in land conflicts from travelling to Phnom Penh on Tuesday to join with hundreds of other land community members delivering petitions to government ministries. Flash info: https://t.co/Az5UrJ3Hxc pic.twitter.com/zYmlIzrBbW

— LICADHO | លីកាដូ (@licadho) September 7, 2022
In September 2022, the authorities harassed and prevented communities involved in land disputes with politically connected businesspeople from travelling to Phnom Penh.
According to LICADHO, on 6th September, around 500 people from Koh Kong province and some 360 more from Kampong Speu province rallied in the capital to demand the government resolve longstanding land disputes and deliver land titles and fair compensation to communities left waiting for years.
They raised banners imploring Prime Minister Hun Sen and his wife to intervene and deliver justice, saying the ongoing dispute has caused them financial hardship. They also petitioned the Ministry of Justice and Hun Sen's Cabinet, requesting that charges against more than 30 representatives of the villagers be dropped.
On their way to Phnom Penh, police stopped dozens of members of Kampong Speu's Amleang Land Community and compelled community representatives to sign agreements not to cause "social insecurity" in Phnom Penh before allowing seven of their eight vehicles to continue, claiming some vans were overloaded with passengers. Later, police in Kampong Chhnang province pressured dozens of Amleang community members by threatening to fine drivers under the traffic law unless community members turned around and went home. Only five of the seven remaining vehicles continued to Phnom Penh, after paying fines.
Police also arbitrarily stopped three vehicles carrying members of the Raksmey Samaki Land Community and asked for drivers' identification and other documents. Only one of the vehicles was allowed to continue to the capital.
Land disputes are common in Cambodia. Government officials routinely seize land for lucrative real estate ventures, leaving displaced locals with little or no recourse.
Association
Forest activists convicted
For years, Chhorn Phalla advocated for #IndigenousPeoples #LandRights in #Cambodia. He has also been beaten, threatened + is in prison. 5 UN #HumanRights experts raised concerns of threats, assault + criminalisation of #environmental defenders like Phalla https://t.co/iYFaJmTOy5 pic.twitter.com/R8QQYgaxdq

— UN Human Rights Cambodia (@OHCHR_Cambodia) July 4, 2022
On 8th July 2022, the Ratanakiri Provincial Court convicted five forest activists, including long-time environmental defender Chhorn Phalla, for allegedly instigating damage to forest land to claim ownership of it in Phnom Art in Samot Kraom village, Seda commune, Lumphat district, Ratanakiri province.
According to LICADHO, Phalla was sentenced to six years in prison. Sithan Nhan, Kham Masok, Lat Branh and Tvae Hok, who are all Tampuon Indigenous people, were sentenced to five years in prison. The charges relate to a meeting the five men attended in 2017 in an effort to protect their forests and land and raise awareness about illegal logging.
The five were convicted under Articles 56(4) and 62(1) of the Law on Natural Protected Areas and Article 28 of the Criminal Code. They were not initially charged as instigators, with the charge added as the judge read the verdict today. There was not sufficient evidence presented during the trial to support the charges.
Phalla has been imprisoned in Ratanakiri prison since his arrest in September 2021. He was serving a five-year prison sentence in a separate case, in which he was convicted in November 2021 - without substantial evidence - by the Ratanakiri Provincial Court of clearing forest land and enclosing it to claim ownership. However, his conviction was overturned by an appeal court on 14th July 2022.
LICADHO reported that Phalla has spent more than ten years defending forests and monitoring natural resource destruction in Ratanakiri.
Conviction of environmentalists upheld
This morning, the Supreme Court of Cambodia upheld the three Mother Nature activists' incitement convictions. Therefore, environmental activists Long Kunthea, Phuon Keoraksmey and Thun Ratha are still under restrictive judicial supervision. pic.twitter.com/yyo5GtKyfm

— Sar Mory (@morysar) July 29, 2022
On 29th July 2022, the Supreme Court upheld the convictions of three activists from environmental group Mother Nature, leaving them with restrictive probation conditions. The activists – Long Kunthea, Phuon Keoraksmey and Thun Ratha – were convicted on charges of 'incitement' in May 2021 for attempts to organise a march to the prime minister's residence to protest at the filling-in of a city lake in 2020.
The appeals courts upheld the convictions in November 2021, including fines of 4 million riel (approx. US$1,000) each, and suspended parts of their sentences. Ratha's 20-month sentence was suspended by six months, while Keoraksmey's and Kunthea's 18-month sentences were each suspended by four months.
Mother Nature Cambodia is an environmental rights organisation that advocates and campaigns locally and internationally for the preservation, promotion and protection of Cambodia's natural environment. As part of their work, the organisation monitors and challenges gross environmental violations and also raises awareness, educates and empowers people by providing them with training and financial support.
Court upholds conviction of activists
On 29th July 2022, the Supreme Court upheld 'incitement' convictions of Rong Chhun and activists Sar Kanika and Ton Nimol. Chhun, who has spent years defending labour rights, was arrested after making a statement about the Cambodia-Vietnam border in 2020. His detention triggered a wave of further arrests of activists, including of Kanika and Nimol, who were jailed after joining peaceful demonstrations in August and October 2020 respectively. The three were released in November 2021 and given three years of probation with a range of conditions limiting their freedoms.
Prosecution of opposition CNRP members continues
Since 2017, the Cambodia National Rescue Party (CNRP) has faced politically motivated accusations of fomenting revolution, which formed the basis of its arbitrary dissolution by the Supreme Court in November 2017. Hundreds of CNRP activists and supporters have been arbitrarily arrested and detained and have faced politically motivated criminal charges since then.
On 14th June 2022 the courts convicted at least 51 opposition politicians and CNRP activists of 'incitement' and 'conspiracy.' Twelve were sentenced to eight years in prison and another 19 to six years, of whom four were already detained while one was taken into custody after the verdict was read. Another 20 defendants were handed five-year suspended sentences. Many of the defendants were tried in absentia, with 27 of them currently in exile.
On 29th June 2022, UN human rights experts called for an urgent review of the legal proceedings brought against opposition politicians. They said that "the outcome of this first instance trial reinforces a troubling pattern of political trials peppered with judicial flaws".
Concerns around the legal process include: several accused being denied physical access to their trial and consequently tried in absentia; denial of complete access to case files; the violation of the principle of presumption of innocence noted in examples of judges' use of accusatory language against defendants present at hearings; extended periods of pre-trial detention in contravention of national and international laws protecting the right to a timely trial and the lack of precise, factual and conclusive evidence underpinning the charges.
STATEMENT: APHR condemned the recent trial of members of the political opposition in #Cambodia as a sham, and called on ASEAN and the international community to take action to halt Prime Minister Hun Sen's relentless assault on human rights and democracy. https://t.co/2Zlf0wn693

— APHR (@ASEANMP) September 22, 2022
On 15th September 2022, a total of 37 opposition party activists and former lawmakers were summoned to the court in the capital, Phnom Penh, though only three were physically present as the majority were either in exile abroad or in hiding.
The defendants are charged with conspiracy to commit treason and could face prison sentences of between five and ten years. The allegations are related to a failed attempt by former CNRP Vice-President, Mu Sochua, to return to Cambodia from self-exile in January 2021 to face charges in a separate politically-motivated trial. Among those also facing charges is Theary Seng, a Cambodian-American human rights defender who is currently being detained in Preah Vihear Prison in northern Cambodia.
Political harassment around commune elections
Around the 5th June 2022 commune elections, members and activists of the opposition Candlelight Party faced political harassment from the ruling Cambodian People's Party (CPP). Its leadership is populated with former members of the banned CNRP.
On 31st May 2022, the authorities arrested Ir Channa, a former Cambodian activist, who had returned from exile and reportedly joined political activities associated with the Candlelight Party, on spurious charges of conspiracy to commit treason.
The Phnom Penh Municipal Court has summoned Candlelight Party vice-president Son Chhay for questioning on July 12 over defamation lawsuits filed by the National Election Committee (NEC).https://t.co/8dVLrU86wM

— The Phnom Penh Post (@phnompenhpost) July 5, 2022
On 12th July 2022, Candlelight Party Vice President Son Chhay was charged with defamation (article 305 of the Criminal Code) after he criticised the commune elections and the NEC. He reportedly said that the preliminary election results of the commune elections did not reflect the "true will of the people" and the NEC was "not independent in conducting the 5th June election".
Expression
Continued targeting of the media
Years of restrictions on civic space & #PressFreedom threaten democracy. A new @OHCHR_Cambodia report shows how legislation to censor & put media workers under surveillance was adopted to curtail #FreeSpeech.https://t.co/FnYVIu3Ocg

— UN News (@UN_News_Centre) August 4, 2022
Press freedom continues to be at risk in Cambodia. As highlighted by Reporters Without Borders, radio stations and newspapers have been silenced, newsrooms purged and journalists prosecuted, leaving the independent media sector devastated.
A report published by the Office of the UN High Commissioner for Human Rights on 3rd August 2022 found that journalists in Cambodia are increasingly being subjected to various forms of harassment and pressure, as well as violence. All 65 journalists interviewed had faced some form of interference in the course of their work while more than 80 per cent had experienced surveillance and disproportionate or unnecessary restrictions, including in relation to access to information.
#Cambodia: The denial of journalist Kao Piseth's appeal of his criminal incitement conviction marks another blow to #pressfreedom in the country.#JournalismIsNotACrime https://t.co/boklBDTbtN

— CPJ Asia (@CPJAsia) July 13, 2022
In July 2022, the Battambang Appeal Court upheld the decision of the provincial court which sentenced journalist Kao Piseth, who publicly criticised the use of a Chinese-made vaccine, to two years in jail.
As previously documented, Kao Piseth, a correspondent for the publication Siem Reap Tannhektar (Breaking News), was detained on charges of "incitement and hindering the implementation of measures by the Ministry of Health" for publicly denouncing the government's use of Chinese-made vaccines. In his social media account, Piseth had allegedly questioned the efficacy of these vaccines. In December 2021, the Battambang Provincial Court sentenced Piseth to two years in prison and a fine amounting to three million riel (USD 750).
Five journalists from @VOD_English/@VODKhmer and four Khmer Thavrak activists were arrested by the Cambodian prime minister's bodyguard unit and detained while in Phnom Tamao forest today. They were released this evening. Flash Info: https://t.co/KiGFD0qTuF

— LICADHO | លីកាដូ (@licadho) August 16, 2022
Two teams of reporters who were covering a huge deforestation operation in the Phnom Tamao forest in southern Cambodia were violently arrested on 16th August 2022. Five journalists from independent news outlet Voice of Democracy (VOD) and four citizen journalists from social justice group Khmer Thavrak were unjustly detained for around seven hours. Authorities told VOD journalists they were not permitted to photograph, film or fly a drone in Phnom Tamao, claiming photos and recordings could be used to spread false information.
Slow progress on Access to Information Bill
Progress around the passage of a freedom of information law in Cambodia has been slow.
Civil society groups submitted a petition to the Prime Minister's office in June 2022, to urge completion of the legislative process for the long-delayed draft Law on Access to Information and its submission to the National Assembly for approval. The draft law is intended to allow the public to access government documents and records. Despite the Prime Minister's promise to adopt the law in 2021, parliament has yet to consider it.
A month later, on 12th July 2022, an alliance of NGOs and civil society groups urged the government to amend the proposed draft law to ensure it was consistent with international human rights standards including vaguely worded statutes and a lack of whistleblower protections.
Specifically, several groups asked for the removal of Article 20.7, which allowed public institutions to withhold "confidential information as stipulated in the prohibition provisions." They said the rule was "overly broad" and "lacked specificity," opening it up for abuse. They also called for the removal of Article 15.4 which required 40 days to pass before a repeat request for information could be made.
In 2019, Human Rights Watch and ARTICLE 19 examined the draft law and determined that it did not satisfy international standards as the law's definition of information was too restrictive and that it lacked oversight mechanisms. Also, rights groups complained the government had excluded them from discussions about the law and failed to take their concerns seriously.
On 2nd September 2022, the government said that there was slow progress on the law as they were still receiving input from stakeholders; that the law must be drafted on the basis of its national and international obligations and in line with international laws and standards or regulatory documents in force; and also due to the pandemic.