Cambodian authorities detain union leader, criminalise and threaten the opposition and block protest video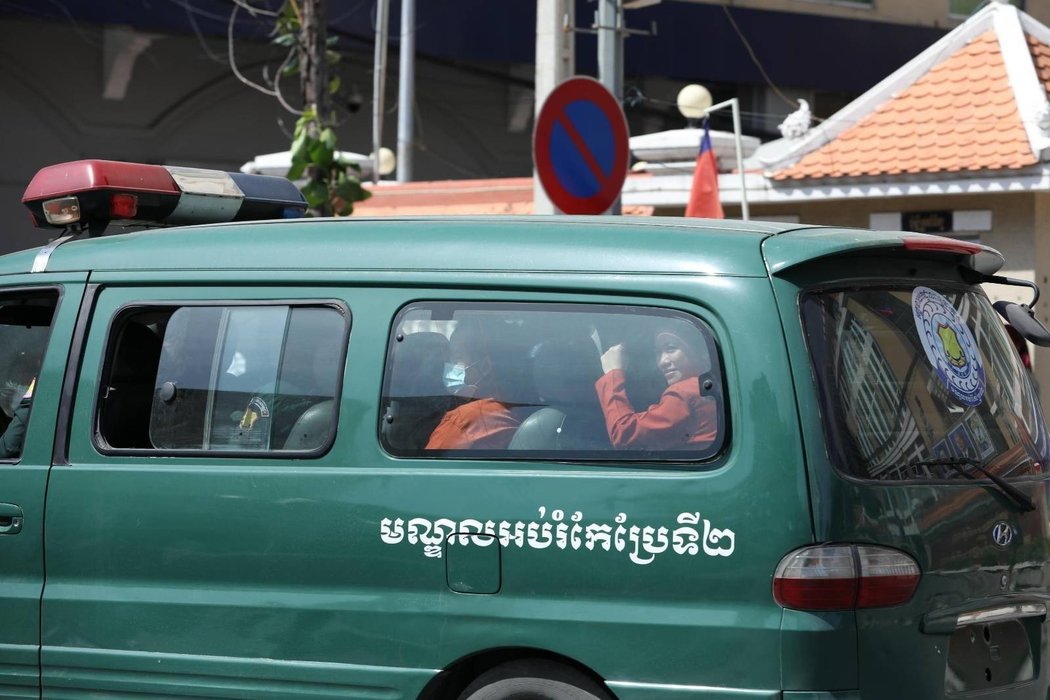 The state of civic space in Cambodia is rated 'repressed' by the CIVICUS Monitor. Repressive laws are routinely misused to restrict civic freedoms, undermine and weaken civil society and criminalise human rights defenders, trade unionists, youth activists, journalists and other critical voices for exercising their rights to the freedoms of association, peaceful assembly and expression.
According to Human Rights Watch (HRW) in its annual report published on 12th January 2023, during the year, Prime Minister Hun Sen intensified his crackdown on the political opposition, as well as activists and critical media outlets. In 2022, HRW said that "the politicised courts pursued a series of mass trials" against more than 100 political opposition members and dozens of human rights defenders. They were accused of "incitement to commit a felony" simply by exercising fundamental freedom and currently there are more than 50 political prisoners behind bars.
Previously, on 5th October 2022, Vitit Muntarbhorn, UN Special Rapporteur on the situation of human rights in Cambodia, said at the Human Rights Council that "in recent years, Cambodia had been faced with many court cases facing human rights defenders, environmental activists, media personnel and members of the opposition, seen as antithetical to the authorities." He added that "the shrunken civic and political space was heavily stockaded, especially vis-a-vis human rights advocates and the political opposition".
In recent months, the authorities have detained a union leader and denied her bail and have been accused of union busting during the pandemic. The Supreme Court upheld jail terms for five current and former NGO workers on politically motivated bribery charges. The jailing of opposition leaders and activists persisted as well as threats against opposition parties. Restrictions against journalists continued, while a music video that recounts a deadly government crackdown on a workers' protest was blocked.
Association
Union leader detained and denied bail
🇰🇭#Cambodia: Union leader Chhim Sithar has been arbitrarily detained since Nov. 26 for allegedly violating her bail conditions, in relation to the ongoing strikes by NagaWorld casino workers
📣We call for her immediate and unconditional release
👉https://t.co/snxfqF7Cbz pic.twitter.com/OnYueNkVIT

— The Observatory (@OBS_defenders) December 8, 2022
On 26th November 2022, woman human rights defender and trade union leader Chhim Sithar was detained by immigration police at Phnom Penh International Airport after returning to Cambodia following a 12-day trip to Australia. According to Front Line Defenders, she was detained at immigration and subsequently sent to pre-trial detention in Correctional Centre 2, where she was subjected to horrendous and extremely poor prison conditions.
She was arrested for allegedly violating her bail conditions. Neither Sithar nor her lawyers were informed about any bail conditions. The request from her lawyers to review the case file to understand the content of any bail conditions granted has been continuously denied.
Chhim Sithar is the recently re-elected President of the Labour Rights Supported Union of Khmer Employees of NagaWorld (LRSU) - a workers' union of Hong Kong-owned casino NagaWorld. She was previously detained in January 2022 on charges of incitement under Article 494 and 495 of the Cambodia Criminal Code for her involvement in a protest calling on the company to reinstate 365 workers laid off in April 2021. She was released on bail in March 2022.
On 19th January 2023, the Phnom Penh Municipal Court denied bail to Chhim Sithar. No reason was given for the denial.
LRSU members have been striking since December 2021 following mass layoffs at the NagaWorld casino that included the union's entire leadership and a significant number of members.
According to human rights group LICADHO, Sithar and eight fellow LRSU leaders and members face up to two years in prison if they are convicted of 'incitement'. Another six LRSU members were charged in February 2022 under the 2021 COVID-19 Law. In October 2022, at least 18 additional union members were slapped with charges of breaking and entering; intentionally causing damage with aggravating circumstances; and unlawful arrest, detention and confinement, in a criminal case that also references more than 100 unnamed "followers".
Pandemic used for union busting
The Cambodian government and some employers have used various legal and administrative tactics during the Covid-19 pandemic to weaken Cambodia's independent union movement and violate workers' rights. pic.twitter.com/7iU88lma2e

— Human Rights Watch (@hrw) November 21, 2022
On 20th November 2022, Human Rights Watch released a report titled "Only 'Instant Noodle' Unions Survive: Union Busting in Cambodia's Garment and Tourism Sectors" which documents how the government and some employers have used various legal and administrative tactics during the COVID-19 pandemic to weaken Cambodia's independent union movement and violate workers' rights. According to the group, the government used the pandemic to jail union activists, restrict union registration and block the right to strike in the garment and tourism industries.
HRW noted that the Trade Union Law imposes mandatory, burdensome requirements for registering unions, conducting collective bargaining and exercising the right to strike. Many employers used worker retrenchment measures – mass layoffs justified by the economic downturn – to dismiss union leaders and activists.
NGOs condemn ruling against 'ADHOC 5'
On 18 Nov, the Supreme Court upheld the lower courts' judgments in the ADHOC 5 case which convicted them of bribery of witness & being an accomplice to said bribery & sentenced them to 5y in prison. The PP Appeal Court upheld the '18 judgment of the PP Municipal Court in May '22. pic.twitter.com/Kvh9iBsF3B

— CCHR Cambodia (@cchrcambodia) November 21, 2022
On 23rd November 2022, nearly 140 civil society organisations condemned a decision by Cambodia's Supreme Court to uphold a five-year jail term for five current and former workers of the Cambodian Human Rights and Development Association (ADHOC), the country's oldest human rights group, on bribery charges, calling it "politically motivated and an example of the judiciary's lack of independence". The groups added that the decision was "a reflection of how the ruling Cambodian People's Party uses the judicial system to persecute rights defenders". The court provided no reason for its decision.
In April 2016, the government's Anti-Corruption Unit arrested ADHOC members Ny Sokha, Nay Vanda, Yi Soksan and Lim Mony, along with former ADHOC member Ny Chakrya, who was then deputy secretary-general of the National Election Committee, and accused them of making false statements regarding a criminal case against the then-opposition leader Kem Sokha. The five activists spent 14 months in pretrial detention. During their criminal trial, the prosecution failed to present any of the witnesses mentioned in the case or provide any credible evidence to substantiate the charges. In September 2018, the Phnom Penh municipal court convicted Vanda, Sokha, Soksan, and Mony of "bribery of a witness" (article 548 of Cambodia's criminal code) and Chakrya of being an accomplice (articles 28 and 548). All five received suspended five-year prison terms, minus 14 months of time served.
Political activist goes on hunger strike over prison conditions
In November 2022, a Cambodian political prisoner began a one-week hunger strike to protest the conditions of her imprisonment in northern Cambodia. Theary Seng, a Cambodian-American lawyer and longtime critic of the Hun Sen government, was imprisoned in a mass trial of opposition supporters in June 2022 and is currently serving a six-year sentence in Preah Vihear province, close to the Thai border.
According to her lawyer, she began the strike to demand an immediate transfer back to Prey Sar Prison in the capital Phnom Penh. She is also demanding "the same rights that other prisoners have but she has been repeatedly denied, including having weekly access to church services and the ability to make regular phone calls."
Starting with court summonses issued in November 2020, prosecutors launched mass trials in 2021 that continued into 2022 against more than a hundred people connected with the dissolved Cambodian National Rescue Party (CNRP), as well as civil society activists. Theary Seng was convicted with at least 50 others, many of whom are former CNRP members, on unsupported charges of 'incitement' and 'conspiracy.'
Criminalisation of opposition leaders and activists
Prime Minister Hun Sen has intensified his crackdown of the opposition in the lead up to the general elections in July 2023.
On 19th October 2022, a court in Cambodia sentenced exiled opposition leader Sam Rainsy to life in prison. Sam Rainsy has lived in self-exile in France since 2015 and his sentence was handed down in absentia as a result of his conviction for trying to cede four Cambodian provinces to a foreign state. In addition to adding life to the 47 years he has already racked up in prior convictions, the court also removed all his political rights. 
#Cambodia: in latest mass trial, 36 former leaders, members, and supporters of the dissolved Cambodia National Rescue Party (CNRP) are sentenced to prison terms ranging from 5 to 7 years; 33 were tried in absentia, and 3 other were already imprisoned https://t.co/Jz8pyG1Ink

— AG (@ag_fidh) December 22, 2022
On 23rd December 2022, 36 opposition party leaders and activists were convicted of plotting under Article 453 of the Criminal Code for allegedly assisting attempts by exiled members of the opposition movement to return to the country. Opposition leader Sam Rainsy and several former top-ranking officials in his party, as well as supporters of the now banned Cambodia National Rescue Party (CNRP), were found guilty in the Phnom Penh Municipal Court.
At least 33 of those convicted, including many living in exile after fleeing abroad, were tried in absentia and arrest warrants were issued. A single defendant was acquitted. The former opposition activists each received sentences ranging from five to seven years in prison, with only three activists receiving suspended sentences. Political rights of 11 activists were also suspended for a period of five years.
According to LICADHO, the political activists were convicted on the basis of their Facebook posts and recorded private phone calls regarding an attempt by Mu Sochua and other former CNRP leaders to return to Cambodia in January 2021 to stand trial in a separate mass trial. Sochua was denied boarding because the Cambodian government cancelled her passport and refused to issue her a visa for her country of birth.
This was the fourth verdict in five mass trials that have been initiated against a total of 158 leaders and supporters of the former CNRP since November 2020.
On 17th January Thach Setha, vice president of the opposition Candlelight Party of Cambodia was arrested for allegedly issuing worthless cheques in a case his party said is politically motivated. He was accused of issuing several bounced cheques in 2019 and sent to jail for pretrial detention under a law on payment transactions that provides penalties for irregular financial payments. If convicted, Thach Setha could face two to five years in prison and a fine of up to USD 12,250.
Threats against the opposition
The Hun Sen regime has also threatened to dissolve opposition parties. In October 2022, Hun Sen said he would dissolve any political party that dared to associate with Sam Rainsy, a threat that opposition party officials believe "indicates he is still afraid of the exiled opposition leader's political clout ahead of the 2023 general elections".
Sam Rainsy was a co-founder of the now banned opposition Cambodia National Rescue Party, or CNRP. He fled to France in 2015 to avoid arrest for various charges his supporters say are politically motivated. In 2017, Cambodia's Supreme Court dissolved the CNRP, a move that allowed Hun Sen's ruling Cambodian People's Party, or CPP, to capture every seat in the National Assembly in 2018 general elections.
In the same month, Minister Hun Sen threatened to dissolve the opposition Candlelight Party if it did not clarify its stand on alleged insulting comments about King Norodom Sihamoni by exiled opposition leader Sam Rainsy. Rainsy had posted a comment on Facebook that, in 2005, Hun Sen had forced the king to support a "treasonous act" – a reference to signing a border treaty with Vietnam –or else he would abolish the monarchy. Sam Rainsy also blamed Hun Sen for using the king to shield his dictatorship. The leadership of the Candlelight Party is populated with former members of the banned CNRP.
On 9th January 2022, Hun Sen threatened to seize properties belonging to opposition Candlelight Party members and others who accuse him and the ruling party of stealing the 2022 local elections. The Candlelight Party secured around 19 percent of votes in the elections while Hun Sen's ruling Cambodian People's Party secured around 80 percent of the contested seats.
Group highlights abuse of 'incitement' provisions to silence dissent
In December 2022, the American Bar Association issued a report showing how the trial and conviction of activist Rong Chhun highlighted how "Cambodia's government and judiciary have warped criminal incitement charges to suppress dissent". In its report on the trial, ABA's Center for Human Rights notes that the use of Article 495 of Cambodia's Criminal Code, which defines incitement, has been heavily criticised inside and outside Cambodia.
The ABA report notes that Rong Chhun willingly admitted to writing and disseminating the Facebook post, which he said was based on interviews with residents living near the border who said they had lost land. However, the report details how prosecutors failed to show that Rong Chhun had any intent to incite others to commit a felony or disturb social order - which should be necessary for judges to reach a guilty verdict.
The ABA highlighted how Rong Chhun's case was just the latest example of the courts taking a broad interpretation of Article 495 — the criminal incitement provision — when applied to dissidents, activists and opposition politicians.
Expression
Restrictions against journalists continue
CAMBODIA: Hun Sen government bans journalists' access-IFJ https://t.co/4F4uLeZhpV

— LabourStart (@labourstart) November 22, 2022
Journalists in Cambodia continue to face challenges when reporting, including barriers to access when covering public officials' events, and legal threats for criticism of the ruling party government.
On 13th November 2022, reporters from two news outlets, VOD and VOA, were denied access to Prime Minister Hun Sen's press conference following the ASEAN Summit.
Following the ASEAN Summit from 10th to 13th November, Prime Minister Hun Sen invited foreign and local reporters to a two-hour press conference at the Peace Palace. Journalists from VOD and VOA were carrying press identification cases issued by the Cambodian Ministry of Information, had received attendance passes and were among the first ten media organisations to register.
However, before distributing the passes to registered media, two members of the Ministry of Information's press staff told a VOD journalist that their supervisor would not allow VOD and VOA journalists to attend the press conference with Hun Sen. The journalist requested a reason for the denial of access but was not provided with one, despite contacting a senior ministry official to inquire. VOA journalists approached the summit's media centre to request their passes and were rejected.
In November 2022, The Cambodian Center for Human Rights (CCHR) said that the work environment for journalists is "increasingly dangerous". In addition to repressive or delayed legislation, such as the long-awaited Law on Access to Information, intimidation, surveillance, threats and judicial harassment were "used on a regular basis to target those who dare to speak up", with journalists and activists the main targets of the government.
CCHR said that at least 20 journalists faced legal action from September 2021 to August 2022, with 14 detained and two convicted over their reporting.
Music video blocked and activists questioned 
🇰🇭 Civil society groups said that "by blocking the video, the Cambodian authorities have once again chosen to silence freedom of expression and censor the work of civil society." https://t.co/iigm6LXTxY @CIVICUSalliance @forum_asia @adn_asia

— IFEX (@IFEX) January 27, 2023
On 9th January 2023, Cambodian authorities ordered that a music video by a rapper that recounts a deadly government crackdown on a workers' protest nine years ago be removed from a social media page.
According to reports, Cambodia's culture ministry ordered police to prevent the spread of the music video called "Blood Workers" citing its "inciting contents that can contribute to instability and social disorder." The video, which had been posted on the human rights group LICADHO's Facebook page, was by rapper Kea Sokun and shows footage of the 3rd January 2014 protests by garment workers in Phnom Penh demanding an increase in the minimum wage, during which police shot four people dead, 38 were wounded and a 15-year-old boy went missing.
This is not the first time rapper Kea Sokun has been targeted. He was arrested in September 2020 and spent a year in jail for incitement for a song he released called 'Dey Khmer' ('Khmer Land') which is about the politically sensitive topic of the Cambodian-Vietnamese border.
The cybercrime police also questioned Am Sam Ath, operations director at LICADHO, on 9th January over the NGO's involvement in releasing the rap video. To avoid further legal action, LICADHO removed the music video from Facebook and a censored page remains in its place. The group stated that the music video was not incitement and is protected speech under the Cambodian Constitution and that they were saddened by this restriction on freedom of expression. LICADHO added that to this day no one has been held accountable for the killings of workers Kim Phaleap, Sam Ravy, Yean Rithy and Pheng Kosal, or for Khem Sophath's disappearance.
The authorities went further to question Tola Moeun from NGO Centre for Alliance of Labour and Human Rights (CENTRAL), Vorn Pao, president of the Independent Democratic Association of Informal Economy (IDEA) and Theng Savoeun from CCFC (Coalition of Cambodian Farmer Communities) about the video.