Brazil: anti-democratic demonstrations following presidential election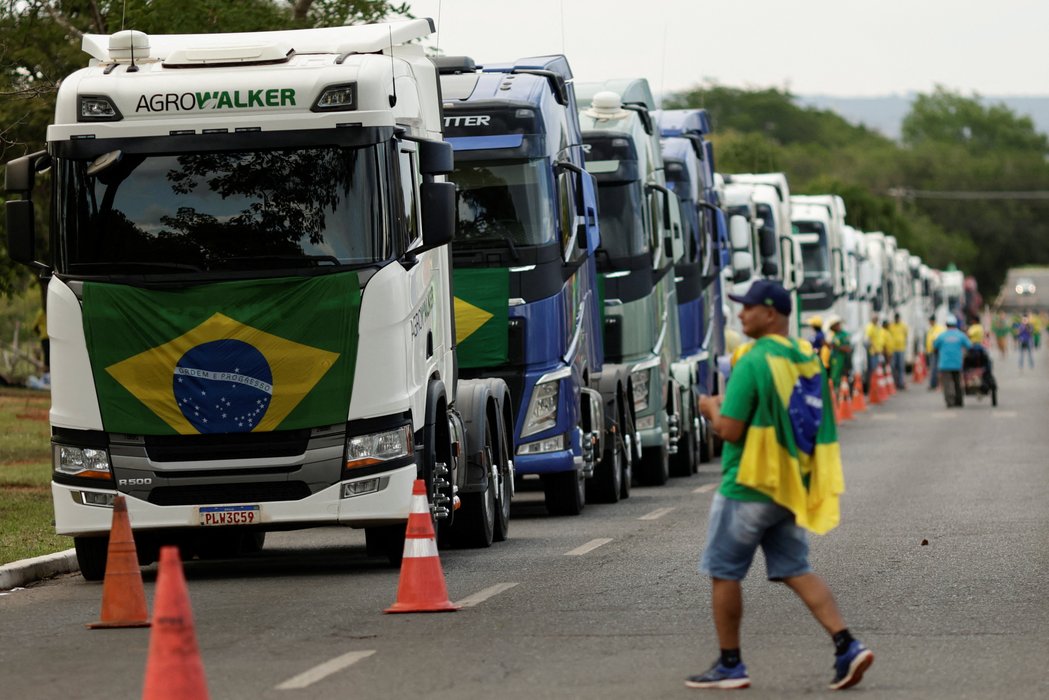 On 30th October 2022, Luiz Inácio 'Lula' da Silva won a narrow victory in the second round of Brazil's presidential elections. Lula was elected with 50.90% of the votes, against 49.10% for far-right incumbent Jair Messias Bolsonaro. A former union leader and president of Brazil between 2003 and 2010, Lula spent over 500 days in jail for corruption and was banned from running for office for several years before his conviction was thrown out in 2021.
Brazil's electoral campaign was marked by polarisation, the dissemination of false news and episodes of political violence. Bolsonaro often questioned the security of the country's electronic voting system without providing any evidence of serious issues in the past. While judicial and legislative authorities recognised the electoral results soon after their announcement, Bolsonaro maintained silence and failed to publicly concede defeat. However, his Chief-of-Staff confirmed on 1st November that a government transition would begin.
Following the election, Bolsonaro supporters launched multiple demonstrations against the electoral result, often making anti-democratic calls for a coup. These have continued into December 2022, and are detailed in the 'Peaceful Assembly' section of this update. Despite tensions, Lula's victory was formally certified by the Electoral Court and he is scheduled to take office on 1st January 2022.
Association
Killings of Indigenous defenders
Janildo Oliveira Guajajara was reportedly shot dead on September 3 near the Araribóia Indigenous territory in the Brazilian Amazon.

His death overshadowed the commemoration of Amazon Day, showing the reality of the rainforest's embattled defenders. https://t.co/OWxdMRspUY pic.twitter.com/cbrG6i6qry

— Human Rights Watch (@hrw) September 7, 2022
On 3rd September 2022, assailants ambushed, shot and killed rainforest defender Janildo Oliveira Guajajara, a forest guardian in Araribóia territory, Maranhão state. Forest guards are Indigenous-led groups which patrol ancestral territories to prevent land encroachment and criminal activities. The Indigenous defender was returning home with his nephew, who was also injured but survived the attack. Oliveira Guajajara was the sixth forest guardian killed in 2022.
On the same day, Jael Carlos Miranda Guajajara died after being hit by a vehicle, raising suspicions that the two the incidents could be related. According to news outlet Nexo, police were investigating both cases as homicides, saying initial evidence showed that the vehicle collision was not accidental. The Araribóia territory, located in the Amazon rainforest, has been attacked by groups connected to illegal logging for several years.
In a separate incident, on 4th September 2022 a 14-year-old Pataxó boy was shot and killed by gunmen during an attack on land being reclaimed as part of Comexatibá Indigenous territory in Bahia state. According to Conselho Indigenista Missionário (Indigenous Missionary Council - CIMI), around twelve individuals in two vehicles attacked the Pataxó with firearms and tear gas bombs. Another Indigenous teenage boy was shot and taken to hospital for his injuries.
Peaceful Assembly
Anti-democratic protests following presidential election
In November and December 2022, supporters of President Bolsonaro staged multiple demonstrations and road blockades protesting the election of Luiz Inácio 'Lula' da Silva. On the days following the presidential election's second round on 30th October 2022, truck drivers and other Bolsonaro supporters blocked highways across the country demanding the overthrow of the election result, with some calling on the military to intervene. As reported by newspaper Folha de São Paulo, there were over 300 roadblocks in 25 Brazilian states by the evening of 31st October 2022.
On 1st November 2022, Federal Supreme Court Minister Alexandre de Moraes ruled that state military police forces were allowed to act to clear blocked highways and identify, fine and arrest those responsible. After the decision, state governors and police forces increased operations to unblock highways. Following public pressure, President Bolsonaro also published a video calling on supporters to unblock roads. However, he failed to officially recognise the electoral results and repeated claims that the elections had been 'unjust,' providing fuel to protests which continued throughout the month. Some radicalised groups set up protest camps outside army barracks, claiming without evidence that the election was fraudulent and calling for military intervention.
There were incidents of violence by protesters against police and private individuals. On 7th November 2022, for instance, there were clashes between protesters and police officers who attempted to remove a road blockade in Novo Progresso, Pará. Protesters threw rocks at officers and a protester reportedly used a firearm amid the confusion. Police used tear gas in an attempt to clear the road, and a child required medical attention to treat gas poisoning. On the same day, protesters in Santa Catarina attacked police officers using iron bars.
Civil society organisations expressed concern about the spread of anti-democratic content attacking Brazil's electoral system and inciting violence on social media. On 14th November 2022, Minister Moraes ordered the blocking of accounts of 43 individuals and companies suspected of financing demonstrations challenging the election results and calling for a military coup. He called these acts a "repeated abuse of the right of assembly, directed, illicitly and criminally, to propagate non-compliance and disrespect for the election result."
Expression
Attacks on journalists
Onze organizações da sociedade civil que defendem as liberdades de imprensa e de expressão, entre elas a Abraji, se manifestaram hoje (10/11) sobre o aumento de ataques a jornalistas e a meios de comunicação após o segundo turno das eleições. 👇🏻🧵 pic.twitter.com/FhiYOf3EAI

— Abraji (@abraji) November 10, 2022
In July 2022, journalist Renata Cristiane de Olivera, editor of a regional edition of newspaper O Dia, was targeted by racist attacks. On July 2021, two posters attacking the journalist with racist language were placed in bus stops in the town of São Pedro da Aldeia, Rio de Janeiro state. De Oliveira said that she has faced discrimination in her career and personal life for both her skin colour and her sexuality.
On 3rd July 2022, members of the press were attacked with sticks, stones and broken bottles during a traditional festival in the town of Capela, Sergipe state. Two journalists were injured. The reporters were on a support truck which was driving organisers, members of the press and healthcare staff accompanying a march through the town.
On 27th August 2022, a journalist from Radio Itatiaia was attacked by police officer Renan Henrique de Paula, also a congressional candidate, in Belo Horizonte, Minas Gerais. The incident took place in a police station while the reporter filmed an altercation between Henrique de Paula and the representative of a 13-year-old girl he is accused of raping. Henrique de Paula harassed the radio journalist, took his phone and locked himself in a bathroom to delete the video recording. When the reporter attempted to get his phone back, the officer punched him in the stomach. According to eyewitnesses, other police officers at the station did nothing to stop the aggression.
On 7th September 2022, TV Cultura reporter Aline Porcina was threatened while covering a pro-Bolsonaro event during Independence Day demonstrations in the city of São Paulo. The journalist said the assailant waited to approach her after her two colleagues had moved away. They then attempted to intimidate her, saying that a reporter in another city had been "punched in the eye." The Federação Nacional dos Jornalistas (National Federation of Journalists – FENAJ) said two other journalists were harassed while covering the same event.
On 14th September 2022, Maria Fernanda Passos, a columnist for Diário de Centro do Mundo and a local councillor in Jaguarão, Rio Grande do Sul was harassed online after she criticised the Bolsonaro government in a livestream. Passos received death and rape threats on social platforms.
On 12th October 2022, supporters of President Jair Bolsonaro harassed and attacked journalists during the religious celebration of Our Lady of Aparecida, Brazil's patron saint. The hostilities took place as Bolsonaro visited the town of Aparecida to attend a religious service. A woman harassed reporter Camila Morais of TV Aparecida, attempting to stop her from reporting live. Journalists with news outlets UOL and SBT were threatened. Reporter Daniella Lopes and filmmaker Tales de Andrade with TV Vanguarda were also pushed and harassed; further aggression was prevented by the security guard accompanying the press team.
During the presidential campaign, President Bolsonaro also attended a series of religious services at Assembly of God churches, where he reportedly made campaign speeches. Journalists attempting to cover these events were prevented from entering the venues, and in some cases were harassed by the president's supporters.
On 23rd October 2022, filmmaker Rogério de Paula of InterTV was physically attacked by supporters of former federal legislator Roberto Jefferson in Comendador Levy Gasparian, Rio de Janeiro. Earlier in the day, police had attempted to execute an arrest warrant against Jefferson, but the politician violently resisted arrest for several hours. De Paula was recording outside Jefferson's house, where negotiations were taking place, when he was attacked. Supporters of Jefferson and Jair Bolsonaro surrounded the reporter, threatened him, attempted to take his camera and pushed him to the ground. He reportedly hit his head and began convulsing.
Violence against journalists increased during the last months of the Bolsonaro presidency, in particular in the lead up to the presidential campaign and in the aftermath of the election. Monitoring by investigative journalism association Abraij showed 64 attacks on journalists in the three weeks following the second round of the presidential election. These attacks were mainly carried out by pro-Bolsonaro protesters who had gathered to contest the election results. These included cases of physical attacks, death threats, journalists prevented from covering the protests, and a shooting attack on the offices of news outlet Rondônia Ao Vivo.
Public officials vilify and attack journalists
On 28th August 2022, in the middle of a live presidential debate, President Jair Bolsonaro verbally attacked journalist Vera Magalhães, a columnist for newspaper O Globo and interview host on TV Cultura. Magalhães had asked another candidate a question about disinformation in the COVID-19 vaccination campaign, citing previous remarks by the president against the vaccines. Bolsonaro interrupted to respond, accused her of lying and said Magalhães was a "disgrace to Brazilian journalism." Similarly, on 13th September 2022 federal legislator Douglas Garcia harassed Magalhães during a debate between gubernatorial candidates for the São Paulo state government. Garcia verbally attacked the journalist, repeating several times that she was a "disgrace to journalism" and questioning how much she earned. Magalhães had to be escorted out of the debate venue.
On 23rd September 2022, journalist César de Carvalho of Rede Metropolitana TV was attacked by a local councillor in São Sebastião do Passé, Bahia. Carvalho was reporting on a session of the city council when councillor Soldado Nailson threw a glass in his direction and attempted to physically assault him. Carvalho said he had been verbally insulted while reporting on the city council sessions in the past.
In a similar but separate incident, on 5th October 2022, local councillor Kleybe Morais made stigmatising remarks against the press during a speech to the Goiânia City Council. Among other things, Morais said he would not accept "bandits in the press." After his speech, the councillor directly threatened and insulted journalist José Bonfim of CBN. Morais pointed his finger in the journalist's face, made threats and called him a "brat" and a "thug."
Judicial harassment and censorship
In August 2022, journalist Reinaldo Bessa was ordered to pay compensation to a bar owner for reporting on a public disturbance at his bar which led to police intervention in March 2019. A local court ordered Bessa to pay R$12,000 (about US$2,250) in compensation for disclosing information on the police operation and the bar owner's name in the report.
Separately, on 22nd September 2022 a Federal District court ordered the online news media UOL to remove from its website a series of investigative reports concerning alleged real estate purchases involving President Jair Bolsonaro and his family. The August 2022 investigation conducted by reporters Juliana Dal Piva and Thiago Herdy included documents showing that the Bolsonaro family had bought 51 properties either fully or partly in cash between 1990 and 2022.The transactions amounted to around R$26 million (US$5 million). The report said the origin of this money was unclear and required further investigation.
The removal request was made by the defence of Senator Flavio Bolsonaro, eldest son of Jair Bolsonaro, arguing that the UOL investigation used confidential information from a police investigation that had already been annulled by the Superior Court of Justice and information "not submitted to the scrutiny of the Judiciary." Abraji spoke out against the court ruling, saying it is an act of censorship and an attack on the press. The association said:
"The episode confirms the increase in judicial harassment against journalists. According to the association's monitoring, since 2002 there have been 5,641 requests for the removal of content. Politicians were the most frequent authors of these requests, with 3,245 actions."
Freedom of expression on social media
In October 2022, FENAJ denounced cases of social media platforms removing and restricting content regarding Brazilian politics. According to the organisation, the profile of an online media was removed from Facebook for policy violations, without any access to recourse or explanation for the decision. Similarly, YouTube reportedly restricted access to videos from at least two outlets.
Desde a redemocratização, a realização de cada eleição é reconhecida como um direito e celebrada como uma conquista.

Agora, este sentimento se renova: a sociedade brasileira concluiu mais um ciclo eleitoral com êxito! #compromissocomademocraciahttps://t.co/Zl0XsOeFZP pic.twitter.com/B5NKGd8v0h

— Pacto pela Democracia (@PactoDemocracia) November 8, 2022