Assault on civic freedoms continue in Sri Lanka as an economic crisis hits the country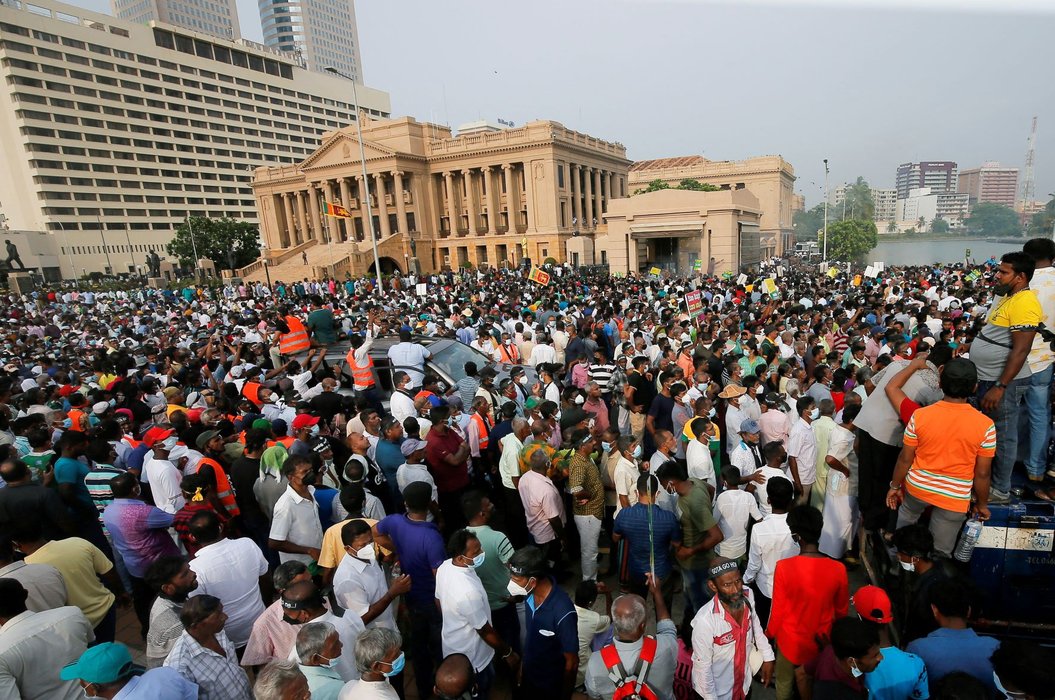 Civic space in Sri Lanka remains rated as 'obstructed' in new ratings published by the CIVICUS Monitor in December 2021. In 2021, the notorious Prevention of Terrorism Act (PTA) was used to enable arbitrary detention, despite commitments made to repeal the Act. There were systematic attempts by the authorities to prevent or disrupt protests and arrest peaceful protesters. Journalists and critics were also targeted by the government to stifle dissent.
In December 2021, the Human Rights Commission of Sri Lanka (HRCSL) was downgraded to B status by the Global Alliance of National Human Rights Institutions (GANHRI). This is the second time HRCSL has been downgraded by the GANHRI. The main reasons for the downgrading were that it was concerned that the institution's independence and effectiveness has not been sufficiently maintained in line with the requirements of the Paris Principles. Further, the HRCSL has not effectively engaged on and publicly addressed all human rights issues, including allegations of deaths in custody and torture, nor has it spoken out in a manner that promotes and protects all human rights. The HRCSL did not submit a parallel report to the United Nations Human Rights Committee.
A report in February 2022 by the United Nations High Commissioner for Human Rights on Sri Lanka showed the rights situation in alarming decline and contradicts government claims of improvement. The report documents, among other issues, security forces' targeting of civil society groups while accountability for past abuses has been blocked. The High Commissioner noted in her report that the current government "has continued to demonstrate its unwillingness to recognise those serious international crimes and pursue accountability".
In March 2022, anti-government protests have roiled Sri Lanka's capital amid demands that President Gotabaya Rajapaksa resign, as the country suffers its worst economic crisis in decades. Demonstrators accused the government of mismanaging the economy and creating a foreign exchange crisis that has led to shortages of essentials like fuel, cooking gas, milk powder and medicine.
At the same time, the human rights crisis rolls on. In recent months activists have been arrested or faced threats and intimidation from the authorities, while journalists have been attacked or faced harassment. The authorities also disrupted gatherings and protests in the North and North Eastern parts of the country.
Association
Activist Shehan Malaka arbitrarily arrested and charged
Civil Activist Shehan Malaka Gamage arrested https://t.co/iFC2Deh65K

— NewsWire 🇱🇰 (@NewsWireLK) February 14, 2022
In February 2022, Shehan Malaka Gamage – an activist who has been advocating for truth and justice in relation to the Easter Sunday attacks of April 2019 - was arbitrarily arrested and subsequently released on bail.
According to the Observatory for the Protection of Human Rights Defenders, on 14th February 2022, while he was on the road in Panadura, Kaluthara District, Shehan Malaka was accosted in a threatening manner by several men in plain clothes in a white van, who did not identify themselves and asked him if he knew them. Shehan Malaka tried to escape but was surrounded by the men and arrested, without being presented with any warrant or being told why he was being arrested.
After having detained Shehan Malaka, one man identified himself as a Criminal Investigation Department (CID) officer, and he recognised another one as a CID officer. He was then taken to the headquarters of the CID and the men who arrested him identified themselves as CID officers.
According to the police, Shehan Malaka was arrested under Section 120 of the Penal Code ("exciting or attempting to excite disaffection"). This is based on reports submitted by the CID after they had interrogated Shehan Malaka - as previously documented - over the course of eight days in August and September 2021, regarding a speech he delivered at a press conference held on 17th August 2021, during which he denounced what he believed to be the political motives behind the Easter Sunday attacks as well as the impunity for the perpetrators of these attacks.
On 15th February 2022, the Maligakanda Magistrates' Court granted him bail despite objections from police and he was released on condition of two personal sureties. The next hearing in his case is scheduled for 29th March 2022. If convicted, he faces up to two years in prison.
Intimidation against human rights lawyer Ambika Satkunanathan
#SriLanka: We stand in solidarity with prominent rights defender Ambika Satkunanathan whose speech before the @Europarl_EN about the human rights situation in the country was heavily targeted by the government.

Read our joint statement ▶️https://t.co/dMAcxSDJOK pic.twitter.com/I8qCK0QdHQ

— The Observatory (@OBS_defenders) February 14, 2022
In February 2022, human rights groups expressed concern about a statement issued by the Sri Lankan Foreign Ministry which amounted to harassment and intimidation against Ambika Satkunanathan, a leading human rights lawyer. It is believed she was targeted for her testimony to the European Parliament on 27th January 2022.
According to the groups, the Foreign Ministry's statement contains numerous false claims in an attempt to "disparage and delegitimise a distinguished human rights advocate, placing her at risk of physical danger in retribution for her brave work". The government's statement mirrors its repeated practice of falsely equating human rights defenders and human rights advocacy with those pursuing "terrorism." The statement's language aligns these baseless allegations with vague and frequently abused provisions under the Prevention of Terrorism Act (PTA), exposing Satkunanathan to a heightened risk of threats, attacks and persecution.
Satkunanathan was a commissioner of the National Human Rights Commission of Sri Lanka. Prior to that, she was for many years a legal consultant to the Office of the United Nations High Commissioner for Human Rights.
Intelligence attempts to kidnap political activist
Unidentified men who claimed to be part of the state intelligence apparatus attempted to kidnap Illankai Tamil Arasu Kachchi youth wing assistant sect Nithanshan in the white van in the photo. A complaint has been lodged with the Kalmunai police re this. @ReAdSarath pic.twitter.com/TzuWjeJIZc

— Shanakiyan Rajaputhiran Rasamanickam (@ShanakiyanR) February 17, 2022
On 17th February 2022, it was reported that intelligence officers in a white van had attempted to kidnap Nithanshan, a Tamil activist, according to Tamil National Alliance (TNA) lawmaker Shanakiyan Rasamanickam. The parliamentarian tweeted that "unidentified men who claimed to be part of the state intelligence apparatus" had attempted to abduct the assistant secretary of the Illankai Tamil Arasu Kachchi (ITAK) youth wing in Kalmunai. Rasamanickam also tweeted a photograph of the alleged white van, with the licence plate clearly visible. Nithanshan has been involved in a signature campaign to repeal the Prevention of Terrorism Act (PTA).
White vans were used in many abductions and enforced disappearances in Sri Lanka, particularly from 2006, when the security forces and allied paramilitary groups stepped up attacks on government critics.
Poet Ahnaf Jazeem released on bail with harsh conditions
#AhnafJazeem (27), a #Muslim teacher arrested on 16 May 2020 under draconian Prevention of Terrorism Act (#PTA) was granted bail, today, by #Puttalam high court after being held for 19 months for publishing a #Tamil language poetry anthology. #SriLanka #RepealPTA pic.twitter.com/o6IGdNZr8g

— JDS (@JDSLanka) December 15, 2021
Ahnaf Jazeem, a Muslim teacher and poet who was arrested on 16th May 2020 under the provisions of the Prevention of Terrorism Act (PTA), was released on bail on 15th December 2021.
He was ordered to deposit three 500,000-rupee (about USD 2,500) sureties with the court and will be monitored by the police's Terrorism Investigation Division (TID). He has to report to its office at Puttalam police on the first and last Sunday of every month. Other bail conditions include: no contact or interference with witnesses involved in the case against him and that the court be informed of any change of his permanent address. The court also ordered the Immigration Department not to issue a passport to Jazeem and that he provide an affidavit that he does not already possess a passport.
As previously documented, Ahnaf Jazeem was arrested under Sri Lanka's draconian Prevention of Terrorism Act (PTA) in connection with a Tamil-language poetry anthology called Navarasam, which he wrote and published in July 2017, as well as other unsubstantiated claims of exposing his students to "extremist" content with the intention of turning them into followers of "extremist ideology".
Jazeem had also allegedly been subjected to torture and cruel, inhumane and degrading treatment in detention by being handcuffed to a chair, handcuffed while sleeping, as well as being detained in unhygienic and suffocating conditions. He has also been bitten by a rat and suffered from urethral stones, a skin rash and psychological breakdown.
Court orders release of human rights lawyer held for two years
On 9th February 2022, human rights lawyer Hejaaz Hizbullah was released on bail by the Puttalam High Court. Hejaaz had been in prison for 22 months without bail, charged under the 1979 Prevention of Terrorism Act (PTA).
As previously documented, Hejaaz Hizbullah was arrested on 14th April 2020 under the PTA. He was accused by the police of aiding and abetting Inshaf Ahamed (who was involved in the 21st April 2019 bombings), an accusation that has since been withdrawn. Since Hejaaz has been in detention the allegations against him have changed several times.
Hejaaz Hizbullah is a vocal critic of the government. He is a minority rights advocate in a climate increasingly hostile to Sri Lanka's religious and ethnic minorities. He is also one of the lawyers who challenged the dissolution of the parliament in 2018 in the Sri Lankan Supreme Court. Rights groups say it appears he is being targeted solely for exercising his right to freedom of expression. They called for his immediate release and for the charges against him to be dropped.
Former police investigator files injunction to prevent his re-arrest
Former director of the Criminal Investigations Department (CID) Shani Abeysekara filed a Fundamental Rights petition in the Supreme Court of Sri Lanka on 19th February 2022, requesting an interim injunction preventing his re-arrest or detention by the CID.
In the petition, Shani Abeysekara has sought an interim order restraining President Gotabaya Rajapaksa from issuing an order as the Minister of Defence to arrest him under Section 9(1) of the Prevention of Terrorism Act. He said that there was an attempt being made to falsely implicate him by alleging that he had been derelict in his duties during the investigation of the Easter Sunday terror attack. He was previously detained for 10 months accused of fabricating and concealing evidence in a murder case involving a police officer. He has denied this.
Abeysekara believes he is being targeted because he oversaw the investigations into a number of emblematic human rights cases. These included the case of the forcibly disappeared cartoonist Prageeth Ekneligoda, the assault on journalist Upali Tennekoon, the murder of journalist Lasantha Wickrematunge and the disappearance of 11 youth (the 'Navy 11'). Current members of the government and their close associates, including President Gotabaya Rajapaksa, were implicated in some of these investigations.
Revised anti-terror PTA law falls short of international law and standards
In early March 2022, UN human rights experts called for an immediate moratorium on the use of Sri Lanka's Prevention of Terrorism Act (PTA) and urged the government to substantively review and revise the legislation to comply with international human rights law.
Human rights groups have documented how the draconian PTA continues to be used by the government of Sri Lanka to target and harass minorities, activists, journalists and critical voices. Detainees can be held for up to 18 months without charge. Under the current law, arbitrary orders can be made by the Minister of Defence, restricting rights with no right of appeal in the courts; it contains special rules of evidence, allowing for confessions to be admissible in court; places the burden on a suspect to prove to a court that a statement was made under duress and there are unclear provisions on the procedure of granting bail.
On 10th February 2022, a bill to amend the PTA was presented to the Sri Lankan Parliament which was passed on 23th March 2022. The UN experts said the revisions fell short of their recommendations.
According to an analysis by Amnesty International, the revised law does not change the vague, overly broad and ill-defined offence of 'terrorism', which has been abused to target minorities, critics and journalists;continues to allow confessions to be admissible evidence; permits arbitrary arrests and prolonged detention that is not subject to judicial scrutiny for its lawfulness; places no obligation on law enforcement authorities to inform a suspect of the reasons for the arrest at the time of arrest and has no provision to require anyone arrested or detained on a criminal charge to be brought promptly before a judge and to be entitled to a trial within a reasonable time.
The International Commission of Jurists (ICJ) said: "The Government of Sri Lanka is once again scrambling to do its bare minimum ahead of another UN Human Rights Council session, in an attempt to deflect focus away from its failing human rights record. The fatally flawed PTA cannot be cured by these disingenuous reform attempts but must be entirely repealed."
Expression
Journalist attacked by soldiers for reporting on Tamil memorial
Owning up to assaulting #Tamil journalist Viswalingam Vishwachandran in #Mullivaikkal on Nov 27, soldiers have tendered an official apology, contradicting #SriLanka Army denying the attack as a "carefully-orchestrated & maliciously planned plot" by 'so called journalists'. pic.twitter.com/ke90rnUZwD

— JDS (@JDSLanka) December 6, 2021
According to the Committee to Protect Journalists (CPJ), on 27th November 2021, freelance journalist Vishwalingam Vishwachandran was beaten by a group of soldiers with the Sri Lankan army, allegedly with a palm stick wrapped in barbed wire, while he was covering a commemoration for Sri Lanka's civil war dead in the northern Mullaitivu district. They also seized his phone and camera and damaged his motorcycle. Vishwachandran contributes to the privately-owned news websites Lankasri and Tamilwin.
Vishwachandran suffered serious injuries to his stomach, arms and legs and was admitted to a local hospital for treatment
On 30th November 2021, the Sri Lanka army released a statement denying the attack against Vishwachandran, claiming that its investigation found that the journalist fell backwards over his own motorcycle onto a barbed wire fence before lying on the ground to "pose for visuals for stage-managed filming."
"The Sri Lankan army's denial of its soldiers' brutal beating of Vishwalingam Vishwachandran is a brazen and shameful attack on press freedom in a country where Tamil journalists continue to face constant harassment for doing their jobs," said Steven Butler, CPJ's Asia program coordinator.
On 1st December 2021, it was reported that three Sri Lankan soldiers were arrested in connection with the incident.
Unidentified men attack residence of journalist
🇱🇰"The modus operandi used in this attack on journalist Chamuditha Samarawickrama (@ChamuSOnline) recalls the height of the persecution of journalists in #SriLanka said @danbast for @RSF_inter. https://t.co/cuajVTjaKq

— RSF (@RSF_inter) February 18, 2022
The house of Sri Lankan journalist Chamuditha Samarawickrama was attacked by unidentified armed men on 14th February 2022. Samarawickrama is a reporter for the privately-owned television channel Hiru TV and host of a YouTube-based talk show Truth with Chamuditha.
Reporters Without Borders (RSF) stated that surveillance camera footage showed that at least four masked gunmen arrived at the residence in the Piliyandala suburb of Colombo. To get into the compound, they threatened his guard by putting a gun to his temple. The men, who arrived in a white van, shot at the residence, smashed its windows and threw stones and excrement at the residence. Government actors used white vans to abduct and attack journalists throughout the decades-long civil war, which ended in 2009.
According to the Committee to Protect Journalists, Samarawickrama, who previously served as media director to former President Maithripala Sirisena, has featured criticism of the ruling Rajapaksa family, government corruption, and Sri Lankan police on his talk show. The Free Media Movement pointed out that the journalist had received death threats on a previous occasion as well and emphasised that it is the responsibility of the authorities to ensure the safety of journalists.
Police harass and question journalists
According to the Committee to Protect Journalists (CPJ), on 4th February 2022, police visited the home of freelance Tamil journalist Punniyamoorthy Sasikaran in Batticaloa city and presented a court order banning a non-existent protest march. Police told his parents, who had opened the door, that the journalist could be arrested in what Sasikaran told CPJ he believed to be an intimidation tactic.
Sasikaran said that he told the police that no such protest would occur and asked why he was receiving the order, as he is a journalist. The officers said that the information was based on "credible intelligence," and that the head of the Batticaloa police had requested the order, according to Sasikaran. This was not the first he had been harassed for his work.
In a separate case, on 9th February 2022, officers with the Criminal Investigation Department (CID) questioned Selvakumar Nilanthan, a freelance Tamil journalist and secretary of the Batticaloa District Tamil Journalists' Association, for two hours at a police station in the town of Eravur in the eastern Batticaloa district.
Two CID officers had visited Nilanthan's home on 7th and 8th February 2022 and demanded that he appear at the Eravur police station for questioning. Nilanthan told CPJ that he believes authorities have subjected him to repeated harassment in retaliation for his journalism and his association with the Batticaloa District Tamil Journalists' Association.
During the questioning, three officers asked Nilanthan about his biographical history; connections to the Liberation Tigers of Tamil Eelam, a banned group in Sri Lanka; his relationship with diaspora news organisations; and his work with the Batticaloa District Tamil Journalists' Association.
Peaceful Assembly
Memorials for the dead disrupted
BREAKING - ITAK member Peter Ilancheliyan and his wife have been manhandled and arrested by Sri Lankan police for attempting to hold a memorial on Mullaitivu beach. pic.twitter.com/VRekhMWm1S

— Tamil Guardian (@TamilGuardian) November 27, 2021
On 29th November 2021, armed troops broke up Tamil memorials for Sri Lanka's civil war dead. Grieving relatives were reportedly forced out of cemeteries on the weekend as they attempted to light lamps at the graves of loved ones who died in the island's decades-long conflict, which ended in 2009.  In one incident, political activist Peter Ilancheliyan was dragged and arrested by police while attempting to hold a commemoration on Mullaitivu beach. Ilancheliyan's wife was manhandled by police while trying to prevent his arrest. Armed soldiers continued to patrol the area on motorbikes, while other troops photographed the hundred or so people who had gathered there.
Police raid office of community organisation while staff getting ready for a protest
#RighttoAssociation#SriLanka: Police raids DIFSO Kilinochchi office while staff getting ready for a protest https://t.co/X6g3CXxdll via @LankaBrief

— sunanda deshapriya (@sunandadesh) February 8, 2022
On 7th February 2022 it was reported that police officers had raided the District Fisheries Solidarity (DIFSO) Kilinochchi office while they were getting ready for a protest against the killing of two fishermen in Vadamarachchi, Jaffna in the Northern Province. DIFSO is a community-based organisation affiliated with the National Fisheries Solidarity Movement.
International Women's Day event disrupted
According to the Sri Lanka Brief, army and police authorities stormed an International Women's Day event in Manipai Fort, Jaffna, and threatened the organisers and attendees. The event was held on 12th March 2022 to recognise the achievement of women and to demand women's rights. The event also featured art performances and awards before being disrupted. Army officers and investigators reportedly obstructed the event and threatened to photograph and video attendees.
Families of the disappeared blocked from protesting PM's visit to Jaffna
Standoff between Sri Lankan police and Tamils protesting PM's visit to Jaffnahttps://t.co/Yv4bpnTrdy pic.twitter.com/i5971S1wmD

— Tamil Guardian (@TamilGuardian) March 20, 2022
On 20th March 2022, police officers were heavily deployed in the area outside the Economic Centre, which Prime Minister Mahinda Rajapaksa was visiting during his two-day trip to Jaffna, to block the protesters from surrounding the venue. According to the Tamil Guardian, families of the disappeared had planned to stage a protest outside the centre to demand justice for the atrocities perpetrated against Tamils by the state but were prevented from doing so. Police officers pushed back a bus they were in to block them from attending the rally. Civil society leader Velan Swamikal, who was travelling in another vehicle, was also stopped by the police to prevent him from attending the demonstration.
As previously documented, the families of the disappeared and civil society have been calling on the international community since the end of the armed conflict to investigate human rights abuses and enforced disappearances perpetrated by Mahinda Rajapaksa, the then President of Sri Lanka, and his brother Gotabaya Rajapaksa who served as the Defence Secretary, which led to the killing of tens of thousands of Tamils at the end of the armed conflict in May 2009. Despite multiple pledges from successive governments to investigate the abuses through domestic mechanisms, no one has been held accountable for any human rights abuses.