Argentina: protests in memory of pandemic victims, demanding rights and policy changes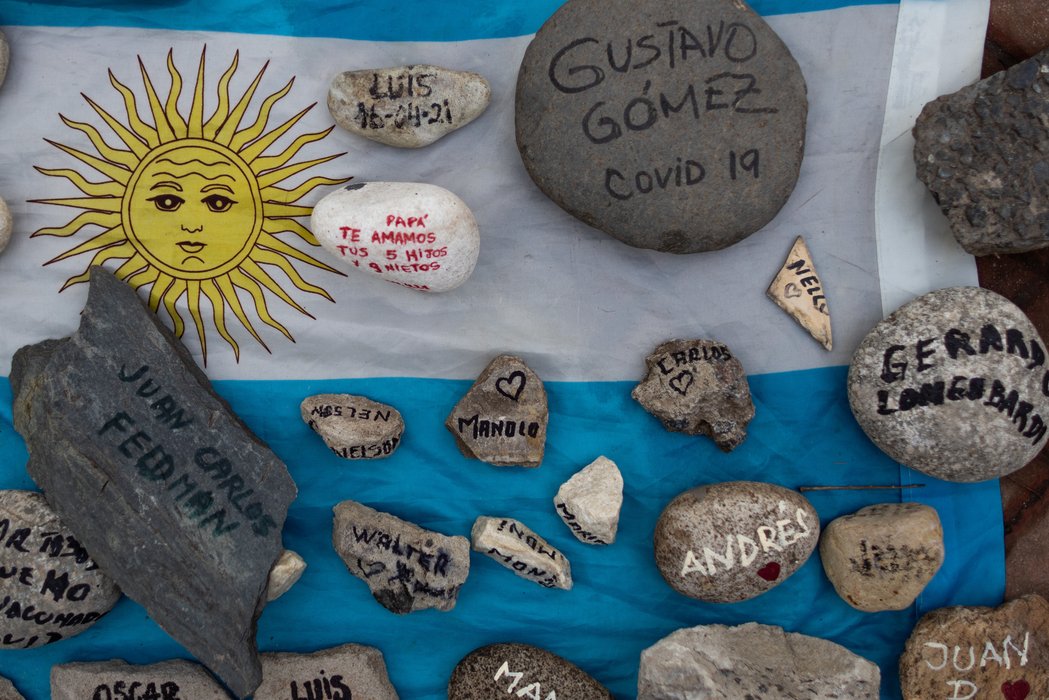 Peaceful Assembly
March of the Stones in honour of coronavirus victims
#ARGENTINA
"March of the stones" in homage to COVID-19 victims, in Buenos Aires, on August 16, 2021.
📸 @rschemidt#AFP pic.twitter.com/ST6bocYP6T

— AFP Photo (@AFPphoto) August 17, 2021
On 16th August 2021, hundreds of people joined the "Marcha de las Piedras" (March of the Stones) in remembrance of the more then 100,000 people who had died from COVID-19 in Argentina and to protest against President Alberto Fernández's administration for its handling of the pandemic. Demonstrators in Buenos Aires placed stones in front of the Casa Rosada, the seat of Argentina's presidency, with the names of the country's coronavirus victims as well as others who died during the pandemic and whose families were unable to carry out mourning rituals due to sanitary restrictions.
After the march, the government collected the stones to create a permanent tribute site in the future. However, on 4th September 2021, demonstrators organised a second March of the Stones in Plaza de Mayo and other parts of the country demanding that the government leave the stones in place instead of removing them. "It's the least you can do for people who couldn't say goodbye to their dead," a protester told newspaper La Nación.
Teachers mobilise in the province of Salta
On 1st August 2021, teachers started a strike in the province of Salta to demand better salaries and other labour improvements. The group known as "docentes autoconvocados" (self-convened teachers) organised several protests for labour rights in Salta throughout the month.
On 24th August 2021, a protest outside the Government House in Salta ended in clashes with the police, who intervened to disperse the demonstration. While news outlets reported that the police had pushed and kicked protesters, while also firing shots into the air, the chief of police defended the officers' actions as "correct and preventive." After negotiations with government representatives, the assembly of the self-convened teachers decided to suspend the strike on 2nd September 2021.
Rural producers protest
En fotos: las mejores imágenes de la protesta del campo en San Nicolás https://t.co/akmKj50jRE vía @LANACION pic.twitter.com/iBDieLL6nD

— LA NACION Campo (@LNcampo) July 10, 2021
On 9th July 2021, Argentina's Independence Day, anti-government demonstrations took place in San Nicolás de los Arroyos and in provinces such as Salta, La Pampa and Tucumán. Thousands of demonstrators gathered to join the protest convened by rural producers, including grain farmers and cattle ranchers, with the support of agribusiness associations. In San Nicolás, protesters blocked part of the Rosario-Buenos Aires highway. They demanded change in government policies in several areas, including its economic, education and security policies.
In Tucumán, anti-government protesters clashed with police officers while attempting to march. The incident took place hours before President Alberto Fernández was due to arrive in the city to take part in the day's celebrations. The police used rubber bullets against protesters, who reportedly responded by throwing stones at police officers.
LGBTQI+ rights groups celebrate new employment quota
🌈El Senado aprobó la Ley "Diana Sacayán – Lohana Berkins" impulsada por la Campaña Nacional por el Cupo y la Inclusión Laboral Travesti Trans, integrada por más de 250 organizaciones de las provincias de Argentina. pic.twitter.com/waymUJOshp

— 100% diversidad y derechos (@cienporcientodd) June 24, 2021
On 28th June 2021, Argentina's National Congress approved the "Law for the Promotion of Access to Formal Employment for Transvestites, Transsexuals and Transgender persons", reserving 1% of Argentina's public sector jobs for transgender people. The legislation also sets out tax incentives and soft loans for private businesses that hire trans workers.
The initiative was promoted by ruling bloc Frente de Todos and backed by campaigning organisations, including the LGBTQI+ League of the Provinces and the Argentina Federal Trans and Travesti Convocation. During the Senate vote, trans rights groups in the Campaña Nacional por el Cupo y la Inclusión Travesti Trans organised a rally to follow the livestream of the debate on the bill, which ended in a big celebration. Claudia Vásquez Haro, president of civil society group Otrans Argentina and of the Argentina Federal Trans and Travesti Convocation, commented:
"The approval of this law will have an impact on the individual and the collective. And we are also going to culturally transform a society that historically associated and confined transvestites and transgender people to prostitution and criminality."
Protest camp demanding release of Milagro Sala
On 6th June 2021, social, political and labour organisations set up a protest camp at Plaza de Mayo in Buenos Aires to demand the release of Indigenous leader Milagro Sala. The demonstration marked 2,000 days, or over five years, since Sala was detained.
As reported on the CIVICUS Monitor at the time, the leader of the Tupac Amaru Movement (MTA) was arrested in January 2016 for holding a protest against Jujuy's provincial authorities. Although the UN Human Rights Council's Working Group on Arbitrary Detention issued an opinion that Sala's detention was arbitrary, she has remained in detention and was convicted of "instigation to commit crimes" among other charges. In June 2021, a local court in Jujuy added new charges to Sala's case and increased her prison sentence.
Expression
Journalists criminalised in Formosa
#FopeaLibertadDeExpresión FOPEA se solidariza con los periodistas formoseños Leonardo Fernández Acosta y Julieta González.

Sumá tu aporte y hacé tu donación por la #LibertadDeExpresión ingresando en 👉 https://t.co/cl72XfgrHS pic.twitter.com/A8NFwTkjnA

— FOPEA (@FOPEA) June 23, 2021
On 20th August 2021, the Formosa's Ombudsperson filed a criminal complaint of public intimidation against journalists Julieta González and Leonardo Fernández Acosta. The Ombudsperson alleged that comments made by the journalists on the province's restrictive pandemic measures violated Article 211 of the Penal Code, promoting "public intimidation" and inciting "collective violence". González and Fernández Acosta requested an exemption to the arrest warrant issued against them.
Professional associations Foro de Periodismo Argentino (Federation of Journalists of Argentina - Fopea) and the Asociación de Entidades Periodísticas Argentinas (Association of Argentinian Journalistic Entities - Adepa) condemned the Ombudsperson's actions, saying the criminal complaint was a direct attack on journalistic work, freedom of expression and the press. As previously reported on the CIVICUS Monitor, the two entities had denounced increasing restrictions on journalism in the province of Formosa since January 2021. According to the Committee to Protect Journalists (CPJ), reporters in Formosa have denounced facing harassment throughout the COVID-19 pandemic.