Argentina: economic crisis leads to recurrent protests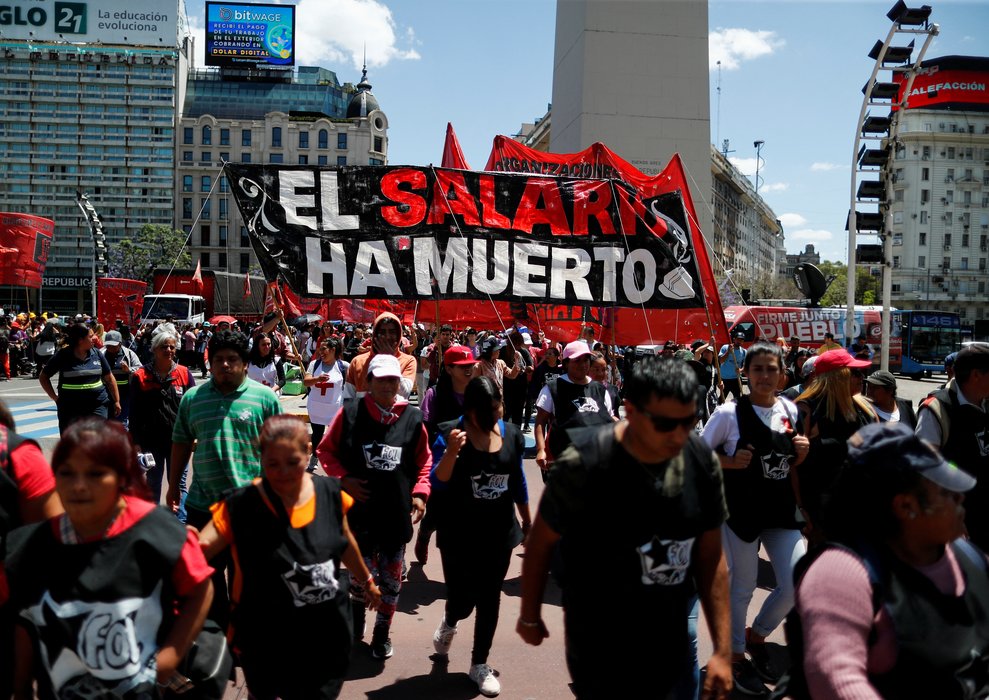 Peaceful Assembly
Throughout 2022, Argentina continued to face a severe economic crisis marked by rising inflation, declining wages and a reduction in purchasing power. This situation led to recurrent protests by various social movements and organisations.
On 17th August 2022, for instance, two labour unions, social movements and left-wing political parties marched through the centre of the city of Buenos Aires to protest against the economic crisis and the increase in poverty. This was the first demonstration led by the Confederación General del Trabajo General (Confederation of Labour - CGT) in the three years of Alberto Fernández's presidency. The union noted that their protest was not against the government, but to demand effective measures to curb price rises. The groups also protested the "economic irresponsibility of the big price-makers who mark up the value of essential products to improve their profit margins."
On 19th August 2022, the Frente de Organizaciones en Lucha (Front of Organisations in Struggle - FOL) organised a funeral march for wages across Buenos Aires. Demonstrators in black funeral attire carried flower crowns and a coffin, saying "the paycheck has died." One protester carried a chart showing how inflation has eaten up the value of paychecks.
Demonstrations increased in November 2022, with social organisations and protesters taking to the streets to demand more support to counter the impact of inflation. Groups organised marches and street blockades in Buenos Aires, with some gathering in front of the Ministry of Social Development. The protests occurred after a meeting between the Minister and representatives of the mobilised groups, who demanded increased social assistance. The protesters rejected a decision by the Ministry to limit the country's biggest employment programme to 1.35 million beneficiaries.
Repression of environmental protests in Córdoba
Autovía Punilla. La topadora. La protesta y su represión. No queda un árbol en Córdoba, el calentamiento de la tierra se vuelve irrevocable cuando el Poder no protege otra cosa que los negocios de unos pocos. Libertad al periodista Juan Yacobs! Testimonio: J. Nicastro, Giardino D pic.twitter.com/N2n6r0Mvj8

— Medardo Ávila Vázquez (@AvilaMedardo) August 23, 2022
For several years, environmental activists in Córdoba have mobilised against the construction of a highway through the Punilla Valley which they say threatens local biodiversity, water supply and ecosystem preservation. In 2022, residents of the region organised peaceful protests demanding the suspension of the works. On several occasions, they were met with repression. In May 2022, for instance, a protest camp in front of the construction company's offices in Molinari was violently disrupted by police.
On 23rd August 2022, police disrupted another protest and detained two environmental defenders and a journalist who was documenting the demonstration. The protesters were attempting to stop a bulldozer from clearing an area near archeological sites. The detentions led to further protests, with people gathering in front of the La Falda police station to demand the release of the three people arrested.
On 24th August 2022, a Córdoba court accepted a preventive habeas corpus request presented on behalf of environmental defenders, local residents, communities of Indigenous peoples of the Punilla, Paravachasca and Sierras Chicas Valleys, as well as of the Indigenous community of Pluma Blanca. They had denounced the ongoing institutional violence against groups protesting the highway construction. Among other things, the petitioners had asked for a ruling protecting defenders arrested for protesting and those affected by police violence in demonstrations.
In her decision, judge María Celeste Ferreyra reaffirmed the right to peaceful assembly, recalling that deprivation of liberty can only be carried out in exceptional circumstances. The judge also recommended that the provincial government draw up a protocol regulating practices and criteria for the action of law enforcement in social protests.
Supporters mobilise in defence of Cristina Kirchner
Corruption allegations and an attack against vice-president Cristina Fernández de Kirchner led her supporters to stage protests in the second half of 2022. On 27th August 2022, protesters gathered outside Kirchner's house in Buenos Aires, expressing their support for the politician, who faces accusations of fraud in a scheme to divert public funds during her term as President from 2007 to 2015. Police fired water cannon and tear gas at protesters after some demonstrators attempted to remove fences placed by police. At least four people were arrested.
Protesters gathered again after a failed assassination attempt on Kirchner on 1st September 2022. The following day, tens of thousands took to the streets across the country to condemn political violence and show support for the vice-president.
Bills limiting the right to protest
📍Desde el Movimiento La Dignidad de Córdoba queremos expresar nuestra profunda preocupación por el tratamiento de la ley que pretende cercenar los derechos constitucionales a la manifestación democrática del pueblo.
📣¡Las calles son del pueblo! pic.twitter.com/Mi6ymNdVjP

— mpladignidadcba (@mpladignidadcba) October 14, 2022
On 27th September, the Jujuy Legislature approved a bill launching a process to reform the Provincial Constitution. The bill was submitted by the Governor of Jujuy, Gerardo Morales, outlining a process to convene a Constitutional Convention as well as a list of themes to be discussed by the Convention. This includes reforms to prohibit road blockades, regulate the right to protest "in accordance with United Nations standards," and reinforce the prohibition of the "improper occupation" of public spaces. Civil society groups in Jujuy criticised the initiative, with some saying that it intended to legalise the repression of social movements in the province.
In a separate but similar effort, on 31st October 2022 the Córdoba Legislature approved two bills restricting the right to peaceful assembly. One of the initiatives restricts demonstrations blocking public walkways or roads or interfering with "the regular operation of public services." The legislation also establishes a requirement of notification of demonstrations 48 hours in advance, with information on the place, timeframe and purpose of the protest. The second initiative establishes sanctions (community work, economic penalties or arrest) for those who alter or interrupt regular road traffic. It also stipulates harsher penalties if the demonstrations disrupt public order; take place on major roads, bridge crossings or public transport lanes; or are undertaken by public transport staff or public employees or officials.
The Córdoba chapter of union CTA-Autónoma spoke out against the bills, calling them an "attempt to curtail the right to protest in the streets in the context of a growing spiral of social conflict."
Expression
Police officer fires rubber bullets against press worker
#FOPEALibertadDeExpresión 👉 FOPEA expresa su solidaridad con el camarógrafo Fernando Rivero (TyC Sports) y repudia las agresiones que recibió de parte de la Policía Bonaerense en la sede del club Gimnasia de La Plata. pic.twitter.com/JyxH8RKzqh

— FOPEA (@FOPEA) October 7, 2022
On 6th October 2022, a police officer fired rubber bullets directly at a camera operator who was covering violent confrontations taking place during a football match in Buenos Aires. The incident took place while police acted to curb disturbances outside the Juan Carmelo Zerillo stadium during a match of the Argentine Professional League. Camera operator Fernando Rivero of TyC Sports was filming when an officer shot at him. He was injured by three rubber bullets.
Sergio Berni, provincial Minister of Security, told TyC Sports: "The person who shot the TyC Sports cameraman is a former policeman, because he was immediately dismissed. That was crazy, there is nothing that can justify the reaction of that officer because in that area there were no riots or anything." The media outlet said authorities confirmed the officer had been suspended from his position and was facing an internal investigation, which could result in his final dismissal.
Press under attack in Rosario, Santa Fé
Hoy, frente a las instalaciones de Telefé Rosario, apareció una tela con un mensaje amenazante: "A todos los medios de Rosario: dejen de ensuciar y condenar a los pibes con la lengua, porque vamos a matar periodistas. Con la mafia no se jode, sino caravana con el Noba".

— ADEPA (@Adepargentina) October 11, 2022
Between August and November 2022, there were cases of reporters being harassed and threatened for their work as journalists in the Santa Fé province. In August 2022, Rosario-based journalist Rodrigo Miró, of website Redboing, and Mauro Yasprizza, of Radio Mitre Rosario and CNN Rosario, faced harassment online. Family members of financier Patricio Carey harassed the journalists after they had reported on the court case in which Carey faces accusations of money laundering and involvement in narco-trafficking.
Separately, on 11th October 2022 a banner with a threatening message was placed on the walls of the Telefé Rosario offices. The message read: "To all the media in Rosario: stop dirtying and condemning the children with your tongues, because we are going to kill journalists." The banner also referred to deceased singer 'El Noba,' saying "Don't mess with the mafia or you'll convoy with El Noba."
Following this case, the Asociación de Entidades Periodísticas Argentinas (Association of Argentine Journalistic Entities - Adepa) warned about the serious threat to media and journalists in Rosario posed by organised crime and narco-trafficking. It called on national and state level authorities to ensure effective protection for journalists and media outlets.
Intimidation by public authorities
Audio recordings leaked in September 2022 allegedly showed Marcelo Sain, former Security Minister of the Province of Santa Fé, telling a subordinate to provide intelligence harmful to the CEO of newspaper El Litoral. The recordings date from April 2020. In the audio, Sain suggests that it would be beneficial to the government if Nahuel Caputto, majority shareholder and CEO of the newspaper, faced legal issues or a criminal investigation. He also told subordinates to set up a group to monitor and work on a file on Caputto. News outlets later reported that Sain was under investigation for illegal espionage.
In a separate case, a Senator and a magistrate discredited journalist Luis Novaresio of LN+ on their personal Twitter accounts. In separate social media posts, Senator Juliana Di Tullio (Frente de Todos) and Judge Juan Ramos Padilla used insulting language to refer to Novaresio over a report in which he responded to an interview with a young woman about student protests in Buenos Aires. Di Tullio said the journalist was a "big, cowardly bully" for the way he treated the young woman's interview. The Foro de Periodismo Argentino (Argentine Journalism Forum - FOPEA) issued a statement of solidarity with Novaresio, saying that journalistic activity is not exempt from criticism, but warning that slurs stigmatise the press and can lead to intimidation and self-censorship which affect freedom of expression.
Court rescinds journalists' access to public interest trial
La Asociación de Entidades Periodísticas Argentinas expresa su preocupación por la grave decisión del Tribunal Oral en lo Criminal N° 13 de Buenos Aires, que a través de una resolución impidió la cobertura periodística de las audiencias en el juicio oral y público (sigue)

— ADEPA (@Adepargentina) November 23, 2022
On 13th September 2022, a court banned a journalist of news outlet Infobae from covering a trial involving three members of 'La 12', an organised supporters group of the Boca Juniors football club. In the case, a notorious football hooligan and two other members of La 12 are accused of instigating violence that led to deadly clashes between factions of the group in 2013.
Journalist Gustavo Grabia of Infobae was covering the trial and participated in virtual and in-person hearings but the defence requested the court to ban Grabia and other journalists from attending the proceedings. They argued that public reporting could influence witnesses who had yet to testify. The magistrates of the court accepted this request. FOPEA expressed concern about this judicial decision and warned about the serious precedent that it could set.
Journalist resigns over censorship in network
In August 2022, a journalist publicly resigned as news host with broadcaster A24 after being allegedly prohibited from reporting on an incident involving Argentina's Minister of Economy, Sergio Massa. Viviana Canosa, who hosted the programme "Viviana con vos," left the studio and later resigned, saying her team "had differences with the channel regarding the notion of freedom of expression."
The contentious report contained a video showing Massa being attacked by protesters when arriving at the presidential palace. According to FOPEA, A24's content manager Mariano Besada said that the report had not been banned, but that there had been "recommendations to producers" not to show the video out of "respect for institutions, people and ideas." FOPEA stated that while it is healthy for the media and journalists to engage in serious debates about their responsibility in communicating, preventing the dissemination of a critical report on a national official represented an act of censorship that cannot be tolerated.
Association
Criminalisation of Mapuche community
❌Mujeres mapuche detenidas en Villa Mascardi: la jueza Silvina Domínguez volvió a rechazar la excarcelación de Florencia Melo y Débora Vera, que seguirán en la sede de la PSA de Bariloche. Otras cuatro están en prisión domiciliaria.
📷Alejandra Bartoliche/Télam pic.twitter.com/rcWWfMndpA

— CELS (@CELS_Argentina) October 12, 2022
On 4th October 2022, seven Indigenous women were arrested amid a violent eviction of the Mapuche community Lof Lafken Winkul Mapu in Villa Mascardi, Río Negro. One of the women detained was 40 weeks pregnant, and two others had small babies. The operation was carried out amid increasing conflict over the Mapuche community, which in 2017 reclaimed ancestral land which was then owned by Argentina's National Parks. Days before the violent eviction, local groups had organised a caravan against the Mapuche, accusing them of terrorism. The demonstration was joined by prominent national politicians, including former Security Minister Patricia Bullrich.
The police operation was reportedly carried out by over 200 agents of a unified security force created especially to intervene in Villa Mascardi. Several civil society groups called the arrests "arbitrary" and requested attention from the United Nations' Working Group on Arbitrary Detention on the case. The groups said the eviction was carried out without respect for the legal procedures established for such operations, and that due process had not been followed in the detention of the seven Mapuche women.
In December 2022, Mapuche representatives had a meeting with the UN Human Rights Representative for South America, Jan Jarab, to discuss concerns about land issues and evictions, excessive use of public force and criminalisation, as well as discriminatory and racist practices against them. They pointed out that at least four of the women – among them a spiritual authority ('machi') – were still under house arrest in the city of Bariloche and expressed their concern about the conditions in which they were being held.
Civic Space Developments
Tags
restrictive law,
protest disruption,
intimidation,
attack on journalist,
harassment,
HRD detained,
excessive force,
protestor(s) detained,
public vilification,
negative court ruling,
censorship,
surveillance,
labour rights,
non state actors,
positive court ruling,
environmental rights,
women,
indigenous groups,
protest,
land rights,
Back to civic space developments