Arbitrary arrests, excessive force, attacks on media in mass protests in Indonesia against jobs law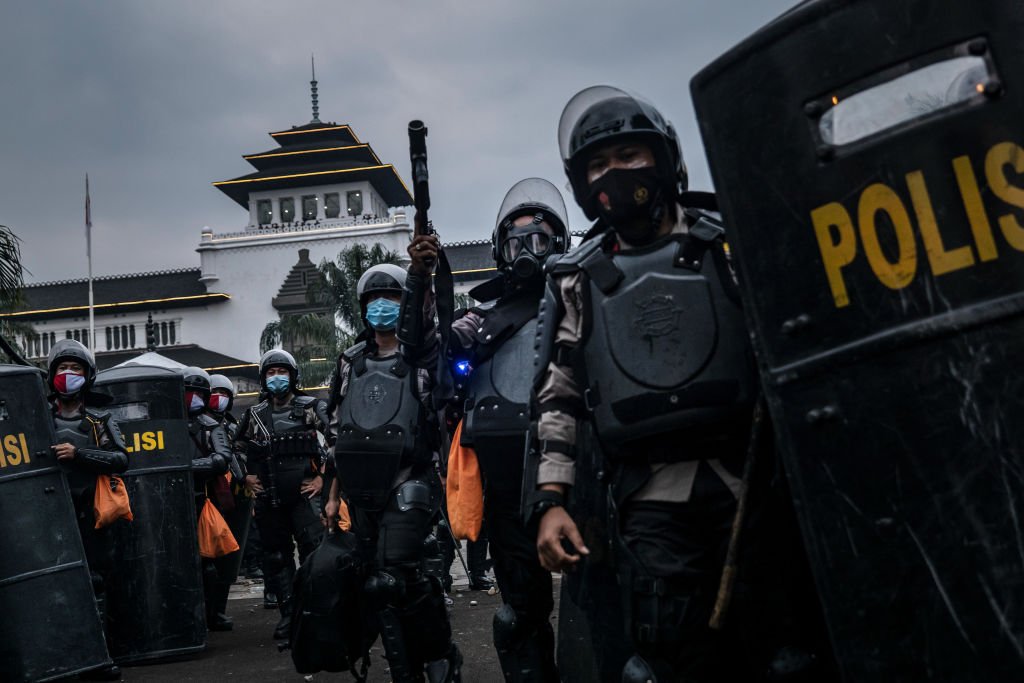 As workers and students rallied across Indonesia against a controversial job creation law, civil society groups have documented arbitrary arrests, excessive use force against protesters and journalists and inhuman and degrading treatment against protesters while detained.
The Omnibus law was passed by the Indonesian parliament during an unscheduled plenary session on 5 October 2020, despite the pandemic and criticisms raised by workers, human rights activists, academics and environmentalists. The law - which revises 79 existing laws - aims to improve bureaucratic efficiency and cut red tape, particularly in regard to business permits and investment which President Joko Widodo promised to do during his final term in office. However, critics say it will erode workers' protections, trigger job insecurity and remove environmental safeguards.
Indonesia: Thousands protest against 'omnibus law' on jobs https://t.co/EHfE1wxO9x

— BBC News (World) (@BBCWorld) October 8, 2020
About 50,000 workers and students joined protests in the capital Jakarta. In addition, thousands of high school and university students as well as factory workers in Indonesia's main industrial zones in the country's most populous island of Java held strikes between 6th to 8th October to protest against the law. There were also mass protests in numerous other major cities including Yogyakarta, Medan, Makassar, Manado and Bandung.
Arbitrary arrests and excessive use of force
Hundreds were reportedly arrested in the capital, Jakarta between 6th to 9th October 2020. As of 9th October, The Jakarta Legal Aid Foundation (LBH Jakarta) received 288 reports about the rallies relating mostly to the arbitrary arrest of protestors. In Medan, as of 9th October, over 200 people had been arrested.
On 10th October 2020, Chief of the Public Relations Division of the Indonesian Police Inspector General Argo Yuwono said police had arrested a total of 5,918 people during the protests and that police were charging 240 individuals.153 people were in the process of being interrogated, while 87 people are being held in custody. In Jakarta alone, 87 individuals have been charged. 
Police used 'excessive force' during omnibus Jobs Law protests: Activists #jakpost https://t.co/NQlHgtKNgl

— The Jakarta Post (@jakpost) October 10, 2020
Activists have also accused the police of using excessive force against protesters and journalists. Police deployed tear gas and water cannons during protests with hundreds of reported cases of alleged physical assault by the security forces and of missing protesters. There were also reports of some protesters hurling projectiles at the police and damaging property.
On 9th October, the Commission for the Disappeared and Victims of Violence (KONTRAS) received some 1,500 complaints about alleged violence by security forces. According to the organisation, police also obstructed access to victims of police violence that were being detained by the police. KONTRAS also reported that large numbers of people who took part in the demonstrations across the country had not been accounted for. Fatia Maulidiyanti, the Coordinator of KONTRAS said that hundreds of protesters were missing and the families have had difficulty finding them, as police had restricted access to detainees in several police stations.
In Bandung, based on field monitoring by activists, security forces beat, kicked and stripped protesters they arrested. Some had their personal property confiscated and were intimidated by the police after arrests. Arrests occurred in university campuses and according to civil society groups nearly 200 protesters were reported injured in Bandung Islamic University (Unisba) and Universitas Pasundan Bandung (Unpas). Police also reportedly blocked legal aid from accessing protesters arrested and activists trying to collect data on the arrested. They also allegedly attacked medical volunteers in the field.
The Indonesia Legal Aid Foundation reported from their 16 offices nationwide of incidents of lawyers assisting student protesters being beaten in Semarang and Manado and the arbitrary arrest of protesters at train stations and bridges. Police also dispersed peaceful protests with tear gas and water cannons, attacked paramedics and denied food to arrested protesters. Some were forced to strip after they were arrested.
#JointStatement🇮🇩
Government of #Indonesia should ensure the #protection of peaceful #assembly& #freedomofexpression and halt law enforcement from using excessive force at protests against the recently passed #OmnibusLaw, said @forum_asia and its members https://t.co/sK7zhfxlUt

— FORUM-ASIA (@forum_asia) October 8, 2020
In response to the violence, on 8th October, the Asian Forum for Human Rights and Development (FORUM-ASIA) and its members in Indonesia called on the government to "ensure a safe environment for the public to share their dissent against the Omnibus law. The NGOs said that "Indonesia has the obligation to protect and respect the freedom of peaceful assembly and the freedom of expression, and to ensure the government's actions are compliant with international human rights standards".
Attacks on journalists
Indonesian journalists say assaulted by police during protests https://t.co/MtadGY25fz

— ST Foreign Desk (@STForeignDesk) October 10, 2020
There have also been attacks against journalists. On 10th October 2020, the Alliance of Independent Journalists (AJI) reported at least 28 cases of attacks against journalists by members of the police during the demonstrations including in Kota Surabaya, Samarinda, Semarang dan Palu.
Some journalist were allegedly beaten by police for recording them. Tohirin, a journalist with CNN Indonesia said he was hit in the head and beaten by a police officer while reporting on the arrests of several protesters in Harmoni, Central Jakarta. Peter Rotti of Suara.com was also allegedly beaten by the police after he recorded a video of officers allegedly attacking a protester near a bus stop. The police also detained several student journalists who were covering the protests.
Attempts to suppress protests and smear protesters
There were also attempts by the authorities to suppress the protests. On 2nd October an internal police directive detailed its plans to conduct cyber-patrols on social media, supposedly to 'counter narratives' and discourage individuals from participating in the protests under the guise of preventing the spread of COVID-19. The directive also told the police not to grant permits for such protests.
On 9th October 2020, the Education and Culture issued a letter calling on university students not to take part in protests. The Alliance of Academics Rejecting the Omnibus Law, a group consisting of 400 lecturers nationwide, accused the ministry of trying to silence scholars criticising the contentious law and demanded that it retract the letter. 
Polisi Tangkap 150 Orang Diduga Anarko Mau Buat Rusuh Demo UU Cipta Kerja: "Pagi ini kita amankan lagi 150 lebih khususnya yang anarko-anarko ini," kata Kabid Humas Polda Metro Jaya, Kombes Pol Yusri Yunus di Gerbang Pemuda, Kamis (8/10). https://t.co/WlGfC2ZcYx

— Merdeka.com (@merdekadotcom) October 8, 2020
On the same day, Indonesia's Coordinating Minister for Political, Legal and Security affairs Mohammad Mahfud attempted to smear the protesters, by telling a televised news conference that the protests were being led by anarchists "aimed at creating chaos and fear in society".
Most recently, there have been reports that the police and National Intelligence Agency (BIN) had approached two workers unions to limit their engagement with the protests.
Lack of accountability for police violations during previous protests
As previously documented by the CIVICUS Monitor, there has been a lack of accountability for excessive or deadly force by Indonesian security forces while handling protests. Often police face light sanctions and existing police oversight mechanisms are weak. 
For instance, there has been a lack of accountability for police violence that left at least seven people dead and hundreds injured during protests following the elections Jakarta in May 2019. Similarly, civil society continues to call for justice for mass protests in September 2019 against the amendment to a law weakening anti-corruption efforts, that left at least three protesters died and hundreds injured. Police also arrested hundreds and harassed medical personnel, activists, students and journalists.