Anti-government protest turns violent in the Solomons with fires and looting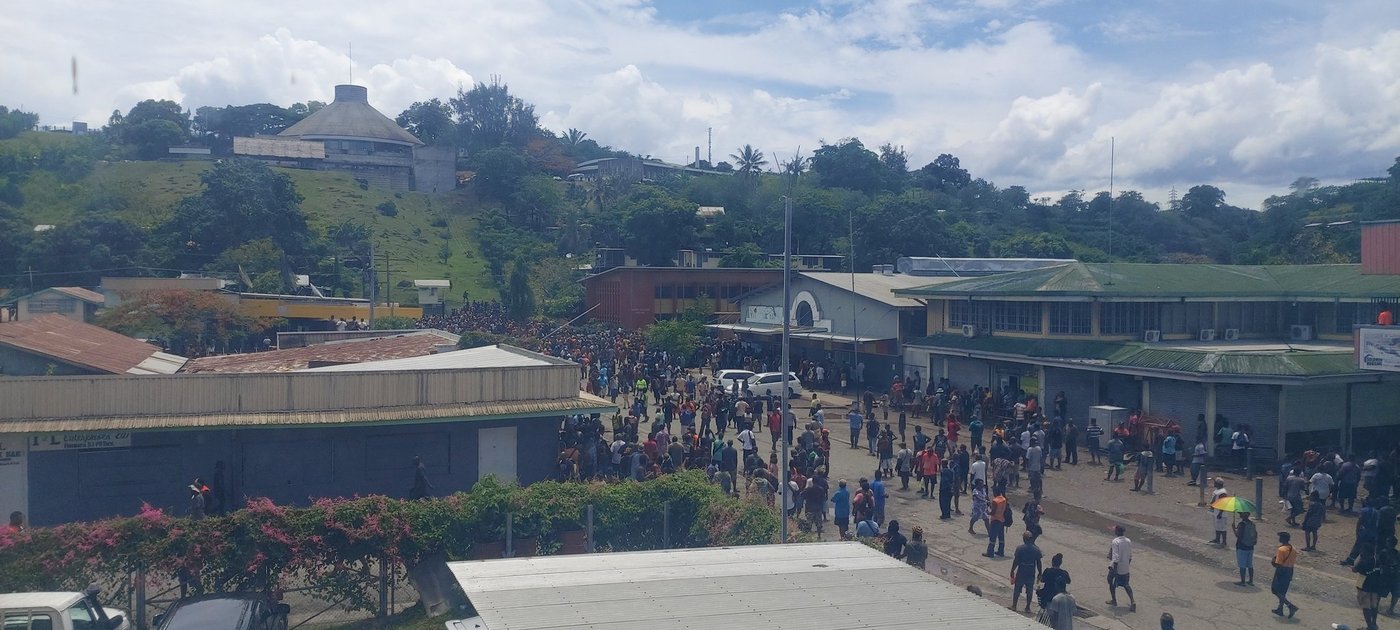 What started as a peaceful protest in the capital Honiara on 24th November 2021 by protesters - who were reportedly mostly from the country's most populous island, Malaita - turned violent, leading to three days of looting and fires.
Around 1,000 people gathered at the gates of parliament, where MPs were in a sitting demanding the resignation of Prime Minister Manasseh Sogavare. The demonstration was linked to an ongoing issue between the national government and the government of Malaita province. The province opposed a 2019 decision to end diplomatic ties with Taiwan and establish formal links with China. 
Protesters take to the streets in #SolomonIslands
Correspondent @ginakekea said It has really disrupted operations... and now people are not feeling safe anymore," Kekea said.https://t.co/q7ZtciXb7m

— RNZ Pacific (@RNZPacific) November 24, 2021
The protesters were also angered by the lack of a response to a citizen petition filed in August 2021, which included demands for the government to respect the rights of self-determination of the Malaita people, to halt links with China and to resume development projects in Malaita. The people in Malaita have also long complained of neglect by the central government.
After protesters attempted to storm the Pacific island nation's parliament, police used tear gas and rubber bullets to disperse the large crowds. Buildings were then stoned by protesters and a traditional leaf hut next to Parliament House went up in flames.
Pics from #Facebook telling a sad story for #Honiara. BSP bank branch in Ranadi, Island Enterprise, Chinatown shops + others burnt down. No talk yet from government #PM @Jnr_Muria 🙇‍♀️🤷‍♀️ what are we waiting for? 🥺🥺 The whole city to burn down? pic.twitter.com/TxXPOQnmjz

— Georgina Kekea (@ginakekea) November 25, 2021
The Solomon Islands Herald reported that protesters later looted and damaged shops in Honiara's Chinatown, and marched to the Chinese embassy. The protesters defied a 36-hour lockdown imposed in the wake of the unrest and mobs of stick-wielding youths took to the streets again on the following two days. Banks, schools, police stations, offices and Chinese-owned businesses were among the buildings reportedly torched and, in some cases, looted.
On 25th November, Opposition Leader Matthew Wale demanded Sogavare stand down. He said: "A string of controversial decisions…has added fuel to people's feelings. If Prime Minister Sogavare refuses to resign, I am calling on Ministers and MPs to resign from the DCGA to remove the Prime Minister", referring to the politicians in Sogavare's governing Democratic Coalition Government of Advancement. He has since announced that he is filing a notice of a vote of no confidence in the Prime Minister.
Malaitan Premier, Daniel Suidani, known for his vocal opposition to Solomon Islands' China policy, accused Sogavare of being in Beijing's pocket, alleging he had "elevated the interest of foreigners above those of Solomon Islanders".
The Solomon Islands Prime Minister however blamed unnamed foreign powers for encouraging civil unrest. He refused to give in to protesters' demands, saying in a public address posted in local media "If I am removed as Prime Minister, it will be on the floor of Parliament."
The Australian prime minister, Scott Morrison, deployed 73 federal police officers and 43 Australian defence force (ADF) personnel to the Solomon Islands on 25th November to help local police quell the unrest. Some 50 officers from the Royal Papua New Guinea Constabulary have also flown to Honiara.
Solomon Islands riots: 100 arrested as police chief warns 'nobody above law' https://t.co/eYn5RPl5Eu #SolomonIslands pic.twitter.com/pj0aM968Gd

— Raet Lomi (@raetlomi) November 27, 2021
On 27th November, as calm returned to Honiara, police said that more than 100 people had been arrested for rioting, while the bodies of three people have been discovered in a burnt-out building in Honiara.
The CIVICUS Monitor has documented increasing restrictions on civic space by the government over the past year. In early 2021, the Solomon Island cabinet threatened to ban Facebook while the government also used pandemic-related emergency laws to impose restrictions on protests with harsh penalties. A march in Honiara to deliver a petition to the government by people from the Malaita province in August 2021 was disrupted and dispersed by the police.
Media groups have also raised concerns over the lack of information provided since the pandemic began. In 2020, the office of the Prime Minister called for an investigation into a number of civil society groups for calling on the Prime Minister to step down.