Women protesters arrested for displaying LGBTI flags, crackdown on critical voices continues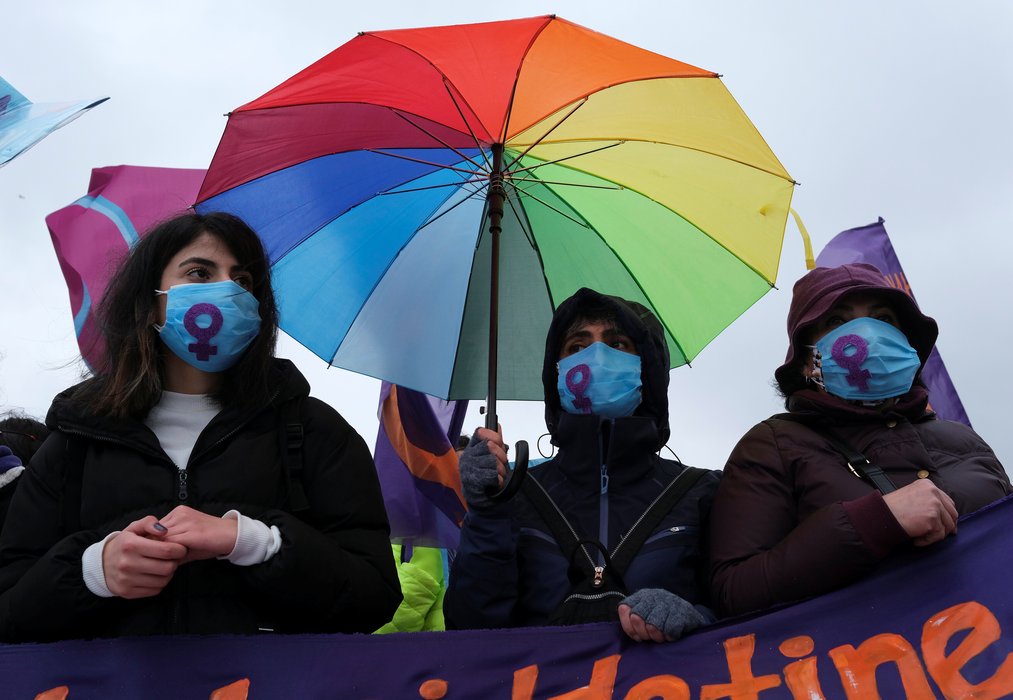 Association
In a letter to the Minister of Interior and the Minister of Justice of Turkey, the Council of Europe Commissioner for Human Rights called on the authorities to refrain from further implementing the Law on Preventing Financing of Proliferation of Weapons of Mass Destruction, pending the outcome of the Venice Commission review to be expected in June 2021. The letter stressed that some aspects of the Law threaten the very existence of human rights NGOs.
"...it is highly regrettable that the Law has been rushed through parliament and that no consultations with these organisations have taken place. This development epitomises the long-standing problem of lack of consultation and involvement of human rights NGOs on a systematic and institutional basis,"- Dunja Mijatović.
In a separate development, Ayşe Gökkan, spokesperson for the women's movement TJA (Tevgera Jinên Azad) was arrested on 27th January 2021. An arrest warrant was issued against her on charges of "leading a terrorist organisation" and "being a member of a terrorist organisation. The journalist and feminist was transferred to the women's prison in Amed. Several protests were sparked at various locations in Turkey, organised and supported by women's rights groups and human rights activists. Protesters and Gökkan's defence team claim that there is no legal basis for such an arrest.
Yargı kıskacında kadın mücadelesi

Av. Berfin Gökkan, 'Ayşe Gökkan 83 kez gözaltına alındı, hakkında 215 dava açıldı, 600 kez mahkemelere gitti, bir günde 17 kez mahkemeye gitti' diyerek 'yargı kıskacında' olduğunu kaydettihttps://t.co/e7yMzuKRO4 pic.twitter.com/OsPM6Kf0uc

— Yeni Yaşam Gazetesi (@yeniyasamgazete) January 30, 2021
During this reporting period, human rights activists and international stakeholders have expressed concern about the worrying growing trend of enforced disappearances which is gaining momentum in Turkey. Human rights defenders and opposition MPs noted that the practice of enforced disappearance involves persons that are not in line with the current regime and is in serious violation of human.
Attacks against political parties
In a concerning development, the Ankara Chief Public Prosecutor's office has provided a summary of proceedings which seek to lift legislative immunity against nine lawmakers from the People's Democratic Party (HDP) over the Kobane investigation. The investigation relates to protests which took place in October 2014 in Turkey's mainly Kurdish southeast to express outrage over the government's inaction in protecting Syrian Kurds in ISIS besieged Kobane, just across the Syrian border. If parliament votes to strip the deputies of their immunity from prosecution, they will be tried by Turkish courts. This is believed to be yet another attempt for the Turkish government to crack down on the HDP party.
Related to this, on 19th February 2021, Turkey's top appeals court approved a jail sentence against Omer Faruk Gergerlioglu, a lawmaker from the pro-Kurdish HDP on terrorism charges. The ruling means that the MP could potentially be barred from parliamentary membership.
In a separate incident, Selçuk Özdağ, opposition politician from former Prime Minister Ahmet Davutoğlu's Future Party was attacked on 15th January 2021. The politician was getting into his car outside his home when he was attacked by five unknown people. Shortly after this incident, Ankara correspondent for nationalist Yeniçağ daily, Orhan Uğuroğlu, was also attacked in the same manner.
Peaceful Assembly
On 14th January 2021, The Ombudsman Institution (KDK) concluded that freedom of assembly and expression of bar association chairs was violated during 2020 when they were prevented by the police from marching to the capital city of Ankara to protest against the new Attorneys' Act.
After overturning the acquittal of nine defendants in the case of the 2013 Gezi Park anti-government protests, including Osman Kavala on 22nd January 2021, on 18th February 2021 the İstanbul 30th Heavy Penal Court acquitted the defendants. However, Kavala was re-arrested on charges of being involved in a 2016 coup attempt. The Secretary General of the Council of Europe (CoE) has commented on Turkey's failure to release the businessperson and human rights defender Osman Kavala despite the judgement of the ECtHR and reminded the government that these judgments are not "requests," but "binding legal requirements." Rights groups across the world, including the US State Department have condemned Kavala's imprisonment for years without conviction. The COE committee is to review Turkey's noncompliance with the Strasbourg court's judgment on Kavala's case.
"Turkey's flagrant disregard for the European Court of Human Rights order to release Osman Kavala should trigger the Council of Europe Committee of Ministers to start infringement proceedings against Turkey. It is crucial for the Committee of Ministers, at its March session, to leave the Turkish government in no doubt that European Court of Human Rights judgments are binding on Turkey and that persistent failure to implement the ruling in Osman Kavala's case constitutes a serious breach requiring exceptional measures,"- Aisling Reidy, senior legal adviser at Human Rights Watch.
The excerpts from the defense statement given by #OsmanKavala on 5 February 2021: "Every single day I spend deprived of my freedom brings a far greater loss for me."#FreeOsmanKavala

👇https://t.co/kOaP7V8QZc pic.twitter.com/vkZE7EyBNa

— Kavala'ya Özgürlük (@FreeOsmanKavala) February 6, 2021
International Women's Day protests
Despite police obstruction, feminists gathered on International Women's Day (IWD) to draw attention to the unacceptably high rate of femicides and the poor representation of Turkish women in society, politics, academia and business. However, the Istanbul governorate office shut down metros, trams and funicular routes leading to the city's famous Taksim Square, in an attempt to reduce the number of people taking part in the rallies. Turkish women have been holding protests and marches days before IWD, with nine women detained by police on 6th March 2021 for carrying LGBTI flags at a protest in Istanbul's Kadikoy Pier Square. During the protest, police thoroughly searched women before allowing access to the square, removing all LGBTI+ symbols, including rainbow parasols. The Adana Security Directorate officially announced a ban on displaying LGBTI+ related symbols during the Women's Day rally on 8th March 2021. Turkish authorities have displayed a pattern of obstruction and unfounded arrests in connection with the protests, as over the past few years 38 women have been detained or convicted for speeches made on 8th March and 25th November International Day for the Elimination of Violence against Women).
Trade union sit-in
At least eight workers have been detained in Ankara during a sit-in protest. They are demanding their jobs be reinstated after being dismissed by agricultural company Cargill for forming a workplace union in April 2018. Police threatened the trade unionists, saying: "We are the power of the state. We will show you what we can do." in 2019 a court found in favour of the workers, ruling that they should be reinstated. However, Cargill refused to do so and opted to pay the workers compensation instead.
In recent months, police intervened against  several protests and demonstrations using the pretext of measures to curb the COVID-19 pandemic. In some provinces (Çanakkale, Antalya, Uşak, Tunceli, Mardin, Van, Antalya, Denizli, Adana, Eskişehir, Hakkari, Urfa, Batman, Hatay and in some districts of İstanbul such as Beşiktaş, Sarıyer, Kadıköy, Kartal etc.), protests and demonstrations were completely banned by the Governorships for a period of at least 15 days on the grounds of "the prevention of provocative actions that harm our national unity and solidarity" and "the spread of the pandemic."
Expression
The Media Monitoring Report on Turkey for January to March 2021, found that at the end of March 2021, there are 70 journalists in Turkey's prisons – 34 arrested and 36 convicted. The report also notes that in the first three months of 2021, the Turkish government arrested four journalists and detained 24 others, adding that the conditions for journalists are "under a dark cloud of the pandemic".
While lawsuits have been filed against journalists over social media posts, including posting pictures, charges of incitement to terrorism remain the main legal basis on which journalists and media workers are convicted.
Related to this, the following developments have been documented in relation to legal processes against journalists:
Four journalists involved in the case of Özgür Gündem, a newspaper which was shut down in 2016, have been handed prison sentences on "terrorism related charges". Even though it has been over five yearssince the newspaper was shut down due to "becoming a media organ" of the outlawed Kurdistan Democratic Party (PKK), dozens of journalists are still on trial.

The trials of 10 journalists and three executives of media outlets were completed between 23rd January 2021 and 5th February 2021. Seven of them were acquitted, cases against three of them were dismissed and three were given prison sentences for "terrorism-related" offences. The cases relate to the closure of Van TV in 2016 because of its alleged "terrorist connections".

According to a report published by the Democracy for Media Project, one in six journalists has on ongoing court trial in Turkey, while 1 out of every 5 journalists was arrested and put-on trial without being detained.

In a positive development, on 23rd February 2021 the Constitutional Court ruled that the right to personal liberty and security of journalist Hakan Aygün was violated after he was arrested in April 2020 for content shared on Twitter. 
Attacks on journalists continued to happen during the reporting period.
Two journalists critical of the government and an opposition politician were attacked in front of their homes in the capital city of Ankara within the space of 48 hours.

Five journalists were assaulted in the first 15 days of this year.

Later, on 4th February 2021, journalist Osman Güdü was hospitalised after an attack. 
#Turkey: yesterday, Osman Güdü, host for opposition broadcaster KRT TV, was attacked near his office in #Istanbul; the journalist was hospitalized, nine stitches were put in his head, reports @bianet_eng@krtkulturtv @osmangudu https://t.co/NBPeFBSM1q

— CPJ Europe and Central Asia (@CPJ_Eurasia) February 5, 2021
Less than a month later, journalist Levent Gültekin was attacked by a group of people in front of Halk TV in Istanbul. The government has not shown any reaction to these attacks, further enabling a culture of impunity.
#Turkey: Breaking - Journalist Levent Gültekin has been physically attacked by 25 people in Istanbul in front of @halktvcomtr.
We stand in solidarity with him, urge authorities to ensure safety of journalists & start an immediate and effective investigation on the attack. https://t.co/5TFqcx3Jzh

— ARTICLE 19 ECA (@article19europe) March 8, 2021
Crackdown on protesters and critical voices
Serious violations of the right to expression, as well as other human rights, were observed during the student protests in Boğaziçi (see previous update).
As reported previously on the monitor, four students were arrested over an artwork which displayed a picture of the Kaaba, a sacred site in Islam, with four LGBTI+ flags on its corners. They are accused of 'inciting hatred'. While two of the students were taken into custody, two were placed under house arrest. Following this event, on 23rd February 2021, two more students were placed under house arrest on charges of "insulting the President", "insult" and "provoking the public to hostility and hatred" in relation to protests. In another case, Beyza Buldağ is currently remanded in custody for allegedly running a Twitter account and creating a group on WhatsApp supporting the protests. The student is accused of "insulting the President", "provoking the public to enmity, hatred and hostility" and "provoking to commit crimes" over posts shared on a Twitter account, Boğaziçi Solidarity platform, which she is accused of running. Authorities have detained 39 people for their social media posts in the first week of February 2021, as announced by the ministry of interior.
Related to censorship, Human Rights School has published a new report in February 2021, detailing pressure faced by academics in Turkey, showing that academic staff are used as an instrument of pressure and academics censor their own course materials.
Advertising ban enforced on social media platforms
In January 2021, Turkey activated advertising bans on Twitter, Periscope and Pinterest over their non-compliance with a new social media law that requires social media platforms that are accessed over a million times per day in Turkey to appoint legal representatives in the country. A day before the advertising ban was enforced, Facebook announced that it would be appointing a local representative in the country. This law has been condemned as a form of censorship by human rights and media freedom groups.
#Turkey On the grounds that they do not appoint a local representative, #Turkey imposes an advertising ban on Twitter, Pinterest & Periscope, @RSF_inter reiterates its concerns about the law on social networks.https://t.co/2jJKlVsuyD

— RSF in English (@RSF_en) January 19, 2021
A report by the International Press Institute (IPI), published in March 2021, noted that Turkish pro-government media are favoured over independent media outlets through a Google search algorithm.