Wiretapping of journalists raises red flag for press freedom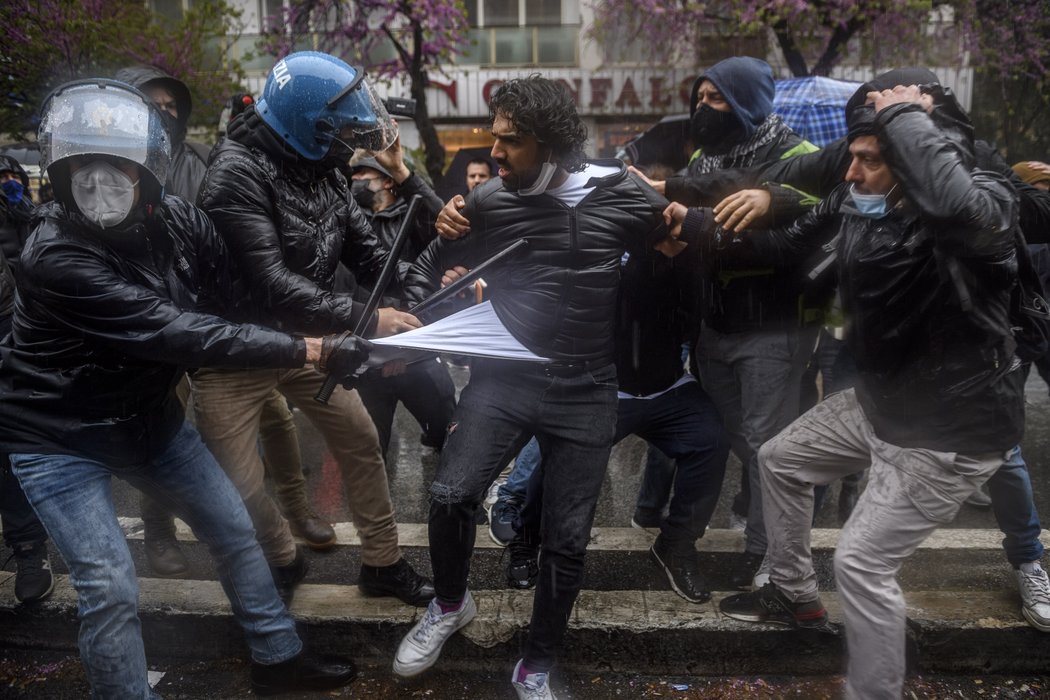 Association
Senate approves proposal of Italian citizenship for Patrick Zaki
On 13th April 2021, the Senate approved the proposal to grant Patrick Zaki Italian citizenship, which was presented by MP Francesco Verducci (Democratic Party, PD). It is now up to the government to formally decide on the matter. The Egyptian student and human rights activist at the University of Bologna has been kept in prison by Egyptian authorities for more than 14 months, in violation of his fundamental rights, notably the right to a fair trial. Amnesty International Italy welcomed the decision by the Senate and hopes that this will enable Italy to put more pressure on the Egyptian government and push for the release of Zaki. However, the organisation's spokesperson, Riccardo Noury, denounced the government's incoherence as the Senate's decision is in contrast with military and economic relationships between the Italian and Egyptian governments.
"However, we cannot fail to note the inconsistency of a government which, despite showing itself, with the commitment undertaken today, concerned about the fate of Patrick Zaki, continues its relations with a repressive government such as that of the president at -Sisi: a few days ago, in fact, the second military frigate was handed over to the Egyptian state."
"We reiterate once again that no political economic motivation can overshadow the horrible human rights violations in Egypt such as those to which Patrick Zaki has been subjected for over 14 months and which affect many activists, lawyers, human rights defenders and journalists in prison arbitrarily just because of their opinions." (translated from Italian).
The call for Zaki to be granted Italian citizenship had been put forward by the 6,000 Sardines movement and Station To Station through a petition, as described in a previous CIVICUS Monitor update.
Sono passati più di 14 mesi
e #PatrickZaki si trova ancora in carcere. Lo studente egiziano è innocente e deve essere liberato subito! L'appello https://t.co/BDIffyf2aW

— Amnesty Italia (@amnestyitalia) April 20, 2021
Peaceful Assembly
No-mask, no-vax demonstrations in several cities
A demonstration calling for no-mask and no-vax took place on 18th April in Bergamo, one of the Italian cities worst hit by the pandemic, which became a symbol of the strenuous fight against the virus in the country during the first COVID-19 wave. Almost 400 people, including hospital staff members, gathered in the heart of the city for the event they called "No paura day" (literally, no fear day) to express their scepticism towards the pandemic and how it has been portrayed by the media. They also protested against the use of face masks and vaccines.
Similar protests took place in other cities in the preceding days, including in Bologna, where around 200 people protested against COVID-19 restrictions, and Milan.
Business and restaurant owners also staged protests in Rome during April 2021. The protests were organised by "Io Apro" (I Open) association with restaurant owners, entrepreneurs and small business owners. While police and protesters clashed, there are no reports of detentions.
From Amazon to food delivery platforms - workers' strikes and protests
On 22nd March 2021, Amazon workers went on their first large-scale strike in Italy and organised protests over their working conditions after negotiations between the company and trade unions on the renewal of work contracts were interrupted. Euronews reports that over 40,000 workers were involved in demonstrations. Trade unions urged consumers to boycott Amazon by not buying from it on that day. Amazon responded to the protests with a letter from the company's Country Manager for Italy and Spain, Mariangela Marseglia, in which she claimed that respect for the rights of its workers are Amazon's priority.
On 26th March 2021, riders working for food delivery platforms proclaimed a "No delivery day" during which they went on strike over salary and contract guarantees. The initiative was organised by the network "RiderXiDiritti". Customers were also invited to join the protest by refraining from ordering food from these platforms. Several demonstrations took place in cities all over Italy including Milan, Napoli, Bologna, Trieste, Rome and Bari. On 29th March 2021 the food delivery platform Just Eat announced that they had reached an agreement with trade unions about a national contract for riders, which is the first corporate collective agreement for riders in Italy.
Expression
Wiretapping of journalists sparks strong concerns for free press
In the framework of the investigation carried out by prosecutors in Trapani on the alleged link between some sea rescue NGOs and migrant smugglers, conversations between dozens of Italian and foreign journalists and their sources have been secretly recorded. Transcripts of the conversations between journalists and charity staff - whose phones were bugged - were kept by the magistrates and contained information regarding travel details and other confidential information. On 3rd March 2021 prosecutors took the decision to charge some NGOs, including Médecins sans Frontières and Save the Children, for collaboration with people smugglers, after almost four years of investigations.
Journalist and researcher Nancy Porsia's phone was allegedly wiretapped for six months, and investigators used her phone's geolocation to track her movements as well. Nancy had recently given Italian authorities information on the criminal activities of human traffickers working for the Libyan coastguard, and due to threats that she and her colleague Nello Scavo from L'Avvenire received for their work on the subject, they were given police protection. In an interview for The Guardian, Andrea Di Pietro - a media lawyer and legal adviser for the Italian watchdog "Ossigeno per L'informazione" - defined the wiretapping as "one of the biggest attacks against the press in the history of this country".
In response to the reactions of the National Federation of Italian Press (Fnsi) and the European Federation of Journalists (EFJ), the Minister of Justice Marta Cartabia ordered an inspection of the Trapani prosecutor's office to assess the legitimacy of the recordings. 
#Italy 🇮🇹: As revealed by @DomaniGiornale, #Trapani prosecutors intercepted & transcribed from 2016 conversations of at least 7 journalists covering #migration issues without formally prosecuting them. @RSF_inter condemns a dangerous violation of secrecy of journalistic sources. pic.twitter.com/aPUvK0uKOW

— RSF in English (@RSF_en) April 9, 2021
Film censorship officially abolished
On 5th April 2021, the Italian Minister of Cultural Affairs, Dario Franceschini, signed a decree enacting a law approved in 2016 ("Legge cinema") on the elimination of censorship targeting films. This decision leads to the final elimination of the censorship law, which entered into force in 1914 and enabled authorities to forbid the release of a film or to impose modifications on moral or religious grounds. Since its approval, the censorship law has targeted hundreds of films. However, the last relevant case of film censorship happened in 1998, according to Il Post.
Due to the recent legislative developments, films will be classified by film producers based on the age of their target audience. A commission composed of 49 experts in cinema, as well as pedagogical and educational aspects linked with children's rights and social communications, will supervise this classification system. Besides this, no other limitation to the freedom of filmmakers will be imposed.
Calls for criminalisation of homophobic discrimination
Following a homophobic attack against a gay couple that took place in Rome on 21st March 2021, a large section of civil society is asking for the approval of the draft law (known as the Zan bill) that would criminalise discrimination, violence and hate speech against disabled people and LGBTI people, as well as misogyny, which was approved by the Italian lower chamber in November 2020. The law has not been discussed in the Senate since its approval, but it has been strongly opposed by far-right political parties, including the League and Brothers of Italy parties, that claim that the law would limit freedom of expression. Supporters of the Zan bill noticed that a clause to protect freedom of expression has been added to the text of the draft law. Many celebrities and activists have joined a campaign organised by the association I santinelli di Milano and publicly shown their support for the law. 
Incidents against journalists
On 3rd April 2021, a journalist from the Sicilian city of Enna was prevented from entering the Palace of Justice when attempting to report on a court case involving a priest accused of aggravated sexual violence against minors. The president of the court denied the journalist access on the basis of COVID-19 rules. The Sicilian Order of Journalists, the Sicilian Press Association and the Enna provincial secretariat of the journalists' union condemned this decision:
"It is unacceptable that anti-Covid regulations are brought up to forbid the entrance to a courthouse to a single professional, with a mask, who certainly would not have created any kind of gathering."
On 12th April 2021, during a protest against COVID-19 measures organised by 'IoApro' (IOpen), a media worker was injured after being caught in the middle of a scuffle between police and protesters. A camera operator for Tg5, a newscast hosted on the Italian TV channel Canale 5, was injured and video journalist for Repubblica Roma, Francesco Giovanetti, was hit by a firecracker but not injured.