Venezuela: stigmatisation and censorship of media in early 2022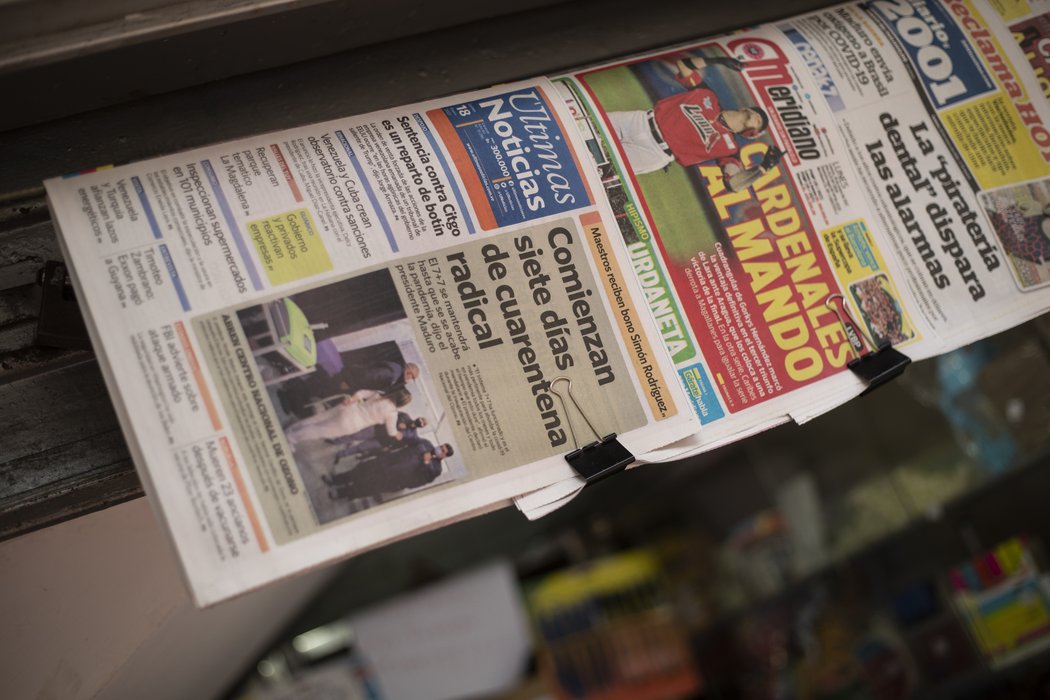 Expression
#AlertaSNTP | El empresario Esteban Trapiello, a través de sus redes sociales, acusó de "ladrones" a los periodistas @pppenaloza @LuisCarlos @AlbertoRodNews @carlaangola @Gbastidas @amoleiro @elcitizen @RLOZINSKI @mt_romero @Naky y @fuenteseliz. Denunciamos el hostigamiento pic.twitter.com/f3xMZOCPqx

— SNTP (@sntpvenezuela) January 8, 2022
On 7th January 2022, a pro-government media executive published messages intimidating 11 journalists and communicators, saying they were "thieves" and calling for them to be sought and criminalised. Afterward, his social media posts were shared by the Vice-President of ruling party Partido Socialista Unido de Venezuela (Psuv), Diosdado Cabello, and by government supporters.
The case was highlighted by the Inter-American Commission on Human Rights (IACHR)'s Office of the Special Rapporteur on Freedom of Expression, who published a statement expressing concern about stigmatising statements, closure of media outlets and judicial proceedings against journalists in Venezuela.
According to civil society group Espacio Público (Public Space), there were 24 cases that led to 57 violations of freedom of expression in Venezuela in January 2022. The most frequent violations were harassment, intimidation and censorship. This was a 90% increase compared to the same month in 2021.
Among the cases that the organisation documented, there were several instances of intimidation and censorship in the state of Barinas, where a re-run of gubernatorial elections took place on 9th January 2022. Authorities of telecoms regulator CONATEL and the National Bolivarian Guard (GNB) censored a radio programme where opposition candidate Sergio Garrido campaigned, and threatened to shut two radio stations if they aired content on his candidacy. Journalists covering the election also reported facing intimidation and obstruction of their work.
In addition, journalists were attacked and threatened as they covered the process to collect signatures supporting a referendum on revoking President Nicolás Maduro's mandate. Juan Carlos Neira, of media Noticiero Digital, said he was attacked by members of a pro-government group, who beat him and stole his equipment.
In February 2022, Espacio Público published a report showing that 2021 had the lowest number of attacks on freedom of expression since 2015. The organisation documented 246 violations, among which were 161 cases of intimidation and 144 of censorship. Journalists were the most frequent victims, although there were also cases of individuals facing reprisals for disseminating information over text messages or social media.
Association
🇻🇪#Venezuela: La represión calculada del gobierno de Maduro podría configurar el crimen de lesa humanidad de persecución.

📲Nueva investigación de @AmnistiaOnline @ForoPenal y @DefensoresDDHH_ , sobre la coordinación entre ataques en medios y detenciones
https://t.co/vrhP6TF5zI pic.twitter.com/B0XhMUWjPi

— Amnistía Internacional Py (@aiparaguay) February 10, 2022
Human rights organisation Foro Penal (Penal Forum) published their 2021 annual report on political repression in Venezuela, registering a total of 44 politically-motivated detentions during the year. At the end of December 2021, there were 244 detainees they considered to be political prisoners. Most political arrests were conducted by the Special Operations Forces (FAES). The organisation also documented the death of three political prisoners in state custody.
In February 2022, Amnesty International published an investigation into repression in Venezuela, showing that there is a correlation between stigmatisation and politically-motivated arbitrary detentions in the country. The report was a collaboration between Amnesty International, the Centro para los Defensores y la Justicia (Centre for Defenders and Justice - CDJ) and Foro Penal.Analysing cases in the 2019-2021 period, the groups found that stigmatising and discriminatory discourse promoted by the authorities under Maduro constitute acts of persecution and are closely related with politically-motivated arbitrary detentions.
Their data demonstrated that the greater the number of acts of stigmatisation, the more arbitrary detentions increase, and the same can be predicted when they decrease. In their analysis, rather than being isolated events, acts of stigmatisation are a fundamental part of the policy of repression and accentuate the discriminatory and persecutory factor in arbitrary detentions. Erika Guevara-Rosas, Americas director at Amnesty International, commented on the findings:
"This correlation is a new indicator of a systematic policy of repression and points to the crime against humanity of persecution, which must be investigated by the international justice system."
Peaceful Assembly
#InformeOVCS | 6.560 protestas en 2021

📌Publicamos nuestro informe anual con un comparativo de protestas documentadas en la última década. ¿Cuáles son las perspectivas? ¿Qué exigen los manifestantes?

📢Descarga, lee y comparte: https://t.co/0amvnnhYgc #Conflictividad2021 pic.twitter.com/ogxZUdAanu

— Observatorio de Conflictos (@OVCSocial) March 5, 2022
Civil society group Observatorio Venezolano de Conflictividad Social (Venezuelan Observatory of Social Conflict - OVCS) issued their annual report showing that 6,560 protests took place in Venezuela in 2021. This was a decrease compared to 2020, when the organisation documented over 9,000 protests. 74% of the demonstrations in 2021 demanded social, economic and cultural rights – often calling for access to basic goods and services, particularly drinking water, and better salaries and labour conditions. The OVCS also recorded 107 cases of repression of protests, which resulted in 10 people wounded, 32 detained and one killed.