USA: workers expose anti-unionisation efforts by private companies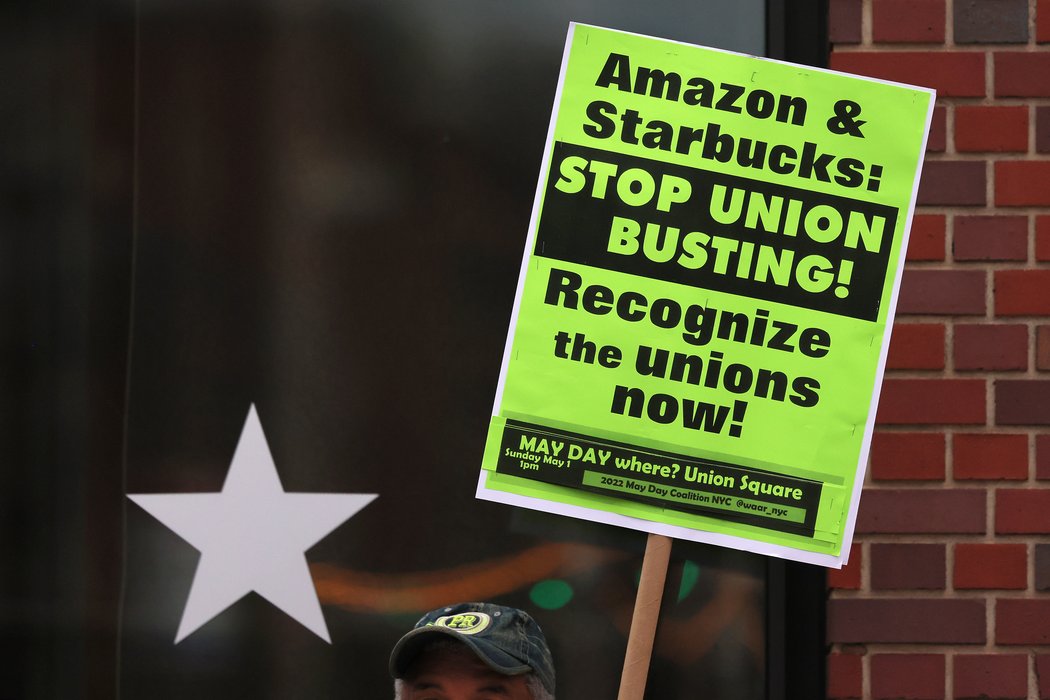 Association
BREAKING: Labor Board issues MASSIVE complaint against Starbucks charging illegal union-busting.

— SBWorkersUnited (@SBWorkersUnited) May 6, 2022
Over several weeks of the 2022 summer, employees at Starbucks held over 50 different strikes in at least 17 states over the company's alleged attempts to undermine unionisation. Starbucks employees claim that at least 87 workers were fired in 2022 in retaliation for union organising. Hundreds of allegations of retaliation against employees are under review at the National Labor Relations Board, including claims of shutting down stores to bust unions and intimidating and threatening workers to stop them from unionising. Starbucks has denied all allegations. More than 200 Starbucks stores around the U.S. have won their union votes, with dozens of stores currently waiting for their election votes.
Similar actions have been taken by employees at other businesses, including Trader Joe's and Amy's Kitchen.After a Trader Joe's store in Hadley, Massachusetts became the first store in the chain's history to unionise in July 2022, a representative claimed the company was prepared to negotiate with the union right away. However, former workers from a store in New York City said that a shop was abruptly shut on 11th August, just days before employees were set to go public with their unionisation efforts. One of the employees affected said the closing doesn't make sense, "unless they didn't want to risk a successfully organised store winning a union vote. They are hoping to make an example of us so that other people don't follow suit". Trader Joe's denies that the closure was union-related.
In a separate development, on 18th July 2022, Rep. Ayanna Pressley and 21 other members of Congress sent a letter to the State Department and the Office of the Director of National Intelligence calling on the Biden administration to publicly reject Israel's 2021 declaration of six leading Palestinian NGOs as "terrorist organisations". They urged Israel to rescind the designations and called on the U.S. Congress to hold an inter-agency briefing to discuss Israel's decision and the secret evidence presented to support it. "Repressive tactics such as criminalising organisations must not be used to suppress or deny the right to freedom of association, or to quash political dissent, or limit the peaceful activities of civil society," the letter said. In August 2022, Israeli forces raided the offices of seven organisations defending Palestinian rights and shut them down.
Peaceful Assembly
Abortion rights protests
A truck driver plowed through multiple pro-choice protesters in Cedar Rapids, Iowa on Friday, sending at least one woman to the hospital.

Video provided by Linn County Supervisor Stacey Walker shows several victims — all women — trying to stop the driver as he careens into them pic.twitter.com/jcGTcfcK8X

— Andy Campbell (@AndyBCampbell) June 25, 2022
In June and July 2022, several protests for abortion rights were held across the country after the U.S. Supreme Court ruled in the Dobbs v. Jackson Women's Health Organisation case to effectively overturn Roe v. Wade and return the question of abortion's legality back to the states. Many of the demonstrations were organised by groups like Planned Parenthood, Bans Off Our Bodies and Women's March, including one event in Arizona where police used tear gas on protesters after a crowd allegedly "pounded on the glass doors" of the state Senate Building.
On 24th June 2022, a driver rammed his truck into a group of women protesting the Supreme Court's decision in Cedar Rapids, Iowa. The collision sent at least one woman to the hospital. Local police said an argument broke out between the driver of the truck and a protester before the collision, and that they would investigate the incident. The driver was later charged. Legislators in 11 states have introduced 18 bills since January 2021 that reduce or eliminate liability for drivers who run into protesters.
In another incident on 24th June 2022, the Rhode Island Democratic candidate for the Senate, Jennifer Rourke, was physically attacked by her Republican opponent, police officer Jeann Lugo, at an abortion rights rally in Providence. A day later, Lugo was arrested and charged with assault and disorderly conduct.
At least 10 people were arrested at a protest in Eugene, Oregon on 25th June 2022. Police said some of the protesters blocked Ferry Street Bridge and threw smoke bombs at officers. Officers used pepper balls, LRAD or Long-Range Acoustic Device — a powerful device sometimes used to disperse crowds with loud sounds — and began arresting people who were on the roadway. Most were detained for alleged disorderly conduct.
On 19th July 2022, 17 Democratic congressional representatives were detained for obstructing traffic at a protest in support of abortion access outside the U.S. Supreme Court. In a video of the arrests, people can be heard chanting "hands off our bodies", as the representatives were taken into custody.
Labour related protests
In July 2022, hundreds of truckers protested against a California labour law by blocking the movement of cargo in and out of terminals at the port of Oakland. The truckers were protesting Assembly Bill 5, a "gig economy" law passed in 2019 that made it harder for companies to classify workers as independent contractors instead of employees who are entitled to minimum wage and benefits, such as workers compensation, overtime, and sick pay. The legislation was created to curb labour abuses, but the protesters said the law has created uncertainty for truckers and could heavily impact supply chains. "We've all been out here for three days, non-stop, from early mornings to late night. You know, we're trying to stop the port's operation so that we can get our point across and cancel that AB5 law," one driver said.
In June 2022, airline pilots from a number of carriers picketed to protest staff shortages, unfair compensation, and outdated contracts. On 21st June 2022, for instance, hundreds of uniformed Southwest Airlines pilots stood in the scorching Texas sun at Dallas Love Field Airport, holding signs that blamed Southwest management for flight delays and cancellations over the summer's busy months. Off-duty Delta Airlines pilots picketed at airports in Atlanta, Detroit, Los Angeles, Minneapolis-Saint Paul, New York, Seattle-Tacoma, and Salt Lake City on 30th June 2022, ahead of the 4th July holiday weekend. They said they have been working record amounts of overtime this year and are frustrated with the ongoing contract negotiations.
Protests in Puerto Rico
Puerto Rico has taken the streets multiple times within the last YEAR in protest, asking for the cancellation of a contract forced upon them by the US Govt, that has left them with unprecedented electricity outages & billing hikes. #FueraLUMA pic.twitter.com/GAKUL7Qhmd

— devilette (@deviIette) August 25, 2022
In July and August 2022, people in Puerto Rico organised multiple protests against power grid operator Luma Energy, which has operated the island's transmission and distribution system since 2021. On 20th July 2022, hundreds of people protested in San Juan to demand that the island's government cancel its contract with Luma Energy over recurrent power outages and frequent rate hikes.
On 25th August 2022, hundreds of people demonstrated in front of the Puerto Rican government headquarters in San Juan. Protesters held banners with slogans such as "No to the increase in electricity, no to Luma," and banged on saucepans to express their dissatisfaction with the private company's service. Anti-riot police intervened using tear gas and pepper spray. The police commissioner later said a small group of protesters had thrown bottles and rocks at police. There were also incidents of journalists being attacked while covering the demonstration. Videos showed officers assaulting a photojournalist while he yelled "accredited press". Carlos Edill Berríos Polanco, an independent journalist, was sprayed directly in the face by an officer. He was wearing a clearly marked press helmet. On 26th August 2022, Governor Pedro Pierluisi said all allegations of excessive use of force would be investigated.
In separate protests for several months in 2022 environmental movements in Puerto Rico organised direct actions and demonstrations against gentrification, the privatisation of public beaches on the island, and overdevelopment that they say threatens the local ecosystem. On 4th July 2022, demonstrators gathered in Playa los Almendros to defend public access to the island's beaches.
Other protests and related developments
On 9th August 2022, protesters and supporters of former president Donald Trump gathered outside of his properties in Florida after the FBI executed a search warrant on his Mar-a-Lago residence. The search was in connection to multiple boxes of classified documents Trump removed from the White House at the end of his presidency. A few days after the search, the full warrant and property receipt documents were released to the public, showing agents had retrieved several boxes of classified documents from the former president's residence.
In early July 2022, at least 49 people were arrested in Akron in protests against the police killing of Jayland Walker, an unarmed Black man, on 27th June 2022. Waves of protests erupted throughout the city for several days after the Akron Police Department released body-camera footage showing Walker's brutal shooting that followed a police chase. Walker had 46 gunshot wounds to his body, an autopsy report revealed. Videos also showed that officers turned off their microphones and cameras after the fatal shooting. Family members of other victims of police killings were among those arrested in a protest on 6th July 2022. Most were arrested on riot-related charges and resisting arrest, failure to disperse, and disorderly conduct.
On 4th July 2022, at least 14 people were arrested for blocking traffic on a prominent highway outside of Washington D.C. for about 90 minutes to draw attention to the climate crisis. The demonstration was organised by Declare Emergency, a group asking the government to call for a national emergency in response to the climate crisis.
On 9th June 2022, the State Department announced visa restrictions against 28 Cuban officials that it said were involved in a crackdown on mostly peaceful protests in Cuba in July 2021. The department said the restrictions would apply to high-ranking members of the Cuban Communist Party and officials who work in the country's state communications and media sectors.
Expression
A federal appeals court has upheld a law in Arkansas that requires all state contractors to sign a pledge declaring that they will not boycott Israel. https://t.co/P6XBssS9qs

— Democracy Now! (@democracynow) June 23, 2022
In June 2022, a court of appeals ruled that an Arkansas law requiring state contractors to pledge that they won't participate in the Boycott, Divestment and Sanctions (BDS) movement does not violate the First Amendment. The court held that the BDS's definition of "boycotting Israel" relates solely to commercial activities. Following this decision, the U.S. Supreme Court may take up the case. Dozens of states in the U.S. have enacted some form of legislation targeting boycotts of Israel and hundreds of bills have been introduced at either the state or the federal level to limit advocacy for Palestinian rights. In Arizona, Kansas, and Texas, federal district courts have previously ruled that those states' anti-BDS laws were unconstitutional under the First Amendment. But each of these states later amended their laws to bypass these rulings.