USA: Frustration over power outages drives thousands to protest in Puerto Rico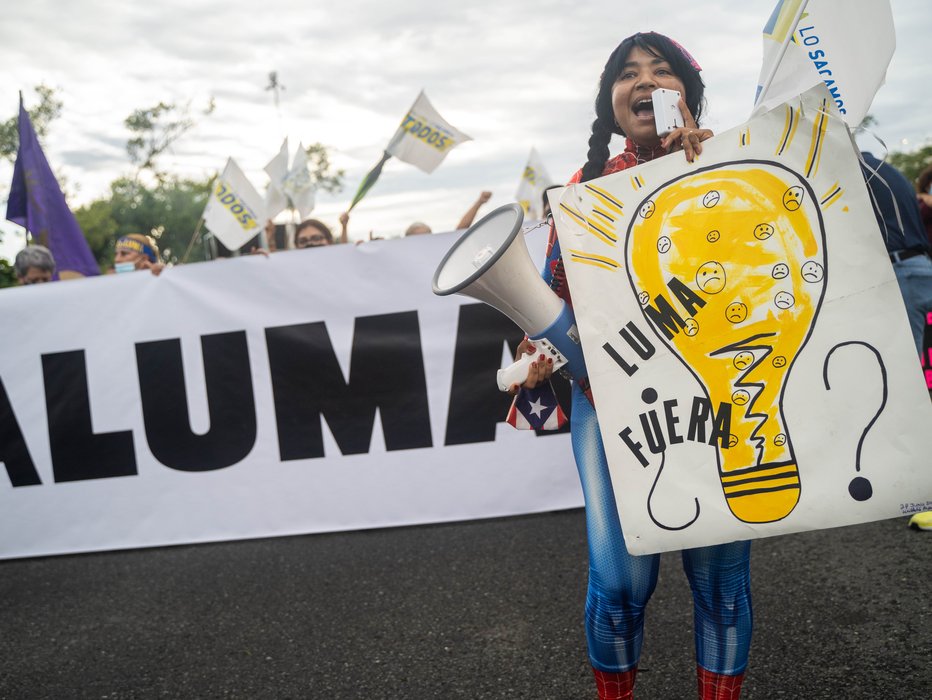 Peaceful Assembly
Protests in Puerto Rico
On 15th October 2021, about 4,000 people marched in San Juan, Puerto Rico, to protest the island's recurrent power blackouts. Many criticised power company Luma for failing to provide adequate electricity to residents and demanded its ouster. The private company took over Puerto Rico's power transmission and distribution in June 2021. Protesters also rebuked the Electric Power Authority, which owns and operates generation units that have been breaking down, reportedly due to a lack of maintenance and repair.
In recent months, power outages have occurred more frequently and lasted longer, with people complaining that they have had to throw away food or medicine that spoiled and their children are unable to attend online classes. Businesses have also complained about the effect of the outages. "Traders can no longer put up with the energy insecurity. They live under stress and are uncertain whether they will be able to work or if any equipment will be damaged by the constant power cuts," said the leader of a business association.
Hundreds of people have also protested Puerto Rico's Debt Adjustment Plan, a debt-restructuring bill that critics say would endanger vital public services. On 8th November 2021, students from the University of Puerto Rico marched through San Juan to the federal courthouse, where a hearing was set to determine whether the plan was legal. In front of the courthouse they joined a demonstration led by members of the Puerto Rican Independence Party (PIP).
Student and labour protests against abuses
#BlackburnTakeover was a success‼️ pic.twitter.com/bVl9pKQIzT

— The Live Movement (@_LiveMovement) November 15, 2021
Over several weeks in October and November 2021, Howard University students protested unsafe living conditions such as mould in the walls of their dorms, lack of COVID-19 testing for students, and safety on campus. Students at the historically Black college in Washington D.C. participated in sit-ins and occupied a school centre with tents, air mattresses and sleeping bags for over a month. They also campaigned using #BlackburnTakeover on social media. The mobilisation was organised by student groups like Live Movement, a coalition of students from historically Black colleges and universities who advocate for education reform. They demanded a housing plan for incoming freshmen, and that all students, faculty and alumni be reinstated as voting members on the Board of Trustees. On 15th November 2021, student leaders announced that the takeover had come to an end after an agreement was reached with the university's administration.
On 26th October 2021, several hundred McDonald's employees in multiple cities staged a walkout to protest sexual harassment and violence in the company's restaurants. Workers in Chicago, Houston, Miami, Detroit and other cities said they participated in the protest because the fast food chain needs to be held accountable for harassment in its restaurants. "I'm on strike today because we need McDonald's to realise that we're not going to stop. What needs to stop is sexual harassment," one employee said. "It's unfair to these workers, making close to poverty wages, and then on top of that to have to worry about being sexually harassed on the job." The one-day strike was convened after allegations surfaced that a store manager, who was a registered sex offender when hired, had raped a teenage co-worker. Labour group Fight for $15 said at least 50 workers have filed charges against McDonald's alleging verbal and physical harassment over the last five years.
Climate emergency protests
Indigenous & frontline youth led march to capitol "We Did Not Vote for Fossil Fuels," push Congress & @POTUS to listen to voters who elected them by taking urgent action to stop all new fossil fuel projects and launch a just renewable energy revolution. #PeopleVsFossilFuels pic.twitter.com/5MVA8XRaE8

— Movement Rights (@movementrights) October 15, 2021
Over several days in October 2021, hundreds of people demonstrated in front of the White House to demand that the Joe Biden government stop approving fossil fuel projects and declare the climate crisis a national emergency. Led by Indigenous activists from across the country, the rallies kicked off on 11th October as part of the People vs. Fossil Fuels mobilisation, which called for five days of protest and civil disobedience actions for climate justice. The protests were non-violent but dozens of demonstrators were subjected to police use of a long range acoustic device known as LRAD, which emits a piercing sound.
Throughout the week of protests, 655 people were detained, organisers said. Many of these were arrested on charges such as obstruction or crowding. On 14th October 2021, a group of protesters occupied the Bureau of Indian Affairs at the Department of Interior. There were clashes between police and protesters, with organisers saying that police had used tasers against unarmed protesters. An Interior Department spokesperson said a group of climate protesters rushed the lobby of the department's building, injuring at least one security officer.
COVID-related protests
In October 2021, protests against vaccine mandates continued around the United States. On 11th October in Mississippi, thousands of people rallied against COVID-19 vaccine mandates at several events held across the state. On 18th October in California, more than a thousand people gathered in Sacramento to protest Gov. Gavin Newsom's decision to require all children to get the coronavirus vaccine to attend school. During a similar protest on 23rd October, one person was seriously injured after a man drove his vehicle into a protest against vaccination mandates in Palmdale, California. The driver was arrested. On 25th October in New York City, city workers, including many police officers and firefighters, took to the streets to protest a vaccine mandate for the municipal workforce. At least 20 people were arrested during the protest, according to the police.
Court suspends anti-protest law
On 27th October 2021, a federal judge in Oklahoma temporarily blocked parts of a new state legislation that increases penalties related to protest activities as the court weighs the law's constitutionality. The judge put on hold parts of the law that would make it a misdemeanour for people to unlawfully obstruct a public street or highway during a protest, and another provision that could result in fines of up $50,000 for groups or organisations "found to be a conspirator" with someone who violates state laws pertaining to riots and unlawful assemblies. The Oklahoma chapter of the NAACP filed the original lawsuit, alleging parts of the legislation are unconstitutional because they limit peaceful assembly rights and violate the First and Fourteenth Amendments to the U.S. Constitution.
Expression
UPDATE: U.S. Border Patrol Chief Raul Ortiz traveled #DelRio, Texas, and told media that "no one has crossed since midnight."
LIVE BLOG: Read updates from Border Report Correspondent Sandra Sanchez in #DelRioTexas: https://t.co/eFgBN6jEF2 pic.twitter.com/xmTwtEvTkJ

— Border Report (@BorderReportcom) September 19, 2021
On 19th September 2021, Border Report correspondent Sandra Sanchez was detained for 45 minutes and threatened with arrest by military police in Del Rio, Texas while reporting on the Del Rio encampment, where more than 12,000 Haitian migrants seeking asylum had settled. Officers accused her of taking photographs of the Laughlin Air Force Base while on base property, but Sanchez said she was standing outside the base's gates. Border Report stated there were no signs indicating where public property ended and the military base began. Sanchez was released without charge after law enforcement required that she delete the photos and video of the outside of the gate.
On 14th October 2021, St. Louis Post-Dispatch journalist Josh Renaud was accused of hacking a website maintained by the Missouri Department of Elementary and Secondary Education after he reported a flaw that exposed educators' Social Security numbers. Renaud discovered the vulnerability on the website while using a web application that allowed the public to search teacher certifications and credentials. While no private information was publicly visible, it was contained in the HTML source code of the pages. The Department released a statement characterising the Post-Dispatch journalist as a "hacker." Missouri Gov. Mike Parson said the Cole County prosecutor and the Missouri State Highway Patrol's Digital Forensic Unit would investigate the incident, asserting that the news outlet would be held accountable. According to The Washington Post, the governor's office indicated that Renaud may have violated a Missouri law against "tampering with computer data," a misdemeanour punishable by up to a year in jail and a $2,000 fine. In an editorial, the Post-Dispatch defended the reporter and said the data was easily accessible by anyone with a basic knowledge of web design and functionality.
On 15th October 2021, a coalition of 25 free press advocates, civil liberties and international human rights organisations published a letter to the U.S. Attorney General urging that the country drop its appeal in the extradition case against Wikileaks founder Julian Assange. The joint letter follows the publication of an investigative report alleging the CIA had considered kidnapping or assassinating Assange. "The signatories to this letter have different perspectives on Mr. Assange and his organisation. We are united, however, in our view that the criminal case against him poses a grave threat to press freedom both in the United States and abroad," the letter said. As previously reported on the CIVICUS Monitor, in January 2021 a UK court ruled against the United States' request for extradition but the U.S. decided to appeal the decision.
At the end of October 2021, a woman in South Florida said she was warned by a police officer not to wear a costume designed like a building project that she opposes to a public Halloween event since it would be considered a protest – for which she would need a permit. Cat Uden, who has been a vocal critic of a planned 30-storey condo on public beachfront land, said she received a call from the officer after telling others to wear costumes with themes and messages opposing the development. However, news outlets later reported that Uden and other friends wore their costumes as planned without incident.