US-Taliban deal ignores human rights as activists continue to face threats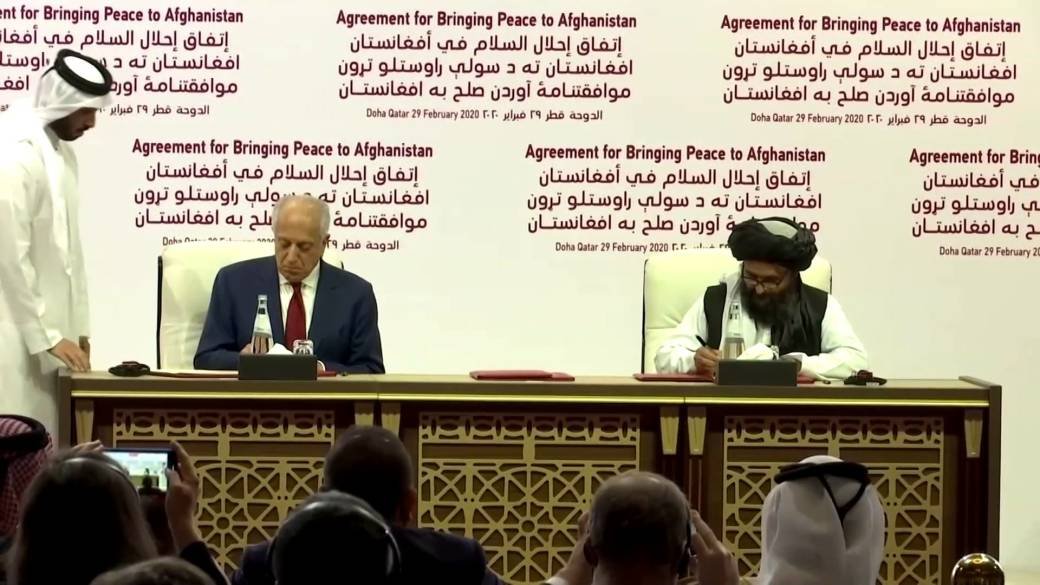 On 29th February 2020, the US and the Taliban signed a peace agreement that could result in American troops leaving Afghanistan within 14 months. It also triggers "intra-Afghan" talks between the Taliban, the Afghan government and other factions.
However, civil society is concerned about the huge risks for human rights, particularly women's rights, in this process. Afghan women and representatives from civil society were not at the table when the agreement was signed and human rights issues were not included in the deal despite demands from human rights defenders.
The Taliban remain deeply misogynistic. According to Human Rights Watch, their 1996 to 2001 regime was notorious for denying women and girls access to education, employment, freedom of movement and health care, and for subjecting them to violence including public lashing or execution by stoning. The Afghan government has been an unreliable supporter — and sometimes even an enemy — of women's rights.
Amnesty International's 2019 annual report highlighted that human rights defenders came under attack from both state and non-state actors. They faced intimidation, harassment, detention and even death. Measures to protect human rights defenders were inadequate and abuses against them were rarely investigated.
In January 2020, the authorities made a public commitment to establish a protection mechanism for human rights defenders after 32 human rights organisations from across Afghanistan presented a joint strategy on this issue.
In March 2020, senior judges at the International Criminal Court (ICC) authorised an investigation into alleged war crimes and crimes against humanity in Afghanistan, overturning an earlier rejection of the inquiry. The ICC investigation will look at actions by US, Afghan and Taliban troops.
In recent months, human rights defenders have been detained for exposing child abuse and a political activist was killed by an unknown gunman. It was reported that at least ten journalists had been killed in 2019 while media organisations are calling for the effective implementation of a freedom of information law.
Association
Human rights defenders detained for exposing child abuse
Two human rights defenders, MM and EH were abducted and detained by the Afghan intelligence agency National Security Directorate (NDS) as they were on their way to meet with the European Union ambassador in Kabul on 21st November 2019. Hours before his detention MM told the Guardian how he had been receiving threats and believed he was under surveillance by Afghan security services.
The activists were part of a group that had conducted an investigation into alleged child abuse in the Southern province of Logar. MM had led the group and exposed the presence of a paedophile ring within the education system in Logar in interviews with the Guardian and TOLO News after speaking to more than 500 children, school teachers and staff, among others. The activists were subsequently blamed by local politicians and other individuals for giving false information for personal gain. The human rights defenders uncovered more than 100 videos of the alleged abuse. Some of the victims of abuse have been murdered.
The detention of the two was widely condemned by Afghans, international human rights groups and diplomats in Afghanistan. On 25th November 2019, Samira Hamidi, South Asia campaigner at Amnesty International, said:
"This is the latest case where human rights defenders have been targeted by the authorities for carrying out their important work. Faced with threats from both the state and non-state actors, they are operating in some of the most hazardous conditions anywhere in the world. There is impunity for attacks on these brave defenders, who have little to no protection."
The two activists were detained for four days and were forced to confess on video that they had made up the existence of child abuse in Logar and within the education system there.
According to Human Rights Watch, successive Afghan governments have failed to seriously investigate cases of child sexual abuse by police and government officials. These abuses continue even though Afghanistan's new penal code, which came into force in 2018, criminalises the sexual abuse of boys, known in Afghanistan as 'bacha bazi'. Impunity for child rape thrives because very often the perpetrators are powerful men in the military, police, or other official institutions. Even though the practice is now criminal, the law is very seldom enforced.
According to local sources, in January 2020, a group of five human rights defenders involved in the investigation of child abuse in Logar were relocated to a neighbouring country due to serious risk to their lives.
Political analyst killed by unknown gunmen
Wahid Muzhda, a political analyst, has been killed in an attack by unknown gunmen on motorbikes in the PD7 area of #Kabul, MOI spokesman Nasrat Rahimi said, adding "he was killed in the attack while he was going to the mosque." #Afghanistan pic.twitter.com/qIjSMwGdRr

— TOLOnews (@TOLOnews) November 20, 2019
On 20th November 2019, Wahid Muzhda, a political analyst and expert on the Taliban movement, was killed in Kabul. According to the Ministry of Interior at least one unidentified gunman on a motorcycle attacked him in the PD7 area close to the Russian embassy. No one has claimed responsibility for the attack. Muzhda worked in the Foreign Ministry during the Taliban's regime and was a member of the Gulbuddin Hekmatyar Party. His assassination was widely condemned by Afghans across the country.
Some believe that he was targeted for often expressing alternative political views, particularly by offering insights into the Taliban perspective. Nazari Paryani, a journalist, said that Muzhda was killed for expressing his views and that his killing "will have an impact on media and freedom of speech".
Expression
Dangerous country for journalists despite reduction in killings
According to @NaiAfghanistan, 10 journalists and media workers killed and 21 injured in 2019. More than 100 violence cases recorded by NAI against journalists which include: assassination, kidnap,... in Afghanistan. @HafizMiakhel @RSF_en @MDJournalistes https://t.co/AyZ5KKu4VD

— Mortaza Behboudi (@MortazaBehboudi) January 22, 2020
According to the NAI media watchdog, at least ten Afghan journalists were killed in 2019, which shows a reduction in violence against them of 48 percent compared with 2018. There were 115 cases recorded by NAI related to journalists which includes cases of assassinations, injuries, attacks, threats, insults, arrests and kidnapping of journalists as well as attacks on media outlets and lack of access to information.
NAI also reported that there had been a 60 percent increase in government detention of journalists. At least 20 journalists and media staff were detained by the Afghanistan's National Directorate for Security (NDS) in 2019.
The Afghan government must respect, protect and fulfil the right to information, said Amnesty International.
Media organisations demand effective implementation of Access to Information Law
In February 2020, 30 different media organisations called on the government to effectively implement the Afghan Access to Information Law, including providing information on key human rights issues.
In a joint statement, the media organisations said they were being denied access to information from several government departments, including the Supreme Court, the Attorney General's Office, the National Directorate for Security Intelligence Agency, the Ministry of Finance, the Central Bank of Afghanistan and the Ministry of Defence.
According to Amnesty International, the journalists said they were being denied information on a series of cases involving corruption and human rights violations. These included night-time "search operations" by Afghan security forces that have caused civilian casualties, allegations of sexual abuse by government officials, and the abduction of two human rights defenders who exposed an alleged paedophile ring.