UN Human Rights Council adopts resolution on human rights in Nicaragua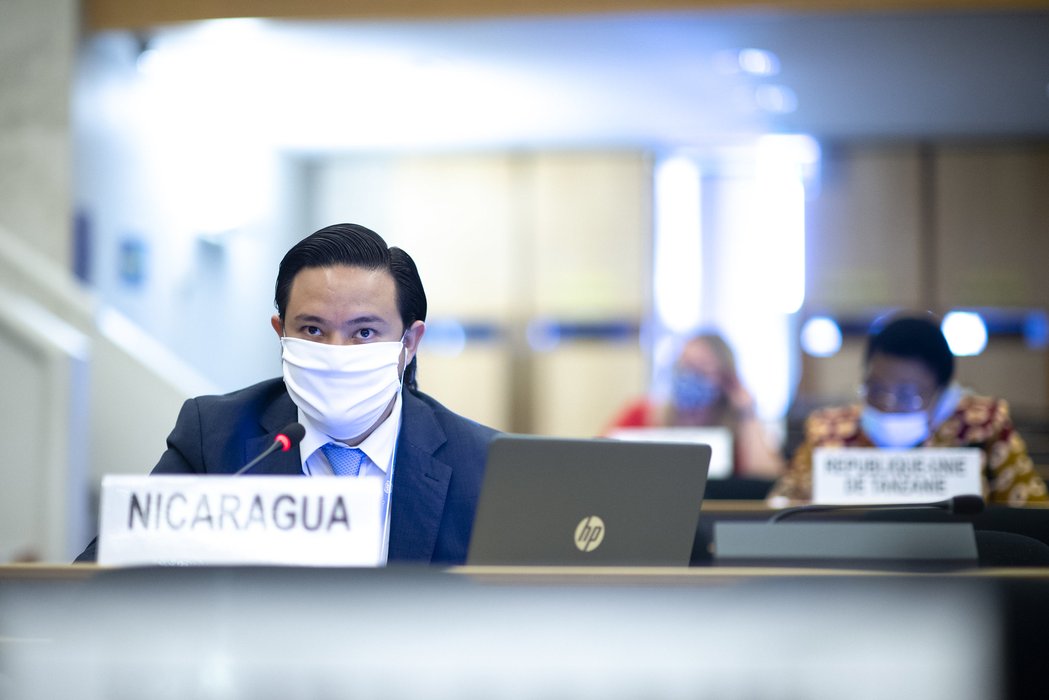 On 23rd March 2021, the United Nations Human Rights Council adopted a resolution on the promotion and protection of human rights in Nicaragua. The document enhances and broadens monitoring and reporting by the Office of the UN High Commissioner for Human Rights. The adopted resolution also lays out steps that Nicaragua should take to resume good faith cooperation with human rights mechanisms and improve the situation ahead of this year's national elections.
Human rights organisations welcomed the resolution, highlighting that it took into consideration inputs from national and international civil society. CIVICUS welcomed the resolution's adoption, in particular the mandate for an additional briefing which will provide an opportunity for dialogue specifically on the context of upcoming elections.
Separately, Amnesty International published their annual report on 7th April 2021 with a section on Nicaragua. According to the report, Nicaragua's human rights crisis continued throughout 2020, as did the authorities' strategy of repressing dissent. The government's response to the COVID-19 pandemic ignored the health recommendations of international organisations. In this context, the situation of political prisoners who remained detained in Nicaragua's precarious, overcrowded and unsanitary prison system was especially concerning. In addition, Amnesty International highlighted the continued harassment of journalists and former political prisoners, as well as the restrictive laws which further reduced civic space in Nicaragua.
Association
🇳🇮#Nicaragua: Continúan los ataques armados contra las comunidades indígenas en la Costa Caribe Norte de Nicaragua.

📢Exigimos el fin inmediato de la violencia contra quienes defienden los derechos de los #PueblosIndígenas Mayangna y Mískitu.https://t.co/XoNP7ZHrHg pic.twitter.com/1cBTukXbZJ

— The Observatory (@OBS_defenders) March 19, 2021
On 3rd March 2021, armed assailants attacked members of the Mayangna communities Musawas and Wilu, located in the Mayangna Sauni As territory inside the Bosawás Biosphere Reserve, Jinotega state. During the attack, 17-year-old Indigenous rights defender Antonio López Rufus was shot five times. He was later hospitalised. Another defender, Leve Pedro Devis, was kidnapped and held for two days. He returned to his community with injuries from beatings. According to the Centre for Justice and Human Rights of Nicaragua's Atlantic Coast, there were reports of at least 13 people killed and eight injured in attacks against Mayangna communities in the region in 2020.
On 18th March 2021, ten police officers detained human rights defender and lawyer Yonarqui Martínez at the Port of Moyogalpa on Ometepe Island. Martínez was taking medicine and food for former political prisoner Justo Rodríguez, who is under house arrest. The police officers claimed they had information that the lawyer was carrying alcoholic beverages and drugs. After an hour and a half she was made to take the return ferry. According to IM-Defensoras, Martínez remained under the custody of police agents during her entire return trip and was held for another hour at the Port of San Jorge. Yonarqui Martínez is a lawyer recognised for her defence of political prisoners, and has been subjected to systematic harassment and attacks for this work. In December 2020, she and her family were granted precautionary measures by the Inter-American Commission on Human Rights (IACHR).
In another case of intimidation, Vilma Núñez de Escorcia, founder and president of Centro Nicaragüense de Derechos Humanos (Nicaraguan Human Rights Centre - CENIDH), faced hostility for receiving a dose of the COVID-19 vaccine on 8th April 2021. According to news reports, pictures of Núñez at the health centre were published on Facebook and Twitter, which led to online harassment by government supporters.
Separately, Nicaragua's government continues to expropriate offices belonging to civil society organisations whose legal personalities were cancelled during the political crisis. The facilities of Popol Na were converted into a state family centre, which was inaugurated on 19th March 2021. As previously reported on the CIVICUS Monitor, several facilities previously belonging to independent news outlets and civil society organisations were dismantled by authorities and converted into social services buildings in the first months of 2021. The IACHR commented on the case, saying the offices' confiscation was a reprisal for Popol Na's human rights work and calling on Nicaragua to restore the legal status and assets of civil society organisations.
Expression
🚨 #AnpdhAlerta I Nuestro organismo de derechos humanos muestra su preocupación ante el asedio permanente en contra de la Periodista @kalua_salazar, jefa de prensa de radio @LaCostenisima en Bluefields. (1/3) pic.twitter.com/Jeot7ZbxXi

— Asociación Nicaragüense Pro-Derechos Humanos (@AnpdhOficial) April 9, 2021
Journalist and Radio La Costeñisima editor-in-chief Kalúa Salazar reported that she and her family continue to be subjected to police harassment. On 31st March 2021, the IACHR's Special Rapporteur for Freedom of Expression, Pedro Vaca, said he witnessed as police patrols besieged Salazar's home. On 9th April 2021, the journalist said that police surveillance of her house had been constant in the previous weeks. As previously reported on the Monitor, Salazar has faced a criminal defamation lawsuit and police harassment for reporting on alleged corruption.
The U.S. State Department published a report on human rights in Nicaragua on 30th March 2021. The country report highlights politically motivated detentions and reprisals, harassment against perceived political opponents, restrictions on freedom of the press and expression, media concentration and control by government as well as threats to exiled journalists. According to the report, restrictions on freedoms of expression, association and assembly precluded any meaningful choice in elections in Nicaragua.