UN call on Maldives to protect human rights defenders and NGOs from interference and reprisals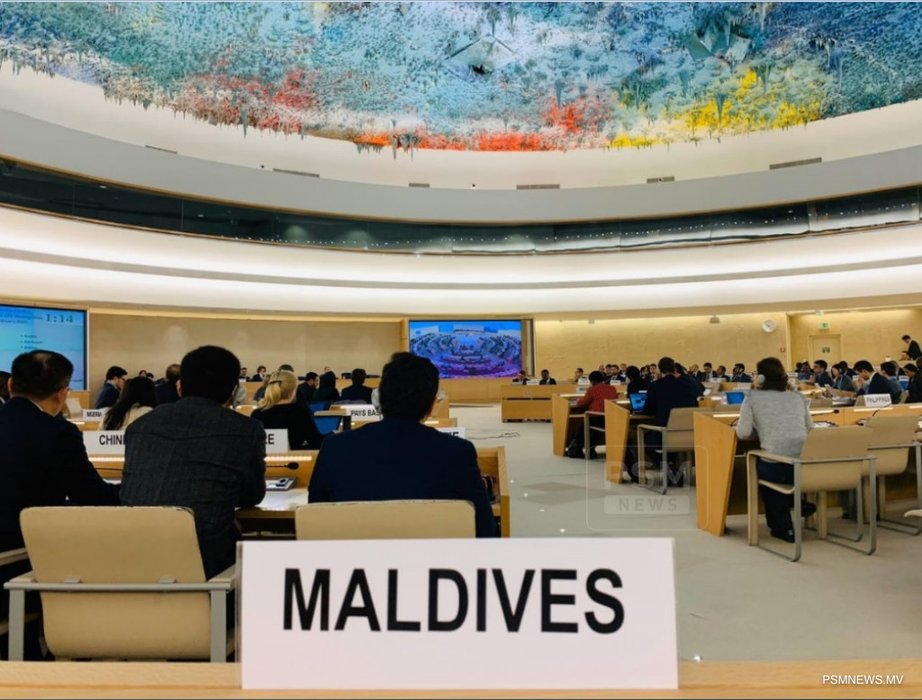 The Maldives human rights record was reviewed by the UN Human Rights Council at its Universal Periodic Review (UPR) on 4th November 2020. States made a number of recommendations related to civic space including the following:
Strengthen the independence, accountability and functioning of the Human Rights Commission of Maldives, including with adequate funding and staffing in full compliance with the Paris Principles (Australia, Albania, Ukraine, Bangladesh);

Take measures to promote and protect freedom of expression (Spain, Brazil, India, Malta, New Zealand);

Ensure human rights defenders and non-governmental organisations are able to operate without undue interference and fear of reprisals (United States of America, Australia, Austria, Luxembourg);

Repeal or amend all legislation and any decree restricting and criminalising the work of human rights defenders (Switzerland);

Protect women human rights defenders from those who seek to intimidate them (Portugal);

Conduct a transparent and public investigation on the ban of the Maldivian Democracy Network (MDN) (Germany);

Take appropriate measures to enhance the safety of journalists, including by considering taking advantage of the United Nations Plan of Action on the Safety of Journalists and the Issue of Impunity (Greece);
The Maldives government must respond to these recommendations before the 46th session of the Human Rights Council (22nd February to 19th March 2021).
Issues highlighted by CIVICUS and Asian Forum for Human Rights and Development (FORUM-ASIA) ahead of the review include reports of harassment of and threats against human rights defenders, particularly by extremist groups, and the lack of effective action by law enforcement agencies. Progress in the investigations into the previously documented cases of the killing of Yameen Rasheed and the disappearance of journalist Rilwan Ahmed remains slow.
Previously, in August 2020, the Parliament of the Maldives (The People's Majlis) unanimously approved ratification of the Optional Protocol to the International Covenant on Economic, Social and Cultural Rights, and the International Convention for the Protection of all Persons from Enforced Disappearance.
On 8th September 2020, President Solih appointed three new members to the Human Rights Commission of the Maldives (HRCM) following the parliamentary approval of their appointments. Prior to 2018, the commission had failed to investigate effectively cases filed with them and concerns have been raised about their independence due to politically-motivated appointments.
In recent months, the authorities had removed some restrictive amendments to the protest law in the Maldives, but migrant workers were detained for holding protests while opposition members were questioned. A foreign investigator has been brought in to to assist in the investigation of missing journalist Ahmed Rilwan and the Maldives Journalist Association has been revived.
Peaceful assembly
Repeal of restrictive provision in protest law approved by parliamentary committee
In October 2020, the Parliamentary Committee on National Security and Foreign Relations supported the repeal of the 2016 amendment to the Freedom of Peaceful Assembly Act which placed severe restrictions on public gatherings and assemblies including mandatory prior authorisation for assemblies. The amendment now needs to passed by parliament.
However, other undue restrictions in the Freedom of Peaceful Assembly Act 2013 remain as documented in the CIVICUS and FORUM-ASIA submission including giving the police wide discretion in granting permission, restricting demonstrations to designated areas and limiting access by journalists.
Under the previous government of President Yameen, there were frequent violations of the right to peaceful assembly, including arbitrary arrests of protesters, attacks on journalists and excessive use of force by the police. Most recently in June 2020, the Maldives police dispersed a small group of protesters that had assembled peacefully in front of the Parliament building demanding that lawmakers find solutions for groups of people affected by the COVID-19 pandemic.
Protests staged by migrant workers over unpaid wages
Maldives: Migrants Arrested for Protesting Abuses https://t.co/yrsaRQMkZt

— Human Rights Watch (@hrw) July 26, 2020
In July 2020, Human Rights Watch (HRW) reported that at least 80 persons – mostly migrant workers - have been detained for protesting unpaid salaries, inhumane conditions and labour rights violations. Authorities further invoked national security to detain workers.
Migrants working in the construction and tourism industries have held demonstrations since May 2020 to protest withheld wages, as other reports of exploitation and mistreatment have surfaced. On 2nd July police arrested 19 protesters in Bodufinolhu who said they had been forced to work without pay for six months.
On 13th July 2020, police in Hulhumalé arrested 41 migrant workers following a confrontation during which the workers damaged police vehicles. The workers, who were employed by a construction company, were protesting non-payment of wages since the government imposed a lockdown in March 2020 to slow the spread of COVID-19.
In another incident, police arrested 22 migrant workers taking part in a protest on Vaavu Atoll on 21st July 2020. Senior defence officials claimed that the protests were "riots," labelled the migrant population "an issue to national security," and denied that the protests stemmed from longstanding human rights violations.
HRW called on the government to drop charges, release all those held for engaging in peaceful protest and address allegations of human trafficking and other abuses against the island nation's sizable migrant worker population.
Opposition members questioned over rally
Two opposition members, Deputy President of the People's National Congress (PNC) and former MP of Hoarafushi constituency, Mohamed Ismail, was summoned for questioning over a rally held on 26th July 2020, the independence day in the Maldives.
According to a news report, the summons sent by the police said both individuals had "taken part in an unlawful gathering which called for the overthrow of a legitimate government".
The joint opposition Progressive Party of Maldives (PPM) and Peoples National Congress (PNC) held the demonstration calling for the resignation of President Ibrahim Mohamed Solih and chanted that the government "had failed to do anything substantial for the nation since coming to power".
Expression
Foreign investigator brought in to assist investigation into missing journalist
Foreign expert to join Rilwan's murder investigation "soon"https://t.co/GlCVsibzGs

— raajje.mv (@raajjemv) October 19, 2020
As previously documented, in November 2018, President Solih established a Presidential Commission to probe enforced disappearances and murders including of missing journalist Ahmed Rilwan. However progress by the commission has been slow.
In August 2020, Rilwan's family released a book to mark the six-year anniversary of his enforced disappearance. Titled 'Gelluvaalee Mausoom Dhivehi Dharieh', which loosely translates to '[They] Disappeared an Innocent Maldivian', the book documents available information from his abduction onwards, describing the trial proceedings at Criminal Court and the progress or lack thereof made in ensuring justice.
Written by human rights advocate Shahindha Ismail, the book includes statements written by family, friends, acquaintances and workmates, in which they reflect on their relationship with Rilwan, describing his persona from their own perspectives and reminiscing on memories.
In October 2020, it was reported that an international expert will join the investigation into Rilwan's disappearance and murder.
Association
Maldives Journalist Association revived
In September 2020, the International Federation of Journalists (IFJ) reported that an extraordinary general meeting of journalists in the Maldives elected a revived Maldives Journalist Association (MJA) executive committee. The MJA general meeting was attended by 130 journalists via virtual platform Zoom and elected a six-member executive committee under the leadership of Mohamed Hamdhoon.
According to IFJ, the MJA, founded in 2009, held an important place among the Maldivian media fraternity in organising journalists, fighting for their professional rights, facilitating trainings and ensuring a safe and free environment for their work. However, following a split in its membership, it collapsed in 2014. The IFJ and its South Asia Media Solidarity Network (SAMSN) have continuously advocated for the revival of a collective voice for journalists in the Maldives.
According to new MJA president Mohamed Hamdhoon, the MJA's immediate focus was to amend 'undemocratic' articles of the MJA's constitution, while its long-term goal was to support journalists' professional growth including training and advocacy on media rights.
The country's election of Ibrahim Mohamed Solih in 2018 marked the beginning of a shift for media freedom and the fight against impunity for journalist attacks. In 2019, the authorities repealed the draconian Anti-Defamation and Freedom of Expression Act which had been widely used by the previous government to harass independent media outlets. However, impunity is still an issue and progress has been slow in bringing the perpetrators behind the disappearance and killings of journalist Ahmed Rilwan and blogger Yameen Rasheed to justice.