Thousands attend demonstrations marking the one-year anniversary of the popular movement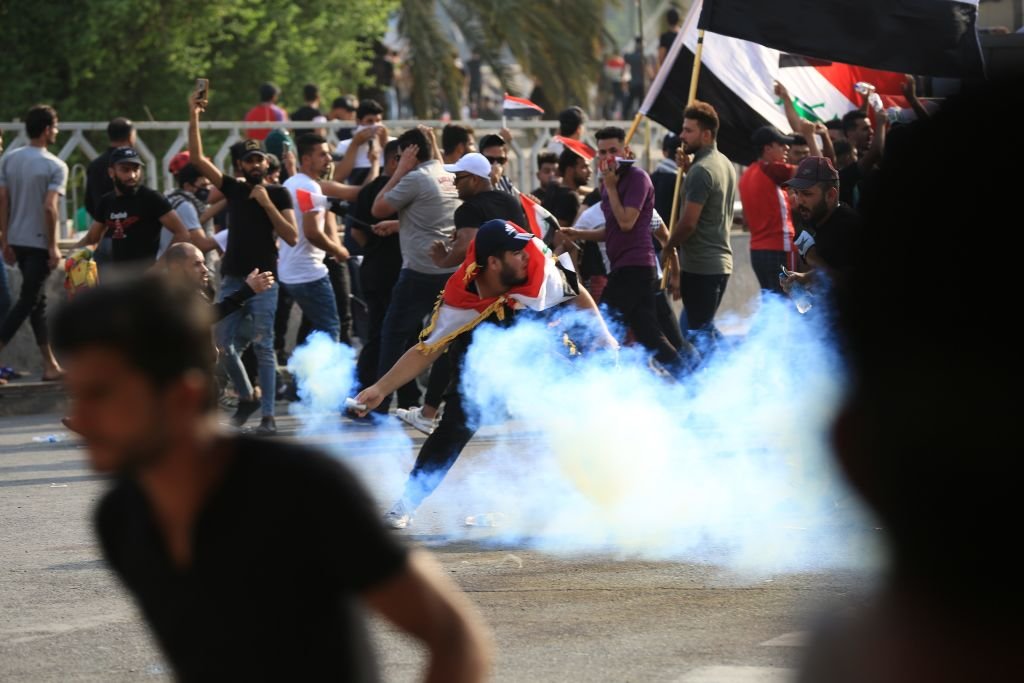 Thousands mark anti-government protests anniversary in Iraq https://t.co/y0oSuDfuGD pic.twitter.com/29muW7uqLq

— Al Jazeera English (@AJEnglish) October 1, 2020
Peaceful Assembly
The First Anniversary of the Popular Movement
October 2020 marked the one-year anniversary of the start of the popular movement in Iraq, with demonstrations attended by thousands of people across various cities in the central and southern provinces of Iraq. In its Ninth Periodic Report on Violations during Popular Demonstrations, the Gulf Centre for Human Rights (GCHR) reported that some human rights organisations in Iraq estimate that approximately 600 demonstrators and activists have been killed since the start of the demonstrations one year ago and a further 30,000 have been injured.
On 24th October 2020, the security forces attempted to prevent access to the demonstrations by cutting off Abu Nawas Street, the Al-Sinak and Al-Shuhada bridges and blocking buses carrying protesters from the Governorates from entering Baghdad. In addition, a group of people entered Al-Tahrir Square carrying large quantities of Molotov cocktails. The Baghdad Operations Command only loosened restrictions on accessing the city on 31st October 2020.The protesters called on unions, sports committees, students, university professors, teachers and citizens to participate in the commemoration of the mass demonstrations which started in Iraq in October 2019 and were met with lethal force by the Anti-Riot Forces and the Security Forces. In response, hundreds of thousands of people took to the streets on 25th October 2020 in cities in the centre and south of the country, calling for an end to corruption and pledging to continue the popular movement until their demands are met.
Thousands of demonstrators gathered at Al-Haboubi Square in the centre of Nasiriyah, the main sit-in square in Dhi Qar Governorate. The city of Al-Amara, the capital of the Maysan Governorate, also saw large crowds gather to demonstrate against corruption and demand accountability for the killing of demonstrators. Furthermore, at Allawi Al-Hilla in Baghdad, near the Green Zone, Anti-Riot Forces attacked protesters, with civil society activist Ehab Jawad Al-Wazni amongst the injured. The day before the protest, Al-Wazni had called for citizens from Karbala to travel to Baghdad to participate in the demonstrations. The protests at Al-Tahrir Square and Al-Jumhuriya Bridge in Baghdad were peaceful. In the city of Najaf, the capital of Najaf Governorate, a large student demonstration marched to the sit-in square. Basra and Hilla, the capital of the Babel Governorate, also drew large crowds of protestors.
On 27th October 2020, security forces, including the Baghdad Operations Command forces and the Anti-Riot Forces, stormed Al-Tahrir Square from three directions and arrested 12 peaceful civil society activists, including Ali Al-Alawi. Most of them were later released but Al-Alawi was released at a later date after being detained at Al-Alawiya Police Station. GCHR received reports that he was tortured.
Civil society activist Imad Abdulrahim Habib Al-Asadi was also arrested after security forces stormed Al-Tahrir square. He was subsequently released on 6th November 2020 after a judge reviewed his case. Al-Asadi is a veteran demonstrator who has participated in the sit-ins from their inception.
On 31st October 2020, security forces, including Anti-Riot Forces and shock forces, stormed the main sit-in square in Basra city, setting off smoke bombs and burning the tents of protesters who were gathered in the square. The demonstrators regained control of the square on 2nd November 2020, although security forces maintained a strong presence and continued to pursue demonstrators in the vicinity of the sit-in square, using live bullets, tear gas, batons and knives. On 6th November, Zaid Abbas was beaten, arrested and tortured in order to extract a forced signature to a declaration pledging to end all involvement in the demonstrations. Abbas and other demonstrators were released after several hours.
Still on 31st October 2020, Al-Haboubi Square in Nasiriyah was filled with demonstrators following reports that Anti-Riot Forces intended to storm the square. Demonstrators also rushed to protect the sit-in square in the city of Kut.
On 6th November 2020, mass demonstrations took place in the Shatra district of the Dhi Qar Governorate, demanding the immediate release of Sajjad Al-Iraqi, a kidnapped activist. Further large-scale anti-corruption demonstrations began in Al-Tahrir Square in Baghdad, and in the city of Kut.
On 8th November 2020, student demonstrations demanding accountability for the killing of demonstrators, took place in Hilla and in Baghdad.
متظاهر عراقي يقتل ببساطة لانه كان يطالب بحقوقه!
Alas!
Again & again death is our destiny!!! No injustice is our destiny.
Young Iraqi demonstrator Omar was killed by armed forces in Basra, South of Iraq.
اللهم عليك بالظالمين#In_Order_Not_To_Forget #Iraq #Omar_Fadel pic.twitter.com/XK4y1O2iiR

— Amer Younis Al-Nakib (@alnakibamer) November 6, 2020
The oppression and killing of civil society activists continues
As the protests continue, activists continue to pay with their lives, a trend which has been previously reported on the Monitor.
On 6th November 2020, civil society activist Omar Fadel was killed by armed forces during an attack on a number of demonstrators attempting to return to the main sit-in square in Basra.
In a statement about Fadel's murder on 7th November 2020, the Ministry of the Interior announced that: "The security forces, in their efforts to uncover the circumstances of the killing of a demonstrator in Basra Governorate during the demonstrations in the Bahriya Square on Friday, arrested the killer who openly confessed to his crime. Initial investigations have been made with him in preparation for referring him to the judiciary to obtain his fair penalty." The Director of the Department of Relations and Information at the Ministry of the Interior, Major General Saad Maan, announced that the killer was an officer affiliated with the Basra Governorate Police Command.
Similarly, still on 6th November, civil society activist Ghazi Abu Mohammed was the victim of an assassination attempt shortly after leaving Al-Tahrir Square. Unidentified gunmen shot at him from their car. Mohammed survived and was transferred to hospital to be treated for his injuries.
On 3rd November 2020, civil society activist Mary Mohammed described the ordeal she went through in November 2019 when she was forced to record a video at gunpoint while being held captive by an unidentified armed group after leaving Al-Tahrir Square on 8th November 2019. She was not released until 11 days later, on 19th November. According to GCHR, offensive videos are one of the methods used by armed militias to tarnish the image of civil society activists participating in the popular movement.
On 1st November 2020, unknown gunmen on a motorbike assassinated civil society activist Sheikh Abdel Nasser Al-Tarfi Al-Tai in Abu Rummaneh in the city of Al-Amara as he was leaving his home in the morning. Al-Tarfi is known for his support for the popular movement and participated in demonstrations in the city of Amara. He published several videos on his Facebook page and YouTube channel in support of the demonstrators and to convey his strong opposition to the armed militias.
On 26th October 2020, Anti-Riot Forces targeted Al-Tahrir Square from Al-Rasheed Street, using live bullets and smoke bombs. When they entered Al-Khiam Street, adjacent to Al-Tahrir Square, they shot paramedic and peaceful demonstrator Mortada Al-Gharib, a 20-year-old from Babil Governorate. They then proceeded to repeatedly punch his lifeless body.
On 15th October 2020, armed militia kidnapped civil society activist Abbas Fadel (Abu Asad) and released him the next day after they had tortured him, dislocated his shoulder and shaved off his hair.
On 12th October 2020, paramedic and civil society activist Ghaith Al-Karbalai was kidnapped by armed militia from Al-Rasheed Street near Al-Tahrir Square. He participated in the popular movement from its inception through his presence at the Voice of Youth tent in Al-Tahrir Square. He was released on 19th October 2020.
On 25th September 2020, the home of prominent human rights lawyer Hussain Al-Gharabi was blown up with an explosive device, damaging the house but causing no injuries. Al-Gharabi is a prominent activist and contributor to the protests in Nasiriyah. A few days earlier, on 22nd September, he appeared in a TV interview in which he accused armed militias of kidnapping his fellow activist, Sajjad Al-Iraqi.
Sajjad Al-Iraqi (Al-Mushrifawi) was kidnapped on 19th September 2020 by seven armed people on the outskirts of Nasiriyah. His fate and whereabouts remain unknown at the time of writing this report.
Expression
On 5th November 2020, the Presidency of the Nineveh Federal Court of Appeal in Mosul issued arrest warrants against four civil society activists in the Governorate of Nineveh, namely Rayan Jasim Mohammed, Sahar Mohammaed Mustafa, Mohannad Qasim Ismail and Saqr Maan Abdulqadir Al Zakaria. All four are charged with making personal threats under Article 430 of the Iraqi Penal Code, in response to a lawsuit filed against them by the Director General of Nineveh's Health Department, Falah Al-Tai. Al Zakaria said in a press statement:
"This is a false and malicious charge that I cannot accept, as a person who believes in freedom of expression, knowing that I have not met him and I have no relationship with him, and all that links me to him is that I, as a citizen, have criticised the services and the reality of health conditions."
On 11th October 2020, human rights defender Hamad Al-Sayed Al-Sumaidaie was arrested in relation to a Facebook post where he criticised the director of the Dhuluiya sub-district in Salah Al-Din Governorate for firing a worker and appointing his brother to replace him. Al-Sumaidaie works as a director of the Salah Al-Din volunteer team, and as a representative of the Al-Rakisa Foundation for Relief and Development in Salah Al-Din Governorate. He is well-known for helping citizens in Saladin, Diyala, Nineveh and Anbar Governorates. He was released on 13th November 2020.
In a report from October 2020, Human Rights Watch criticised the Iraqi authorities' inaction in protecting journalists. In August 2020, Dijlah TV station in Baghdad was torched by protesters after it broadcast a music concert during Ashura, a Shia holy day. Human Rights Watch criticised the failure of Iraqi officials to properly investigate the arson attack and their decision to arrest Jamal Karbouli, a Sunni politician with links to the TV station, claiming the broadcast offended religious views and was therefore in breach of article 372 of Iraq's Penal Code. Staff of the TV station reported receiving numerous threatening calls and social media messages which have led all but one of them to resign from their jobs out of fear for their security.
Civic Space Developments
Tags
attack on HRD,
intimidation,
torture/ill-treatment,
HRD detained,
prevention of protest,
HRD killing,
killing of protestors,
protest disruption,
excessive force,
time,place restrictions,
censorship,
non state actors,
release of HRDs,
attack on journalist,
protest,
protestor(s) detained,
HRD threatened,
Back to civic space developments