Sri Lanka: Journalists and activists targeted, protests stifled and new restrictive laws proposed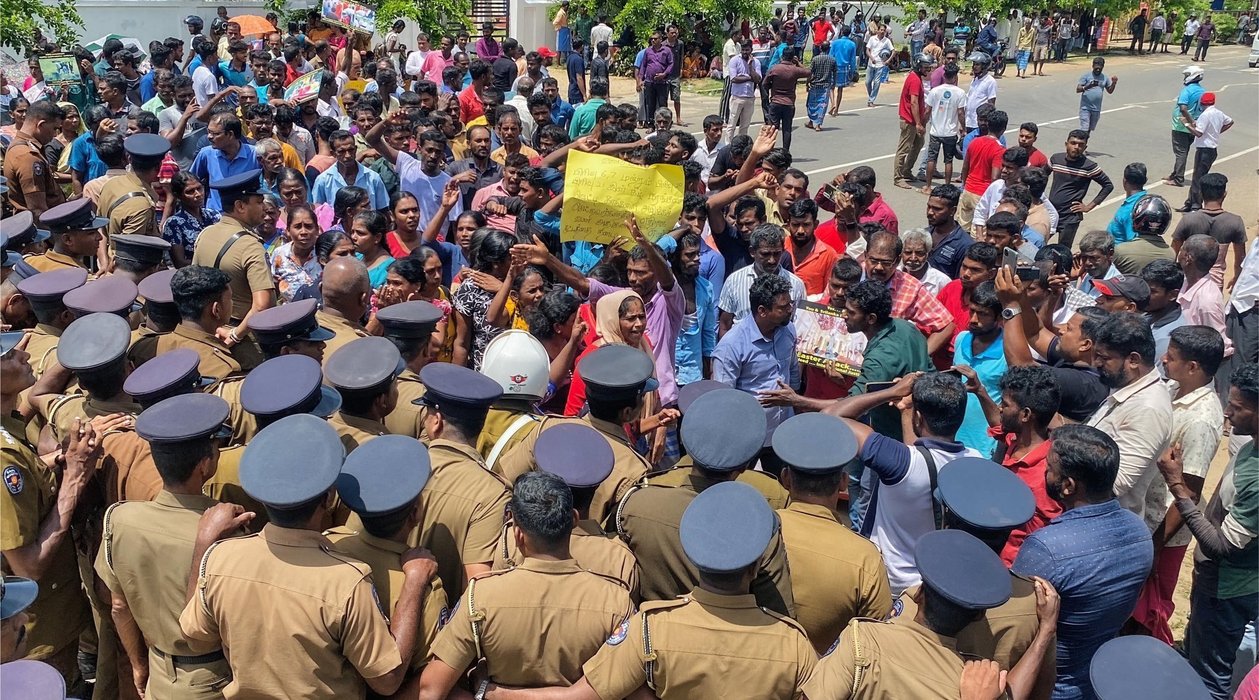 The state of civic space in Sri Lanka remains rated as 'obstructed' by the CIVICUS Monitor. Among previous concerns related to fundamental freedoms were the targeting of civil society groups, human rights defenders, journalists and the families of victims of past violations. Further, the government has used the draconian Prevention of Terrorism Act and ICCPR Act to silence dissent. There has also been impunity for crackdowns on mass anti-government protests including arbitrary arrests, judicial harassment and excessive use of force.
More than a year after President Ranil Wickremesinghe took power, restrictions on protests have persisted, the government has continued to pursue abusive policies against minorities, and those seeking justice for past crimes continue to be targeted.
A report by UN High Commissioner for Human Rights on the situation of human rights in Sri Lanka was published around the UN Human Rights Council meeting in September 2023. It noted that Sri Lanka suffers from a "continuing accountability deficit - be it for war crime atrocities, more recent human rights violations, corruption, or abuse of power". Tens of thousands of victims and their families continue to seek truth, justice, and remedy. The report called for meaningful and transparent consultations with victims and civil society on a proposed truth-seeking mechanism. The report also details a number of concerns with proposed new laws, including a new Anti-Terrorism Bill and legislation to regulate broadcasting.
In the same month, Human Rights Watch said in a report that ongoing abuses are undermining the purported goals of its newly proposed truth and reconciliation commission. According to HRW, victims of past violations, their families and human rights defenders have rejected the government's initiative because it has not consulted them, ignored evidence gathered by past commissions and exposed them to abuses and retraumatisation if they participate.
In recent months there have been concerns around proposed legislation that could be used to stifle expression as well as restrictions and attacks against journalists. The UN documented surveillance, intimidation of and threats to civil society, while a revised version of an anti-terror bill still put rights at risk. There have been continued reports of excessive force, intimidation and restrictions against protesters.
Expression
Concerns around legislation that could be used to stifle expression
#SriLanka🇱🇰: New legislation presented to Sri Lanka's Parliament on October 2 has been criticised for its potential to impact freedom of expression and information in online spaces. @IFJGlobal https://t.co/svldJE9fkS

— IFJ Asia-Pacific (@ifjasiapacific) October 5, 2023
Concerns have been raised around two pieces of legislation that could be used by the authorities to stifle freedom of expression.
The "Online Safety" Bill that was tabled in parliament on 3rd October 2023 is intended to dramatically regulate the content of online communication, including by the general public. The Bill would establish an "Online Safety Commission" that would act to: "prohibit online communication of certain statements of fact; prevent the use of online accounts and inauthentic online accounts for prohibited purposes; make provisions to identify and declare online locations used for prohibited purposes in Sri Lanka and to suppress the financing and other support of communication of false statements," as well as other unspecified provisions.
According to the International Commission of Jurists (ICJ) several provisions of the Bill would serve to undermine the exercise of human rights and fundamental freedoms in the country, including freedom of information and expression. Of particular concern are provisions related to the setting up, appointment and functions of an Online Safety Commission and other experts, the vague and overbroad wording of conduct designated as punishable offences and unnecessary and disproportionate punitive sanctions.
The Bar Association of Sri Lanka has called for the immediate withdrawal of the bill and for the adoption of a process of meaningful consultations with all relevant stakeholders prior to gazetting bills which "have a serious impact on the community at large."
The UN High Commissioner for Human Rights in his September 2023 report also raised concerns about plans to regulate broadcasting media. A draft Bill proposes the establishment of a broadcasting regulatory commission with the power to issue, renew or cancel yearly licences to all broadcasting channels, including media institutions already operating under existing laws. The proposed Broadcasting Regulatory Commission would comprise five government-appointed officials, raising serious questions about its independence.
According to the UN, the draft Bill states as its aim, "to ensure that broadcasting services shall provide people true and accurate information", a vague and ambiguous standard that could lead to arbitrary application. It also contains a prohibition on broadcasting "anything that may create a threat to the national security or economy or possibility to have conflict among race and religion". Similar formulations are used in problematic national legislation such as the International Covenant on Civil and Political Rights Act and the Prevention of Terrorism Act, which have been frequently applied in an arbitrary manner.
Restrictions and attacks against journalists
There have been continued reports of restrictions, harassment and attacks against journalists for their reporting.
#SriLanka🇱🇰: Freelance journalist Tharindu Uduwaragedara was detained and assaulted by police while reporting on a union-led protest in Colombo on July 28. @IFJGlobal @FMMsrilanka @FmetuL https://t.co/vihsLUGOOt

— IFJ Asia-Pacific (@ifjasiapacific) July 31, 2023
On 28th July 2023, Tharindu Uduwaragedara, a Sri Lankan human rights defender and journalist, was assaulted and unlawfully detained by the Borella Police while covering a peaceful trade union protest in Colombo, Sri Lanka. According to Front Line Defenders, the police assaulted and verbally abused the human rights defender, and accused him of being a national traitor working for foreign money. He was forced into a police vehicle while he repeatedly identified himself as a journalist. Two officers beat Uduwaragedara while en route to the Borella Police Station. tThe human rights defender was held at the Borella police station and appeared before the Colombo Chief Magistrate the following day on 29h July 2023. He was released on bail on the order of the Chief Magistrate but remained in hospital for treatment of his injuries.
Journalists harassed by police during Kokkuthoduvai mass grave excavation

Police officers harass media personnel, Balanathan Sathees and Vijayaratnam Saravanan, in an apparent attempt to intimidate them.https://t.co/MnFfjRj4PB pic.twitter.com/dtNaOGyj3Y

— Tamil Guardian (@TamilGuardian) September 11, 2023
Two journalists were restricted while conducting interviews during the excavation of a mass grave in Kokkuthoduvai on 8th September 2023. Balanathan Sathees and Vijayaratnam Saravanan were speaking with individuals connected to the mass grave site when the police informed them that they could not remain there and attempted to forcibly remove them from the site.
In October 2023, photo journalist Elke Scholiers reported being restricted from visiting the island of Iranaithivu by the Sri Lanka navy and military despite obtaining permission. The two square kilometre island located off the Mannar coast was the home of 417 families before the wartime displacement in 1992. Since the end of the war, the island had been under the control of the Navy but. in 2018, the displaced residents travelled by sea in fifty boats to reclaim their land on the island.
Association
Surveillance, intimidation of and threats to civil society
The UN High Commissioner for Human Rights stated in his September 2023 report that his office continued to receive reports of surveillance, intimidation and harassment of human rights defenders, activists and persons involved in commemoration initiatives by intelligence services, the military and the police or by unidentified individuals affiliated with former paramilitaries.
The report stated that during the last quarter of 2022, police officers conducted several visits to local NGOs based in the Northern and Eastern provinces. Staff were questioned about activities carried out by their organisations, funding sources, beneficiaries, and their personal information.
Family members of the disappeared in the Eastern and Northern provinces continued to receive police visits with summonses or restraining orders ahead of emblematic dates, preventing them from organising or participating in protests, rallies or commemoration events. Reportedly, summonses were delivered during late evening hours or with excessive police presence, adding an element of harassment and dissuasion.
Tamil activist faces prolonged questioning for his activism
Tamil activist interrogated over landgrab protests https://t.co/zXwFZ6OpUf pic.twitter.com/KuDVA8bk2O

— Tamil Guardian (@TamilGuardian) September 29, 2023
Tamil activist Balraj Rajkumar was subjected to prolonged questioning by the Counter-Terrorism and Investigation Department (CTID) in the Eastern Province. According to the Tamil Guardian, the activist was summoned to appear at the Trincomalee Regional Office on 29th September 2023, with no specific reason provided.
Upon arriving at the CTID office, Rajkumar was confronted with accusations of attempting to rebuild a banned organisation. Rajkumar revealed that the primary charges against him included advocating for and supporting a prohibited group. Additionally, he was accused of orchestrating protests against the government and allegedly inciting gatherings against state authorities.
Rajkumar denied all allegations during his statement to the CTID and said he challenged the authorities to provide evidence supporting any of the claims made against him. He is known for his vocal opposition to the forcible acquisition of Tamil people's lands in the Eastern Province and has been an active advocate for the rights of the Tamil people.
Revised version of anti-terror bill still puts rights at risk
On 15th September 2023, the Ministry of Justice of Sri Lanka published the revised version of the Anti- Terrorism Bill (ATA), which would repeal and replace the Prevention of Terrorism (Temporary Provisions) Act No.48 of 1979 (PTA). A first draft of the Bill was published in March 2023 and according to government ministers the current revision was aimed at removing certain problematic provisions from the earlier draft.
The government has used the PTA to target and harass minorities, activists, journalists and critical voices. UN human rights experts have called for an immediate moratorium on the use of the law and urged the government to substantively review and revise the legislation to comply with international human rights law.
According to ICJ, the revised Bill, in clause 3, continues to define acts of terrorism in a vague and overbroad matter and undercuts the inherent authority of the judiciary, as people may be detained for two months solely on order of the secretary of the Defence Ministry.
Among the vague and overbroad provisions of the draft Bill are the "encouragement of terrorism" (clause 10) and "dissemination of terrorist publications" (clause 11), under which persons can be detained for sharing or causing to be published statements which are interpreted by the authorities to be in support of terrorism or terrorism activities. The burden of proof for such offences would be unacceptably reversed under the Bill, as the accused would be required to prove before the high court that they had not consented to or approved the utterance or publication of such statements.
The ICJ said that the Bill would provide the President with excessive powers to restrict the exercise of human rights, including to impose restriction orders on individual persons, proclaim curfews, designate prohibited places, and make regulations to implement "rehabilitation programmes" for persons regarding whom the Attorney-General has recommended a deferment or suspension of criminal action.
The ICJ noted the several positive changes in the revised draft, including the removal of the death penalty as a possible punishment and removal of the power of the Deputy Inspector Generals (DIGs) of Police to issue Detention Orders (DO). The new draft would also allow the Magistrate to discharge suspects, in the absence of a DO, where the Magistrate determines that there is no justification for the arrest. DOs, which may only be issued by the Secretary to the Ministry of Defence would now allow for detention of two months without charge, as opposed to three months contemplated by the earlier draft of the Bill. Finally, the revised Bill removes mention of the Board of Review, which would have been empowered to hear appeals against DOs in the previous draft and provides time limits for declarations of prohibited places by the President.
The revised draft also retains the improvements made to the PTA in the first draft. However, the draft law is silent on compensation and redress mechanisms for those affected by abuse and misuse of the law.
Mullaitivu judge flees country after facing coercion and threats
A district judge from Mullaitivu in in the north resigned and fled the country in September 2023, citing threats to his life.
According to the JURIST, Saravanaraja had recently presided over two significant cases. The first case involved a dispute over a religious site, Kurunthurmalai, an ancient Tamil temple site located within the Thannimurippu area of the Mullaitivu district, after members of the majority Sinhala Buddhist community took over the religious site from Hindu worshippers. Saravanaraja ordered the removal of recently erected structures, including an unlawfully constructed Buddhist shrine situated atop Kurunthurmalai.
The second case pertained to the government's stifling of a memorial event honouring a deceased member of the Tamil separatist rebel group, the Liberation Tigers of Tamil Eelam (LTTE). Additionally, in July 2023, Saravanaraja ordered excavations at a mass grave site in Kokkuthoduvai.
Saravanaraja alleged that the Attorney General invited him to his office on 21st September and compelled him to reverse his order in the Kurunthurmalai case. Furthermore, Saravanaraja claimed that Members of Parliament, and other politicians within the Sinhala Buddhist community, threatened his life. The judge also said that his police protection had been reduced, while intelligence officers continued to surveil him. Lastly, the judge stated that two cases were filed against him personally in Sri Lanka's Court of Appeals in connection to his decision on the Kurunthurmalai case.
Peaceful Assembly
Excessive force, intimidation and restrictions against protesters
There have been reports of excessive force, intimidation and restrictions around a number of protests held in recent months.
40 years since 'Black July' killings of Tamils, civil rights movement, but little space in Sri Lanka to remember the dead, @Meerasrini has more. https://t.co/xf1MqNAQFJ

— Suhasini Haidar (@suhasinih) July 29, 2023
In July 2023, activists lit oil lamps in the capital Colombo commemorating the hundreds killed in 1983 anti-Tamil riots that fuelled a deadly civil war. Official estimates place the riot death toll between 400 to 600, but Tamil groups say the actual number is in the thousands. Several dozen activists lit coconut oil lamps and candles outside Colombo's main cemetery, where the inter-communal violence started 40 years ago. Authorities deployed heavily armed troops that outnumbered demonstrators, while an AFP journalist saw police kicking and stomping on oil lamps placed along the pavement just outside the cemetery.
Members of an extremist Sinhala nationalist outfit barged into the gathering with familiar aggression and hurled abuse at the participants, branding them as "Tiger" (to connote the LTTE) and "terrorist". The huge contingent of riot police asked the activists, not disruptors, to disperse immediately.
In September 2023, police fired tear gas in attempts to disperse a protest staged by the Students' Union of the Peradeniya University. The protest was held over several key demands, including against the establishment of private universities and also demanding an increase in Mahapola scholarship payments.
Please watch for yourself the double standards of SL police. Kicking women engaging in peaceful protests and offering water to a monk who was being unruly. pic.twitter.com/OjISFxXjt8

— Shanakiyan Rajaputhiran Rasamanickam (@ShanakiyanR) October 8, 2023
According to the Tamil Guardian, on 8th October 2023, a peaceful protest by Tamil livestock farmers ahead of president Ranil Wickremesinghe's visit to Batticaloa and against the ongoing land grabs by Sinhalese settlers was met with brutal force by Sri Lankan police opposite the Chenkalady Central College, Batticaloa. The police forcefully objected to the peaceful protest and protesters, including women, were assaulted by police officers. Security officials also halted a bus that was carrying Tamil members of the families of the disappeared from Amparai who were on their way to join the farmers' protest. They were halted at the Kallady bridge and subjected to questioning, preventing them from joining the demonstration.