Singapore targets peaceful protesters and continues judicial harassment of critics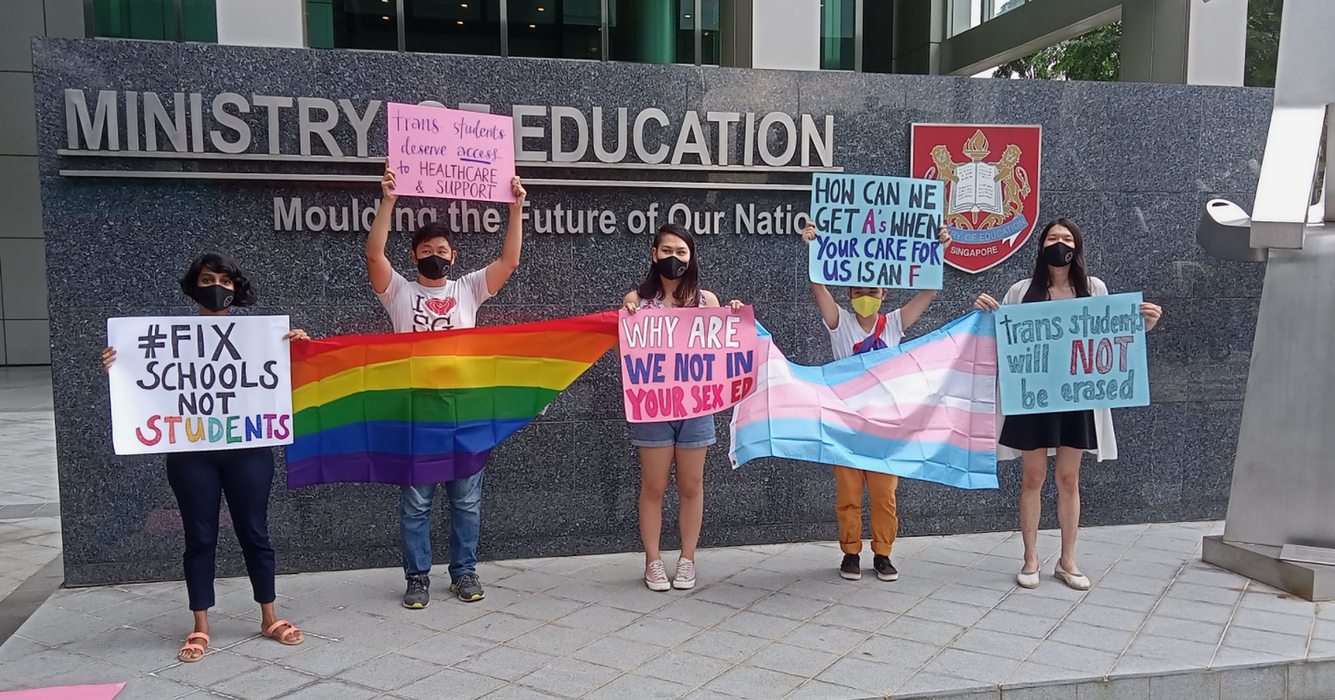 In 2020, according to Human Rights Watch, the government continued to use harsh and overly broad laws restricting speech and assembly to prosecute critical speech, or to label it as "fake news," and order social media platforms to block content. The city-state's initial success in controlling the spread of COVID-19 was undermined by a failure to ensure that migrant workers could adequately protect themselves from the disease, leading to a surge in cases among migrants living in cramped workers' dormitories.
In recent months, the Singaporean authorities have continued to use the restrictive Public Order Act to arrest LGBT activists, charge human rights activist Jolovan Wham and warn social media users against peacefully protesting. It has also continued to harass independent news outlet New Naratif and to prosecute critics for defamation.
Peaceful assembly
Three LGBT activists protesting against transphobia arrested
On 26th January 2021, police arrested three activists who were protesting peacefully against transphobia and LGBT discrimination in the education system outside the Ministry of Education (MOE) headquarters. The three carried signs stating "#FIX SCHOOLS NOT STUDENTS", "trans students will NOT be erased" and "trans students deserve access to HEALTHCARE & SUPPORT".
They were reportedly surrounded by police officers who issued 'move-on' orders and threatened them with arrest if they did not leave. They were arrested within thirty minutes of starting their protest. Police said the three, aged between 19 and 32, were arrested for allegedly taking part in a public assembly without a permit. The three individuals were released on bail at about 10pm and investigations are ongoing.
At around the time of their gathering the protesters had issued a statement to the media saying they were a group of students and supporters calling on MOE to end discrimination against LGBT students in schools, adding that it is a longstanding issue. The protest came after a transgender pre-university student diagnosed with gender dysphoria said in a Reddit post that the MOE had blocked her from getting hormonal treatment.
Activist charged with two offences under the Public Order Act 
S'porean activist Jolovan Wham to be charged with allegedly staging 2 illegal 1-person protests https://t.co/cAOkhPjQr7 pic.twitter.com/Tt430kr1Uh

— Mothership.sg (@MothershipSG) November 21, 2020
On 23rd November 2020, human rights activist Jolovan Wham was charged in the District Court with two offences under the Public Order Act. Both charges relate to holding an 'illegal public assembly', which he has denied. If found guilty, Jolovan could face a maximum fine of up to S$5,000 (3,774 USD). With the two additional charges, Jolovan is facing a total of seven charges for his peaceful activism.
The Singaporean authorities charged Wham over his two separate stand-alone peaceful protests. In December 2018, Jolovan held up a piece of paper calling for the dropping of charges against independent media website 'The Online Citizen' (TOC) editor and writer, Terry Xu and Daniel De Costa. Both of them are charged with criminal defamation for publishing a letter condemning government corruption.
On 28th March 2020, he held up a cardboard sign with a smiley face outside the police station to show solidarity after two other young climate activists were investigated by the police as part of the global Fridays for Future movement.
According to the International Federation for Human Rights (FIDH) and the World Organisation Against Torture (OMCT) on 25th November, the day of the hearing, Wham was briefly held in custody at the court because the prosecutor increased the bail amount from the announced S$8,000 (USD 6,038) to S$15,000 (USD 11,322 ) without prior notice. The organisations called on the authorities to drop the charges and to end "acts of harassment" against him as these "only aim at punishing him for his legitimate human rights activities". He was released the same day after his bail was paid by a relative.
As previously documented, on 20th August 2020, Jolovan briefly served a jail sentence in lieu of paying a fine after he was convicted of violating the Public Order Act. Jolovan had invited Hong Kong pro-democracy activist Joshua Wong to participate in an online Skype discussion on civil disobedience and social movements back in 2016. Authorities argued that the discussion constituted an assembly for which he had not received a police permit.
Under the Public Order Act, a one-person peace protest could also be defined as an illegal assembly. As previously documented, there is only one park in Singapore where people are allowed to participate in public assemblies without a permit.
Social media users warned over solidarity gatherings for Indian farmers
On 15th December 2020, the Singaporean police said they were investigating reports of social media posts which showed people allegedly gathering to show solidarity with farmers in India, who had been protesting against new agricultural laws.
The police stated in a news release that any participation in a public assembly without a police permit was illegal and 'constitutes an offence under the Public Order Act'. It similarly reminded people that those advocating for political causes of other countries would not be granted a permit.
The Public Order Act, which aims to regulate assemblies and processions in public places, has been systematically used to restrict peaceful assembly in Singapore. The POA requires a police permit for any gathering or meeting of one or more people intending to demonstrate for or against a group or government, publicise a cause or campaign or mark or commemorate any event. The Public Order Act was amended in 2017 to provide the police commissioner with specific authority to reject any permit application for an assembly or procession "directed towards a political end" if any foreigner is found to be involved.
Expression
Harassment of New Naratif founder
On 5th October 2020, CIVICUS and six other civil society organisations called for the Singaporean authorities to immediately withdraw its police report against New Naratif founder Thum Ping Tjin.
On 18th September 2020, Singapore's Elections Department released a press statement in which it stated that it had filed a police report against the independent online media outlet New Naratif for "illegal conduct of election activity" for alleged publication of five paid advertisements on the social media platform Facebook during the General Election of July 2020 without the written authorisation of a candidate or his election agent.
On the same day, PJ Thum, New Naratif'sFounder and Managing Director, was notified that he would need to report to the police for questioning. On 21st September he reported to Clementi Police Station, where he was subjected to questioning for four and a half hours. The police also accompanied him to his home and seized his laptop.
Under Section 83(2) of Singapore's Parliamentary Elections Act (PEA), the conduct of any election activity requires prior written authority signed by a candidate or his election agent. Section 83(8) stipulates that "election activity" includes any activity "which is done for the purpose of promoting or procuring the electoral success at any election for one or more identifiable political parties, candidates or groups of candidates; or prejudicing the electoral prospects of other political parties, candidates or groups of candidates at the election." Any person convicted of such offence may be liable to a fine of up to $2,000 and/or imprisonment for up to 12 months.
Under this provision the scope of what can amount to election activity is extremely broad. Virtually any act of information dissemination or awareness-raising relating to key issues of public interest conducted in the lead-up to or during an election can fall under the overbroad scope of "promoting electoral success" or "prejudicing electoral prospects," and must therefore receive prior written authorisation. The provision is so vague that it does not allow for individuals to be able to adequately predict what activity could fall foul of the law, while allowing the Elections Department to control, censor and potentially criminalise any political speech and discussion during the election period.
As previously documented, New Naratif has regularly faced harassment by the government and senior government officials. It has been accused of being "foreign funded" and supporting foreign interests. In May 2020, a correction directive was issued to New Naratif regarding a video that addressed abusive laws used in Singapore.
Editor Terry Xu and writer Daniel De Costa on trial for defamation
The Online Citizen editor and article writer on trial for criminal defamation over piece alleging Cabinet corruption https://t.co/WCSjp3amP8 pic.twitter.com/6hoiHix8MK

— CNA (@ChannelNewsAsia) October 26, 2020
The trial of The Online Citizen (TOC) editor Terry Xu and writer Daniel de Costa opened on 26th October, after failed attempts by De Costa's lawyer to refer his client's case to the High Court. Terry Xu is facing one count of defamation while Daniel de Costa is facing one count of defamation and another charge of 'unauthorised access to computer material' under the Computer Misuse Act.
Daniel de Costa is accused of writing an article, under a different name, alleging corruption among Singapore's highly ranked officers, which Xu later published in the TOC. Both were charged on 13th December 2018 with criminal defamation. The authorities have used criminal defamation provisions under sections 499 to 502 of the Penal Code to prosecute critics.
Terry Xu has been targeted and harassed constantly by authorities for information he has released in his professional capacity as an independent journalist  – notably through abuse of legal mechanisms.
Libel trial against blogger Leong Sze Hian continues
On 30th November 2020, it was reported that Prime Minister Lee Hsien Loong was seeking damages of around S$150,000 (USD 113,299) in a civil defamation case against blogger Leong Sze Hian, in the ongoing libel trial.
As previously documented, the blogger was sued for posting on his Facebook page in December 2018 a link to an article alleging that the Prime Minister was the target of an investigation in neighbouring Malaysia over the 1MDB wealth fund scandal. In defence, Leong's lawyer claimed that the whole judicial proceedings "have been totally unnecessary and is an abuse of the process".
Civil defamation lawsuits have long been used by representatives of the ruling People's Action Party (PAP) to sue and seek hefty financial compensation for damages from individuals who express dissent.
Defamation charges against human rights lawyer
On 16th December 2020, it was reported that human rights lawyer M Ravi was charged in a district court with criminal defamation. The 51-year-old Singaporean is accused of defaming Law and Home Affairs Minister K. Shanmugam in a unit at People's Park Centre on 6th November. Ravi allegedly posted on Facebook that the minister had claimed that he wields influence and controls Chief Justice Sundaresh Menon.
M Ravi has been targeted and harassed constantly by authorities for his work, notably through the abuse of legal mechanisms. He is being investigated for contempt of court under the Administration of Justice (Protection) Act following the publication of an article on independent media website The Online Citizen (TOC) relating to his client, Mohan Rajangam, a Singaporean who challenged the legality of his extradition from Malaysia in 2015.