Rights groups and the UN continue to press Laos where civic space remains 'closed'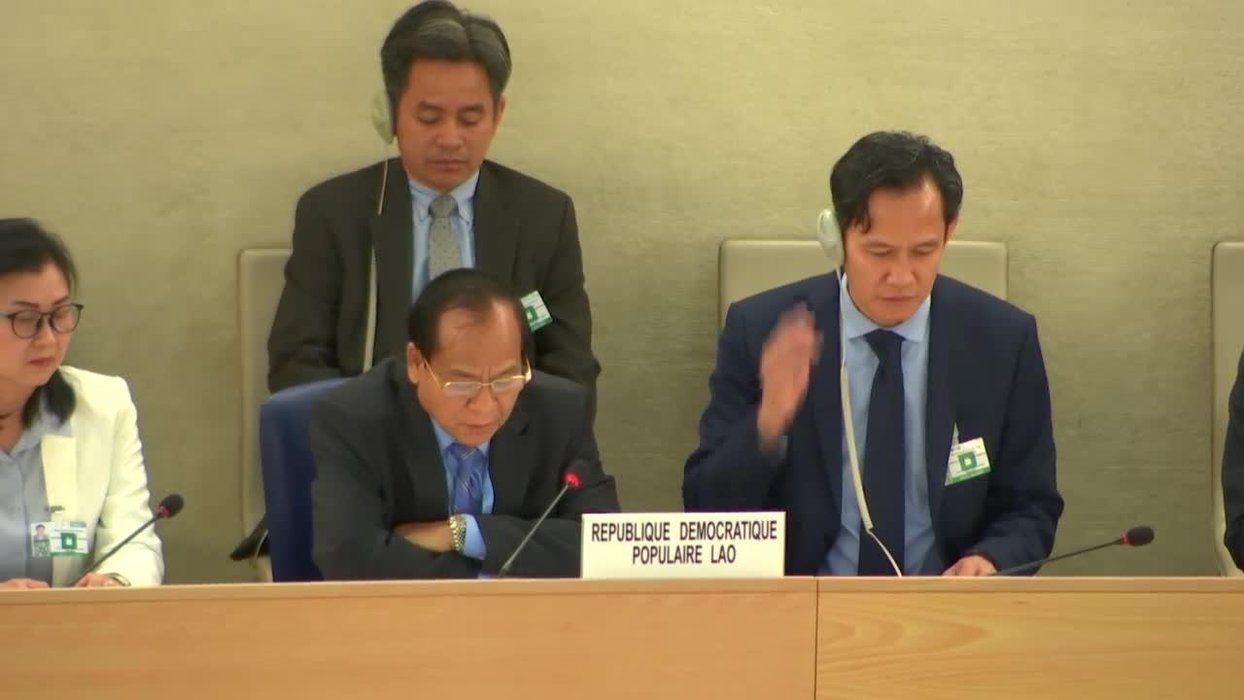 On 28th September 2020, the outcome of the January 2020 human rights review of Laos was adopted by the UN Human Rights Council. During the adoption CIVICUS, FORUM-ASIA and Manushya Foundation highlighted that the government has not accepted several key recommendations related to fundamental freedoms and the protection of human rights defenders.
The organisations noted that the government continues to criminalise criticism of the government using unwarranted criminal defamation charges on the basis of protecting "national interests," as well as charges of anti-state propaganda, penalised under article 117 of the criminal code. For instance, woman human rights defender Houayheuang Xayabouly, known as Muay, was sentenced in November 2019 to five years' imprisonment for a Facebook post criticising the slow response of the government in providing assistance to affected communities displaced by flooding as a result of a tropical storm in August 2019.
The groups called on Lao to create and maintain, in law and practice, an enabling environment for CSOs, media, journalists and human rights defenders by repealing or reviewing all repressive legislation in accordance with international standards. They regretted the government's failure to accept key recommendations to effectively investigate the enforced disappearance of human rights defender Sombath Somphone and called on Lao to establish a new independent and impartial investigative body to determine the fate and whereabouts of Sombath.
Civic space continues to be rated as 'closed' in the CIVICUS Monitor's latest report issued in December 2020. Over the last few months, the authorities have continued to push for online media sources to be registered. There has been a rare online criticism of the government inspired by the mass protests in Thailand while a political prisoner, Sangkhane Phachanthavong has been released on bail. The UN has raised concerns about state-sponsored persecution of the ChaoFa Hmong community.
Expression
Authorities re-issue notice on mandatory registration of online media outlets
On 8th October 2020, Laos' Ministry of Information, Culture and Tourism (MICT) re-issued notices to online media sources, warning that "any individual, legal entity, state or private sector that continues to publish and provide information to the public via social media without permission will face measures in line with the laws of the Lao PDR".
Lao authorities stated that the notice is intended to mitigate the spread of 'fake news'. According to Radio Free Asia (RFA), the notice states that "unregistered online social media [news outlets] are allowed to register at any time." Further, an anonymous RFA source said that 20 Facebook pages -- including Tholakhong, Inside Laos, and Lao Youth -- have been registered, while several other news sites like the Lao-Thai Facebook page have not registered.
As previously documented, in July 2019 the same government agency ordered that news outlets that use Facebook and other social media platforms register or face jail time and fines.
The ruling Lao People's Revolutionary Party (LPRP) exercises absolute control over the media including TV, radio and print publications through the Ministry of Information, Culture and Tourism. Legal restrictions on the media are aimed at ensuring strict adherence to and promotion of government policies. These laws and the strict government controls have led to high levels of self-censorship by journalists in the country.
Laos citizens take grievances online
"Protests in Thailand has sparked a lot of young gen in Laos to voice their opinion on this tag #ຖ້າການເມືອງລາວດີ (if Lao politics was good) and the gov. kindly reminded us that we can't do that or we'll end up in jail" a user named "zero" tweeted.https://t.co/sy5EgLgIt5

— Radio Free Asia (@RadioFreeAsia) October 23, 2020
On 23rd October 2020, Radio Free Asia reported that Lao citizens inspired by Thailand's democracy protests took to Twitter to launch the hashtag campaign "if Lao politics was good".
Social media users took the rare step of pointing out misgovernance in their own country, where those who post messages complaining about the state's failure to address graft, poverty, and other social problems are routinely locked up. The tweets also pointed out tax misuse, a high illiteracy rate, devastation of the country's natural resources, and the increasing wealth gap.
As previously documented, Lao citizens are increasingly seeking information from media abroad due to extensive censorship and a heavy pro-government bias in the local media. Online criticism of the government and the Lao People's Revolutionary Party or circulating 'false information online' is criminalised in Decree No. 327 on Internet Based Information Control/Management of 16th September 2014. Besides the prosecution of activists, government critics have also been swiftly silenced for speaking up online.
Association
Political prisoner granted bail
Yet another #Lao citizen arrested & facing a long prison sentence for social media criticism of the government for corruption & abuses of the people. #Laos government should drop the charges, & release Sangkhane "Thitsy" Phachanthavong NOW #LPDR #Vientiane https://t.co/Dd6xNow5dg

— Phil Robertson (@Reaproy) September 28, 2020
A Lao activist, Sangkhane Phachanthavong, better known as "Thitsy", who had been detained since August 2020 for his comments on social media was released on bail on 1st October 2020,. Thitsy reportedly criticised government corruption and was questioned in jail regarding links to "an anti-government group of overseas Laotians."
According to RFA, "the release of the activist, the first known case in which bail was granted to a political prisoner, came a day after Laos restrictions on free speech were criticised at the United Nations Human Rights Council in Geneva".
However other political prisoners remain detained, including activist Houayheuang Xayabouly, better known as Muay, who was arrested in September 2019. She is currently serving a five-year sentence for defamation for criticising the government response to floods in a Facebook Live video. Muay has repeatedly used Facebook to criticise the Lao government, from instances of corruption to its mishandling of the Xe-Pian Xe-Namnoy dam collapse in Attapeu Province.
The Lao government continues to exercise pervasive control over civil society, which faces severe restrictions as a result. Extensive surveillance, reprisals and the criminalisation and enforced disappearance of human rights defenders have created an environment in which it is all but impossible to speak out.
Rights groups continue to demand answers around disappearance of activist
🇱🇦#Laos: It has been 8 years since Lao civil society leader Sombath Somphone disappeared
📣We call on the government to establish and reveal his fate and whereabouts
👉https://t.co/v3rt2bUeZR pic.twitter.com/OtRkBtd99j

— The Observatory (@OBS_defenders) December 15, 2020
Human rights groups continue to press the Lao government for answers and information around activist Sombath Somphone who was forcibly disappeared eight years ago on 15th December 2012.
As previously documented, Sombath disappeared after being stopped at a police checkpoint on a busy street in the capital, Vientiane. CCTV footage shows unknown individuals forcing him into another vehicle in the presence of police officers. His whereabouts remain unknown and there has been no credible investigation into his enforced disappearance. Before his abduction, Sombath had challenged massive land deals negotiated by the government that had left thousands of rural Lao villagers homeless with little paid in compensation.
Human Rights Watch deputy Asia director Phil Robertson said: "We will never forget Sombath even after eight years, and we'll keep fighting and asking the Lao government [to explain] what happened to him. We have never received an answer to this question, so we continue to raise this matter with the governments of other countries and with the U.N. Human Rights Council in Geneva. No one should forget what the Lao government did to Sombath".
Vanida Thepsouvanh, president of the Paris-based Lao Movement for Human Rights, said that for the last eight years, the Lao government "has never told the truth about Sombath Somphone. Furthermore, the Lao [People's Democratic Republic]] doesn't seem to have any intention of ratifying the International Convention for the Protection of all Persons from Enforced Disappearance".
His wife Ng Shui Meng said: "So far, I have received no updates from Lao officials on their investigation into Sombath's disappearance, and I still don't know where he is."
UN raises concerns on persecution of the Hmong indigenous community
In October 2020, it was reported that ten UN Special Rapporteurs had sent a joint allegation letter to the Lao Government raising the issue of state-sponsored persecution of the ChaoFa Hmong. The letter was based on information received concerning the alarming situation of the Hmong indigenous community located in the Phou Bia region (referred to as the "ChaoFa Hmong"), including indiscriminate attacks against the community, enforced and involuntary disappearances, denying access to food and lacking health care and access to safe drinking water.
The Hmong are an indigenous group originally from the mountainous regions of southern China, Viet Nam, Laos, Myanmar and Thailand. Up to 600,000 Hmong are estimated to live in Northern Laos, mostly in the Phou Bia area, a resource-rich remote jungle region. They distinguish themselves from the general Laotian population because of their ethnicity, written and spoken language, culture and religion. According to the latest national census, they constitute about 10 percent of the Lao People's Democratic Republic (LPDR), which makes them the third largest minority. Despite this, the government refuses to acknowledge the Hmong as an indigenous group, leaving the community without access to legal protection under international law that would accompany such status.