Restrictions in response to the exercise of fundamental freedoms continue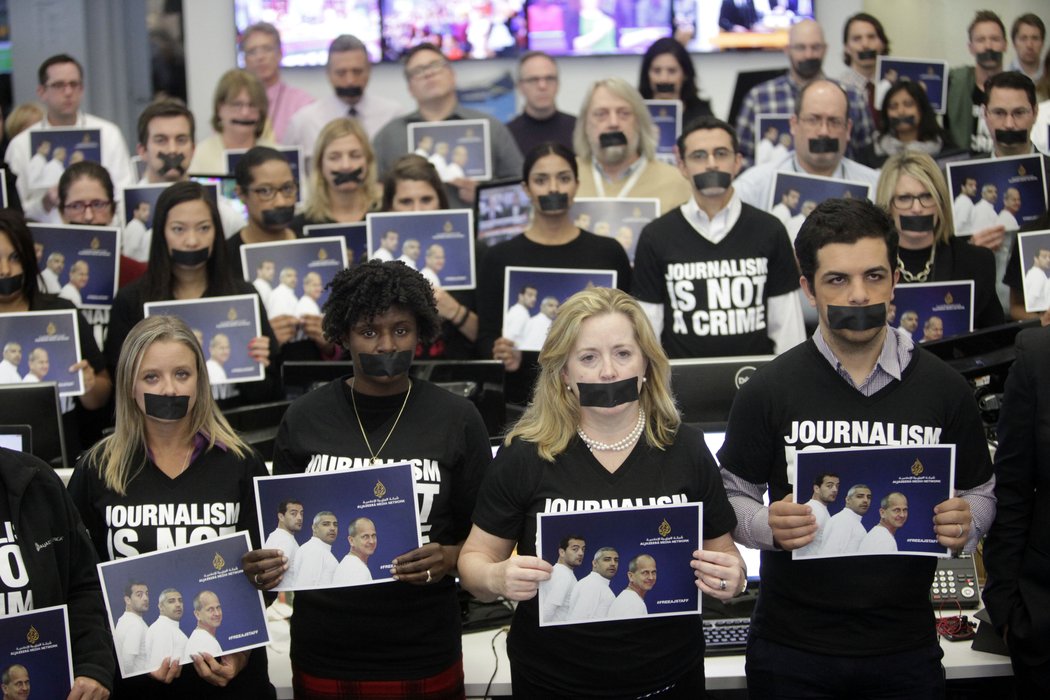 Association
Restricted civic space and the worsening situation for human rights defenders continue in Egypt. The situation is being closely monitored by the international community and several statements issued continue to call for Egyptian authorities to take immediate action.
On 18th December 2020, a resolution adopted by the European Parliament referring to various violations faced by civil society, including the arrest of EIPR staff (previously covered by the CIVICUS Monitor) expressed its disapproval once again for the continuing and intensifying crackdown on fundamental rights and on human rights defenders, lawyers, protesters, journalists, bloggers, trade unionists, students, children, women's rights and gender equality activists, LGBTI people, political opponents, including their family members, civil society organisations (CSOs) and minorities. The statement acknowledged that the violations against these groups are solely in response to their exercise of their fundamental freedoms or their expression of dissent with state authorities and security forces in Egypt. The resolution called for an independent and transparent investigation into all human rights violations and for those responsible to be held accountable, underlining the importance of a strong and well-functioning civil society.
Similarly on 22nd January 2021, Mary Lawlor, the UN Special Rapporteur on the situation of human rights defenders, referring to the detention of human rights activists, called for Egyptian authorities to immediately and unconditionally release all detained human rights defenders, journalists, civil society actors and their family members.
"I am extremely concerned by the seemingly unrelenting efforts of the Egyptian authorities to silence dissent and shrink civic space in the country, despite repeated calls from UN mechanisms and the international community."
"Not only are these human rights defenders, journalists and other civil society actors unduly targeted for their legitimate and peaceful defence of human rights and fundamental freedoms, they are wrongfully accused of belonging to terrorist organisations and portrayed as a national security threat under vague legal provisions."
While these calls are crucial, action by the authorities is still pending in several cases:
While the three EIPR staff members, namely Gasser Abdel-Razek, Karim Ennarah and Mohamed Bashee were released, 7th February 2020 marks one year since the arrest of EIPR researcher and Bologna University student Patrick George Zaki. Zaki was detained at Cairo Airport when coming home to visit his family and despite several campaigns for his release there has been no positive development on his release.
In five days (February 7), we will mark one yr since the arrest of @EIPR researcher and Bologna University student Patrick George Zaki, detained at Cairo Airport when coming home to visit his family. Yesterday, his pretrial detention was renewed for another 45 days. #FreePatrick pic.twitter.com/e2ay3lZoIG

— Mai El-Sadany (@maitelsadany) February 3, 2021
TikTok creator Haneen Hossam was released by a court order after more than 10 months in detention, while content creator Mowada al-Adham remains behind bars with renewed detention for 45 days. Both were using social media tools such as TikTok and were charged for "violating family values" and disseminating material that "violates public morals." In addition, in mid January 2021, the Public Prosecution brought human trafficking charges against both Hossam and Adham .

Graduate student Ahmed Samir Santawy was arrested on 1st February 2021. As reported byMada Masr, he was researching issues related to women's rights in Egypt for his graduate course in sociology and has been questioned repeatedly by the National Security Agency at the airport on his way in and out of Egypt. Despite human rights groups calling for his release, the State Security Prosecution ordered that he be held in remand for 15 days.
"The Freedom of Thought and Expression law firm (AFTE) renews its demand for the Egyptian authorities to immediately stop the wave of researchers' arrests and shrinking the space for academia, as this poses a threat to the freedom of scientific research in Egypt, intimidates researchers, and affects the reputation and status of Egyptian universities in the international community. It also forces researchers and university professors to flee for fear of returning to Egypt in an attempt to protect their freedom."
This situation on the ground was clearly articulated by civil society groups in an open letter sent to the EU on 20th January 2021. It highlighted that Egyptian authorities have used COVID-19 as a pretext to grant further abusive powers to the President and to deepen restrictions on rights and freedoms. The letter recalls various civic space violations which occurred during 2020, including:
Arbitrary arrest of human rights defenders, peaceful activists, politicians and journalists;

Adding those arrested to the terrorists list;

excessive force used in mostly peaceful demonstrations in September 2019 and September 2020;

Detention of doctors, other medical workers, social media users and journalists for criticising the handling of the pandemic;

Detention and prosecution of women over morality charges, including rape survivors and witnesses;

Inhumane conditions of detention, medical negligence and deliberate denial of medical care, leading or contributing to the death of dozens, if not hundreds, of prisoners in custody;

Arrest of members of the LGBTI community because of their sexual orientation, forcibly subjecting them to torture and degrading treatment including "anal tests" and "sex determination tests".
Report condemns treatment of prisoners
A new report by Amnesty International titled: "What do I care if you die?" Negligence and denial of health care in the Egyptian prisons" released for the 10th anniversary of Egypt's uprising details how prisoners are subjected to torture, inhumane conditions and denied healthcare, including during COVID-19. In a press statement, Philip Luther, Amnesty International's Middle East and North Africa Research and Advocacy Director said:
"The authorities go further in intentionally depriving men and women detained solely for exercising their human rights and others held for political reasons health care, adequate food, and family visits. It is deplorable that the Egyptian authorities are seeking to intimidate and torment human rights defenders, politicians, activists and other actual or perceived opponents by denying them health care. When the denial causes severe pain or suffering and is a deliberate act for the purpose of punishment, it constitutes torture."
Foreign funding case comes to a close
A separate development in relation to civic space in Egypt was the so-called foreign funding case. As previously covered by the CIVICUS Monitor, the case started in December 2011 and was divided into two parts: one for foreign organisations operating in Egypt and the other for local ones. As a summary of the foreign funding case prepared by Mada Masr recalls, in June 2013, 43 defendants — including Egyptian, American and European nationals — working for foreign organisations were handed prison sentences ranging from one to five years. A retrial was ordered in April 2018 and all 42 defendants were acquitted in December 2018. Yet, local NGO cases which continued with the Public Prosecution were assigned to an investigative judge in March 2016. Thus, asset freezes and travel bans were issued for civil society workers, while the exact number of local groups implicated is unknown. On 5th December, 2020, the judge in Case 173/2011 (Egypt's Foreign Funding Case) closed investigations into 20 NGOs. Nevertheless, the list does not include prominent, independent Egyptian rights organisations who have faced reprisal, like Nadeem and Nazra.
On the other hand, executive bylaws for new legislation governing the operations of NGOs were published in the Official Gazette. According to the Cabinet spokerperson "the new law will facilitate the financial transactions of NGOs, allowing them to receive cash and funds from inside and outside of Egypt from persons or legal entities, as well as foreign NGOs unauthorised to work in the country…. the new law does not include any penalties that involve the incarceration of NGO workers, with fines being imposed in case of violations".
Bylaws issued: Supporting NGOs work in Egypt https://t.co/02fRpER1pc

— Ahram Online (@ahramonline) December 13, 2020
However, there are different opinions on the bylaws, some pointing to positive changes in the rules governing foreign funding while others warning that the regulations may reproduce a restrictive environment for civil society with security agencies granted the right to oversee the work of NGOs.
Expression
Since 25th January marked the tenth year of the Egyptian people's movement protest which toppled the Egyptian government, a call to prevent the restrictions on freedom of speech was restated by human rights organisations. AFTE made a call referring to the case of cartoonist Ashraf Hamdy. Hamdy was arrested after his YouTube post entitled "Egyptoon" which dealt with the 10th anniversary of the revolution.
The Committee to Protect Journalists (CPJ) condemned the cartoonist's arrest:
"Ten years ago, the Egyptian people toppled Hosni Mubarak's regime during the Arab Spring uprising that called for greater freedom. Today, President Abdelfattah al-Sisi's government is arresting journalists who dare to recall that historic event. Authorities must immediately release Ashraf Hamdi and drop any charges against him,"- CPJ Middle East and North Africa Program Coordinator Sherif Mansour.
The crackdown on reporters continues through arrests and detentions in Egypt. According to Reporters Without Borders (RSF), the number of journalists and bloggers detained in Egypt now stands at 33. However, in a positive development, Al Jazeera producer Mahmoud Hussein was released conditionally after four years in prison. However, the RSF warned:
"He has yet to be fully vindicated in as much as his conditional release still leaves him as a suspect in the eyes of the authorities," - Sabrina Bennoui, the head of RSF's Middle East desk.
The Coalition for Women in Journalism documented that freelance journalist Solafa Magdy was physically and sexually assaulted in police custody. Solafa and her husband were first arrested on 26th November 2019. CFWIJ reports that "she was reportedly dragged across the floor and stripped of all her clothes. Solafa suffered heavy bleeding after one of these brutal attacks." The two freelance journalists were arrested for "allegedly spreading lies and being part of a terrorist organisation". As a journalist Solafa covered human rights and minorities. The CFWIJ said:
"We urge state authorities in Egypt to investigate police misconduct in prisons. We offer our full support and solidarity to Solafa Magdy and her family. We demand an end to the unjustified detention and torment of Solafa, calling for her immediate release."
Horrifying report from lawyers of Egyptian journalist Solafa Magdy.

On Nov 29, Solafa was blindfolded & taken from her cell to another room where a man asked her to become an informant. She refused. He threatened her, telling her she would not see her son again. He harassed her. pic.twitter.com/1dcJe5v2S1

— Mai El-Sadany (@maitelsadany) January 31, 2021
Similarly, the RSF also condemned the harassment faced by Solafa.
"It is high time for Solafa Magdy's ordeal to end. There can be only one response to these extremely disturbing accounts – her immediate release so that she can receive urgent medical care. This journalist poses no threat to her country's security and her continuing detention is completely unjustified," Sabrina Bennoui, the head of RSF's Middle East desk.