Reprisals against activists for 2020 protests unabating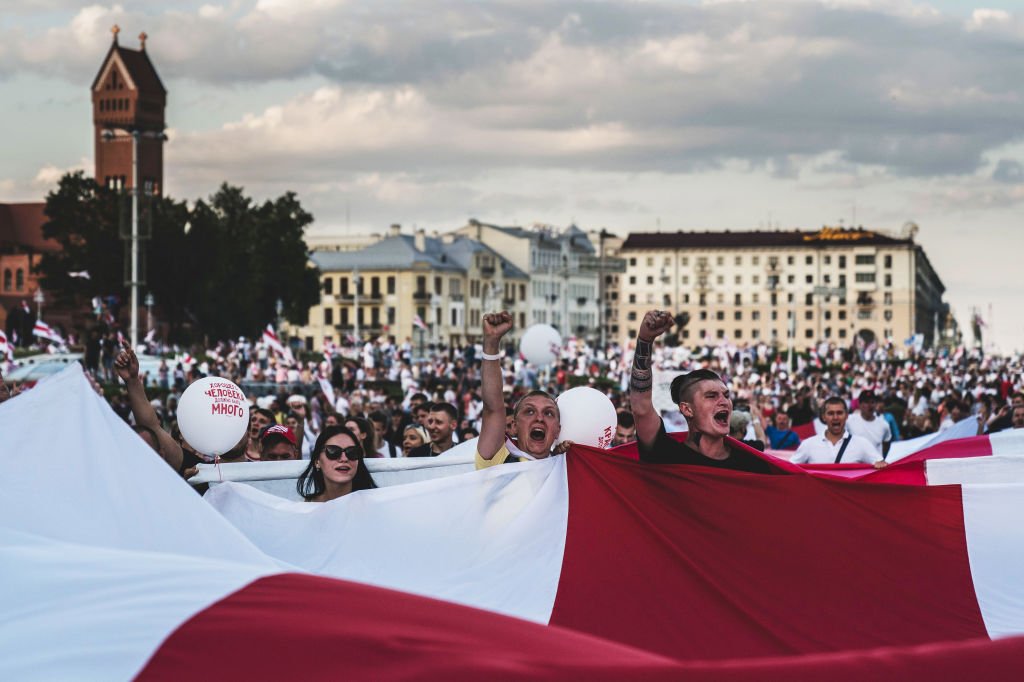 Association
Activist declared a terrorist in Belarus
On 3rd September 2021, the Secret Service of Belarus (KGB) added Olga Karach, a human rights activist and head of the Our Home Foundation, and other six persons on the list of "organisations and individuals involved in terrorist activities".
According to the press, the KGB of Belarus accused Olga Karach of complicity in "preparation for an act of terrorism by a group of persons by prior conspiracy". The KGB claimed that these persons were going to cut off the tongue of Grigory Azarenko, the leader of the STV, blow up the communication tower of the Russian Navy in Vileika and set fire to logging equipment in the Berezinsky forestry enterprise.
The State Security Committee of Belarus accuses the activist of "complicity in preparation for an act of terrorism against a state or public figure."
For her part, Karach said in an interview that the decision by the authorities comes in response to the opposition's actions to denounce Alexander Lukashenko's authoritarian regime. It may also be a consequence of statements by representatives of the civil resistance criticising the deepening union between Russia and Belarus - a process launched by the Minsk leader to avoid stepping down fron the state leadership.
Karach has repeatedly criticised the Belarusian leadership, and in mid-August 2021 she called on Belarusian women to take part in the action "cursing all those involved in repressions in Belarus".
TV Rain also reported that the updated list also includes the Belarusian movement "Civil Self-Defence Units".
An activist who helped people flee persecution in Belarus was found dead in a park in Ukraine. Police are investigating for murder.

Vitaly Shishov was 26.

35,000 protesters, activists and journalists have been arrested since the president won a 6th term in a disputed election. pic.twitter.com/htHeI84u8m

— AJ+ (@ajplus) August 3, 2021
Activist found dead in Kyiv
Vitaly Shishov, an activist and leader of an initiative that aimed to facilitate assistance for persecuted Belarusians, was found dead in a park in Kyiv, Ukraine, in August 2021. His disappearance was announced to the police by a colleague who reported his absence long after he left the house. He had previously received death or robbery threats.
Shishov was in exile in Ukraine and helped persecuted people from his home country. Initial investigations by Kyiv authorities revealed that the homicide was staged to look like a suicide. The Belarusian House in Ukraine accused Belarusian authorities of organising the murder.
Following his death, memorials were held in Kyiv, and on 3rd August 2021, hundreds of Belarusians protested in front of the Belarusian Embassy in Ukraine.
After intensified persecution against civil society, activists and ordinary citizens who protested post-elections 2020, many opposition representatives, journalists, activists and civil society experts were forced to leave Belarus. Many of them have continued to support fellow citizens who needed legal or financial assistance or were victims of the Minsk regime.
Peaceful Assembly
Number of political prisoners in Belarus steadily increasing
As of 23rd September 2021, the list of political prisoners in Belarus reached 671 people. Many of them have been detained and sentenced to several days or even years in prison, mostly for participating in the protests organised after the disputed presidential August 2020 elections. On 16th September 2021, seven people were added to this list, while seven others joined the list on 30th August after they were accused of violating public order (Criminal Code) according to the Viasna Centre. Only a few were released from custody during this period. Among the convicts are foreign nationals such as Mikhail Ferenets, a Ukrainian national, who was sentenced to three years in prison for being involved in the post-election protests.
Maria Kolesnikova was just sentenced to 11 yrs
Maxim Znak got 10 yrs

Their team say they're being punished for wanting to change Belarus for the better

The trial - for 'plotting to overthrow the regime' - was held behind closed doors. No evidence has ever been made public

— Sarah Rainsford (@sarahrainsford) September 6, 2021
Also, in September 2021, the trial against Maria Kolesnikova, one of the leaders of the 2020 mass post-election protests, was completed. She was sentenced to 11 years in prison.
Because the wave of internal repression has continued through August and September 2021, most of the solidarity actions with Belarusian society are being organised abroad. Many non-governmental organisations have urged international fora to take more drastic measures and impose more significant economic sanctions on Minsk leaders.