Reports and monitoring missions document extreme repression and violence against activists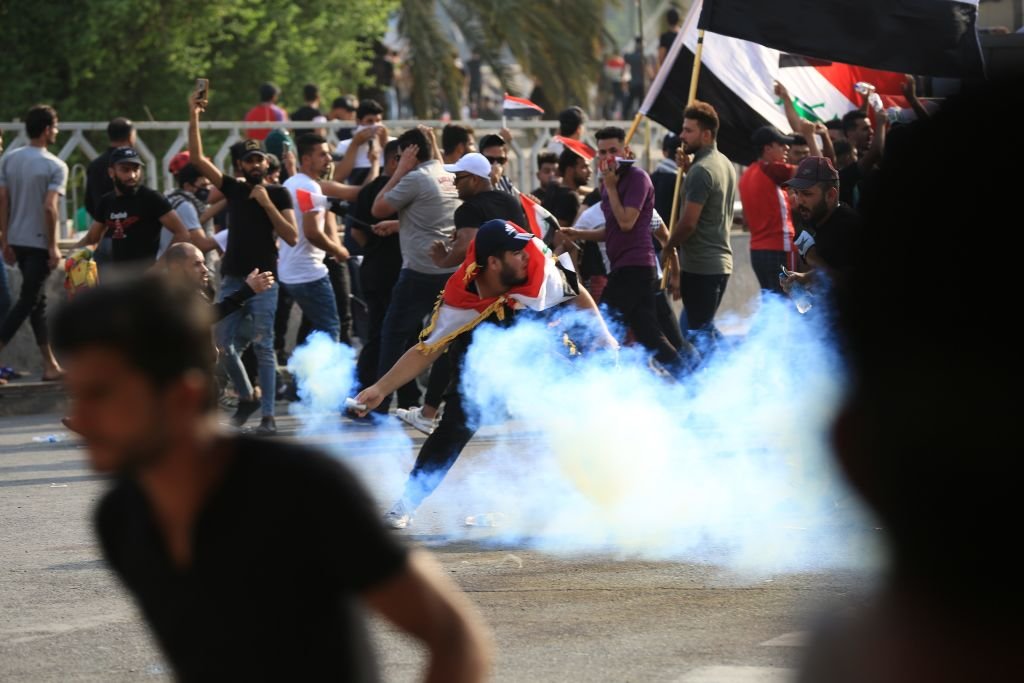 Peaceful Assembly
On 11th February 2022, in response to mounting pressure from human rights defenders in Iraq, the Ministry of Interior arrested Lieutenant-Colonel Omar Nizar, who was affiliated with the Rapid Response Division, on charges of killing protesters during a 2019 crackdown. The Ministry of Interior declared in a press statement that:
"Clarifying the facts is one of the most important priorities of the Ministry of Interior and in various cases, and after much talk and news circulating about the circumstances of the case of Lieutenant-Colonel Omar Nizar, which is attributed to the Rapid Response Division, we would like to clarify that this officer is now in detention".
On 6th February 2022, civil society activist Faisal Salman Gharib Al-Barki posted comments on his Facebook page criticising a judicial summons to the Al-Muthanna Criminal Court, which he and 14 fellow protesters had received for their participation in protests on 25th October 2019. The summons noted that they were facing charges brought forward by the Directorate of Intelligence and Counter-Terrorism of Al-Muthanna Governorate under Article 342, which deals with the sabotage of public property. This charge carries a minimum sentence of 15 years, and a life sentence or death penalty in the most serious cases. According to Al-Barki, 
"The reason this malicious lawsuit was launched was in response to my complaint against the officers and employees of the Directorate of Intelligence and Counter-Terrorism in Al-Muthanna Governorate, after they tortured me and my fellow demonstrators in their cells". 
On 22nd February 2022, the Criminal Court of Al-Muthanna Governorate returned the case to the investigation court for further consideration, a decision welcomed by the defendants' legal team.
On 26th January 2022, the body of civil society activist Haider Sabri was found in Basra city with a bullet wound to the head, two days after his disappearance in circumstances that remain ambiguous. Fellow activists told Gulf Centre for Human Rights (GCHR) that, "Extremist armed groups targeting activists carried out this act of intimidation". Sabri was a prominent activist who actively participated in the popular October 2019 protest movement, previously reported on the Monitor.
On 8th January 2022, armed men attacked demonstrators in Wasit Governorate who had demanded accountability for the killing of demonstrators. The protesters also called for abolishing militarised parties and groups in government institutions within the governorate. This video clip, which was published by Member of Parliament Sajjad Salem on his Twitter account, shows armed men in military uniforms attacking the demonstrators on 8th January and firing live bullets at them.
Association
On 5th May 2022, the Gulf Centre for Human Rights (GCHR) published an extensive report on the challenges faced by human rights defenders in Iraq following the 2019 October Popular Movement, which called for an improvement in socio-economic conditions in the country. The report, which is based on interviews with 60 journalists, human rights defenders, protesters and activists during a research trip to Iraq in early 2022, concludes that these groups are under severe psychological pressure due to the attacks, assassinations, malicious prosecutions and impunity for crimes against them. This pressure is exacerbated by societal and family pressures and a general lack of social and psychological support. The report recommends that urgent international support be provided to promote human rights, press freedom, and accountability in Iraq.
Another main objective of the research mission was to follow up on cases addressed in GCHR's periodic reports on Iraq. Since 2020, GCHR has issued 22 periodic reports on human rights violations across Iraq, such as the killings, assassinations and kidnappings of human rights defenders, journalists and civil society activists; targeting of protesters in sit-in squares; and attacks on peaceful demonstrations, in addition to eight periodic reports (and nine appeals) on the Kurdistan region of Iraq since December 2020.
The latest periodic report, which was published on 13th May 2022, documents the human rights situation in Iraq during the first four months of 2022. The report sheds light on the assassinations and killings, attacks on civil society activists and journalists, in addition to the grave violations of children's rights in the country, and the use of the judiciary to target activists and restrict freedom of expression.
On 26th April 2022, Samawa Misdemeanors Court sentenced civil society activist Fayez Waham Al-Ajibi to four months in prison. The ruling is related to a defamation case brought against him by the mayor of the Al-Salman District.
On 14th April 2022, members affiliated with the protection team for the Director of the Shatra district municipality in Dhi Qar Governorate severely beat civil society activist Ali Ghalib Murad (Abu Aya Al-Saeedi). This video documents the moment he was assaulted by this group. According to his colleagues, who spoke to GCHR, the attack was in retaliation for his ongoing peaceful human rights work, including his demands for the provision of public services and for ending corruption in the judiciary.
On 23rd March 2022, Human Rights Watch released a report examining the killings, abductions, torture and sexual violence against LGBTQI+ people by armed groups in Iraq. The report found that:
"The cyclical nature of abuses against LGBT people, emanating from the family and stretching into every aspect of their public life, renders any 'suspicion' of homosexuality or gender variance a cause for potential violence, which not only results in the death of LGBT people but makes their lives unlivable".
The extent of the repression facing the community in Iraq is highlighted by the fact that even a certain type of hairstyle can be a liability leading to horrific consequences. The report documented numerous instances of people being targeted for their hairstyles, triggering egregious acts of cruelty and even death at the hands of armed groups. In numerous accounts of attacks outlined in the report, the attackers shaved their victims' hair or demanded that they sign documents pledging that they would cut their hair.
On 5th February 2022, Judge Ahmed Faisel Al-Saadi, who was known for taking a tough stance on organised criminal gangs and drug traffickers, was assassinated by unidentified gunmen in the city centre of Al-Amarah in southern Iraq.
Expression
On 7th April 2022, broadcaster and programme presenter Ahmed Mulla Talal announced that an arrest warrant had been issued against him and actor Iyad Al-Taie. On his Facebook page he remarked that the warrants come under charges related to Article (226), which carries a sentence of up to seven years in prison. The Iraqi Ministry of Defence filed a complaint against the programme - With Mulla Talal, which he presents on UTV Satellite Channel. Specifically, the Media and Communications Commission decided to stop the programme after it aired a scene in which Al-Tai discussed corruption in the Ministry of Defence. On 10th April 2022, the Third Karkh Investigation Court decided, after a short hearing, to release Mullah Talal and Al-Taie on bail. On 14th April 2022, the Media and Communications Commission decided to lift the suspension on broadcasting the Ahmed Mulla Talal programme after the issue was resolved with the Ministry of Defence.
On 15th March 2022, the security forces arrested journalist Dr Qusay Shafiq, a programme presenter on Watan (Wtv) Satellite Channel, because of his harsh criticism of the government's financial policies. He was detained in the Adhamiya police station until 21st April 2022, when the Karkh Court of First Instance decided to release him and suspend the charges brought against him by various Iraqi officials.