Puerto Rico protests lead to Governor's resignation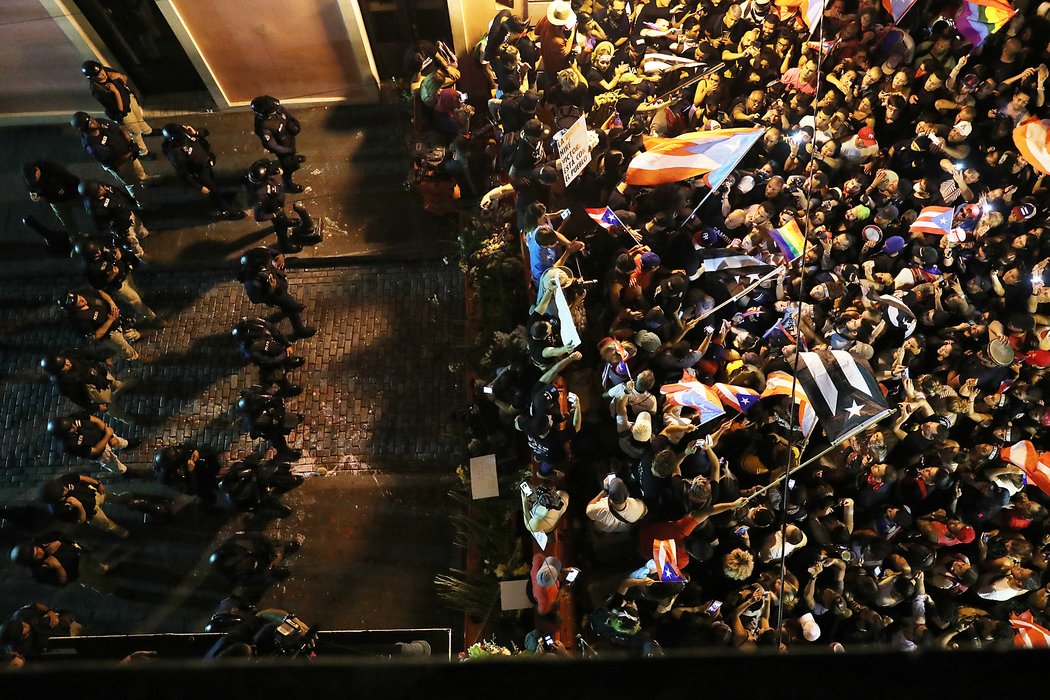 Peaceful Assembly
Mass protests lead to resignation of Puerto Rican Governor
Over several days in July 2019, hundreds of thousands of people crowded the streets in San Juan, Puerto Rico to demand the resignation of Governor Ricardo Rosselló over scandals involving his controversial statements and corruption investigations. Calls for Rosselló's resignation came from several sectors, including unions, women's rights organisations, students, and members of different political parties. The protests began after the leaking, on 13 July 2019, of chat messages between Rosselló and close allies, with content that included homophobic, discriminatory and mocking statements. Along with chanting and holding signs, many people reportedly protested outside the governor's residence. "This is the generation that's going to stand up against corruption, against what for decades has destroyed our country," one young protester told the Wall Street Journal.
Así terminó anoche, tras ser impactado por una bala de goma disparada por la Polcía, el fotógrafo Joe Readle, de la agencia fotográfica internacional Getty Images. Foto por @photoxabo pic.twitter.com/d7eMJZUnKv

— Benjamín Torres Gotay 🇵🇷 (@TorresGotay) July 18, 2019
After some protesters began throwing objects at the governor's residence on 17 July 2019, police used rubber bullets and tear gas to disperse the crowd. The violent clashes left several people injured, including at least three journalists. As seen on the image above, reporters posted a photo of Getty photographer Joe Raedle on Twitter, presumably injured by a police officer's rubber bullet.
On 24 July 2019, Rosselló announced his resignation effective 2 August 2019.
Correctional officer drives into a row of demonstrators in Rhode Island
On 14 August 2019, a correctional officer drove his truck into a row of protesters who were blocking the entrance to a detention facility in Rhode Island. Security officers intervened and used pepper spray to disperse the group of demonstrators who were surrounding the officer's car. Two demonstrators were hospitalised after the attack, including one person with a broken leg and internal bleeding. Three others were hospitalised because of the pepper spray used by officers. The demonstration was organised by Never Again Action, protesting the US administration's immigration policies. According to a Never Again Action spokesperson, police officers refused to take witness statements from protesters at the scene. The officer allegedly responsible for driving into the crowd, Thomas Woodworth, resigned two days later.
Further protests against immigration policies
Images of children kept in deplorable and unsanitary conditions, without access to showers & sleeping on concrete floors without blankets & being detained incommunicado have compelled us to stand in solidarity and say, "not in our name!"#Catholics4Migrants#CatholicDayOfAction

— Sisters of Mercy (@SistersofMercy) July 18, 2019
In related stories, in July, August and September 2019, activists opposing the U.S. administration's immigration policies and demanding the closure of Immigration and Customs Enforcement (ICE) facilities held events in several cities, including Philadelphia, Baltimore and Boston. As previously reported on the Monitor, outrage over the conditions in such centres has led to protests throughout 2019.
On 18 July 2019, at least seventy people were arrested at the Russell Senate office building in Washington D.C. while protesting the treatment of migrants and demanding the closure of crowded detainment centres at the U.S.-Mexico border. Protesters held photos of migrant children who died in federal custody while others lay on the floor in the shape of a cross. At another protest in Washington D.C. on the same day, dozens of protesters staged a sit-in and blocked access to ICE's headquarters. Ten people were arrested on charges of unlawful entry.
In Philadelphia, a group of senior citizens were arrested on 5 September 2019 for blocking the entrance to an ICE facility. They were released later on the same day.
Climate strike in New York
On 30 August 2019, climate change campaigner Greta Thunberg was joined by hundreds of people to protest outside the United Nations in New York City. The crowd was largely made up of teenagers who chanted "Fossil lobbyists have got to go" and carried signs reading messages such as "United behind the science". 16-year-old Thunberg has inspired young people around the world to strike every Friday under the rallying cry, "Fridays for Future", calling on adults to act to prevent climate change.
Portland white nationalist rally and counter-protests end in arrests
On 17 August 2019, at least 13 people were arrested at a white nationalist rally in Portland. The rally, reportedly organised by far-right group Proud Boys, attracted a number of right-wing activists and many counter protesters. According to news outlets, small incidents of violence occurred but police kept the two sides apart for most of the event, and most protesters remained peaceful.
Protests and counter-protests on Kashmir news reporting
On 7 September 2019, protesters rallied outside the offices of newspaper Washington Post to protest what they claimed is "one-sided" reporting on the situation in Kashmir. The demonstration was organised by the Global Kashmiri Pandit Diaspora. "Nowhere in the Washington Post media narratives is there mention that in this lawless State the most heinous genocide was committed against the aboriginal people, the Kashmiri Pandits, resulting in their virtual exile," the protesters said. While Indian news outlet Jagran reported over three hundred demonstrators, the Washington Post reported around one hundred.
A small group of counter protesters held a silent protest in support of the Washington Post across the street.
Court rulings on previous incidents
In an update of a case previously reported on the Monitor, on 14 July 2019, a man who drove his car into a crowd of protesters in Charlottesville, Virginia, received a second life sentence. James Fields was sentenced to life plus 419 years for killing Heather Heyer and injuring 19 other people at the "Unite the Right" gathering in Charlottesville in August 2017. Fields had already been sentenced to a life sentence based on federal charges related to hate crimes in June 2019.
In a separate case, a St. Louis police officer was charged with unlawfully assaulting civilians during 2017 protests over the acquittal of a police officer responsible for the death of Anthony Lamar Smith. The St. Louis officer, William Olsten, was charged with three counts of assault in the 3rd degree for using pepper spray on three people at a protest that took place outside Busch Stadium in September 2017. According to the charges, the officer used the spray without providing any warnings or orders to disperse.
Expression
Confrontation in Salt Lake City protest
On 9 July 2019, two journalists were assaulted while covering a protest outside City Hall and the Chamber of Commerce in Salt Lake City, Utah. According to news reports, the incident began when a man came up to protesters and began antagonizing them. Photojournalist Matthew Michela was filming the confrontation when a man approached him, attempting to cover his lens and grab at his camera. Several others then tried to stop the journalist from filming. Larry Curtis, social media manager for KUTV, tried to get between the photojournalist and the crowd. Curtis reportedly had his credentials pulled from around his neck and his shirt was ripped. "Peaceful protests are so important and the minute that man assaulted me, it takes away from their story and becomes a story of assault. People feel strongly about their side and I've always believed in sharing your beliefs to change the system," Michela said.
The Salt Lake Tribune reported that eight people were detained at the same protest, which had isolated incidents of violence. The protest's organisers claim that the police used excessive force in attempting to control and disperse the demonstration.
Further developments in July 2019
An Alaska Native activist stated that Wasilla Mayor Bert Cottle grabbed her arm while preventing her from sitting down at a session of the Alaska Legislature on 10 July 2019. Haliehana Stepetin was part of a group of protesters who occupied a seating area reserved for lawmakers, taking over a legislative meeting at a local high school. Stepetin filed a citizen's complaint with the Wasilla police against the Mayor and against House Minority spokesman Zach Freeman, who she claims also grabbed her arm. In a press statement, Freeman said that the encounter was "a reaction" because no one knew at the time whether protesters planned to harm the legislators. Stepetin explained that she did not react when both men grabbed her and calmly asked them to let go, but Cottle still held her by the wrist.
On 22 July 2019, the U.S. House of Representatives passed a non-binding resolution condemning the boycott, divestment, and sanctions (BDS) movement against Israel. BDS, a movement which began in 2005, calls for groups to apply economic pressure on Israel to change its foreign policy on Palestine. Supporters of the resolution (H.Res.246) claim that the BDS movement is incompatible with a two-state solution to the Israeli-Palestinian conflict. Opponents claim that the resolution is misguided; "Americans have a right to protest," said Abed Ayoub, the national policy director for the American-Arab Anti-Discrimination Committee.
On 26 July 2019, a TV crew in Colorado was assaulted by a man they were attempting to interview. Reporter Stephanie Sierra and cameraman Chappin Everett were conducting an interview with Michael Reeg inside his business when he became agitated, tried to hit the camera and threw the reporters out. According to a police report, Reeg grabbed Sierra's wrist as she was exiting his business as requested. The reporter later said she was not injured. Reeg received a citation for harassment.
White House controversies with the press
On 2 August 2019, the White House notified Playboy magazine columnist Brian Karem that his media credentials and access to White House press events would be suspended for thirty days. The suspension cited his actions at a White House event nearly four weeks before, when the reporter had a verbal confrontation with pro-government radio host Sebastian Gorka. Karem's supporters considered the measure arbitrary and unfair. "Hard passes are not meant to be weaponised as a means of penalising reporters for coverage with which the administration disagrees based on amorphous and subjective standards," Karem's lawyer stated. "Such actions unconstitutionally chill the free press."
On 3 September 2019, a judge blocked the suspension and ruled that the White House must restore Karem's pass. "It's good for me, but it's great for the free press," the journalist stated in an interview. "Today was about all of us."
September 7, 2019
In a related story, on 7 September 2019, President Trump lashed out at Washington Post reporters Philip Rucker and Ashley Parker on Twitter, calling them "two nasty lightweight reporters" after they published a story critical of the administration. The Post's Executive Editor, Martin Baron, defended the two journalists and stated:
"The president's statement fits into a pattern of seeking to denigrate and intimidate the press. It's unwarranted and dangerous, and it represents a threat to a free press in this country."
Court ruling on pipe bomber ("MAGA Bomber") case
On 5 August 2019, a Florida man who mailed pipe bombs to media organisations and prominent Democratic politicians was sentenced to 20 years in prison. Cesar Sayoc was arrested in October 2018 and pleaded guilty to mailing 16 improvised explosive devices to 13 targets, including Barack Obama, Joe Biden, Hillary Clinton, CNN offices, and several others. None of the devices exploded and no one was injured.
Harassment at border for journalists and activists
On 22 August 2019, James Dyer, a British journalist traveling to the U.S., says he was stopped by an unnamed Customs and Border Protection (CBP) officer at the Los Angeles International Airport and questioned about his reporting. Dyer said the officer accused him of being a part of "fake news media" and called such reporters "liars" who are "attacking their democracy." Free speech advocates warn that a number of journalists and activists are being detained and harassed by CBP officials, allegedly because of their reporting and activism related to immigration.
In a separate development, a Palestinian student arriving in the U.S. to start classes at Harvard University was denied entry to the country after border agents questioned him about his religion and his friends' social media posts. Ismail Ajjawi stated that on 23 August 2019 customs agents at Boston's Logan airport detained him for eight hours, searched his mobile phone and laptop, and questioned him. "[A customs agent] called me into a room, and she started screaming at me. She said that she found people posting political points of view that oppose the US on my friend[s] list," Ajjawi said in an interview with the Harvard's Crimson. "I responded that I have no business with such posts and that I didn't like, [s]hare or comment on them and told her that I shouldn't be held responsible for what others post." The officer then cancelled Ajjawi's visa and informed him he would be deported back to Lebanon. After appealing the decision from abroad, on 2 September 2019 Ajjawi was admitted into the U.S. and was able to attend class.