Protests over COVID-19 measures amid a second wave; red flag raised over social media proposal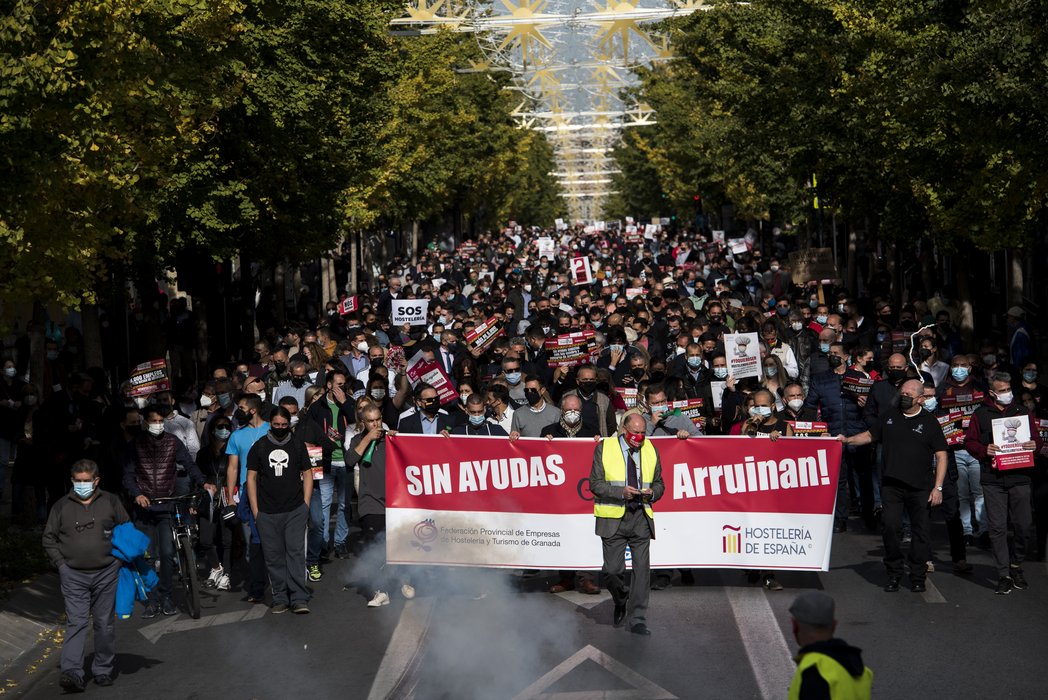 Background
On 29th October 2020, Prime Minister Pedro Sanchez, with the support of Parliament, extended the state of alarm until May 2021, which is expected to help the authorities control the second wave of the COVID-19 pandemic.
At the same time, Sanchez agreed to appear in front of Parliament every two months to report on the status of the pandemic and its management. The state of alarm, which can last up to six months according to Article 116 of the Spanish Constitution, introduces measures such as night-time limitation of movement, restrictions on the number of people allowed to meet, with discretion given to the regions to implement further restrictions. The first week of November 2020 saw a decline in the spread of new cases but the pressure on the healthcare systems remains critical, especially given the high number of beds and intensive care units occupied by patients fighting the coronavirus.
Peaceful Assembly
During the second wave of the pandemic, several protests broke out throughout Europe against COVID-19 measures introduced. In Spain, following the announcement of tougher measures, protests occurred in several big cities such as Madrid, Barcelona and Valencia. These protests have turned violent and, in some cases, have led to the arrest of protesters.
Both sides of the political spectrum are being blamed for protests turning violent. While some have placed the blame on the far-right and supporters of Vox who incite violence, others argue it is the far-left that is behind violent protests. Rights International Spain told the CIVICUS Monitor that:
"We remind authorities that rights restricting measures adopted to fight COVID-19 have to conform to international legal standards. They must be legal, pursue a legitimate aim, they must be proportionate, necessary, and also non-discriminatory. Human rights and the rule of law are not undermined."
Expression
Journalists blocked from reporting on refugee arrivals
Journalists have reported that the Ministry of Interior is preventing them from taking photos of the arrival of refugees in the Canary Islands and thereby making it challenging to inform the public about current developments. Photojournalist Javier Bauluz, a 1995 Pulitzer Prize winner, for example, denounced the government on social media for not wanting the world to see what happens to migrants who arrived in the Canary Islands and for blocking reporters from doing their job freely. The Canary Islands have recently seen a sudden influx of people applying for refuge. The Ministry of Interior is struggling to deal with the increased number of arrivals, resulting in leaving immigrants in precarious camps near the harbour.
Seguimos intentando contar a los ciudadanos lo que sucede en la #FronteraSur #Canarias
A pesar de que ministerio interior prohíbe el paso a #periodistas en las llegadas de personas rescatadas a los puertos. Exigimos derecho a ejercer #Periodismo #SinCensuraPrevia @RSF_ES @PDLI_ https://t.co/2hxKQ9O1vD

— Javier Bauluz (@javierbauluz) October 21, 2020
Similarly, other photojournalists, like Emilio Morenatti, the Associated Press (AP) editorial manager for Spain and Portugal, was also prevented from documenting footage at the Canary Islands. He received information that there were several fatalities on board one of the ships carrying migrants, but local authorities delayed sharing information and moved the ship to a separate location which journalists did not have access to. He told Reporters Without Borders (RSF):
"We had been preparing the trip for about two months, we had spoken with the government delegation, with sources and contacts in the area, we had everything prepared to do the best job possible and return with graphic material of the highest quality so that the world knows what is happening on the Canarian route."
Observen desde donde hemos tenido que trabajar para cubrir esto: https://t.co/RbSG9riCvq . Y así cada dia... mientras tratamos de documentar las vidas que se pierden en la ruta #Canarias para que dejen de ser solo una estadística. @RenataBritoAP pic.twitter.com/AiSZT7smJB

— Emilio Morenatti (@EmilioMorenatti) August 21, 2020
Pro-independence party members sentenced
In a separate development, on 3rd November 2020 twelve Galician independentists were condemned by the National Court (Audiencia Nacional) to a total of 98 years in prison and a fine of 324,000 Euros. The independentists are members of pro- independence parties Causa Galicia and Ceivar, who were accused of belonging to a criminal organisation and of glorifying terrorism.
El Diario reports that the incidents for which they were accused were carried out in daylight and regularly reported to the authorities. These episodes range from public receptions of former prisoners to commemorative rallies on the so-called Day of Galizia Combatende. Their activities were never clandestine, yet they were treated like criminals during the trial. Several people showed up in Santiago de Compostela with banners saying "neither illegalisations nor imprisonments" showing solidarity with the defendants and expressing the view that sentencing them is in violation of freedom of expression and free political participation.
Concerns over hate speech policy
On 26th October 2020 the Interior Committee of the Congress approved Podemos' proposal to ban hate speech on social media. The initiative has been met with reluctance among opposition parties, jurists and freedom of expression experts. The proposal obliges digital platforms to police hate speech and invites them to censor online content. The polarised environment of Spanish social media during the COVID-19 pandemic is cited and used as an excuse for the approval of the proposal. The text is considered "imprecise and demagogic" by law professors, who emphasise how the concept of what consists hate speech is not defined in the bill. Rights International Spaintold the CIVICUS Monitor:
"The only authority who should determine if an expression amounts to hate speech and the consequences [of hate speech] is a judge, not a private company. Any restriction to freedom of expression has to conform to the strict tests of necessity and proportionality, having regard to the criteria/case law of the European Court of Human Rights".
Reporters Without Borders warned that the loosely worded proposal could pose a threat to press freedom. It also raised a red flag at the government's lack of consultation with media watchdog bodies and other CSOs.
"We deplore the fact that a such a loosely-worded document constitutes the basis of an initiative to combat disinformation. All over the world, we condemn laws that are supposed to combat fake news and which, in reality, are designed to erode press freedom by means of a deliberate ambiguity. This is why we ask the Spanish government to revise all of this procedure's measures in a spirit of precision, and to reconsider its power to decide what is and is not disinformation. We are determined to monitor its implementation closely,"- RSF Spain president Alfonso Armada.