Protests in Nepal around COVID-19 met with excessive force while journalists face attacks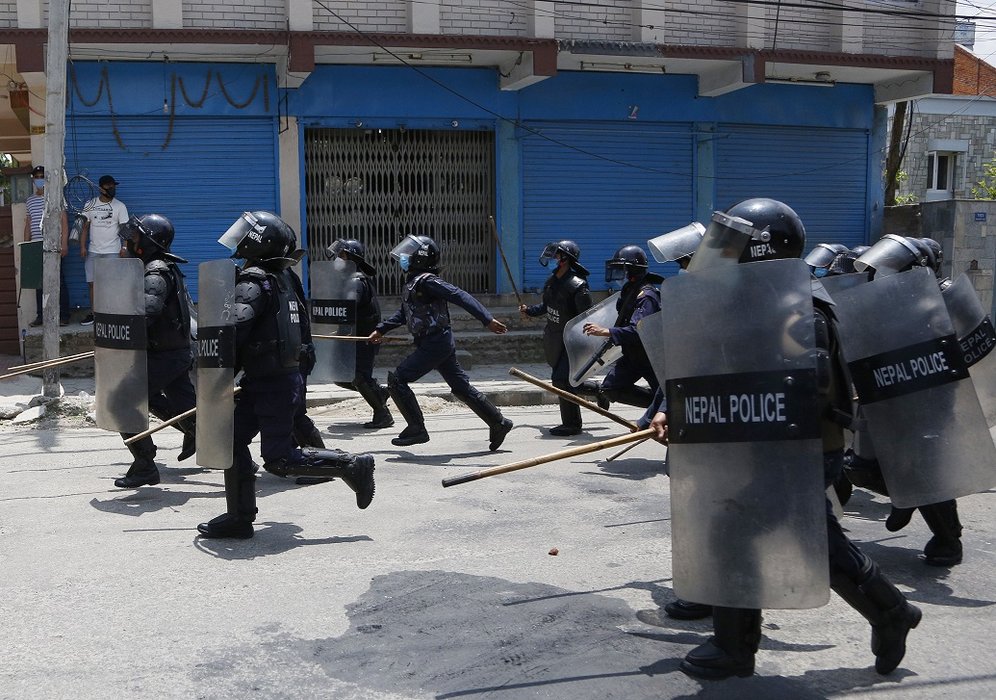 Protests expressing discontent with the coronavirus (COVID-19) response have been met with excessive force and arrests. There have also been ongoing threats and attacks against journalists in Nepal for their reporting on the COVID-19 pandemic. Online critics have also been targeted for defamation using the Electronic Transaction Act. A proposed Intelligence Bill gives the national intelligence agency unlimited surveillance and search powers.
In May 2020, the Nepal Supreme Court rejected a petition by the government asking that it review its 2015 ruling against amnesties for grave conflict-era crimes which is an important step in securing truth, justice and reparations for the thousands of victims of the country's decade-long conflict.
As the COVID-19 cases continue to surge, with 13,248 cases and 29 deaths as of 29th June 2020, the Nepal government announced the decision to extend lockdown till 22nd July 2020.
Peaceful Assembly
Protest related to COVID-19 response met with excessive force
Protest against Government as they are not providing aid to people and forcing to pay tax even in lockdown and not doing enough test. #Nepal #NepalIndiaBorder #India #NarendraModi #AmitShah #coronavirus #nepalgovernment #police #nepalpolice @ANI @ZeeNews @bbcnepali @BBCWorld #Goa pic.twitter.com/NGaYvMBLeC

— Avsek😉 (@Avseksoni) June 9, 2020
A series of protests that began with a sit-in demonstration outside Prime Minister K. P. Sharma Oli's residence on 9th June 2020, escalated into a nationwide show of discontent. Dissatisfied with the government's handling of the COVID-19 response, hundreds of young people descended on the streets of the capital as well as major cities around the country, orchestrating peaceful protests despite the ongoing lockdown.
The wave of protests began with the youth in Kathmandu, having initiated their protests over a Facebook group named "COVID-19 Nepal: Enough Is Enough!" which amassed nearly 200,000 members in about a week.
Those who participated have similar demands: better quarantine facilities for all, including the thousands of migrant workers heading back home, and wider swab COVID-19 tests instead of the unreliable rapid-diagnostic tests (RDTs). They have also been very critical of the state's opacity about how taxpayers' money has been spent in fighting COVID-19 – a concern that was particularly visible in light of the government's announcement that 10 billion Nepali rupees (USD 82 million) had been spent so far on the COVID-19 response.
The government has reacted to this unexpected popular mobilisation by resorting to force. The protesters were met with water cannon, batons, and, in one instance, tear gas. On 13th June 2020, Ten demonstrators who gathered near the prime minister's residence were arrested.
The home ministry issued a statement warning protesters that violation of the COVID-19 lockdown would result in up to six months of imprisonment. Defying this warning, hundreds of people continued to join the physically distanced demonstrations across the country.
Expression
Journalists threatened and attacked over pandemic coverage
After at least 10 journos hav been threatened in for their #COVID19 reporting @RSF_inter reminds #Nepali authorities tht they hav constitutional obligation to guarantee total #PressFreedom @sudheerktm @subedibinu @FNJNepal @Rameshfnj @ThapajiSurya https://t.co/CmV2T6TOpW

— RSF Nepal (@RSF_Nepal) June 12, 2020
According to Reporters Without Borders (RSF) and the Committee to Protect Journalists (CPJ), journalists have been threatened in connection with their reporting on the coronavirus. Some of the cases are highlighted below:
Dilip Paudel, a reporter for the daily newspaper Nagarik, was threatened on social media and in phone calls in April 2020 after reporting how a pregnant woman had been evicted from her apartment in the Kathmandu suburb of Kirtipur because she was suspected of being infected with COVID-19.
On 18th April 2020, Manoj Mourbait, a reporter with the newspaper Janakpur Today, and Sibendra Rohita, a reporter with news website Khoj Kendra, were attacked by five assailants in the district of Dhanusha. Both were injured. The journalists had been reporting on conditions in a COVID-19 quarantine facility in the municipality of Sahid Nagar—where Mourbait has previously reported on allegations of mismanagement of city funds—and were attacked soon after seeking comment from an official.
On 27th April 2020, reporters Binod Babu Rijal, editor of the Kayakaran Daily, and Arjun Adhikari, a reporter for Radio Triveni, were detained for an hour in Chitwan for reporting during lockdown. Police seized their cellphones, although they identified themselves as journalists
On 28th April 2020, the All Nepal National Health Professionals' Association issued a public statement threatening that journalists in Chitwan city who reported on the alleged theft of medical supplies from a COVID-19 field hospital would be subject to physical attack. The statement was targeted at Subash Pandit, a correspondent for the news website Online Khawar, who had reported on irregularities involving hospital supplies.
On 30th April 2020, Lok Karki, a reporter for Radio Dhangadhi, was detained for six days in Doti district in the far western region of Nepal while filming a disagreement over distribution of food and other relief amid the pandemic.
Rajan Upadhyay, a reporter for the SuklaGandaki radio station and website, was accused on Facebook of sowing "fear" and spreading "fake news" after he covered the case of a woman who was placed in quarantine in the western province of Gandaki.
In Chitwan district, 100 km west of Kathmandu, Subas Pandit, a reporter for the Onlinekhabar website, was threatened by two public health workers on 29th April after he reported cases of smuggling of medical supplies used in a local hospital's coronavirus unit.
On 13th May 2020, Radio Janakpur manager Shital Sah was accosted and harassed by three individuals after his programme "Akhada, Corona Special" was broadcast, when he described the carelessness of the coronavirus tracking centre set up by a hospital in Janakpur, a city 225 km southeast of Kathmandu. He suspects they were sent by provincial health minister Nawal Kishore Sah.
Badri Narayan Yadav, a reporter for the weekly Nabajagriti in the southeastern town of Siraha, was attacked by soldiers when he took photos near a lockdown checkpoint on 13th May 2020. They beat him with pipes although he made it clear that he was a journalist.
Dan Singh Pariyar, a parliamentarian in the northwestern province of Karnali, sent threatening messages to Nagarik bureau chief Nagendra Upadhyay after he reported that Pariyar's wife had been driven in a government car at the height of the lockdown.
In the eastern district of Khotang, the local leader of the opposition Congress Party telephoned and threatened Prabhavnews website editor Uttam Chaulagain after the site reported that the politician had not cooperated in quarantining someone suspected of having COVID-19.
Nepal slipped six places to 12th out of 180 countries and territories in RSF's 2020 World Press Freedom Index released in April 2020. According to RSF, since becoming prime minister in February 2018, KP Sharma Oli has tried to gag journalists by getting parliament to pass extremely draconian legislation. Another disturbing development is the "anti-media rhetoric" which government representatives have begun using and which has been widely reproduced in the government's newspapers, radio stations and TV channels. With the threat of prosecution and continuing violence in the field, the environment for journalists working for independent media outlets has been extremely difficult.
Online defamation laws to silence criticism of authorities
TKP: Former secretary Bhim Upadhyay released on bail - https://t.co/YzcuUZHlf6

— Nepal News English (@Nepal_News_En) April 27, 2020
On 23rd April 2020, Bhim Upadhyay, a former government secretary was arrested for critical comments against the K.P. Sharma Oli government on social media. He was taken into custody from his residence in Kusunti, Lalitpur and is facing cybercrime charges under the Electronic Transaction Act. According to the police, there were several complaints lodged against Upadhyay. He was released on 27th April 2020, after posting bail of Rs 25,000 (USD 205) set by the Kathmandu District Court.
On 30th April 2020, the Cybercrime Bureau of the Nepal police arrested Radio Nepal board member Deepak Pathak at his home in Jhapa. He is being investigated for violating the Electronic Transaction Act. A source from the bureau stated that Pathak was arrested for defaming Nepal Communist Party leader Pushpa Kamal Dahal on social media.
According to a news report, in a Facebook message on 10th April, Pathak had compared Dahal with American industrialist and philanthropist Bill Gates, and called him "Kill Gates".He accused Dahal of making money "in the name of revolution".
As previously documented, Section 47 of the Electronic Transactions Act prohibits electronic publication or display of material deemed illegal under existing laws, including vaguely defined material "which may be contrary to the public morality or decent behavior or any types of materials which may spread hate or jealousy against anyone or which may jeopardize the harmonious relations subsisting among the peoples of various castes, tribes and communities". It authorises a sentence of up to five years in prison and a 100,000 Nepali rupee (USD 900) fine. Dozens of reporters and editors have been arrested, detained and fined in the last decade under this law.
Web developers remove critical report from Kathmandu Press portal
On 2nd April 2020, online news portal Kathmandu Press reported on the unauthorised removal of published content from their website. The news outlet's Chief Editor, Kosmos Biswokarma says their team started receiving an array of responses after publishing a report on the involvement of the Defence Minister and Prime Minister's Chief Advisor's sons in an expensive medical equipment procurement deal.
The following day the portal received a call from Biswas Dhakal and Subhash Sharma from F1Soft, a parent company of Shiran Technologies, who manages the development and design of their website. They asked Kathmandu Press to remove the report stating that "there's immense pressure from above".
According to the Editor, they explained to Dhakal and Sharma that published content cannot be taken down. Despite this, the web developer took down the report. The developers then jammed the site for almost two hours before allowing content to upload.
Kathmandu Press said this act was a "move to control media and an attack on press freedom". Both the Nepal Press Union and Federation of Nepali Journalists (FNJ) released statements on this issue. FNJ said:
"The constitution has guaranteed rights to anybody with concerns against a published material, to take legal action. This act, however, is a direct interference on freedom of expression and free press, while also being an unconstitutional step."
Likewise, Nepal Press Union in its statement expressed dissent over the act of content removal without authorisation. "To remove published material without the knowledge of the editorial team is a cybercrime and the people behind such act must be punished," the Union said.
Intelligence Bill provides unlimited surveillance
On 29th May 2020, Human Rights Watch (HRW) reported that Nepal's Special Service Bill risks giving the national intelligence agency unlimited surveillance and search powers. The proposed law permits communications interception without judicial oversight.
According to HRW, the bill gives Nepal's intelligence agency, the National Investigation Department (NID) staff the authority to "enter any office, organisation or privately-owned place, building, house or vehicle by showing their identity card" and after giving "notice in writing".
Furthermore, "while conducting counter-espionage work in accordance with this law, the department can monitor, observe and intercept, as well as document any conversation carried out through public or other means of communication, along with audio, visual or electronic signals or details transmitted by any person or organisation that seems suspicious." The only authorisation required is "the permission of the chief investigation director".
Meenakshi Ganguly, South Asia director for HRW said:
"Nepal's elected representatives should not enact a law that gives the authorities the power to spy on citizens, without any accountability or oversight. Considering the other steps by the current government to roll back civil and political rights, this will place fundamental freedoms at serious risk in Nepal."
Under the Special Services Bill, the NID will operate under the authority of the prime minister's office and receive direction from two committees, one composed of senior ministers and chaired by the prime minister, and one composed of top bureaucrats from the same ministries.
The agency's function is described as gathering intelligence on national security threats and crime, as well as spying on "various contemporary issues, events and activities and issues of public interest and importance that the Nepal government wants information about".