Protests against economic austerity met with repression in Ecuador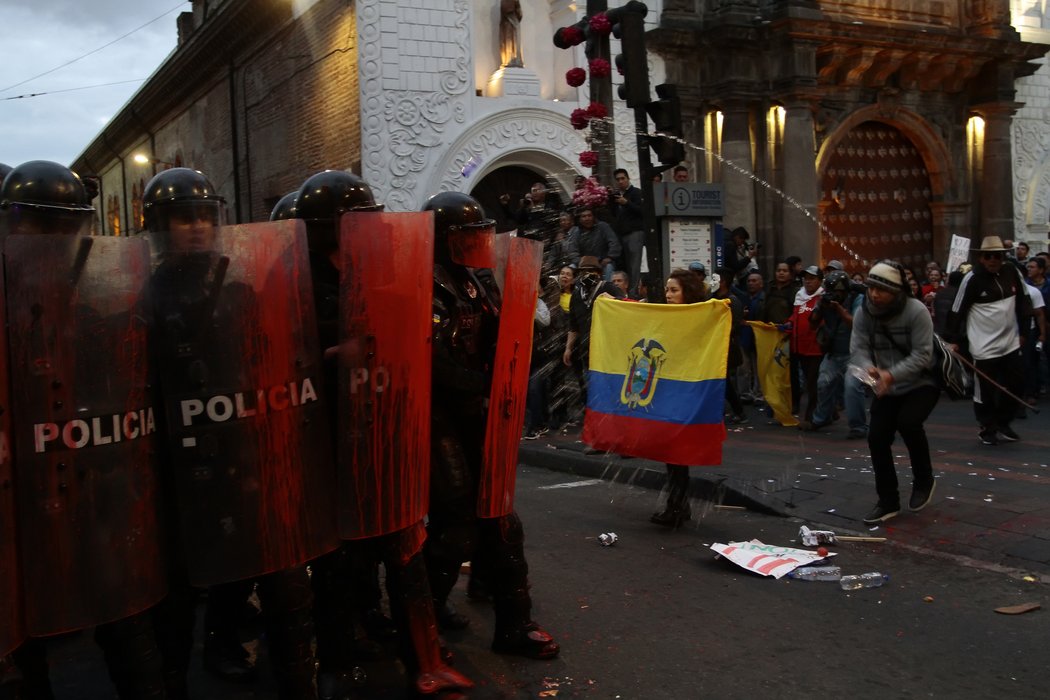 Peaceful Assembly
On 16th April 2019, hundreds of Ecuadorians marched in Quito against the withdrawal of Julian Assange's asylum status and the austerity measures imposed by the government of President Lenin Moreno. In March 2019, the government signed a USD 4.2 billion deal with the International Monetary Fund (IMF) announcing a set of austerity measures such as increases in the fuel price, privatisation of public companies, massive layoffs of public employees and the discontinuation of public services in the health care and education sectors. Details of Julian Assange's case are in the 'Expression' section of this update.
The call for the march was made by groups connected to former president Rafael Correa, as well as various social organisations. Demonstrators decried the recent governmental decisions, holding signs that read messages such as "the country cannot be sold", "No to IMF", "Julian Assange is an Ecuadorian", "Assange will be your nightmare". According to reports, as the demonstration neared the presidential palace, they were met with police repression. Police used tear gas, clubs and horses, leaving several people injured.
On 15th July 2019, a five-day national strike was convened by coalition Asamblea Nacional Ciudadana (National Citizen's Assembly), driven by workers, trade unions and other social organisations. The protest focused on what movements called "Moreno's neoliberal economic measures". Omar Delgado, leader of a transport workers union, was allegedly arbitrarily detained with his son on the first day of the strike. He was released the next day.
Expression
Julian Assange's asylum withdrawn
On 11th April 2019, WikiLeaks founder Julian Assange was arrested by police at the Ecuadorian Embassy in London where he had been granted asylum since 2012. He faces charges in the US for conspiracy, related to the leak of government secrets. Ecuadorian President Lenin Moreno claimed that Assange had broken the rules of his asylum by continuing his work from the embassy's premises. The arrest came a day after WikiLeaks accused the Ecuadorian government of an "extensive spying operation" against Assange. The decision was condemned internationally by various organisations, journalists and activists, who believe that the detention and the nature of the charges against Assange are a threat to freedom of the press.
#Ecuador La manera violenta en que las autoridades han llevado a cabo este operativo parece tener la intención de intimidar a la defensa de Ola Bini y a quienes defienden el derecho a la privacidad y otros derechos digitales. https://t.co/lcIWJmFKM8

— Amnistía Internacional Perú (@amnistiaperu) September 9, 2019
On 13th April 2019, Ola Bini, a Swedish privacy and internet security developer and activist, was arrested at Quito's international airport as he was about to board a flight to Japan. He was detained for over two months without trial and without clear charge. His detention was related to cybercrimes, yet an Amnesty International investigation found that the criminal proceedings violated due process and considered his detention arbitrary. Over 90 organisations working on human rights and digital rights have denounced his arrest. On 20th June 2019, Bini was released from prison on a habeas corpus application.
Ecuador establishes committee for protection of communications professionals
On 31st May 2019, the Ecuadorian government officially established an Inter-institutional Committee for Protection of Journalists and Communication Workers, with the objective of implementing protection mechanisms for journalists and communication workers whose lives, physical integrity and freedom are at risk due to their work.
The Committee is integrated with various government departments and coordinated by the governmental Council for Regulation, Development and Promotion of Information and Communication (Cordicom). However, some civil society organisations that had requested the implementation of a committee, the Andean Foundation for Observation and Media Studies (Fundamedios) of Ecuador and the National Union of Journalists of Ecuador (UNP), were not invited to the Committee's initial meeting.
According to Fundamedios director, César Ricaurte, initially the government had agreed that the Technical Secretariat would be run by civil society to guarantee the committee's independence. "We are no longer sure what the role of civil society and journalists will be. Honestly, my impression is that there is not much intention of the government to include civil organisations", Ricaurte stated. He also questioned the decision to focus on situations of risk for journalists related to four specific themes: corruption, human trafficking, smuggling of goods and drugs. "For us, it is a total mistake. Reducing the risk for journalists to four criminal risks is not recognising that the main risks and aggressions have come from the State in the last 12 years".
Negative court ruling and journalists barred from protest
CPJ manifiesta preocupación por la condena a prisión para @CesarRicaurte3 de @FUNDAMEDIOS. Este episodio genera legítimas dudas sobre la posibilidad de que se trate de represalia contra quien por años ha combatido los abusos contra la prensa por parte de autoridades en Ecuador. https://t.co/bR7zES8iLO

— CPJ Américas (@CPJAmericas) July 8, 2019
On 27th June 2019, the Court of Appeals of the Pichincha Provincial Court handed free speech advocate César Ricaurte a 15-day prison sentence for his public rebuke of former ambassador Jorge Jurado. Working with Fundamedios, Ricaurte is one of Ecuador's most well-known defenders of freedom of expression, often denouncing attacks on this right under former president Rafael Correa's government. IFEX, a global network of organisations dedicated to promoting and defending freedom of expression and information, stated that Ricaurte has received threats since his sentencing and urged the government to investigate and provide protection measures.
On 15th August 2019, indigenous YASunidos movement denounced that members of the press were barred from covering a peaceful demonstration the group was conducting in the National Electoral Council. The YASunidos mobilisation demanded a referendum concerning oil exploitation in their territory. The National Electoral Council issued a note stating that their personnel only followed security procedure by asking for identification, and did not act to restrain the press from the premises.