Protesters in Sri Lanka face excessive force, arbitrary arrests and attacks with impunity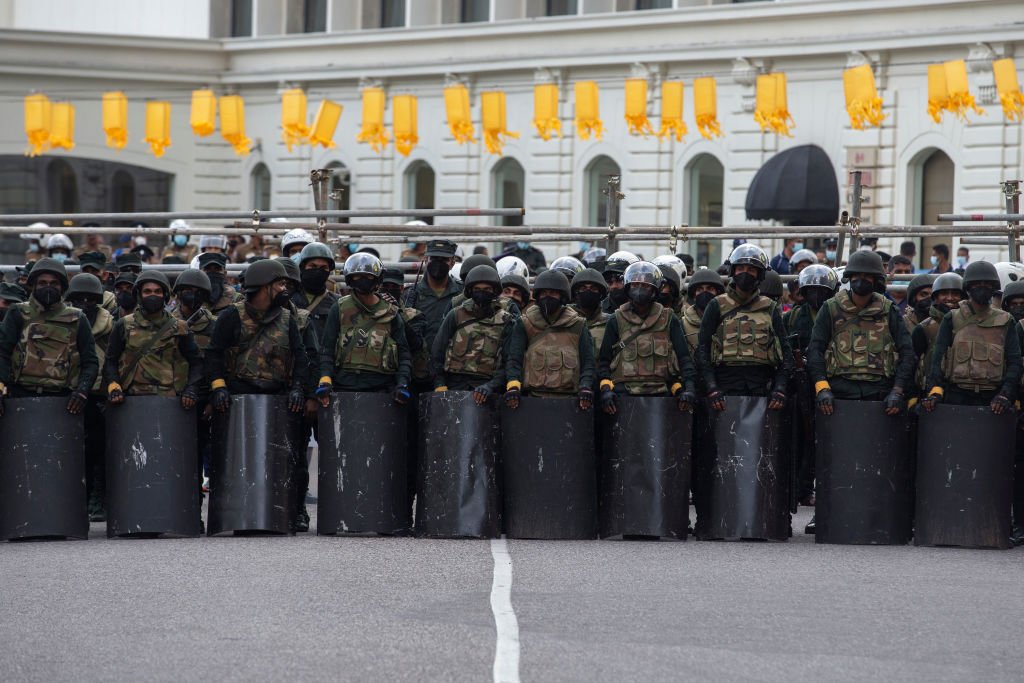 In March 2022, as previously documented, peaceful anti-government protests were held around the country amid demands that President Gotabaya Rajapaksa resign, as the country suffered its worst economic crisis in decades. Demonstrators accused the government of mismanaging the economy and creating a foreign exchange crisis that has led to shortages of essentials like fuel, cooking gas, milk powder and medicine.
In April 2022, the government agreed to restore the 19th amendment to the Constitution to curb presidential powers and empower Parliament. Article 19A adopted in 2015 limited presidential powers by empowering parliament above the executive president. However, it was scrapped after Gotabaya Rajapaksa won the November 2019 presidential elections.
On 9th May 2022, Sri Lanka's prime minister, Mahinda Rajapaksa, resigned in an attempt to appease demonstrators who have been taking to the streets in their thousands since March. He was asked by his brother, President Gotabaya Rajapaksa, to resign at a special meeting on 6th May. On 12th May, a new prime minister Ranil Wickremesinghe, who has held the post five times before, was sworn in to head up a "unity government" tasked with finding a way out of the economic crisis.
Over the last two months, human rights groups have documented the use of excessive force by the police against protesters, including the use of water cannons, tear gas and rubber bullets. Hundreds have been arbitrarily arrested and there have also been incidents of torture or ill-treatment in detention, including denial of access to medical care and lawyers. Journalists have also been targeted and some are facing charges. The authorities also used state of emergency regulations to curtail protests and also shut down social media networks. Pro-government mobs were also unleashed to attack protesters and protest sites with impunity.
Peaceful Assembly
Excessive force by police around President's residence
Mirihana mayhem: NGO wants torture allegations probed https://t.co/E7BuzMT9AC#TheIsland #TheIslandnewspaper #TheIslandOnline #mirihana #ProtestLK #SLCAT #torture #AgainstTorture #investigation #SriLanka pic.twitter.com/1xc4c4TZGs

— theisland.lk (@theisland_lk) April 4, 2022
On 31st March 2022, hundreds of protesters marched outside President Gotabaya Rajapaksa's private residence in Mirihana, Nugegoda. According to human rights groups, the police used excessive and unprovoked force against peaceful protesters, bystanders and journalists. The security forces deployed tear gas, water cannon and rubber bullets, leaving at least 50 people injured. Dozens of protesters were arrested and some were ill-treated.
The authorities justified the use of force by pointing to the destruction of public property including a bus that was set on fire and the hurling of bricks. However, the Sri Lanka Collective Against Torture (SLCAT) raised concerns around allegations that the protest had been infiltrated by individuals that caused the violence, to which law enforcement turned a blind eye.
SLCAT also reported that several of those arrested alleged that they were beaten in police custody and had sustained injuries. For more than 12 hours they were not provided with medical care. Detained persons were also prevented from consulting with lawyers for nearly 24 hours after they were arrested.
Attacks on journalists covering protest
Journalists reporting protest to oust #SriLanka president beaten up 'black and blue' #PressFreedom @Irenekhan @RSF_inter @danbast @CPJAsia @StevenBButler @ifjasiapacific @Pokharel_Umesh @UNHumanRights

Read More: https://t.co/xAO4Mbbj9j pic.twitter.com/dftUDXjH0C

— JDS (@JDSLanka) April 2, 2022
JDS Sri Lanka reported that eight journalists who were covering the protests were allegedly assaulted by security forces. Sumedha Sanjeewa Gallage (Derana TV), Nishshanka Werapitiya (Derana TV), Pradeep Wickramasinghe (Derana TV), Awanka Kumara (Sirasa TV), Waruna Wanniarachchi, (Lankādeepa), Nisal Baduge (Daily Mirror), Chatura Deshan (Sirasa TV) and Lahiru Chamara (Derana TV) were among the journalists who sustained injuries.
According to the Committee to Protect Journalists (CPJ), six journalists were accused of violating Section 120 of the penal code, which makes it an offence to "excite feelings of disaffection" against the president or government. If convicted, the journalists could face up to two years in prison.
The country's press freedom rankings by Reporters Without Borders (RSF) dropped from 127th to 146th place out of 180 countries in 2022. According to RSF since President Gotabaya Rajapaksa took power in 2019, police pressure on journalists has seen a worrying resurgence. Prosecutors have used the penal code to imprison journalists and those covering issues involving the Tamil minority or Muslims have risked being targeted by arrests, death threats or coordinated cyber-attacks. RSF added that in the north and on the east coast, the traditional Tamil homeland. journalists suffer systematic surveillance and harassment by the police and army.
State of emergency declared to quell protests
On 1st April 2022, a state of emergency was declared by the president in an effort to quell the protests. President Gotabaya Rajapaksa said the emergency was declared "in the interests of public security, protection of public order and the maintenance of supplies and services essential to the life of the community". The state of emergency came into effect from 6pm on 2nd April.
It allowed authorities to arrest and detain suspects without warrants and restrict fundamental rights such as the freedoms of expression and assembly. Under the state of emergency, the authorities imposed a nationwide 36-hour curfew. The authorities also shut down social media networks for 15 hours the following day. 
Thisara Anuruddha Bandara, a former admin of the group #GoHomeGota, has been abducted by a group claiming to be from the police last night (01) and has gone missing. #SriLanka #GoHomeRajapaksas #Protest #BREAKING #lka pic.twitter.com/j0Ztcy41NX

— Uvindu Rajapakshe  (@UvinduBro) April 2, 2022
Thisara Anuruddha Bandara, a youth activist who actively promoted the #GoHomeGota social media campaign to oust the president - used widely during the protest – was picked up at his home on 1st April 2022 in an abduction-style arrest by a group of men claiming to be from the police. The next day he was found at the Modara police station, around 130 km away from his home. He was then charged with allegedly 'exciting disaffection' against the president under Section 120 of the Penal Code and was granted bail.
Despite the state of emergency, thousands of protesters, including students, continued to take to the streets. According to reports, at least 600 protesters were arbitrarily arrested for violating the curfew in the Western Province on 2nd and 3rd April 2022.
President Gotabaya Rajapaksa revoked the state of emergency on 5th April after dozens of MPs walked out of the ruling coalition.
On the same day, Liz Throssell, spokesperson for the OHCHR, said her office was "concerned that such measures are aimed at preventing or discouraging people from legitimately expressing their grievances through peaceful protests, and that they frustrate the exchange of views on matters of public interest".
Police fire on protesters in Rambukkana
Sri Lanka's protests turned fatal for the first time since they began in March 2022, after police fired live ammunition and tear gas to disperse protests in the central town of Rambukkana pic.twitter.com/nU4RmC40KU

— South China Morning Post (@SCMPNews) April 20, 2022
On 19th April 2022, police opened fire on a large group of protesters in Rambukkana, a town located about 100 km northeast of the capital Colombo in Sabaragamuwa Province, after some of them tried to set a vehicle on fire and pelted police with stones. Demonstrators had gathered to protest fuel shortages and rising fuel prices.
According to Amnesty International one individual, Chaminda Lakshan, died from gunshot wounds and 12 others were injured. At least one minor was also shot at during the incident. The police claimed that protestors were attempting to set fire to a tanker carrying fuel as the reason for opening fire. However, photos later emerged of a man who was allegedly trying to set fire to the bowser as someone who was standing with the police. He was arrested days later.
The human rights group also noted that video footage of the incident showed the police firing tear gas to disperse the protesters before chasing some of them down smaller roads and firing live ammunition. Authorities revealed that 35 rounds of live ammunition had been fired using four T-56 weapons. An indefinite police curfew was imposed in Rambukkana following the unrest.
Barricades restricting protests
Deliberate intention to cause hurt. Is this legal? @Sinhawicks1964 @ambikasat @welikalaa @USAmbSL @roelraymond @ruvanw @sarojpathi @tharinduij @nimilamalee @NalakaG @MarianneDavid24 @EU_in_Sri_Lanka pic.twitter.com/pOVz8mdk7e

— Sinha (@Sinhawicks1964) April 24, 2022
Amnesty International also reported that on 24th April, the police restricted freedom of movement by blocking roads in an attempt to prevent university student protesters from joining a two-week strong agitation site in front of the Presidential Secretariat, calling for the resignations of the President and the Prime Minister. Some of the barricades placed at various places around the President's office had large spikes attached to them with a tarp covering the spikes.
12 arrested at protest near parliament
Protest march by the Inter University Students Federation reaches the road leading to Parliament#lka #SriLanka #SLnews #News1st #IUSF #Protest #Parliament pic.twitter.com/ePVkawILFK

— Newsfirst.lk Sri Lanka (@NewsfirstSL) May 5, 2022
On 5th May 2022, police fired tear gas on students allegedly attempting to storm Parliament. According to a news report, protesters led by the Inter University Students' Federation were about to pull down the yellow-painted iron barricades on the main drive leading to the legislature when riot police unleashed a barrage of tear gas. Even as the crowds dispersed, police kept firing tear gas canisters that hit shops in the nearby Diyatha Uyana Park, witnesses said. At least 12 protesters were arrested. The protesters, holding placards and shouting slogans against the lawmakers, were put onto a bus and taken to a nearby police station
Second state of emergency
On 6th May 2022, under the pretext of maintaining law and order, the government imposed another state of emergency, deployed the military and imposed a nationwide curfew from 9th to 12th May.
Amnesty International said that the Emergency Regulations lacked due process safeguards, such as the right to be informed of the reason for an arrest, and the issuance of an arrest receipt at the time of arrest informing one's family where they would be detained. Access to legal counsel was subject to conditions. It gave powers to the President to shut down public processions, restrict access to public spaces and restrict the right to freedom of expression including the right to information, freedom of movement and peaceful assembly.
Further, the Regulations provided powers to use armed force against anyone who does not comply with orders. The Regulations came with hefty penalties including life imprisonment for ordinary penal offences. There is also no access to bail for offences under the Regulations, except under "exceptional circumstances." Persons authorised by the commanders of the armed forces are empowered by the Regulations to remove suspects from detention for a period of seven days at a time.
On 8th May, five UN experts said: "We are gravely concerned by the recent proclamation of a state of emergency as well as the order that blocked access to social media platforms. These measures seem aimed at discouraging or preventing peaceful protests in the wake of the worsening economic crisis and the lack of access to fuel, electricity, medicines and essential food items.
They added: "We condemn the excessive use of tear gas and water cannon to disperse protesters, as well as the recent block of social media platforms. We urge the Sri Lankan Government to allow students, human rights defenders and others to protest in a peaceful manner, and to freely share their political views and express their discontent, both online and offline."
Attacks on protesters and protest site by pro-government mobs
Footage of Government supporters assaulting protester at "GotaGoGama" pic.twitter.com/nAxkbQi1nX

— NewsWire 🇱🇰 (@NewsWireLK) May 9, 2022
On 9th May 2022, protesters peacefully demonstrating in front of the Presidential Secretariat for over a month were violently attacked by pro-government supporters. According to the Centre for Policy Alternatives (CPA), the attack occurred after they were incited to violence by top party leaders at Temple Trees, the Prime Minister's official residence in Colombo.
After demolishing the tents and assaulting the people gathered there, the thugs proceeded to Galle Face to a protest site known as "GotaGoGama" ("Gota Go Village" in Sinhala) - a small village providing food, toilets and free emergency medical services for the protesters occupying the space. The pro-government mobs destroyed the tents at "GotaGoGama" including the medical tent and the library. Television channels live streamed graphic footage of the destruction and the brutal attacks on unarmed people by thugs carrying metal poles, as well as the destruction of property. Several people were hospitalised.
Pro Rajapaksa faction runs havoc!

Nine people have been injured following the clashes that broke out between pro-government and peaceful protestors at MynaGoGama and GotaGoGama protest sites.#SriLanka pic.twitter.com/LCsAOAThBb

— Kavinthan (@Kavinthans) May 9, 2022
The police stood largely as bystanders to the violence, doing little to effectively protect the peaceful protesters and their protest site. CPA said that water cannon and tear gas were only used against the mob after they attacked peaceful protesters and set fire to tents, memorials and other structures set up at the protest site.
"The use of pro-govt thugs to attack peaceful protestors was always one of the more likely ways the Rajapaksa government would try to cling to power – despite virtually the whole country wanting them gone. This changes the political dynamic in major and dangerous ways," warned Alan Keenan from the International Crisis Group.
The following day, the BBC reported that at least eight people had died and more than 200 people have been wounded since 9th May. Some were injured by pro-government mobs, others when police fired tear gas into crowds. There were also reports of the looting of public property and attacks on the houses of politicians. To quell the protests, security forces were ordered to shoot law-breakers on sight.
The Human Rights Commission of Sri Lanka and the Bar Association, as well as foreign diplomats, condemned the attack on protesters and called for an impartial investigation.
UN High Commissioner for Human Rights Michelle Bachelet called on the authorities in Sri Lanka to prevent further violence and urged restraint and meaningful dialogue to address the grievances of the population amid the severe economic crisis in the country.
"I am deeply troubled by the escalation of violence in Sri Lanka after supporters of the Prime Minister attacked peaceful protestors in Colombo…and the subsequent mob violence against members of the ruling party," Bachelet said.
On 26th May, the CPA raised concerns in an open letter about the seemingly slow progress of investigations and other action. They further added that while some perpetrators have been arrested, limited to no action has been taken against others, including those captured in the media instigating or engaging in violence against peaceful protesters.
Association
Families of the disappeared face threats and harassment
Our latest briefing examines the worrying security situation facing Tamil families of the disappeared protesting across the North-East of Sri Lanka.https://t.co/2AJkPK0gZK pic.twitter.com/4653d5gNDY

— ACPR (@AdayaalamCPR) May 16, 2022
While abuses around the recent protest have been documented, the ongoing threats and harassment of families of the disappeared have persisted. In a new brief published on 16th May 2022 by the Adayaalam Centre for Policy and Research (ACPR), the group reported that Tamil families of the disappeared are under "increasing verbal, physical, and serious psychological harassment" from the Sri Lankan security forces.
ACPR's briefing provides an update on the security situation in the North-East and the "increasingly severe threats and harassment that are intended to deter and silence existing and future activism of Tamil families of the disappeared".Drawing on interviews with the families themselves, the briefing outlines the threats and harassment they face as part of state efforts to nullify their protests.
ACPR found that the families have been subject to house visits, phone calls from government intelligence agents, frequent inquiries and continuous government surveillance during protests. The state has extended its campaign of intimidation and threat of violence to the families of protest leaders. Families of the disappeared are losing support networks, and are increasingly isolated from their extended families, friends and neighbours who fear that association with the families will make them a target of the state.
As previously documented, the families of the disappeared and civil society have been calling on the international community since the end of the armed conflict to investigate human rights abuses and enforced disappearances perpetrated by Mahinda Rajapaksa, the then President of Sri Lanka, and his brother Gotabaya Rajapaksa who served as the Defence Secretary, which led to the killing of tens of thousands of Tamils at the end of the armed conflict in May 2009. Despite multiple pledges from successive governments to investigate the abuses through domestic mechanisms, no one has been held accountable for any human rights abuses.