Protesters in Myanmar face arbitrary arrest, prosecution and excessive force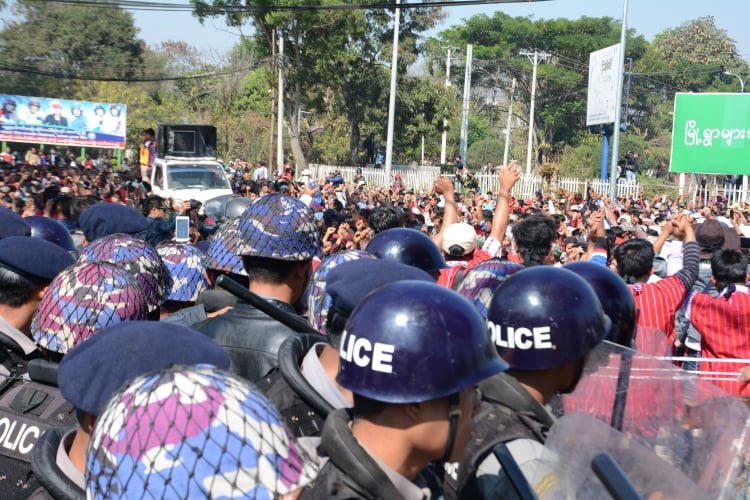 In January 2019, during a visit to Thailand, the UN Special Rapporteur on the situation of human rights in Myanmar, Yanghee Lee called for the Myanmar army chief to be prosecuted for "genocide, crimes against humanity and war crimes". A UN fact-finding report in August 2018 had found evidence of such serious crimes particular against the Rohingya in the Rakhine state as well as in the Kachin and Shan states. In her end of mission statement, she highlighted a range of issues including concerns about the Rohingya refugees in Bangladesh and the situation of the people in internally displaced camps (IDP) camps in Kachin, Shan and Rakhine. She also said that democratic space, including the freedoms of speech and association, was fragile and that members of minorities face marginalisation and discrimination.
In March 2019, in the Special Rapporteur's report to the UN Human Rights Council she raised concerns about "a decreasing space for the expression of views that are critical" of the government and that this is illustrated with the "increasing self-censorship by journalists, as well as continued wielding of problematic laws by the government against those who speak out". She also said that "the pervasive nature of hate speech" was alarming by government officials particularly against the Rohingya.
In the last few months, protesters have been arrested and prosecuted under the Penal Code and the Peaceful Assembly and Peaceful Procession Law for their activism. Some also faced excessive use of force by the police. Human rights groups also report the ongoing persecution of critics while the two Reuters journalists who were investigating the military crackdown of the Rohingya in 2017 have now spent a year in jail.
Peaceful Assembly
Thee Kachin activists convicted for protests
It's awesome to know Nang Pu, Lum Zawng and Zau Jat will be offered with Human Rights Award by Kachin Society led by Kachin Consultative Group (WMR) and World Kachin Congress on the 13th February 2019 at Manau Park, Myitkyina, Kachin State. They truly deserve people's hearts! pic.twitter.com/bEl7qh6umP

— Thinzar Shunlei Yi (@thinzashunleiyi) February 11, 2019
In December 2018, three Kachin youth activists who led anti-war protests in Myitkyina were each sentenced to six months in prison and each fined K500,000 (USD 326) for 'defaming' the Myanmar armed forces under Section 500 of the Penal Code. 
As previously documented, the three - Lum Zawng, Zau Jat and Nang Pu - were charged in May 2018 for a protest calling for Myanmar's military to ensure the protection and safe movement of civilians trapped by armed conflict in Kachin State, amid fighting between the military and the Kachin Independence Army (KIA). Lieutenant-Colonel Myo Min Oo from the military's Northern Command had filed criminal defamation complaints against them.
The activists Nang Pu, Lum Zawng and Zau Jat, who were allowed bail during the trial, were sent to Myitkyina Prison. Nang Pu is the director of the Htoi Gender and Development Foundation, Zau Jat is the chair of the Kachin National Social Development Association, and Lum Zawng is a lawyer.
Responding to the verdict Amnesty International's Director of Crisis Response, Tirana Hassan, said:
"Today's appalling verdict against three peaceful activists shows the government's determination to silence any criticism of their actions in this deadly conflict – and repress any peaceful opposition to the military whatsoever. This verdict sends a chilling warning to any humanitarian actor or activist who wants to tell the truth about the Myanmar military's brutality."
Police use excessive force against protesters in Karenni state
Police in eastern Myanmar's Kayah state this week broke up protests by ethnic Karenni youths calling for the removal of a newly inaugurated statue of national independence hero General Aung San in the state capital Loikaw... https://t.co/Gk5GfDPWAv

— sinbad (@sinbad_W) February 9, 2019
On 12th February 2019, police used excessive force against protesters opposing the installation of a statute in the Karenni state capital of Loikaw. According to Human Rights Watch, police fired rubber bullets and used water cannons against ethnic Karenni youth who attempted to move beyond police barricades, injuring more than 20 protesters.
Since 1st February 2019, police have arrested 55 people in the Karenni state capital for violating Article 19 of the Peaceful Assembly and Peaceful Procession Law, which allows public demonstrations only if organisers first obtain permission from local authorities. On 8th February 2019, at least 36 protesters were arrested outside the headquarters of Aung San Suu Kyi's National League for Democracy party in Loikaw.
Since the installation of the statue of General Aung San, the father of Myanmar's de facto leader, Aung San Suu Kyi was announced in February 2018, ethnic Karenni youth have staged repeated protests against it. Aung San is considered the founder of modern-day Myanmar and of the Myanmar army. The protesters have called for a halt to the installation of the statue until the rights of ethnic minorities are better protected and the promises of autonomy for the country's ethnic regions, are fulfilled.
Organiser of protest against a dam charged and fined
Police Open Case Against Anti-Myitsone Dam Protest Leader https://t.co/IYOvp1BW9N

— The Irrawaddy (Eng) (@IrrawaddyNews) February 8, 2019
On 8th February 2019, police filed a lawsuit against a leader of the protest against the Myitsone Dam project in the Kachin State capital, Myitkyina. Around 10,000 members of the Kachin community held a protest march on 7th February 2019 calling for the termination of the China-backed dam project at the source of the Irrawaddy River, which arises out of the confluence of two smaller rivers.
Wearing headbands reading "No Myitsone Dam", protesters held placards written in Burmese, English and Chinese reading, "No dam on the Irrawaddy River, the lifeblood of Myanmar", "Terminate the dam projects upstream and downstream on the Irrawaddy River", "Let the Irrawaddy River flow freely" and "Let those displaced by [the dam project on] the Irrawaddy River go back home."
Police subsequently filed the lawsuit against Ja Hkawn, one of the protest organisers, reportedly under Section 20 of the Peaceful Assembly and Procession Law. On 11th February 2019, Ja Hkawng was fined 10,000 kyats (USD 6.50) by a court for using a loudspeaker and unauthorised slogans.
Students sentenced to hard labour over protest
On 13th February 2019, seven students were sentenced to three months in jail with hard labour for burning portraits of government officials in protest over campus safety. Those jailed were among dozens enacting a mock funeral on 28th December 2018 calling for more security at a Mandalay university in central Myanmar after a student's murder near its campus.
They had burned paper coffins and portraits of the city's chief minister, Myanmar's security and home affairs ministers, and the head of the university, calling for increased security around the students' compound. Three people were arrested during the protest and four others were detained a few days later, when they rallied for release of their fellow students.
Restrictive amendments to protest law
In March 2019, human rights organisation Article 19 reported that proposed amendments to the Peaceful Assembly and Peaceful Procession Act that were passed by the Upper House in 2018 were due to be considered by parliament in March 2019. If passed, they would further limit the exercise of the right to peaceful assembly, imposing criminal penalties on those who provoke, persuade, or urge others to join protests by providing money to protesters, and requiring the advance disclosure of the sources of funding for protests.
A recent report by Human Rights Watch highlights how the 2012 Peaceful Assembly and Peaceful Procession Act has been used to restrict protests. While the law requires notification to the township police 48 hours in advance of an assembly, in practice, however, the notification requirement is frequently treated by local authorities as a de facto request for permission that can be arbitrarily denied. Further, even when police do not attempt to block a protest, they often require that the protest take place at a location other than the one selected by the organisers. There are criminal sanctions for failure to give notice or failure to comply with overly broad restrictions on what can be said and done at an assembly and the law also provides no exception for spontaneous assemblies.
Expression
Critics frequently subject to arrest and prosecution says human rights group
Myanmar: Dashed Hopes for Free Expression https://t.co/AInvm16hh5 pic.twitter.com/glMM3dzvIo

— Human Rights Watch (@hrw) February 1, 2019
A report by Human Rights Watch (HRW) released at the end of January 2019 found that the Myanmar government has prosecuted large numbers of peaceful critics in violation of basic human rights. The 87-page report, "Dashed Hopes: The Criminalisation of Peaceful Expression in Myanmar," documents the use of broad and vaguely worded laws against activists, journalists, and ordinary citizens. According to HRW, those speaking critically of the government, military, or their officials, as well as on abuses in Rakhine or Kachin States, are frequently subject to arrest and prosecution. The report also highlights how journalists have been arrested under the Telecommunications Law, Unlawful Associations Act, Official Secrets Act News Media Law, and Aircraft Act of 1934.
Linda Lakhdhir, Asia legal advisor at Human Rights Watch said:
"Abuses against the press under Myanmar's new government have been particularly striking. Aung San Suu Kyi and the National League for Democracy promised a new Myanmar, but the government still prosecutes peaceful speech and protests and has failed to revise old oppressive laws."
One year since Reuters journalists jailed
Two @Reuters journalists have been detained in Myanmar for one year. See our coverage of the case: https://t.co/SSV9KMxa7X pic.twitter.com/AQMzvhCvi4

— Reuters Top News (@Reuters) December 13, 2018
12th December 2018 marked the one-year anniversary of the arrest of the two local Reuters journalists, Wa Lone and Kyaw Soe Oo . As previously documented, the journalists were arrested on 12th December 2017 after being handed documents by police officers during a dinner meeting, that turned out to be secret government documents relating to Myanmar's western Rakhine state and security forces. They were then charged under the country's colonial-era Official Secrets Act. On 3rd September 2018, the two were convicted and sentenced to seven years in prison for "illegal possession of official documents". At the time of their arrest, the journalists, had been investigating the killing of ten Rohingya Muslims in Inn Din village in Rakhine during a brutal military crackdown in that state against the Rohingya minority that began in August 2017.
To mark the anniversary of their arrests, more than a dozen activists gathered in Yangon to hold a candlelight vigil and pray for the release of the journalists. Participants, including journalists covering the event, wore white "Free Wa Lone & Kyaw Soe Oo" T-shirts emblazoned with portrait sketches of the two journalists. Some held printouts of a Time cover featuring the jailed reporters' wives holding pictures of them. Maung Saung Kha, the founder of freedom of expression advocacy group Athan, told the audience that both journalists were unjustly punished and called for their unconditional release.
An appeal in January 2019 to a lower court was rejected on the grounds that the reporters' lawyers failed to submit enough evidence to prove that the journalists were innocent. On 1st February 2019, lawyers for the journalists submitted an appeal to the Supreme Court and on 27th March 2019, the court agreed to rule on the appeal.
Ethnic rebel groups banned from Facebook over hate speech
On 8th February 2019, Facebook blacklisted four of Myanmar's ethnic rebel groups, as it attempts to control rampant hate speech, misinformation and incitement on its platform. The rebel organisations to have been banned are the Arakan Army (AA), Myanmar National Democratic Alliance Army (MNDAA), Kachin Independence Army (KIA) and Taaung National Liberation Army (TNLA).
For years, Facebook has been criticised for its slow and ineffectual response to incendiary posts, particularly against the country's Rohingya Muslims. In November 2018, Facebook said a human right report it commissioned on its presence in Myanmar showed it had not done enough to prevent the social network from being used to incite violence. The company has since embarked on a huge campaign to prove it is taking action in a country with an estimated 20 million Facebook accounts.