Proposed Foreign Agents Law would expand government control over civil society in Nicaragua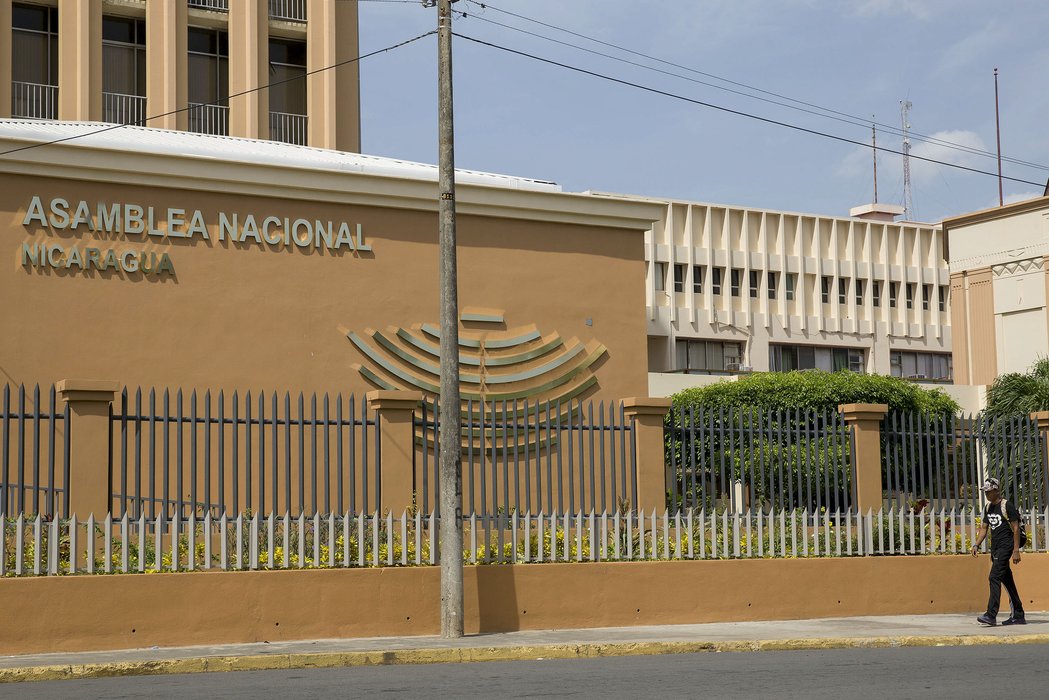 Association
Foreign agents law proposed by pro-government legislators

La iniciativa de Ley de Regulación de 'Agentes Extranjeros' supone una restricción inaceptable de la libertad de asociación y del derecho a defender derechos humanos en Nicaragua. Así lo expresamos +30 OSC en este comunicado:https://t.co/PpiXhkREVV pic.twitter.com/yTBAUA2VKr

— CEJIL (@cejil) September 25, 2020
On 22nd September 2020, legislators of Nicaragua's governing party presented a bill that would require individuals, businesses and civil society organisations that receive funding from abroad to register as "foreign agents". Citing alleged security threats, the Sandinista Front's Ley de Regulación de Agentes Extranjeros (Regulation Law on Foreign Agents) stipulates that individuals or organisations registered as such would have to abstain from intervening in activities related to domestic politics.
Civil society organisations and members of the political opposition have pushed back against the proposal, saying that it aims to repress dissent and criminalise human rights defenders. The bill would give government ample discretionary powers to control and muzzle civil society, including the power to freeze assets of organisations and persons designated as "foreign agents" by the government who fail to register within 60 days. Those registered would be required to submit monthly reports on their funding and use of resources. The bill would also ban anonymous donations and allow the government to cancel the legal personality of organisations not meeting requirements.
The United Nations Special Rapporteur on the Situation of Human Rights Defenders, Mary Lawlor, commented on the bill, underscoring the potential for a profound negative impact on civic space:
"I have seen a clear trend towards the repression and stigmatisation of human rights defenders through the application of these laws in other countries where similar regulatory frameworks have been established."
Other developments
On 14th September 2020, the United Nations High Commissioner for Human Rights, Michelle Bachelet, provided an oral update on the human rights situation in Nicaragua during the 45th session of the Human Rights Council. In a statement, Bachelet said her office had recorded 30 cases of threats and intimidation against human rights defenders, journalists and social leaders since her last update in July 2020. In addition, the UN High Commissioner said that Nicaragua's Amnesty Law has favoured impunity for those responsible for serious human rights violations in the context of the country's political crisis.
In September 2020, two political prisoners had their trials postponed by Nicaraguan courts. IM-Defensoras denounced that due process has been violated in the case of defender Karla Escobar, as she has been repeatedly denied meetings with her lawyer despite a court order. Escobar has allegedly also suffered both physical and psychological harm in jail since her detention in April 2020.
Peaceful Assembly
#Nicaragua 🇳🇮 [HILO] El #MESENI de la @CIDH fue informado que la #PolicíaNacional detuvo ayer al líder estudiantil Angel Rocha, de la @AlianzaCivicaNi. Esta detención arbitraria se suma a más de 45 arrestos en el último mes de manifestantes y opositores antigubernamentales. pic.twitter.com/R7MixSFReP

— CIDH - IACHR (@CIDH) September 10, 2020
On 8th September 2020, opposition groups organised a coordinated action to put up anti-government flyers in several Nicaraguan cities, as a form of peaceful protest. The following day, five members of opposition coalition Alianza Cívica por la Justicia y la Democracia (Civic Alliance for Justice and Democracy) were temporarily detained. At least two members of the coalition were also allegedly harassed by state security agents.
Among those detained, a representative of Alianza Cívica in Nueva Segovia, Juana Castellanos, had her house raided without a warrant and reported being subjected to ill-treatment while detained. As reported by civil society network IM-Defensoras, a group of 15 men dressed as civilians broke into her family's house in Ocotal and identified themselves as police officers but did not present a search or arrest warrant. They also reportedly took Castellanos and her partner's mobile phones. Castellanos said she was humiliated by the officers, forced to take off her clothes and perform physical exercises in front of them as punishment.
The Inter-American Commission on Human Rights stated on 10th September 2020 that there were over 45 arbitrary arrests of protesters and political opponents in Nicaragua in the period of a month.
A Conscience Court convened by Centroamerican civil society organisation Fundación Arias para la Paz y el Progreso Humano determined that Nicaragua's security forces tortured and sexually assaulted protesters in the context of April 2018 protests. Members of the court heard 18 victims, women and men, who reported arbitrary detentions, beatings and sexual violence. This initiative seeks to provide symbolic recognition and justice to victims, as well as document their cases for presentation to international human rights organisations. Fundación Arias, which is based in Costa Rica, also said they faced a smear campaign and cyberattacks from Nicaraguan government supporters after announcing the convening of this civilian court.
Expression
Seizure of media's assets and defamation cases
#NICARAGUA: Nicaraguan authorities should immediately release the assets of independent broadcaster Nicavision Canal 12 and allow all media outlets to work freely.

The seizure has been partially imposed as of today. @canal12nicahttps://t.co/EaF4DXtnoe

— CPJ Américas (@CPJAmericas) September 14, 2020
On 11th September 2020, a court ruling ordered the seizure of broadcaster Nicavision Canal 12's assets after a tax assessment by Nicaragua's tax regulator. As reported by the Committee to Protect Journalists (CPJ), the embargo order included the channel's main offices, vehicles belonging to the station, and personal assets belonging to Mariano Valle, whose family owns the broadcaster. Canal 12's editor-in-chief told CPJ that the order was partially enforced on 14th September 2020 and that the outlet remained on the air as their newsroom and facilities had not been seized. However, staff payments were affected as the station cannot access bank accounts.
Canal 12 has reportedly been targeted by authorities since 2018, when the station reported on protests against President Daniel Ortega's government. A recent audit of the outlet by Nicaragua's tax regulator said the media owed back taxes of 21 million córdobas (USD 607,000), leading to this recent embargo. According to Articulo66, Nicaragua's largest independent broadcaster, Canal 10, received a similar tax assessment declaring it 110 million córdobas (over USD 3 million) in debt.
In separate developments, in August 2020 two Nicaraguan journalists were told of criminal slander proceedings against them. On 10th August 2020, three public officials with the mayor's office in El Rama filed a criminal slander suit against Kalúa Yakari Salazar, editor-in-chief of radio and television outlet La Costeñísima. Days earlier, the journalist had reported on an accusation of alleged corruption against the officials. According to Salazar, her police citation was circulated on social media before she was notified of the lawsuit. The initial hearing in the case took place on 14th August 2020.
In the second case, two individuals filed criminal slander and libel proceedings against journalist David Quintana after he reported on a home ownership dispute in which they were involved. Quintana, who runs the independent digital outlet Boletín Ecológico, had aired an interview with a family who claimed to have been violently evicted by the individuals in June 2020. As reported by the CPJ, the reporter only found out about the case against him after two hearings had already taken place.
Intimidation and attacks against journalists
La dictadura sandinista mandó a mi casa en El Rosario Carazo este mensaje con un video amenazandome de muerte. Dejó constancia de cualquier cosa que le pase a mi familia responsabilizo a los operarios políticos de Ortega en mi municipio. Alcaldes, secretarios políticos. pic.twitter.com/LC7SJHRrt1

— Gerall Chávez (@GerallChavez) July 25, 2020
On 6th August 2020, civil society organisation Fundación Violeta Barrios de Chamorro published their monthly report on freedom of expression, press and access to public information in Nicaragua. In July 2020, the organisation recorded 30 violations, including attacks, stigmatising discourse and obstruction of information access. According to their report, police harassment has become the most frequently employed method of coercing, threatening and intimidating journalists and independent media. Worryingly, the organisation found that in July 2020 these episodes increased 200 percent compared to those recorded in April and June of the same year.
In July 2020, journalist Gerall Chávez and his family were threatened even though he is out of the country. Chávez is a co-founder of the digital media outlet Nicaragua Actual and lives in exile in Costa Rica. On 25th July 2020, he received threats on his social media account which included an animation depicting him being killed. On the same day, his parents received a letter with death threats and a USB card containing the animated file. In the letter, anonymous attackers threatened to retaliate against Chávez's family if he did not stop reporting on Nicaragua.