Popular Protests: Demonstrators, journalists and human rights defenders killed, attacked & silenced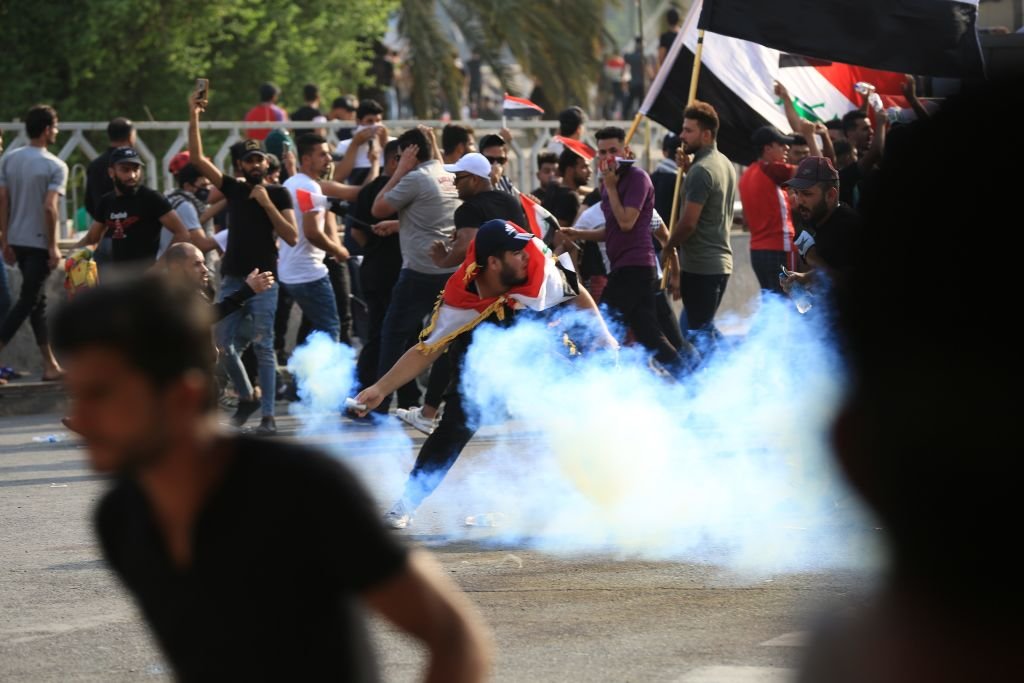 Since 1st October 2019, a popular protest movement has been under way in Iraq. As previously reported on the CIVICUS Monitor, the protests started in Baghdad and southern cities in October 2019, with protesters demanding better services and an end to widespread unemployment and corruption. Many human rights violations continue to be documented as a result of frequent excessive use of force to disperse protesters and an extensive crackdown on the freedom of speech of journalists and activists documenting the protests.
Despite the COVID-19 restrictions protesters continue to gather, particularly in Al-Tahrir Square in the centre of the capital, Baghdad, although in smaller numbers compared to the months between October 2019 and March 2020. Al-Tahrir Square has become the epicentre of the protest movement and the site of many sit-ins. Human rights defenders and activists participating in the protests throughout the country have been targeted and many have been killed with impunity by unidentified gunmen and security forces.
#Iraq,4 June.#Iraqi #antigovernment #protesters gathered in southern city of #Nasiriyah in #DhiQar. #Protests were halted in March amid a lockdown as a result of #coronavirus, however #demonstrators took the streets again as soon as measures were eased. #الناصرية_تمثلني pic.twitter.com/tUyyBs5Uol

— Ehab Al Obaidy (@Ehab8Alobaidy) June 4, 2020
Peaceful Assembly
Protesters attacked, injured and arrested
On 16th June 2020, a demonstration was organised in Basra, in which hundreds of citizens took to the streets and gathered at the Parliament office in the city centre. They demanded that the office be closed following the passing of the deadline given to the representatives of Basra in the Iraqi Parliament to submit an application to the presidency of the Parliament to dismiss the governor who presides over the Governorate's security committee, as well as the police chief and the commander of the shock forces. They protested against the authorities' silence on the suppression and killing of demonstrators. The demonstrators were subjected to excessive violence by the security forces, who used live bullets and tear gas against them, which resulted in several injuries, the suffocation of dozens and the arrest of 23 protesters. According to reports received by the GCHR, the demonstrators were ill-treated and tortured while in detention at police headquarters, and were charged under the Penal Code. On 18th June 2020, 20 of the protesters were released, with the investigating judge deciding to extend the detention of three protesters. These three protesters were later released on bail on 21st June 2020.
On 5th June 2020, a gang armed with knives, pistols and assault bombs burned a number of protesters' tents in Al-Tahrir Square and pursued peaceful demonstrator Khalid Abu Al-Iraq, trying to burn him and stab him with knives. Abu Al-Iraq was transferred to hospital and is in a stable condition. He spoke in this video of burns all over his body and the injuries he received in the attack. His life was saved by activist Haider Abdelrahman Damad, who responded to the attacks despite the risks he faced.
On 2nd June 2020, a number of demonstrations were launched in several areas of the Sulaymaniyah Governorate, such as Rania, Chamchamal, Darbandikhan and Sharazur, calling for people to break the curfew imposed to counter the COVID-19 pandemic. These demonstrations were attended by low-income citizens and workers who have suffered disproportionately harsh conditions as a result of the pandemic. The security forces used excessive force, including live bullets and tear gas, to disperse the demonstrators. Although the local authorities announced the easing of curfews, the demonstrations continued due to delayed payment of salaries and rampant corruption.
That evening, a demonstration was launched in downtown Hilla by dozens of protesters, most of whom were ministerial contract workers, demanding that they be offered permanent jobs to address their poor financial conditions. They gathered in front of the local government building in the city centre, where clashes between protesters and the security forces occurred, and quickly spread to the sit-in square itself. This was followed by an attack by riot forces on the main sit-in square in Hilla, using live bullets and tear gas, wounding a number of protesters. A video recording of that night showed that some military armoured vehicles accelerated near the protesters, putting their lives at risk. The tag #Babilsuppressed was at the top of trending items in relation to Iraq on Twitter, where thousands of tweets were written the next day criticising the government and calling for the protection of demonstrators in the Babil Governorate.
On 21st April 2020, three protesters were wounded and a fourth lost his life following an armed attack by men using machine guns against protesters and their tents in Al-Tahrir Square. The attack was documented with photographic and video evidence showing one person in civilian clothing shooting a Kalashnikov machine gun at the Tahrir Square protesters.
Activists arrested after participating in protests
Protesters of # Basra Governorate, Southern Iraq are protesting the arrest of the activist (Jabbar Ali), and demanding that the city's police directorate release him immediately.https://t.co/oc4IgintyC

— amsiiraq (@amsiiraqEn) May 31, 2020
On 31st May 2020, civil society activist Jabbar Ali was arrested by security forces after he participated in a demonstration on 29th May 2020 calling for accountability for the killers of demonstrators and for improvements to public services. Dozens of people, including his mother, demonstrated with his photo in front of the Basra police headquarters in downtown Basra on the day of his arrest and during the following days. They condemned his arrest, called for his release and demanded an end to what they described as the 'night arrests of activists.' He was released on bail on 2nd June 2020.
The following day, on 1st June, civil society activist Mohammad Abdelrazzak was arrested while returning from a march calling for Ali's release. On 3rd June 2020, a march started from the central sit-in square to the Basra police headquarters with protesters demanding his immediate release and for an end to the judicial harassment and arbitrary arrest of protesters. The march ended with his release. Abdelrazzak, who is a student activist and prominent figure at the Basra sit-ins, leads a voluntary group (Adam Campaign) that provides humanitarian assistance in the Basra Governorate.
On 13th May 2020, officers from the riot forces arrested three protesters, all under the age of twenty, as they peacefully made their way to Al-Tahrir Square to participate in the sit-in. According to reports received by GCHR, they were beaten and sexually assaulted during their detention.
Activists targeted, killed for participating in protests
On 10th May 2020, militia attacked protesters in Basra, killing civil society activist Moamel Osama Khalaf. As the protest march passed a militia headquarters, the militia opened fire, killing Khalaf and wounding five other protesters. In a statement released on 11th May 2020, Basra Police Command announced the closure of the militia headquarters and the arrest of those responsible for the shooting of the protesters. Many previous attacks by militia have gone unpunished.
Protestors at #Nasiriyah's Habbouby Square condemn militias' targeting of activists such as the late Azhar al-Shammari, and blame security forces for the current state of affairs. They thereby call for the sacking of security officials & for accountability. #IraqProtests #Iraq https://t.co/bqZF6NRKGG

— Ruba Ali Al-Hassani (@RubaAlHassani) May 10, 2020
On 9th May 2020, unidentified gunmen opened fire on human rights defender Azhar Al-Shammari near his house in the centre of Nasiriyah. He was seriously wounded and died the following day in hospital. Al-Shammari was a prominent figure in the protests at Al-Haboubi Square since the very start of the movement, demanding an end to corruption and calling for better services and an improved standard of living in his city.
On the same day, in the evening, civil society activist Sheikh Ali Madkour Al-Lami was kidnapped by armed militia while on his way to Al-Tahrir Square in Baghdad. Al-Lami has participated in the popular movement since its inception and opened a tent he called a "tent of the will of the people" to support the demonstrators. He was released the following day and returned to Al-Tahrir Square.
On 7th May 2020, Amnesty International issued an open letter to the new Prime Minister of Iraq, Mustafa Al-Kadhimi, calling for the new administration to cease the unlawful and violent targeting of peaceful protesters and to ensure accountability for the unlawful killing and injury of protesters since the start of the popular movement in October 2019.
On 6th May 2020, Al-Muthanna Police Directorate, acting on orders received by the Commander of the Al-Muthanna Emergency Regiment, arrested 16 graduates of the College of Administration and Economics who were demonstrating against the lack of job opportunities in front of the Al-Muthanna Governorate building in the city of Al-Samawa. It is reported that women participating in the protest were assaulted and the protesters' mobile phones were broken. They were released on bail later the same day after being charged with "assaulting a government employee while he was on duty."
On the night of 5th May 2020, an armed group kidnapped civil society activist Mortada Al-Safi from Al-Tahrir Square and took him to an unknown destination. He was released on 9th May 2020, having been subjected to torture and the shaving off of his hair and beard.
On 3rd May 2020, civil society activist Heba Al-Mousawi was kidnapped as she left the central sit-in in Al-Hilla city, the capital of the Babel Governorate. Two people forced her into a car, covered her eyes and drove her to an abandoned house where they severely beat her until she lost consciousness. She woke up with several bruises and wounds, her bag and veil had been taken, and she returned home with the help of some local people who assisted her in contacting her family. The kidnappers had demanded that she appear in a recording to reject the popular movement, but she refused. Al-Mousawi has participated in the demonstrations in Al-Hilla since 25th October 2019, and supported the protesters by organising direct broadcasts of the sit-ins, as well as transporting supplies during the month of Ramadan. She reported the kidnapping to the relevant authorities.
An #IraqiProtester, Mortada Naim, has been arrested for protesting peacefully in #Iraq. He is detained awaiting sentencing & will be imprisoned for 10 years. Welcome to #Iraq after 2003. #IraqProtests @amnestyusa @hrw @sblhickey — you, guys, want to help #Iraqis? Help Mortada! https://t.co/IAxji9MbV8

— Sarah J. (@AmaGiSJ) April 27, 2020
On 19th April 2020, the National Security Agency in Al-Diwaniyah city, the centre of the Al-Qadisiyah Governorate, arrested Mortada Naim, a human rights defender and a prominent activist in the popular movement in the city. On 28th April 2020, he was released on bail after being charged for his peaceful activities under Article 198 of the Iraqi Penal Code. His release was due to the efforts made by a team of lawyers who have also been protestors in the central sit-in square in the Al-Qadisiyah Governorate.
On 14th April 2020, civil society activist Hisham Qasim Mohammed (Mahawi) was released after being arrested by the security forces in Al-Tahrir Square on 11th February 2020 due to his active participation in the popular movement since its inception. A number of lawyers helped to secure his swift release and that of other peaceful demonstrators, including Haider Mohammed Ayyad (who is only 18 years old), Ahmed Abbas Khayoun, Ali Salem Raji and Hassan Balsam Atiya. Mahawi was charged with the offence of illegally blocking roads, due to his protest activities on the Mohammed Al-Qasim Highway. During his detention, he was subjected to ill-treatment and torture. He had previously been kidnapped and tortured by an armed militia on 3rd February 2020, also from Al-Tahrir Square, and only released on 9th February 2020 when he was thrown on the side of the road.
On 11th April 2020, the Intelligence Directorate of the Al-Muthanna Governorate arrested human rights defender Ayham Al-Nuaimi. He had previously received death threats from armed militia members because of his prominent activity in the popular movement and his fight against corruption in the province. He was released on 14th April 2020 following a relentless solidarity campaign organised by his wife and fellow activists. Local reports confirmed that he was tortured and ill-treated while in detention.
On 5th April 2020, in the early hours of the morning, an armed and masked group stormed the house of a prominent civil society activist, Anwar Jassem Mhawwas (Um Abbas), and killed her. Her two sons were wounded in the attack on the family's house in the centre of Nasiriyah. Um Abbas had been a prominent figure in the protest movement since the start of the demonstrations. She was a constant presence in Al-Haboubi Square.
Expression
Activists, journalists and media outlets have been targeted for publishing or expressing opinions which support the popular protests.
Activists assassinated
On 10th June 2020, Dr Ali Mezher Al-Ghazzi was attacked by an unidentified armed group. He later died of his injuries in hospital on 12th June 2020. Al-Ghazzi was a history professor who taught in many universities across Iraq. He supported the popular movement and used his Facebook page to publish posts rejecting sectarianism and corruption and promoting social justice.
The attacks on lawyers and human rights defenders in Iraq continues. Abdulqudus Qasim and Karar Abdel were assassinated on 10.03.2020. We urge the @IraqiGovt to protect our colleagues and ensure those responsible are prosecuted.

— UIA-Protection Of Lawyers / Défense de la Défense (@UIAdefense) March 13, 2020
In the evening of 10th March 2020, an unidentified armed group assassinated human rights defender Abdulqudus Qasim, a theatre/television producer and actor, and his colleague Karar Adel, a human rights lawyer who worked at the Maysan Federal Appeal Court. The masked gunmen stopped the car in which they were travelling in the middle of Al-Amara city, ordered them to get out, then shot both of them dead. Qasim used his Facebook page to show his support for the popular movement. According to reports received by GCHR, he had told his colleagues that he expected to be killed by militias.
On 28th January 2020, Dr. Mohammad Hussain Al-Quraishi, a human rights professor at Al-Mustansiriya University, was assassinated in front of his house in the professors' complex in the Al-Bunuk neighbourhood in Baghdad as he was about to drive his daughter to the university. Three masked gunmen intercepted and shot him, killing him instantly, and fled to an unknown destination. Al-Quraishi was a supporter of the current popular protest movement.
Activists attacked, kidnapped
On 8th June 2020, civil society activist Mohammad Hafiz Salman (Mohammad Model) was kidnapped by unidentified people while returning to the Karrada district of Baghdad from Al-Tahrir Square. On the day he was kidnapped he had published a Facebook post questioning the ability of Prime Minister Mustafa Al-Khadimi to ensure accountability for the killing of peaceful protesters and to stop armed militias tampering with the country's security. Salman had participated in demonstrations since 2011 and took part in the Al-Tahrir Square sit-in since it began on 1st October 2019.
On 6th June 2020, civil society activist Weaam Al-Shaarawi survived a failed assassination attempt by an armed group on motorbikes. The assassination attempt took place in the centre of the city of Amarah, near its large market, where security forces are deployed. As a result, he sustained serious injuries and was transferred to intensive care, where he later recovered. Al-Shaarawi has participated in the popular movement in Amarah from its inception, and uses his Facebook page to support the popular movement. He wrote on 5th June 2020 that there are two options, "either victory or victory."
On 4thJune 2020, the house of civil society activist AbdelKarim Al-Qarahghouli was targeted with an explosive device that caused minor material damage but put his family, including his children, in a state of terror. Al-Qarahghouli is a well-known activist in the city of Nasiriyah and uses his Facebook page to support the popular movement and condemn corruption in state facilities, especially the health sector.
On the evening of 1stJune 2020, armed militias attacked civil society activist Abdelhamza Menem Al-Khafaji, causing him various injuries. They also assaulted his brothers in front of their house in the Al-Mahawil District, Babil Governorate. The armed groups also targeted the home of civil society activist Dr Dergham Majid, who resides in the district of Al-Medhatia in the same Governorate. Local sources confirmed to the GCHR that the reason for these attacks on Al-Khafaji and Majid are due to their outspokenness in demanding that the Governor of Babil be dismissed.
At 2:00 a.m. on 12th March 2020, two masked persons on a motorcycle fired seven bullets at the car of human rights defender Reda Ali Al-Okaili, the coordinator of the Maysan Governorate Student Union. Thankfully, Al-Okaili not in his car, having entered his house seven minutes before the attack. The assassination attempt came just hours after Al-Okaili posted a hashtag on his Facebook page that read: #I'm_the next betrayed. He published this post the day after an unidentified armed group assassinated Abdulqudus Qasim and Karar Adel (see report above). Al-Okaili had published a video documenting the assassination, which was widely disseminated.
On 6th February 2020, Ahmed Muthanna Abdulkarim (Ahmad Tito), a civil activist and student in the media department of Al-Farabi College in Baghdad, was kidnapped and returned to his home the next day. The unidentified kidnappers tortured him and shaved his hair. Tito created an Instagram page called @mzajeat in order to express his unwavering support for the current protests and to commemorate those who lost their lives during the protests.
Activists arrested
On 28th June 2020, civil society activist and blogger Saif Saad was released after four months' imprisonment for his support for the popular movement and his opposition to corruption and the restriction of freedom of opinion and expression in the Al-Anbar Governorate. He faced vexatious charges under Anti-Terrorism Law No. 13 (2005). Saad used his Facebook account to express his opinions on corruption and to support demonstrators.
According to Amnesty International, on 16th May 2020, armed members of the Asayish and local police entered the home of teacher and activist Badal Abdulbaqi Aba Bakr in Duhok, in the Kurdistan Region of Iraq, and arrested him without a warrant. He has been charged with "the misuse of electronic devices" for his role in organising peaceful protests through social media platforms. In a recent report, Human Rights Watch condemned the use of vaguely worded lawsto bring criminal charges for opinions which criticise the authorities andto intimidate and silence journalists, activists and other dissenting voices.
Journalists attacked, kidnapped, arrested
On 3rd June 2020, the security forces arrested the team of Speda satellite channel, including journalists Yadkar Haji and Arian Bakr, in the middle of the Sulaimaniyah market. They were not released until three hours later. The team was also attacked by security forces and some protesters, and while the channel's correspondent, Ihsan Saber, was doing live broadcasts, security forces asked him to leave and stop covering the demonstrations. After the transmission was interrupted, they assaulted him and his colleague, photojournalist Mohammad Hassan, with an electric stick. The Metro Centre for Journalists' Rights and Advocacy issued a statement calling for an immediate investigation into the way the security services dealt with journalists during the demonstrations. 
#Iraq #Kurdistan: Adnan Rashidi tortured and robbed https://t.co/m3fZBPk0A9

— CPJ MENA (@CPJMENA) March 26, 2020
On 11th March 2020, journalist Adnan Rashidi was attacked by a group of masked men who stormed his house in Penjwen city, 96 km from the city of Sulaymaniyah, near the Iranian border. The masked men punched and hit him with sticks after handcuffing his hands and feet. They broke his hand and forced him to turn over electronic devices containing data on his fellow activists in Iran. Rashidi only gave over the information upon learning that the attackers were also holding his wife and daughter. On 17th March 2020, the Sulaymaniyah Governorate Police Directorate published a brief statement saying that it had arrested two people in connection with the assault, without giving further details. Rashidi, an Iranian Kurdish journalist working in Iraq, is the editor of the Kurdistan Human Rights Association news website that monitors human rights violations in the Kurdish regions of Iraq, Syria and Iran.
On 9th March 2020, an unidentified armed group kidnapped journalist Tawfiq Al-Tamimi, a correspondent reporting on the governorates for "Al-Sabah" newspaper, which is issued by the Public Authority for Information and Communications. Masked gunmen intercepted the car in which he was traveling after he left his home in Baghdad's Ur neighbourhood and took him by force to an unknown destination.
On 7th March 2020, Al-Tamimi posted a photo of himself with his colleague Mazen Latif, who owns Mesopotamia publishing house, on his Facebook page. Latif was kidnapped on 31st January 2020 by a group of armed men in a pickup truck. Al-Tamimi captioned the photo of them with the following words: "When are you coming back?"
The Al-Fallujah satellite channel issued a statement posted on its website saying that on 1st February 2020, its members of staff were attacked while covering the demonstrations in Al-Tahrir Square by a group of people who prevented the protesters from expressing their opinions and stopped the live broadcast. They also threatened the channel's reporter, Ali Abdulkarim, and followed him, along with his other colleagues, who they tried to kidnap, but protesters intervened and prevented them from doing so. This assault was documented in a video recorded during the attack.
TV presenter Ishtiaq Adel reported that on the evening of 30th January 2020, she survived a failed assassination attempt in front of her Baghdad home. She was shot at by armed masked men who were riding a motorbike. Prior to the attack, Adel had already received several threats in the form of text messages, despite changing her number. Adel has presented a number of TV programmes and is currently working at Al-Sumaria satellite TV, where she is presenting the show "Youth/Shabab Extra".
GCHR documented further assassinations and assassination attempts against journalists covering the ongoing protest movement:
On 20th January 2020, security forces shot and killed activist and photojournalist Yousif Sattar while he was covering the protests near Mohammad Al-Qasim Bridge in central Baghdad. He was shot in the head and lost his life on arrival at the hospital.
On the night of 15th January 2020, journalist Munther Al-Jibouri, a correspondent with Al-Ayyam Channel and the director of Medina Radio in the Babil Governorate, survived an assassination attempt by unidentified gunmen as he returned home from covering the demonstrations in the sit-in square in the centre of Al-Hilla city.
On 10th January 2020, in Basra, unidentified gunmen on a motorbike shot at journalist Ahmed Abdul Samad, a correspondent for the Dijlah satellite TV channel, killing him instantly with a fatal shot to the head. His colleague, photojournalist Safaa Ghali, was transferred to Basra General Hospital after being shot three times in the chest and died from the severe injuries he sustained during the attack.
On the same day, security forces in Basra arrested a group of demonstrators who were participating in a protest march near a Governorate Police Command headquarters, and also arrested three journalists, Fouad Al-Halfi, Mohammad Al-Fartusi and Raed Al-Baidhani, who were covering the repression of demonstrators by the police. All the detainees were released shortly after their arrest.
Journalist killed
On the morning of 11th February 2020, the general supervisor of the Al-Rasheed Satellite TV, Nizar Dhanoun, was assassinated while he was traveling in his car with a driver in the Al-Jama'a neighbourhood, west of Baghdad. His assailant, who had been chasing the car, was an unknown gunman riding a motorcycle. As soon as the car left a gas station, he got off his bike with his face unmasked and shot several bullets at the car, killing Dhanoun but leaving the driver unhurt. Al-Rasheed Channel was established in 2009 in Baghdad and has offices in several Arab countries.
CPJ's Middle East and North Africa Representative Ignacio Miguel Delgado said:
"Iraqi authorities must conduct a thorough and transparent investigation into the killing of Al-Rasheed CEO Nizar Thanoun and determine whether his killing was related to his work. Iraqi authorities have an appalling record of letting killings go unpunished—including those of members of the media—which only encourages further deadly attacks."
Media outlets face restrictions, suspension
TheMetro Centre noted discrimination by authorities in dealing with journalists, indicating that the team of the Payam satellite channel was prevented from covering the meeting of the Anti-Coronavirus Operations Room, which was held at the headquarters of the Ministry of Interior in Erbil, while other media were allowed to attend.
#Iraq suspended #Reuters' licence earlier this month over a report on the number of #coronavirus cases in the country https://t.co/MJ7tyIvjov

— Arab News (@arabnews) April 19, 2020
On 2nd April 2020, the activities of the Reuters Agency were temporarily suspended in Iraq. The Media and Communications Commission issued a statement saying, "Based on the authority of the Commission in accordance with the enforceable order, and the terms of the license granted to it, and for the violation by Reuters Agency of the media broadcasting regulations, it was decided to suspend the license of their office in Iraq for a period of three months, and fine it with an amount of 25 million Iraqi dinars [approx. USD21,000], and the agency is obliged to submit an official apology." The order to suspend Reuters' activity came after it published a news report entitled "Sources: The actual number of Coronavirus cases in Iraq exceeds the announced by thousands."