Peru launched into crisis following president's removal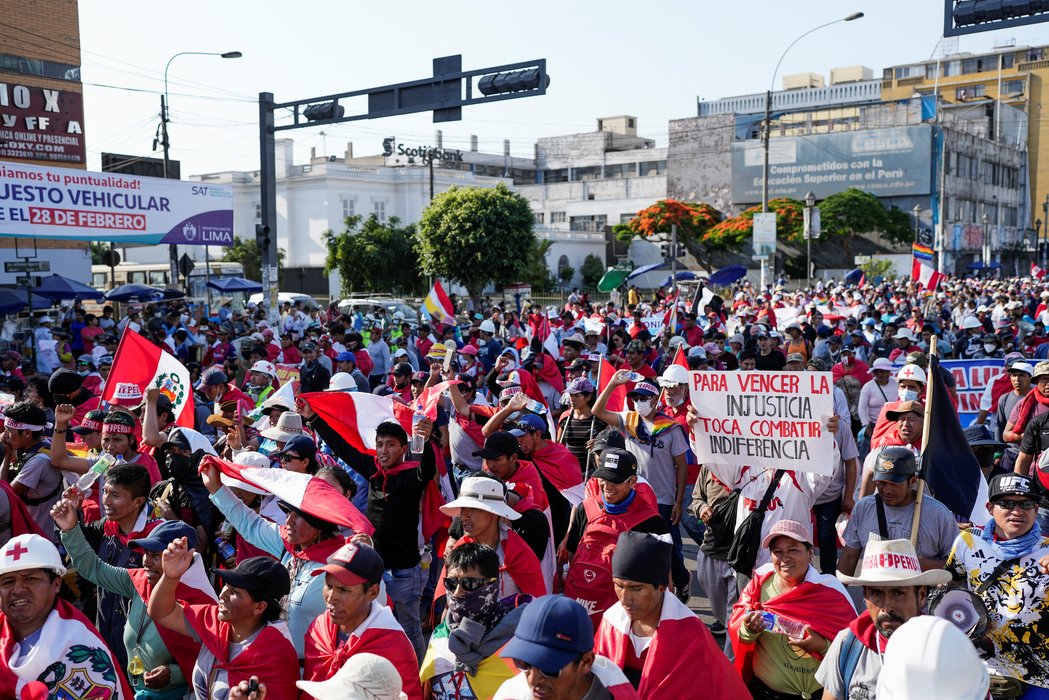 Beset by political instability and facing corruption allegations, on 7th December 2022 President Pedro Castillo announced on television the dissolution of Congress, issuing a series of emergency measures and declaring that he would govern by decree until the country held new elections. The opposition-controlled Congress was often at odds with President Castillo during his fifteen months in office, making several attempts to remove him from early in his presidency. Castillo's announcement came just before lawmakers were to vote on yet another impeachment motion.
However, his move found little support, even among allies. Members of his own cabinet resigned and top officials quickly condemned the measures. Castillo was removed by Congress in just a few hours. He was then arrested under charges of 'rebellion' under Article 346 of the Penal Code, for 'breaking the constitutional order'. His vice-president Dina Boluarte was sworn in as president on the same day. She became Peru's sixth president in under five years.
This rapid turn of events deepened Peru's long-term institutional crisis and sparked protests by Castillo's supporters, who saw his removal and arrest as a coup by political elites. Many called for the dissolution of Congress, for new elections and for a new constitution, as well as for Castillo's release. Protests, particularly those led by Indigenous and campesino demonstrators, were met with disproportionate and brutal force by law enforcement. Demonstrations quickly spread across the country.
Facing popular pressure, in December 2022 President Boluarte urged lawmakers to approve a proposal to bring general elections forward from 2026 to April 2024. This was approved on a first round of voting, but protests continued unabated. In early 2023, lawmakers denied new proposals from the Boluarte administration to hold elections by the end of 2023. In the meantime, protests have continued, with dozens killed and thousands injured in the unrest.
Peaceful Assembly
The repression of protests in Peru has been lethal. The main victims have been indigenous and racialized people.

Authorities must put an end to the use of lethal force 👇 pic.twitter.com/viAT8iFFhL

— Amnesty International (@amnesty) February 16, 2023
Pedro Castillo's removal from office sparked protests from supporters which gradually spread across the country. Amnesty International reported that excessive use of force against protesters was deepening the country's crisis. The group said it had verified images of police firing tear gas canisters from close range directly at the bodies of protesters in Plaza San Martin in Lima. A 15-year-old and an 18-year-old were among the first protesters killed on 11th December 2022 in clashes in Andahuaylas, where a group attempted to take over the local airport. Protests were particularly widespread in rural regions, in areas of the country where Castillo had his strongest support base.
Since then, protests spread amid escalating violence, leaving dozens dead and thousands injured. In mid-December 2022, President Boluarte declared a state of emergency with a decree that suspended freedom of peaceful assembly and enabled the deployment of the armed forces to support the police in maintaining order.
Between 8th December 2022 and 27th January 2023, at least 57 people, among them six minors, died amid the unrest. According to the Coordinadora Nacional de Derechos Humanos (National Human Rights Coordinator - CNDDHH), at least 46 of these were killed in extrajudicial executions during the repression of protests. In some cases, protesters were killed by security forces using banned weapons such as AKM assault rifles. 18 people were killed in Juliaca, Puno, on 9th January 2023 alone.
By 27th January, the Ombudsperson's Office had reported 1,658 people injured in protests. CNDDHH also recorded multiple other violations, including arbitrary arrests, disproportionate use of tear gas, obstruction of the work of journalists, sexual violence and ill-treatment of people detained. According to Amnesty International's monitoring, armed forces and police have unlawfully fired lethal weapons and used other less lethal weapons indiscriminately against the population, especially against Indigenous people and campesinos. There have also been reports of violent acts by protesters, including arson, vandalism and attacks on journalists.
During the weeks of protests, road blockades in some regions obstructed the passage of ambulance services, also contributing to the death toll. On 19th January 2023, for instance, the Ombudsperson's Office reported over 120 blockade points on 44 roadways, and demonstrations in 20 provinces.
In January 2023, the government extended the state of emergency in several departments until mid-February. On 21st January 2023, over 300 police officers violently raided the campus of the San Marcos University to evict and arrest members of social organisations who had travelled to Lima to take part in anti-government mass marches. 193 people were arrested in the operation, including children and elderly people, students, Indigenous people and four journalists.
Also in January 2023, Peru's Public Prosecutor's Office said it had launched an inquiry into President Boluarte and senior cabinet ministers over the violent repression of protests. Human Rights Watch underscored that President Boluarte has failed unequivocally to call on security forces to respect the right to protest, and has sometimes made statements associating the demonstrations with 'terrorism'. Administration officials have blamed the protesters for causing "chaos" or linked them with alleged "foreign agitators."
Amnesty International warned that this stigmatising discourse from authorities seeks to delegitimise protesters' demands and justify violations of their human rights. The organisation also warned that the authorities have continuously attacked independent and international media. On 7th February 2023, Peru's Interior Ministry said that the criminal definition of "apology for terrorism" was being modified to include the use of social media, a charge that critics said could be used to further criminalise demonstrators.
In February 2023, protesters continued to take to the streets – often calling for Boluarte's resignation and for justice for those killed in the political turmoil. On 11th February 2023, news outlets reported that there were 70 people killed during protests since the crisis started in December 2022. International organisations and civil society groups have called on Peruvian authorities to undertake political dialogue, and to ensure independent and transparent investigations into human rights violations.
Association
🚨 La VIDA de las defensoras/es del ambiente está en manos del @congreso

⚠️Este 30 de noviembre es el ÚLTIMO día para que apruebe un MAYOR presupuesto para que los ministerios puedan proteger efectivamente la vida de defensoras/es

‼️Exijamosle #MásPresupuestoParaMásProtección‼️ pic.twitter.com/bhwJwhKRfI

— Defensoras y Defensores del Perú (@RDefensores) November 26, 2022
On 27th October 2022, members of the campaign Defensoras y Defensores del Perú issued a public statement requesting government intervention to protect the lives of environmental defenders in the Cenepa river basin. As previously reported on the CIVICUS Monitor, people linked to illegal mining in Amazonas have carried out multiple attacks on the Organisation for the Development of the Cenepa Border Communities (Odecofroc), an Indigenous organisation whose leaders have opposed mining. The groups said that, despite prior alerts, authorities did not act to stop the violent attack that took place on 26th October. They also stated that members of Odecofroc continued to receive threats.
On a related note, in November 2022 civil society groups campaigned for approval of an increase in the budget for the mechanism for protecting human rights defenders. Reporting by news outlet Convoca.pe showed the significant lack of capacity of Peru's protection mechanism to respond to requests for support. According to their investigation, only four of 19 requests for urgent attention sent by environmental defenders between April 2020 and August 2022 received responses from the mechanism. In most cases, resolutions on the cases were issued over a year after they were submitted. Experts said the protection mechanism has undergone constant changes of management and officials since its creation, and that it lacks appropriate budget to implement protection strategies. On 30th November 2022, Peru's Congress approved a 45,000 PEN (about 11,000 USD) budget for the mechanism, well below the amount required to improve its operation.
On 5th December 2022, environmental defender Vilca Ampichi was assassinated in Yuyapichis, Puerto Inca province, Huánuco department. Ampichi was a leader of the San Juan de Pachitea community and also worked as a nursing technician in the provincial health system. As reported by Servindi, he was shot multiple times in a roadway that accesses the community.
Human rights groups targeted amid political crisis
#ATENCIÓN | Grupo fujimorista "La Resistencia" acosa y terruquea a organización defensora de derechos humanos IDL (@Ideele). pic.twitter.com/RjCfR0vZMu

— 🇵🇪 Wayka📢 (@WaykaPeru) January 17, 2023
Human rights organisations which have monitored and denounced the repression of protests and other authoritarian abuses in the current crisis have faced harassment and attacks by extremist groups linked with the far right. On 17th January 2023, members of extremist group 'La Resistencia' gathered in front of the offices of the CNDDHH, the Pro Human Rights Association (APRODEH) and the Legal Defence Institute (IDL) in Lima. They unfurled banners and shouted defamatory and hateful messages against the organisations and their leaders.
On 21st January 2023, members of 'La Pestilencia' vandalised the offices of IDL and its investigative media arm IDL-Reporteros, throwing waste sacs into the organisations' entrance and parking lot. IDL-Reporteros's director Gustavo Gorriti was also targeted by a smear campaign on social media, with members of extremist groups sharing messages that incited violence against Gorriti. His home address was published on some of the messages, leading to concern about potential attacks.
Expression
🚨 #ALERTA 🇵🇪 Los fotoperiodistas Sebastián Castañeda, de la agencia Reuters, y Ernesto Benavides, de la Agencia France Press @AFPespanol, resultaron con heridas por disparo de perdigón durante cobertura de protesta en Lima.

📲 Lee más: https://t.co/gQ0HCwdANB pic.twitter.com/xDPp403kSx

— IPYS (@IPYS) January 25, 2023
In the ongoing crisis, dozens of journalists have reported facing attacks. By 3rd February 2023, the Asociación Nacional de Periodistas (National Association of Journalists - ANP) had recorded at least 94 cases of violations of the work of media and aggression against journalists. Most of these attacks were perpetrated by police and the military.
Cases reported since the crisis began include:
The Inter-American Press Association (IAPA) condemned attacks against the press in Peru, urging authorities to investigate and prosecute those responsible for the violence. The international group highlighted that in 2022, Peru dropped from 7th to 11th place in the Chapultepec Index, a barometer on the situation of freedom of expression in the region produced by IAPA. The Peruvian Press Council (CPP) also condemned attacks on the press and stressed that the organisation recognises the right to protest, as long as it is exercised peacefully.
Other cases of journalists harassed and attacked
On 18th October 2022, journalist Roberto Ramírez of Latina TV was covering an event attended by then-President Pedro Castillo with graduates of the Armed Forces when he was attacked by government supporters. He was surrounded, insulted and punched in the face.
On 1st November 2022, freedom group Instituto Prensa y Sociedad (Press and Society Institute - IPYS) reported that Daniel Neyra Escalante, director of a regional health department, had filed a complaint against journalist Analí Andrade Pareja. The journalist, who is the director of the social media news portal Fuerza Informativa Apurímac and a correspondent for Radio Programas del Perú, revealed well-documented alleged corruption offences involving Escalante. She said she had been harassed by the official for months.
On 7th November 2022, Aníbal Torres, President of the Council of Ministers at the time, insulted journalist Sol Carreño, host of the Sunday programme Cuarto Poder on América TV. Following a report on an unfinished construction project, Torres implied that Carreño "acted in bad faith" and also resorted to sexist insults involving her personal life.
Separately, journalists Luis Agustín Angulo Díaz of La Ribereña radio station and Pablo Torres Putpaña were hit by a white van that had reportedly followed them while reporting in San Pablo, Bellavista province, on 5th January 2023. According to the ANP, witnesses said the vehicle attack looked deliberate, which led the organisation to call the attack an attempted murder. Angulo Díaz was hospitalised with serious injuries. The local chapter of ANP said the journalists were often critical of the Bellavista administration, and that this should be a line of investigation.