Persecution of activists and journalists continues following rubber stamp elections in Vietnam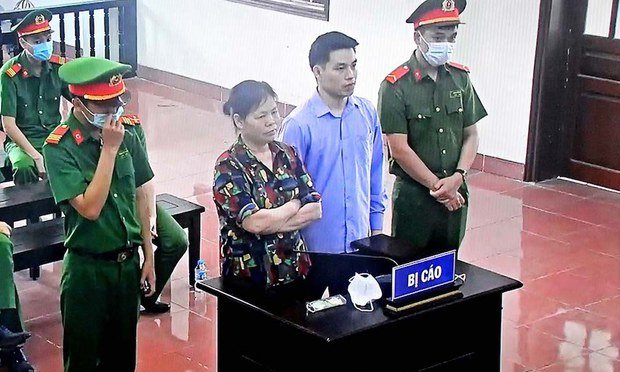 Vietnam's legislature voted in April 2021, for Pham Minh Chinh, a career security official, as the country's new prime minister. Chinh succeeded Nguyen Xuan Phuc who was named president, a predominantly ceremonial role. The votes of the 500-member National Assembly followed decisions made in January 2021 by the Communist Party's national congress.
In May 2021, legislative elections were held to elect members of the 15th National Assembly, and the People's Councils at the local level. It was nothing more than the reaffirmation of a decades-old political monopoly. The Vietnamese Communist Party (VCP) is the only party allowed on the ballot. Although some independent candidates have been permitted to run, they are subject to vetting by a VCP-controlled body. Independent candidates were arrested, and several others intimidated, for their involvement. The government also manipulated online discourse through an electronic army of paid commentators.
In recent months, the authorities have arrested a prominent human rights defender Nguyen Thuy Hanh who raised funds for the families of jailed prisoners of conscience, a book distributor Nguyen Bao Tien and a Khmer Krom activist. Land rights activist Can Thi Theu and her son have been sentenced to eight years' imprisonment. Journalists have continued to be targeted by the authorities including Tran Thi Tuyet Dieu who has been jailed for eight years. Individuals have also been criminalised in recent months for their social media posts.
Association
Judicial harassment around legislative elections
Tran Quoc Khanh, who had declared his intention to run as an independent candidate, was detained in March 2021 on accusations of defaming the government and distorting its policies, as previously documented. He was charged under Article 117 of the Penal Code which relates to conducting anti-state propaganda. The law is frequently used by authorities to stifle peaceful critics of the country's one-party communist government. The indictment for Tran Quoc Khanh specifically mentioned 13 of his Facebook videos.
Le Trong Hung, another popular social media activist who had sought to run as an independent, was arrested on 27th March for similar offences. His arrest came shortly after he criticised the government online for preventing independent candidates from running in the upcoming election. Le Trong Hung is a member of the independent social media group Chan Hung Nuoc Viet TV (CHTV).
According to ARTICLE 19, another CHTV member, independent journalist Le Van Dung, who also goes by Dung Vova, applied in February 2021 to be a candidate in the upcoming election but his application was rejected in March 2021. He has also faced harassment by Vietnamese authorities.
On 14th April 2021, authorities arrested Le Chi Thanh, another active social media user turned independent candidate. Le Chi Thanh announced in early March on his YouTube page that he was submitting his self-nomination paperwork with Ho Chi Minh City election officials. Le Chi Thanh, a former prison officer, was dismissed from his job in 2020 after he denounced the corruption and wrongdoing by prison management. Since then, he has actively monitored traffic police behaviour and uploaded videos of his findings to Facebook and YouTube. Le Chi Thanh has been charged under Article 330, and authorities are reportedly considering adding another charge under Article 331, in response to his YouTube advocacy.
Prominent women human rights defender Nguyen Thuy Hanh arrested and charged
LRWC calls on #VietNam for the immediate release of human rights defender #NguyenThuyHanh, and for the Viet Nam authorities to end their harassment of human rights defenders, journalists, and political activists. See the full letter https://t.co/YKFJYxDHck

— Lawyers' Rights Watch Canada (@LRWCanada) July 8, 2021
On 7th April 2021, police in Vietnam's capital Hanoi arrested a well-known human rights defender who raised funds for the families of jailed prisoners of conscience, for what official media in the one-party state said was conducting anti-state propaganda
According to Amnesty International, Nguyen Thuy Hanh founded the 50K Fund in 2017, through which she fundraised for the families of unjustly detained persons across Vietnam. She is also a vocal advocate for human rights with a popular Facebook account, where she frequently discusses human rights issues.
She was charged under Article 117 of the Criminal Code for "making, storing, or spreading information, materials or items for the purpose of opposing the State of the Socialist Republic of Viet Nam", carrying a potential prison sentence of between five and 20 years.  The law is frequently used to criminalise activists.
Nguyen Thuy Hanh nominated herself as an independent candidate for Ha Noi City in the 2016 National Assembly election. Since then, she has been subjected to harassment and intimidation on many occasions. Through the 50K Fund, she has helped many families of prisoners to access prison visits and thereby assess the condition of their loved ones in prison.
Land rights activists sentenced and held in harsh conditions
Vietnamese activists Can Thi Theu and her son Trinh Ba Tu will go on trial May 5, charged with contacting foreign embassies and posting articles on social media about the deadly land-rights clash at Dong Tam commune in 2020.https://t.co/wZsWXPgYJ8

— Radio Free Asia (@RadioFreeAsia) May 4, 2021
On 5th May 2021, Vietnamese land rights activists Can Thi Theu and her son, Trinh Ba Tu were both sentenced to eight years' imprisonment followed by three years' probation after being convicted for posting online articles and livestream videos criticising the government for its handling of a land rights clash in 2020.
Can Thi Theu is a well-known land rights activist and human rights defender. She became an activist after her family's land was confiscated by the authorities in 2010. She began advocating against forced evictions and became a leading figure of the land rights movement.
As previously documented, in January 2020, police raided the village of Dong Tam in Ha Noi in a clash in which an 84-year-old village leader and three police officers were killed. Authorities also arrested dozens of villagers in relation to the high-profile land dispute between the government and the local community. Can Thi Theu and her two sons, Trinh Ba Tu and Trinh Ba Phuong, played prominent roles in informing the public about the incident through their social media platforms.
On 24th June 2020, police arrested Can Thi Theu, Trinh Ba Phuong and Trinh Ba Tu. The three were charged for "making, storing, or spreading information, materials or items for the purpose of opposing the State of the Socialist Republic of Viet Nam" under Article 117 of the Criminal Code. Trinh Ba Phuong remains in pre-trial detention.
Can Thi Theu, who was previously imprisoned twice for helping evicted farmers, wrote a letter to her family ahead of her trial. She said: "Those who violate the law are authoritarian, corrupt officials who are destroying our nation. My family and I are entirely innocent. I never fear vile repression by the government, but I remain clearly determined to fight for the people's democratic and human rights to be exercised and respected".
Can Thi Theu has been held under harsh jail conditions following her sentencing. Trinh Thi Thao, Theu's daughter, told RFA's Vietnamese Service that her mother is currently in a police detention centre in the seat of northern Vietnam's Hoa Binh province, where she has been placed in "small cells" with "HIV-infected prisoners," despite being jailed for political reasons. She also stated that prisoners don't have enough water to use, and the cell doors are always closed, making it very hot and stuffy.
Report highlights repression of activists
In June 2021, the Vietnam Human Rights Network (VNHRN) released a report on human rights in Vietnam. According to the report the authorities are holding at least 288 prisoners of conscience in the country's prisons and jails, with at least 79 arrested during the year through May 2021.
Those held include journalists, social media users, religious figures, and land rights and anti-corruption activists. The report found that Vietnam's crackdown on opposition voices intensified before the 15th National Assembly election in May 2021.
According to the report the treatment handed out during the year to political prisoners in Vietnam's detention centres, known for harsh and inhumane conditions, included transfer to prison camps far away from family homes, denial of family visits and medical treatment, and beatings by prison guards or by prisoners convicted of ordinary criminal offences under instructions from police.
Facebook users and bloggers were also subjected during the year to heightened surveillance and harassment by police, sometimes dressed in civilian clothes, and to travel bans, forced interrogations and assaults, according to the report.
UN experts raise concerns about cyber attack on civil society group
On 3rd May 2021, three other UN experts sent a communication to the government regarding a cyber-attack in 2020 that had been carried out against civil society organisation the Vietnamese Overseas Initiative for Conscience Empowerment (VOICE). The attack was reportedly carried out by a government-backed hacking group named Ocean Lotus.
VOICE is a non-governmental human rights and civil society organisation that advocates for the protection of human rights and the promotion of fundamental freedoms in Vietnam. They directly engage with civil society projects in the country and work on third-country resettlement for Vietnamese refugees and asylum seekers. there is credible evidence to suggest that VOICE was also targeted in reprisal for its cooperation with the UN in the field of human rights.
Several organisations and cybersecurity experts identified the alleged perpetrator of this cyber-attack as Ocean Lotus (also known as APT32). Ocean Lotus is a notoriously sophisticated hacking group that has carried out a longstanding and sophisticated hacking campaign for many years. A large number of cyber-attacks targeting Vietnamese human rights organisations and human rights defenders in the country have been attributed to them. Ocean Lotus has reportedly used the particular spyware that was sent to VOICE to carry out cyber-attacks against activists and human rights organisations in Vietnam in the past.
Expression
Journalists arrested and convicted
Journalists have continued to be targeted by the authorities. The country ranks 175 out of 180 countries in Reporters Without Borders' (RSF) press freedom index. RSF in July 2021 named Vietnam's leader Nguyen Phu Trong one of its "press freedom predators" and said that Trong had "established an unrelenting system of repression to deal with an increasingly robust civil society seeking reliable information, especially on the internet."
Vietnamese authorities should release journalist Nguyen Hoai Nam, who wrote about corruption, drop charges and stop jailing journalists on trumped-up charges, The Committee to Protect Journalists said to no avail #journalists #mediafreedom #Vietnam pic.twitter.com/q8yZQQrjhh

— BlueprintGreece (@BlueprintGreece) April 14, 2021
On 3rd April 2021, the Committee to Protect Journalists (CPJ) reported that authorities in Ho Chi Minh City had detained Nguyen Hoai Nam, an independent journalist who publishes commentary and reporting on Facebook, according to news reports. On 10th April authorities announced that he was being investigated under Article 331 of the penal code, an anti-state provision that penalises "abusing democratic freedoms".Prior to his arrest, Nam wrote about alleged government corruption. He previously reported for state media outlets including Phap Luat (Law Journal), Thanh Nien (Youth Newspaper), and Voice of Vietnam Radio.
Nguyen Thanh Nha, Doan Kien Giang and Nguyen Phuoc Trung Bao are facing possible seven-year prison sentences on charges on "abusing democratic freedoms" following their arrest in the southern city of Can Tho on 20th April 2021. According to CPJ, the three reporters were regular contributors to Bao Sach ("The Clean Newspaper"), a Facebook news page. The Bao Sach Facebook page has been blocked ever since. Nha, Giang and Bao recently reported that Bui Van Cong, a senior official in the ruling Communist Party of Vietnam (CPV), had plagiarised his doctoral thesis. They also exposed supreme court president Nguyen Hoa Binh's implication in many irregularities that led to the abusive imposition of a death sentence.
Last week, online commentator Le Thi Binh was sentenced to 2 yrs in prison, & journalist Tran Thi Tuyet Dieu was sentenced to 8. Plus, 3 more journalists were arrested. Next week, 2 land rights activists face trial. More in our weekly #Vietnam newsletter https://t.co/GOH0KBDnL7

— The 88 Project (@The88Project) April 27, 2021
A Vietnamese court sentenced the journalist and blogger Tran Thi Tuyet Dieu to eight years' imprisonment on 23rd April. Dieu, who once worked for the state media, began investigating taboo subjects such as official corruption, pollution of the environment and human rights abuses. Tran Thi Tuyet Dieu's trial in the People's Court in Phu Yen province in the south-east of the country was rushed through in barely three hours. She was arrested in August last year and held at a secret location for three months. She was charged with conducting anti-state propaganda under Article 117 of the criminal code after posting stories and videos on her pages on Facebook and YouTube.
Vietnamese independent journalist Le Van Dung, who had posted articles online discussing land disputes and official corruption, has been arrested in Hanoi after evading capture for more than a month.https://t.co/rHfHGm9Pl0

— Radio Free Asia (@RadioFreeAsia) July 1, 2021
On 30th June 2021, police detained Le Van Dung, aged 51, just outside Hanoi, more than a month after he had been summoned by the Hanoi police several times for questioning. The journalist who reports on corruption and land confiscations could face a maximum of 20 years in prison under Article 117 of the country's penal code. Dung runs the news channel Chan Hung Nuoc Viet, which posts its reporting on social media platforms including Facebook and YouTube.
According to Reporters Without Borders (RSF) Hanoi police officially announced the investigation against Mai Phan Loi on 2nd July 2021, one week after he was initially arrested on 24th June, on a warrant with the extremely vague charge of "tax evasion," which carries a possible seven-year prison sentence under article 200 of the penal code. It did not specify the nature of the alleged crimes or the amount supposedly evaded. Loi has written on economic, social and environmental issues in Vietnam and was the deputy editor of Phap Luat (The Law), a state-controlled magazine covering legal issues.
In June 2021, a UN Working Group on Arbitrary Detention (WGAD) found the detention of Vietnamese independent journalist Le Huu Minh Tuan to be arbitrary and called on Vietnam's authorities to release him immediately and unconditionally. The WGAD said that the charge on which Tuan was detained is so vague that it is impossible to invoke a legal basis for his detention. Further they noted that Tuan's detention resulted from the peaceful exercise of his rights to freedom of opinion, expression and association as well as of the right to take part in the conduct of public affairs. As previously documented, Le Huu Minh Tuan, a membes of the Independent Journalists Association of Vietnam (IJAVN was jailed for 11 years on 5th January 2020 for 'anti-state propaganda'.
Social media critics criminalised
Individuals have also been criminalised in recent months for social media posts allegedly critical of the authorities, highlighting the repressive environment for online dissent in the country.
A court in southern Vietnam's Can Tho City on 22nd April 2021 sentenced a Facebook user to two years in prison for posting articles and livestream videos criticising Vietnam's communist government online. Le Thi Binh was arrested in December and charged with "abusing the rights to freedom and democracy to threaten the interests of the state" under Article 331 of Vietnam's 2015 Penal Code. State media said Binh had used her Facebook page from October 2019 to November 2020 to livestream, post, and share posts "conveying bad and reactionary viewpoints and ideas" aimed at opposing and defaming Vietnam's Communist Party and party and state leaders.
On 2nd June 2021, a court in southern Vietnam's southern Hau Giang province sentenced a Facebook user to seven years in prison for posting writings said by prosecutors to have misrepresented state policies. Dang Hoang Minh, 28, had been charged under Article 117 of Vietnam's penal code.According to RFA at least 21 Vietnamese citizens have been charged with political offences involving social media posts since the beginning of the year, with 21 now serving prison terms following convictions under Article 117.
On 3rd July 2021, it was reported that police in Hanoi and a central province had detained four Facebook users for posts allegedly "infringing state interests and fighting against the communist government". State-run Quang Ngai newspaper reported that police in Quang Ngai province arrested Bach Van Hien, 34, Phung Thanh Tuyen, 38, and Le Trung Thu, 41, all of Quang Ngai city. The newspaper said the three men are accused of "abusing freedom and democracy rights to infringe upon the interests of the state, the legitimate rights and interests of organisations and individuals" according to Article 331 of the Penal Code.
Book distributer arrested after disappearing for 18 months
Ông Nguyễn Bảo Tiên bị bắt vì 'phát tán' các ấn phẩm của NXB Tự Do
Nhà xuất bản này nhận định rằng ông Tiên "vô tội". https://t.co/qlrNojSlAf

— Nhà xuất bản Tự Do - Liberal Publishing House (@NhaxuatbanTuDo) May 7, 2021
The Public Security Department in Vietnam's Phu Yen province arrested Nguyen Bao Tien on 5th May 2021 for restoring and spreading anti-state material. State-run Phap Luat newspaper said Tien, aged 35, from the province's capital of Tuy Hoa, had been caught distributing books published by the banned independent Liberal Publishing House.
From August to October 2019, Tien received 68 packages of books with content defaming government policies and inciting people to fight against the communist government, the newspaper said. Some 24 of the packages were distributed to readers, it added.
On 6th May, the banned Liberal Publishing House, which publishes books by former prisoners and activists, announced that it had completely lost contact with Tien since October 2019 as his Facebook and WhatsApp accounts were blocked. They suspect he had been detained for 18 months after his disappearance.
As previously documented, since early October 2019, police have harassed and intimidated dozens of people connected to The Liberal Publishing House – a local independent publisher that has produced books on public policy and political thought in Vietnam – in what appears to be a targeted campaign. The Liberal Publishing House was founded in Ho Chi Minh City in February 2019 by a group of dissidents who wanted to challenge the authoritarian, one-party government's control of the publishing industry.
Khmer Krom activist detained briefly
Vietnamese Authorities Detain Ethnic Khmer Krom Publisher of Book on Indigenous Rights https://t.co/GV59CN3ykT

— Kanyka R. Bin (@Kanyka_RBin) April 20, 2021
In April 2021, authorities in southern Vietnam's Dong Nai province arrested and later released an ethnic Khmer Krom youth and labour activist after he released a book about indigenous rights. Yoeung Kaiy said in a post on his Facebook account following his release that he had been arrested a day earlier by "around 100 police officers" who raided his home allegedly without a warrant and confiscated some 100 books detailing the United Nations' Declaration on the Rights of Indigenous Peoples, his cellphone and his computer. He said the police returned his cell phone and computer but kept the books and charged him with "publishing without permission" and "tax evasion."
The Khmer Krom- ethnic Khmer who live in what was historically southeastern Cambodia, but now controlled by Vietnam—face serious restrictions on freedom of expression, assembly, association, information and movement in Vietnam, despite being recognised as one of 53 ethnic minorities in the country. The Vietnamese government has banned Khmer Krom human rights publications and tightly controls the practice of Theravada Buddhism by the minority group, which sees the religion as a foundation of their distinct culture and ethnic identity. 
Activist sentenced for his writing
On 9th July 2021, a court in Vietnam's capital Hanoi sentenced a political dissident, writer, and journalist to five years and six months in prison following a two-and-a-half hour trial. Pham Chi Thanh, owner of a blog and Facebook page containing around 100 articles satirising Vietnamese political leaders and member of the Independent Journalists Association of Vietnam (IJAVN), had been charged under Article 117 of Vietnam's Penal Code for "anti-state propaganda". Article 117 is frequently used by authorities to stifle peaceful critics.
Born in 1952, Thanh had worked as a managing editor at the Voice of Vietnam radio service, but was dismissed from his job in 2007 after writing articles criticizing China. He later joined dozens of others presenting themselves as independent candidates for election to Vietnam's National Assembly, a political process tightly controlled by the ruling Communist Party.  After self-publishing books and posting online writings criticising Vietnam's government and leaders, he was taken into custody in May 2020.