Paraguay: September marked by killings of a journalist and a campesino leader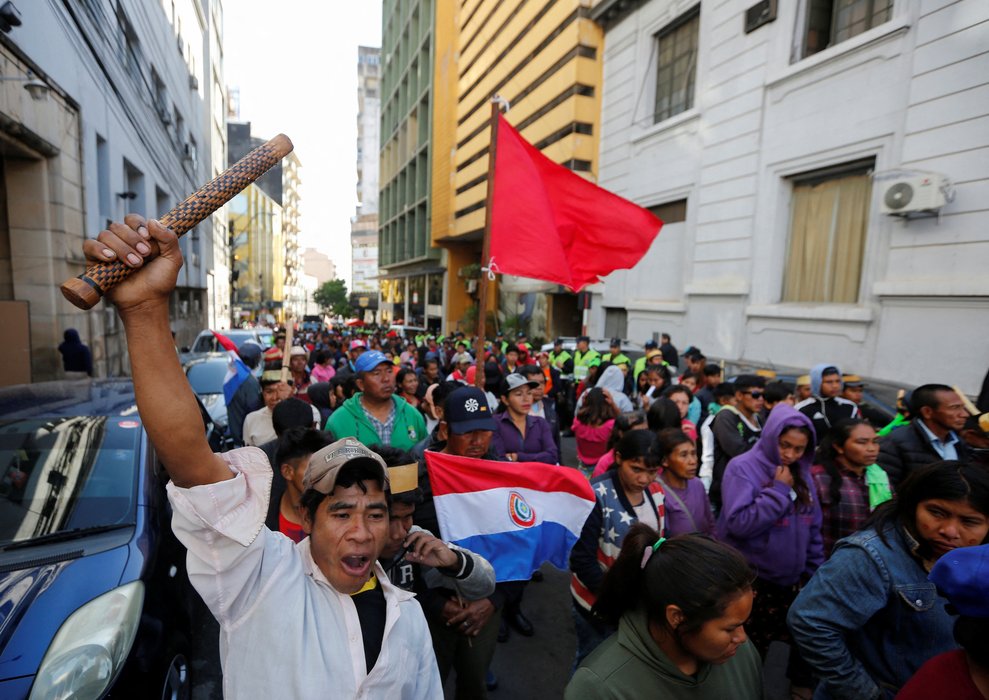 Association
Murder of campesino leader
❌ Santa Lucía, fue presentada como una "colonia modelo" por el gobierno de @Horacio_Cartes sin embargo, nunca se concretaron las promesas y apoyos a campesinos

⚠️ Un nuevo campesino asesinado, víctima del abandono estatal y la violencia latifundistahttps://t.co/97u9e5Libb

— BASE-IS (@baseispy) September 19, 2022
On 12th September 2022, campesino leader Artemio Cabral was shot by alleged employees of livestock company Agroganadera La Leña. The company is contesting ownership of land belonging to Ñacunday campesinos in Colonia Santa Lucía, Itakyry district, Alto Paraná. A group of company employees entered the disputed land to occupy it, and were reportedly accompanied by police officers and a police commissioner. Cabral was shot by an armed individual while complaining to the police commissioner about the land invasion. He was seriously wounded and taken to a hospital, but died four days later. As reported by Base Investigaciones Sociales (Base Social Investigations - Base-Is), an eyewitness said that only one of the assailants was arrested, while others were released. He also reported that the prosecutor in the case failed to go to the area to speak to witnesses or to Cabral's family.
Detention of Indigenous leader following violent eviction
#NoticiasIndígenas | Detienen al líder de la Comunidad Indígena 15 de enero.

Santiago Sosa, líder de la comunidad indígena del Pueblo Ava Guaraní, fue detenido por la Policía.

Continúa la persecución tras el desalojo forzoso del pasado 19 de octubrehttps://t.co/Bnwyqaqj44

— Tierraviva (@Tierraviva_Py) November 2, 2022
On 2nd November 2022, Ava Guaraní leader Santiago Sosa of the 15 de Enero community, Nueva Toledo, was arbitrarily arrested. The detention reportedly took place as Sosa attempted to complain to the police about abuses perpetrated by police officers during a forced eviction of the community, which had taken place two weeks earlier on 19th October 2022. The eviction led to the destruction of homes, crops and belongings of Indigenous community members. Several people were injured and over 20 detained.
Civil society organisations and social movements have expressed concern about the increase in violence against Indigenous peoples in recent years due to the advance of agribusiness and the continued defence of large landowners' interests by authorities. According to Base-Is, the repression has increased since October 2021 with the enactment of Law 6.830/2021 (Riera-Zavala Law) which established harsher provisions against land invasion and occupation - criminal types often used to criminalise community leaders in the context of land conflict. In addition, evictions have been marred by violence and are sometimes carried out without a court order. On 12th October 2022, hundreds of Indigenous people marched through Asunción to demand the protection of ancestral territories and an end to forced evictions.
Peaceful Assembly
Police deter health workers' demonstration
RECLAMANDO EL JUSTO Y NECESARIO #ReajusteSalarialSaludPy PARA TODO EL SECTOR SALUD.#ReajusteSalarialSaludPy#ReajusteSalarialSaludPy#ReajusteSalarialSaludPy#ReajusteSalarialSaludPy pic.twitter.com/rZuVj23Hyb

— SINAMED MSPYBS (@Sinamed_MSPYBS) August 15, 2022
On 15th August 2022, a protest by healthcare workers was blocked by police in Asunción. Police used fences to close off a public road to prevent the march's passage, leading to clashes between protesters and police. The healthcare workers intended to accompany a religious procession taking place in Asunción. On the same day, medical workers and associations protested around the country to demand salary readjustment.
Rosanna González, secretary general of the Sindicato Nacional de Médicos (National Union of Doctors - Sinamed), told news outlet La Nación that the incident was regrettable, and that picketing has historically been part of Paraguay's religious processions and similar events. She also added that before the procession they had informed religious authorities and the National Police about the march, as well as published the protest information and itinerary on their social media accounts.
Expression
Journalist murdered in Paraguayan border town
#Paraguay🇵🇾: Journalist Humberto Coronel was shot dead in front of his workplace @amambay570 in Pedro Juan Caballero city. He was under threat but had not been assigned any protection. We join @PeriodistasPy in demanding an urgent investigation into the crime #NoImpunity @FIP_AL https://t.co/1tyRY8PgsA

— IFJ (@IFJGlobal) September 7, 2022
On 6th September 2022, an armed assailant on a motorcycle shot and killed journalist Humberto Coronel of Radio Amambay and digital media Mbykymi Noticias in Pedro Juan Caballero, a city on Paraguay's border with Brazil that has been beset by narco-trafficking related violence. According to the Committee to Protect Journalists, Coronel was shot eight times as he left Radio Amambay's office. He hosted a daily news and music programme on the radio broadcaster, where he sometimes denounced political corruption and alleged incompetence by the police force.
Coronel and his colleague Gustavo Báez had previously received written death threats. According to newspaper ABC Color, soon after Coronel's killing a Facebook user sent threatening messages to the radio's account on the platform. The Sindicato de Periodistas del Paraguay (Paraguayan Union of Journalists - SPP) called for a prompt investigation of Coronel's killing, saying it was a result of "State inaction." The SPP said Amambay is among the most dangerous regions in Paraguay for journalists, and that this crime showed the unmitigated advance of criminal groups in the country and region.
Ruling on defamation case could set negative precedent
🧵𝗣𝗿𝗼𝗻𝘂𝗻𝗰𝗶𝗮𝗺𝗶𝗲𝗻𝘁𝗼: 𝗙𝗮𝗹𝗹𝗼 𝗷𝘂𝗱𝗶𝗰𝗶𝗮𝗹 𝗰𝗼𝗻𝘁𝗿𝗮 𝗽𝗲𝗿𝗶𝗼𝗱𝗶𝘀𝘁𝗮 𝘆 𝗱𝗶𝗿𝗲𝗰𝘁𝗼𝗿𝗮 𝗱𝗲 𝗔𝗕𝗖 𝗖𝗼𝗹𝗼𝗿 𝗮𝘁𝗲𝗻𝘁𝗮 𝗰𝗼𝗻𝘁𝗿𝗮 𝗹𝗮 𝗹𝗶𝗯𝗲𝗿𝘁𝗮𝗱 𝗱𝗲 𝗲𝘅𝗽𝗿𝗲𝘀𝗶ó𝗻.
🔗 https://t.co/5VCKXcWqMQ pic.twitter.com/lXdnX6yzaR

— Codehupy (@Codehupy99) November 19, 2022
On 18th November 2022, ABC Color editor Natalia Zuccolillo and journalist Juan Carlos Lezcano were found guilty of defamation for six investigative reports published in 2019 on alleged irregularities in a public procurement process. The lawsuit was filed by Marta González Ayala, former vice-minister of Taxation during the Horacio Manuel Cartes Jara presidency. In the sentencing, Zuccolillo was ordered to pay compensation of over US$ 68,000 while Lezcano was ordered to pay approximately US$840. The journalists' legal team said they would appeal the decision.
Several national and international organisations, including the Coordinadora de Derechos Humanos del Paraguay (Human Rights Coordinator of Paraguay - CODEHUPY), warned that this court ruling represents a "serious attack on press freedom." The organisations said ABC Color's investigation covered alleged acts of corruption by a public official in the performance of her duties, which is a matter of public interest. They also noted national and international human rights standards on freedom of expression which protect journalistic activity, and urged judicial authorities to apply these standards and to cease criminal prosecution of journalists in this and other similar cases.
Similarly, the SPP stated that the justice system in Paraguay has been instrumentalised by people seeking to silence those who speak out about corruption allegations. The group called on authorities to ensure the courts are not used to censor journalists. The Inter-American Press Association (IAPA) also issued a statement rejecting the ruling, saying that it violates Inter-American principles of freedom of the press. IAPA warned that this case could lead to self-censorship of investigative journalism. Earlier in the year, IAPA had expressed concern over judicial harassment against the two members of ABC Color, underscoring that Zuccolillo and Lezcano were facing three separate lawsuits for criminal defamation and slander. In September 2022, they were acquitted in another criminal defamation lawsuit filed by former vice-minister González.