Papuan activists prosecuted while critics face judicial harassment and digital attacks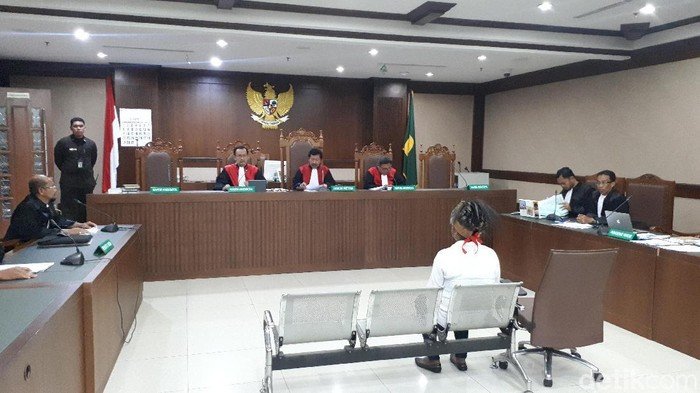 Attacks on civic freedoms has persisted around the pandemic in Indonesia with the arrests and prosecution of political activists, particularly those from Papua and Maluku, for their peaceful political activism. According to human rights groups, more than 50 political prisoners remain in detention in Indonesia and there are continued calls for them to be released to minimise their risk of infection due to the coronavirus (COVID-19). 
Activists and government critics have also faced digital attacks, smear campaigns and surveillance. Land and environmental activists have also been targeted with one death in custody reported. Human rights groups have slammed the verdict around the attack against anti-corruption activist Novel Baswedan. The ruling by the courts in June 2020 that the authorities had violated the law for the 2019 internet ban in Papua, was welcomed by activists.
Peaceful Assembly
Papuan activists prosecuted for 2019 anti-racism protests
Indonesia: Drop Case Against Papuan Protest Organizers https://t.co/YhInI67rwb

— Human Rights Watch (@hrw) June 11, 2020
In June 2020, seven Papuan activists were found guilty of treason and sentenced to up to 11 months imprisonment for their involvement in anti-racism rallies in August 2019.
The men, known as the "Balikpapan Seven", were convicted over protests that were sparked by a viral video in which Papuan students were called "monkeys" and subjected to other racist taunts. As previously documented, thousands of people took part in the protests in at least 30 cities across Indonesia, including the capital Jakarta. There was also some looting and arson attacks.
In response to the protest, additional military and police personnel were deployed to the Papuan region to quell the protests and the Indonesian government shut down the internet in Papua. The government accused the Balikpapan Seven of using the protest to promote separatism.
The Balikpapan Seven are Buchtar Tabuni, a prominent leader of the National Parliament of West Papua and the United Liberation Movement for West Papua; Agus Kossay and Stevanus Itlay, of the National Committee of West Papua (KNPB); Alexander Gobay, Irwanus Uropmabin and Hengki Hilapok, students from Jayapura University of Science and Technology (USTJ); and Cenderawasih University student union executive Ferry Gombo.
Human rights activists said the lighter sentences compared to prison terms of five to 17 years that prosecutors had sought were due to domestic and foreign pressure.
In Sorong, four Papuan students - Yoseph Laurens Syufi, Ethus Paulus Miwak Kareth, Manase Baho and Rianto Ruruk arrested in September 2019, after they took part in an anti-racism rally with Morning Star stickers were convicted for treason and sentenced to 18 months and 15 days jail.
Other Papuan activists facing prosecution include Sayang Mandabayan for carrying 1,500 small pro-independence Morning Star flags and three Papuan student activists in Manokwari. Their trial began in February 2020. In Fak-Fak, police arrested a total of 23 Papuan men in December 2019, when they were walking to celebrate the 1961 declaration of West Papua independence. They were charged with treason and their trial began in June 2020.
Indonesia's government has discriminated against the dark-skinned Indigenous people of Melanesian origin in the resource-rich and isolated provinces of Papua and West Papua, which Indonesia took over in 1969.
The Indonesian authorities have also prosecuted dozens of peaceful pro-independence political activists in West Papua over the last two decades. Despite continued promises by President Joko Widodo to address the grievances of West Papuans, they continue to face discrimination, exploitation and repressive actions by the Indonesian security forces.
Association
Arrests of Maluku political activists for peaceful flag-raising
Datangi Polda Maluku, 3 Anggota FKM Bentangkan Bendera RMS https://t.co/4tvmIdykxN

— CNN Indonesia (@CNNIndonesia) April 25, 2020
According to Human Rights Watch, 23 activists from Maluku province were arrested in April 2020. They had allegedly participated in peaceful flag-raising ceremonies in different locations in the province commemorating the 70th anniversary of the declaration of independence of the Republic of South Maluku (Republik Maluku Selatan, RMS) in 1950. The police reported that the activists would be charged with treason under Article 106 and 110 of the Indonesian Criminal Code, which carries a maximum life sentence. Among those arrested include three leaders of the movement: Johanes Pattiasina, Simon Viktor Taihutu and Abner Litamahuputty. Their trial is ongoing.
While the Republic of South Maluku (RMS), an armed pro-independence rebellion, officially ended in Maluku in 1966, some political activists continue to raise the "Benang Raja" flag there as a peaceful political act of protest against the central government. Human rights groups have documented dozens of arrests in past years of political activists who have peacefully called for independence, particularly in areas where there has been a history of pro-independence movements such as Maluku and Papua.
Activists speaking up on situation in Papua face attacks
In June 2020, Asian Forum for Human Rights and Development (FORUM-ASIA) and eight of its members in Indonesia highlighted systematic attacks targeting activists and groups vocal on human rights violations against Papuans.
The NGOs said the attacks included a series of cyberattacks, smear campaigns and intimidation against human rights defenders involved in various public discussions on racism and human rights violations against Papuans. Other tactics used include doxing, hacking of social media accounts and disruption of online discussions. The human rights defenders targeted in the attacks were also accused of being part of separatist groups and some faced surveillance even after the public discussions.
The rights groups said that these incidents would further legitimise discrimination and violations against Papuans and that despite calls to protect the Papuans and the defenders who speak up for them, the authorities have continued to implement authoritarian measures under the pretext of safeguarding national security. The group called on the authorities to investigate these incidents and bring the perpetrators to justice.
Digital attacks against government critics
Coalition Urges President Jokowi to Release Ravio Patra https://t.co/8zRAZ49jOU

— Kate Lamb (@_KateLamb) April 23, 2020
In June 2020 Amnesty International reported digital attacks against students, academics, journalists and activists carried out by unidentified parties to spread fear and silence critical voices.
On 22nd April, government critic Ravio Patra fell victim when his WhatsApp account was taken over by unidentified parties who then used his account to broadcast calls for national riots. Hours after the incident he was arrested by the police and interrogated without a lawyer for the provocative WhatsApp messages that he never sent. Despite his pleas that his account had been hijacked, Ravio was forced to sign two investigation reports during the interrogation in the Jakarta Police Headquarters, one of which stated that Ravio was an incitement "suspect". While in police custody he was not able to contact anyone, even a lawyer, for more than 12 hours. Prior to the hacking incident, Ravio, a public policy analyst, posted tweets criticising the way the government handled the COVID-19 outbreak and alleged conflict of interests involving a presidential staffer and a project run by his private company operating in Papua.
On 29th May 2020, an online seminar initiated by the Constitutional Law Society (CLS) of the Law Faculty of the University of Gadjah Mada (UGM) was canceled after its organisers and speakers received death threats and other forms of intimidation. The webinar, which poses the question of whether the President could be impeached during a pandemic, had drawn public controversy, particularly among ardent supporters of President Widodo, himself a UGM alumnus. On the day the webinar was supposed to be held, the WhatsApp account of the event's contact person was taken over by hackers. The hacker used that WhatsApp account to inform participants that the planned discussion had been cancelled and removed all of them from a WhatsApp group that was created for the event.
Since 15th May 2020 there have been digital attacks targeting independent media groups magdalene.co and konde.com. Both media outlets are among the leading online news portals promoting minority and women's rights and have been aggressively posting articles on misogyny and the controversy surrounding prostitution. Magdalene announced on its social media accounts that it has been a victim of DdoS (distributed denial-of-service) attack, which prevented its readers from accessing its website. According to the Alliance of Independent Journalists (AJI), konde.com could not access its official Twitter account since 15th May 2020.
On 31st May 2020, Budi Setyarso, the editor-in-chief of Koran Tempo daily, found that his Instagram account had been taken over by hackers while hosting a webinar on the state of freedom of expression in Indonesia.
Land activist facing judicial harassment dies in custody
Segera hentikan persidangan yang tidak berperikemanusiaan. Almarhum Hermanus, pejuang lingkungan dan agraria Desa Penyang.
.
. #STOPKriminalisasiPejuangLingkungan pic.twitter.com/bESY06ASX9

— WALHI DKI Jakarta (@pulihkanjakarta) April 26, 2020
In May 2020, human rights groups called for an end to the judicial harassment of land and environmental defenders following the death of a land activist in Central Kalimantan.
According to Asian Forum for Human Rights and Development (FORUM-ASIA) and seven of its Indonesian members, activist Hermanus Bin Bison, who was arrested in February 2020 for harvesting palm oil fruit from land that his community claims in Central Kalimantan, died in custody on 26th April 2020 after being denied medical treatment. He was detained after a complaint from a palm oil company that has been accused of stealing community land.
The situation was exacerbated by an overcrowded and unhygienic prison cell. Requests from his family, legal counsel and medical doctor to enable him to receive adequate healthcare while in detention and to relocate him to a proper facility were denied. The courts also forced Hermanus, who was already suffering from an illness prior to his detention, to be present at the trial in a wheelchair while his health deteriorated.
The groups urged the authorities to investigate the alleged human rights violations against Hermanus Bin Bison and stop any further attempts at harassment and criminalisation against other land and environmental rights defenders in the country.
Nur Hidayati, the national director of the Indonesian Forum for the Environment (Walhi) called on authorities to investigate the judges, prosecutors and police for allegedly hampering Hermanus's access to adequate medical treatment. She also urged the government to address the root of the problem, which is the long-standing conflict between the villagers and the palm oil company.
Rights groups slam trial and verdict around attack on anti-graft activist
Baswedan acid attack verdict seen as Indonesia going soft on graft https://t.co/JDKwQnLXSy

— ST Foreign Desk (@STForeignDesk) July 17, 2020
In June 2020, the courts sentenced two elite police officers to 18 months and two years in prison for attacking a senior anti-corruption activist and investigator with acid. Novel Baswedan, a leading investigator at the Corruption Eradication Commission was almost blinded when two men on a motorbike threw a vial of hydrochloric acid at him as he left prayers at a mosque in April 2017. The indictment said the motive for the attack was personal and not related to Baswedan's position as a corruption investigator.
At the time of the attack he was leading an ongoing investigation into the misappropriation of funds for an electronic identity card project, in which members of parliament and high-ranking government officials are implicated. To date, this case remains unsolved.
The attack drew condemnation across Indonesia, which suffers from endemic corruption. Prosecutors had recommended only one-year sentences for each of the defendants. They were widely criticised by anti-corruption activists and international rights groups for not seeking the maximum penalty of 12 years' imprisonment for premeditated attacks that cause permanent disability. Amnesty International Indonesia executive director Usman Hamid called for a new independent investigation into the attack.
Baswedan said the trial had many irregularities and he doubted that the defendants were the real attackers, saying they did not fit their description. Asfinawati, the chairwoman of the Indonesian Legal Aid Foundation (YLBHI) and one of Novel's lawyers, confirmed three key witnesses were not presented at the trial.
Expression
Reporter held over land grabbing article
Di masa pandemi, jurnalis tak hanya bisa terinfeksi Corona. Ia juga terancam oleh pemidanaan seperti yang dialami Diananta https://t.co/lfovmGxsLE dan ditahan polisi sjak Senin, 4 Mei 2020.
Tolak Pemidanaan Jurnalis. Bebaskan Diananta!@DivHumas_Polri @PolhukamRI @jokowi pic.twitter.com/6nBauUlg5M

— AJI Indonesia (@AJIIndonesia) May 5, 2020
Diananta Putra Sumedi, the editor of the local news website BanjarHits.id and correspondent for the investigative newspaper Tempo, is facing a possible six-year jail sentence on a charge of "information causing enmity" under Article 28.2 of the Electronic Information and Transactions Law.
He was arrested on 4th May 2020 in response to a criminal complaint by the Indonesian palm oil giant, the Jhonlin Group, about an article he posted on BanjarHits.id and then on the collaborative news platform Kumparan in November 2019 about a dispute over land that a Jhonlin Group subsidiary allegedly took from three villages inhabited by members of the Dayak, an indigenous people in southern Borneo.
The Jhonlin Group initially complained to the the Press Council, which is supposed to resolve press issues without reference to the courts. Then, after a Dayak representative retracted one of the statements attributed to him in the article, BanjarHits.id and Kumparan both published corrections.
The Jhonlin Group then filed its criminal complaint, which the police saw as grounds not only for arresting Sumedi but also for continuing to hold him.
As previously documented, The ITE law has been used to prosecute individuals, including journalists and those who use social media or other online platforms for their writings or statements. The vague and overbroad legislation has often been used to arrest, prosecute and punish people for peacefully exercising their freedom of speech.
Court rules authorities violated the law for banning internet in Papua
In June 2020, a panel of judges at the Jakarta State Administrative Court (PTUN), declared that the government's decision to impose an internet blackout during weeks of protests in Papua and West Papua provinces in 2019 violated the law, in a lawsuit filed by civil society groups.
The petitioners – the Alliance of Independent Journalists (AJI), the Southeast Asia Freedom of Expression Network (SAFEnet) and the Indonesian Legal Aid Foundation (YLBHI), among other groups – filed the lawsuit against President Widodo and the Communications and Information Ministry in January 2020. They said the blackout, which officials argued was put in place to prevent the spread of fake news, was flawed in authority, substance and procedure.
The judges argued the government had imposed the internet blackout without the prior declaration of a state of emergency, therefore violating the 1959 State of Emergency Law. The bench said the government failed to prove during the trial that Indonesia was in a state of emergency that required authorities to shut down the internet. Judges also said any decision that limited people's right to information should be made in accordance with the law and not merely based on the government's discretion.
The bench also argued that misinformation should be handled by using provisions in the Criminal Code or blocking the accounts spreading such false information, rather than shutting down internet access.