Opposition MP's immunity stripped for staging pro-abortion protest, restrictive education bill "Lex Czarnek 2.0" vetoed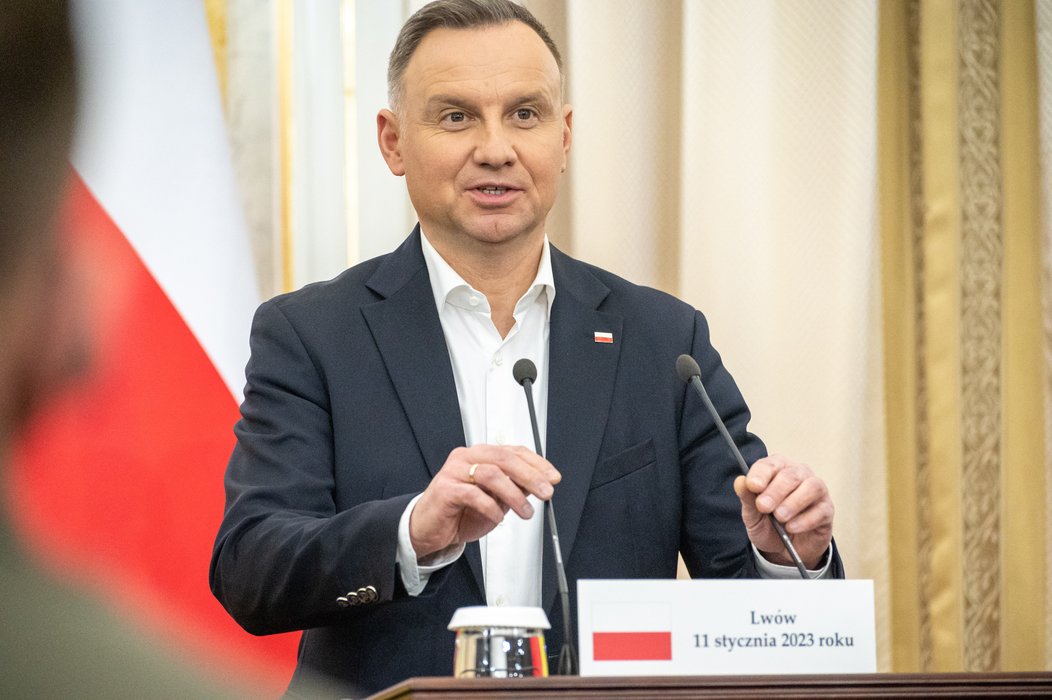 Introduction
Poland's response to Russia's war against Ukraine
On 6th December 2022, Defence Minister Mariusz Błaszczak announced that the government, after some hesitation, had agreed to accept Patriot missiles from Germany. Germany offered the missiles after a missile used by Ukraine against a Russian attack accidentally fell in Poland killing two workers close to the border with Ukraine. A month earlier, on 2nd November 2022, fearing a new hybrid war front, the defence minister announced that Poland would build a wall along the border with the Kaliningrad Russian enclave. As was reported earlier on the CIVICUS Monitor, Poland had already built a wall along the border with Belarus in an attempt to keep Middle Eastern and African migrants away. Belarus is allegedly sending those migrants to Poland in an attempt to destabilise the country, following Russian interests.
Mixed developments regarding critical judges
After almost two years of suspension, on 30th November 2022, Warsaw Judge Igor Tuleya - a face of the resistance against senior governing coalition party Law and Justice's (PiS) overhaul of the judiciary - was reinstated. Poland appears to have started reinstating judges suspended or demoted for being critical of the government, as this is one of the key conditions that the EU set for disbursing the COVID recovery funds to Poland. However, according to a media report, in early December 2022, disciplinary proceedings were initiated against the former chief justice of Poland's Supreme Court Małgorzata Gersdorf related to a Supreme Court ruling that declared illegitimate any judges appointed after the government's overhaul of the body responsible for nominating judges, the National Council of the Judiciary (KRS).
European Parliament report on Pegasus scandal
On 8th November 2022, the president of the European Parliament's Pegasus committee, Sophie in't Veld, presented the committee's draft findings of their spyware inquiry in Brussels. Besides Hungary, Poland received the worst assessments. According to in't Veld, in these two countries the use of spyware was an "integral part" of a system designed to "control and even oppress citizens." According to the draft report, the results of both Poland's national and European Parliament elections could have been impacted by the use of spyware. The alleged targets of surveillance in Poland are high-ranking opposition politicians, lawyers, prosecutors and activists. So far no journalists have been named as Pegasus targets.
Sinking support for abortion ban
A poll by Ipsos published in November 2022 shows that seven out of ten Poles support legally permitted abortion up to the 12th week of pregnancy. As reported earlier on the Monitor, in October 2020, the Constitutional Tribunal virtually outlawed abortion. While the consequences are stark - women dying as doctors are scared to operate on them, birth rates dropping due to the increased risks of pregnancy - and the majority of the population disagrees with the ban, the ruling coalition is unwilling to change its stance on the issue. 
Association
Entry ban on leader of NGO lifted
On 5th December 2022, the Supreme Administrative Court of Poland overturned an earlier judgment and found that the entry ban on Lyudmyla Kozłowska, president of the Open Dialogue Foundation (ODF), lacks a justifiable basis. ODF is known for heavily criticising the Polish government for its illiberal policies. Kozlovska, a Ukrainian citizen with a Polish husband, was barred from entering Poland for the past five years on security grounds. The Supreme Administrative Court studied the classified documents that were supposed to justify the ban and found that they do not provide sufficient grounds.
" This is an important ruling because it cancels the verdict of the neo-judges. And it shows that even I, as a foreigner, have the opportunity to win a case with PiS, which used the entire state apparatus against me. Without independent judges, I would not have had a chance," said Kozłowska as quoted by oko.press.
Kozłowska's ban was earlier found to be justified by the provincial administrative court, where the judicial panel was composed of judges appointed after the ruling PiS partys' judicial overhaul.
Peaceful Assembly
Members of uniformed services protesting
On 9th November 2022, thousands of police officers, firefighters, border guards and prison guards protested in Warsaw, demanding higher salaries and pensions. The Federation of Uniformed Services Trade Unions organised the protest to stand up against the proposal that would have given only a 7.8% pay rise. Inflation in Poland is about twice as high in comparison to the proposed increase.
Annual Independence March
On 11th November 2022, tens of thousands of people participated in an annual march celebrating Poland's independence, among them justice minister and chief prosecutor Zbigniew Ziobro and Antoni Macierewicz, deputy leader of the ruling party PiS. According to Reuters, "the Warsaw city hall has made numerous attempts in the past to delegalise the event, but the Independence March association, the organiser, has successfully challenged court decisions". As some of the previous marches have seen violence (see previous update), the event was marked with heavy police presence. This year no serious clashes with the police were reported. Besides holding national symbols, some marchers were showing signs asking for a full ban on abortion, expressing homophobia, and in support of white supremacy. Many were expressing anti-Russian sentiments. One of the organisers, All-Polish Youth (Młodzież Wszechpolska), set up a stand where people could wipe their shoes with EU and LGBT flags. Flags of the Polish Women's Strike were also burned by the group.
According to Notes from Poland, Ziobro said that Poles must continue defending the country's sovereignty, especially "at a time when Russia is rebuilding its empire by force [and] when Germany is turning the EU into one country under its leadership".
Kaczyński promises to destroy vulgar protesters
According to Notes from Poland, Jarosław Kaczyński, the leader of the ruling PiS party, said during a town hall meeting for supporters in the town Chojnice that they would "destroy" those involved in "vulgar" protests against the government. From 2020 on, many protests shared a message under an eight-star logo (***** ***, which stands for "F**k PiS").
Expression
Opposition MP's immunity stripped
On 4th November 2022, the Polish parliament voted to strip the legal immunity of opposition MP Joanna Scheuring-Wielgus (Left, Lewica). Zbigniew Ziobro, PiS justice minister, who is also prosecutor general, requested the parliament to lift Scheuring-Wielgus' immunity so that she can face prosecution for 'offending religious feelings.' Scheuring-Wielgus allegedly entered a church during a Sunday mass in 2020, and held up signs expressing her view that abortion should be a decision of the woman carrying a foetus and not the state "in support of Catholic ideology". Offending religious feelings is a crime in Poland, and it carries a sentence of up to two years in prison.
Piękne ❤️💪 dziękuję! https://t.co/qPwQp6LAY8

— J. Scheuring-Wielgus (@JoankaSW) November 4, 2022
According to online news portal Notes from Poland, earlier in 2022, "the government's majority also voted to strip Scheuring-Wielgus of immunity to face charges over her participation in a 2018 protest against alleged cover-ups of clerical child abuse cases by the Catholic church."
Another opposition MP, Borys Budka, the head of the largest opposition party Civic Coalition (KO), agreed to give up his immunity on the same day - before getting stripped of it by the PiS majority. Budka is accused of criminal defamation by PiS MP Joanna Lichocka. The charges stem from a debate on oncology and television funding, where PiS wanted to give money to the television. Lichocka raised her middle finger toward the opposition that just lost the vote. Later she said that she never wanted to make an offensive gesture, but had lifted her finger under her eye because she was nervous. After the incident, billboards appeared across Poland showing Lichocka making the gesture and suggesting that she and her party should rather give money to their own mouthpiece than to cancer treatments. Lichocka believes that Budka, who was allegedly behind the billboard campaign, was defaming her by "spreading information that was untrue". Budka gave up his immunity, saying that he will be able to show in court that justice is on his side. Criminal defamation carries a punishment of up to one year in prison.
"It is clear that the governing majority's recent actions to waive the parliamentary immunity of vocal opposition MPs, based on relatively weak grounds, are nothing more than an attempt to silence its critics. Such activity might have a very detrimental effect on the public discourse as it produces a chilling effect and discourages other MPs from raising certain issues, inconvenient from the governing majority's point of view,"says Maciej Kalisz, the Helsinki Foundation for Human Rights' lawyer.
TVP's defamation case rejected
On 6th December 2022, Poland's Supreme Court rejected state television TVP's criminal defamation case against Warsaw law professor Wojciech Sadurski. In January 2019, three days after the death of the opposition mayor of Gdansk, Pawel Adamowicz, Sadurski tweeted "government media" has "hounded" the mayor and called on the opposition to boycott "Goebbelsian media" (Goebbels was the Nazi propaganda minister in Germany during World War II). TVP argued that Sadurski "disseminated false information [that] fundamentally undermines the reputation of the company as a public broadcaster". While the criminal case came to an end with the decision of the supreme court, a separate civil defamation case by TVP is still ongoing against Sadurski.
Lex Czarnek revisited
On2nd December 2022, the Sejm (lower house of the Polish Parliament, controlled by the PiS) passed new legislation, dubbed the "Lex Czarnek 2.0" after the opposition-controlled upper house, the Senate, vetoed the bill. A former, and only slightly different version had already been vetoed by President Andrzej Duda earlier in 2022. While Duda had until 23rd December 2022 to decide whether to sign or veto it again, on 15th December he announced that he would veto the bill, citing public pressure. 
Attacks on sex ed only harm students.

Instead of further restricting sex Ed, #Poland should teach kids non-discrimination, healthy relationships, preventing unwanted pregnancy & HIV. @AndrzejDuda @WPalacu: make the right call, veto #LexCzarnek2.0 @hrwhttps://t.co/swJvCb4YQt pic.twitter.com/WlSobuVcV7

— Hillary Margolis (@hillarymargo) December 9, 2022
As reported previously in the Monitor, Polish education minister Przemysław Czarnek intends to expand the power of government-nominated regional superintendents over schools. According to the proposed amendments to the law on education, the superintendents would be able to prevent NGOs from giving extra-curricular sexual education classes in schools and holding events like Rainbow Fridays. The current Polish curriculum does not provide appropriate knowledge about bodies and sexuality. The bill would de facto forbid schools to raise the issue of sexual and gender identity and reproductive rights.
Education minister Przemysław Czarnek is known to be fervently anti-LGBTQI+, and believes that people expressing Catholic views need to be protected from discrimination in Poland. He also believes that sex educators "brainwash" children and are behind many suicides.
Earlier in October 2022, multiple protests were organised against Lex Czarnek 2.0
Journalist convicted in criminal defamation lawsuit
On 27th October 2022, well-known Polish journalist and writer Tomasz Piątek was sentenced to eight months of community service after losing a defamation trial brought by a billionaire close to Prime Minister Mateusz Morawiecki. The journalist found out about the verdict from pro-government media, after a summons was sent to his old address. He was also sentenced to 20 hours of community service for eight months. The lawsuit stemmed from his 2019 book which focused on Antoni Macierewicz, Andrzej Duda and Mateusz Morawiecki. The journalist has indicated that he intends to appeal the verdict.
#Poland: Investigative journalist @Tomasz5ek faces court again on 9 June risking a 1-year prison sentence. RSF expresses him full support in this affair & regrets lack of effective access to the case file despite having been granted a permission from the judge. https://t.co/o54l0fCQWz

— RSF (@RSF_inter) June 8, 2022
State Protective Services deny journalists entry to events
In May 2022, journalists from TVN, "Gazeta Wyborcza", "Gazeta Krakowska" and "Tygodnik Podhalański" were denied entry into a "solidarity" congress event in Zakopane on the grounds of President Andrzej Duda's security. Following this, Commissioner of Human Rights Marcin Wiącek intervened in the case and demanded that this practice be changed. However, on 28th October 2022, the Polish Ministry of the Interior and Administration claimed that not allowing journalists to attend official events on the basis of the decision of the State Protective Services (SOP) is in line with the regulations. The minister also added that SOP has the right "to obtain, process and use information about any person, as long as it serves the purpose indicated". Such information is used for the SOP's database, upon which the journalists were refused entrance without a specific explanation.
Media regulator opens investigations into TVN over documentary
On 30th December 2022, Poland's broadcast media regulator KRRiT, opened an investigation into television network TVN over a documentary it broadcast on the 2010 Smoleńsk air disaster, during which the country's then president, Lech Kaczyński, was killed. The probe is due to allegations that the documentary had "propagated false information" and "threatened public security", which TVN denies. Concerns have been raised as KRRiT is largely controlled by the PiS ruling party. TVN has previously had challenges with its licence renewal and there are fears that if it is found guilty it could lead to fines or its licence being revoked.